Meet the interviewer
Adam Fisher is an Amazon entrepreneur who creates videos about how to make money on Amazon through online arbitrage, private label, and retail arbitrage.
Adam recently sat down with PickFu co-founder Justin Chen to talk about PickFu's role in building a successful e-commerce business. Keep reading for interview highlights, or watch the entire interview.
Trust audience feedback, not your own opinion
Adam started the interview by talking about how helpful PickFu has been for him as an Amazon seller.
In one instance, Adam needed help choosing between eight designs for a women's product. Pick the wrong design, he said, and your product will fail. So, instead of asking his friends for feedback or going with his gut, he turned to PickFu.
Adam created a PickFu poll, uploaded all eight designs and asked respondents — women who were Amazon Prime members — to weigh in. By targeting the right audience, he was able to choose the best design for his product.
Optimize your listing with PickFu
Next, Adam introduced Justin, who explained in more detail how PickFu works. Justin described it as an online focus group that enables you to get consumer feedback quickly, within 10 to 15 minutes, along with demographic information and detailed written explanations from respondents.
According to Justin, testing designs or product variations in comparison polls, as Adam did, is a popular way that sellers use PickFu.
Another way sellers use PickFu is to optimize different aspects of their product listing, from the main image to the description. Using PickFu in this way provides valuable, risk-free feedback without sellers having to live-test their listing and jeopardize sales, Justin said.
Adam added that this level of feedback helps sellers truly understand what their customers are thinking.
The value of open-ended feedback
While sellers often use PickFu to test variations until a winner emerges, PickFu can gather open-ended feedback as well.
Post an image or a listing and ask, "What objections do you have about this? What questions do you have? Any questions about how many pieces come with the product, or whether there's a warranty? Any questions about how to use the product?"
All are questions your listing should answer, both from a conversion perspective and from a search-ranking perspective, said Justin. PickFu can help you get those answers.
PickFu client success stories
In the second half of the interview, Justin discussed PickFu client success stories, starting with e-commerce entrepreneur Kevin King. King used PickFu to test product images for a client: a single bottle versus a 12-pack. By going with the winning image of the single bottle, he increased the number of units sold by over 50%.
Thrasio, which buys and improves Amazon FBA businesses, turned to PickFu to test design variations of an odor-neutralizing product they needed to rebrand. With the new design, Thrasio saw the product's sales run rate increase by over a million dollars a year — all from just a few hundred dollars' worth of polls.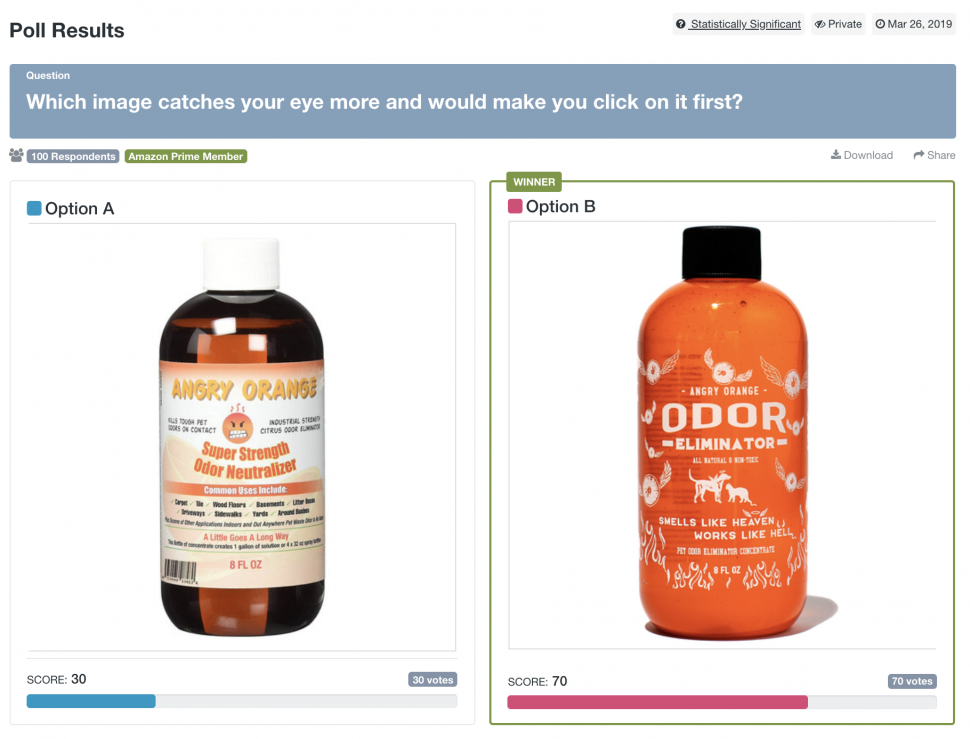 Another PickFu customer, Mike Jackness at EcomCrew, wanted to see how PickFu would perform against decisions he'd already made for a listing. After back-testing his current product image against an older image, it was clear to Mike that PickFu actually worked.
The people behind PickFu's polls
Adam's next question for Justin was about how PickFu finds respondents for its polls. Justin replied that PickFu works with third-party panel services to curate a high-quality pool of respondents.
Because respondents receive a stipend for answering PickFu polls, they're incentivized to answer quickly and honestly. Machine learning on the back end analyzes their written responses to ensure that people are answering earnestly. If they're not, PickFu filters them out.
How much does PickFu cost?
Finally, Adam asked Justin how much PickFu costs. For instance, what if he wanted to test four options in a 50-person poll?
Justin replied that PickFu's pricing starts at a dollar per response: 50 responses would cost 50 bucks. The cost goes up as you add options or targeting.
All PickFu polls are pay as you go. There's no subscription requirement. If you think you'll run a lot of polls, Justin pointed out that it's cheaper to sign up for one of PickFu's monthly plans.
At the end of the interview, Adam encouraged his viewers to give PickFu a try.
---