Which One Won? Book covers for the third book in a series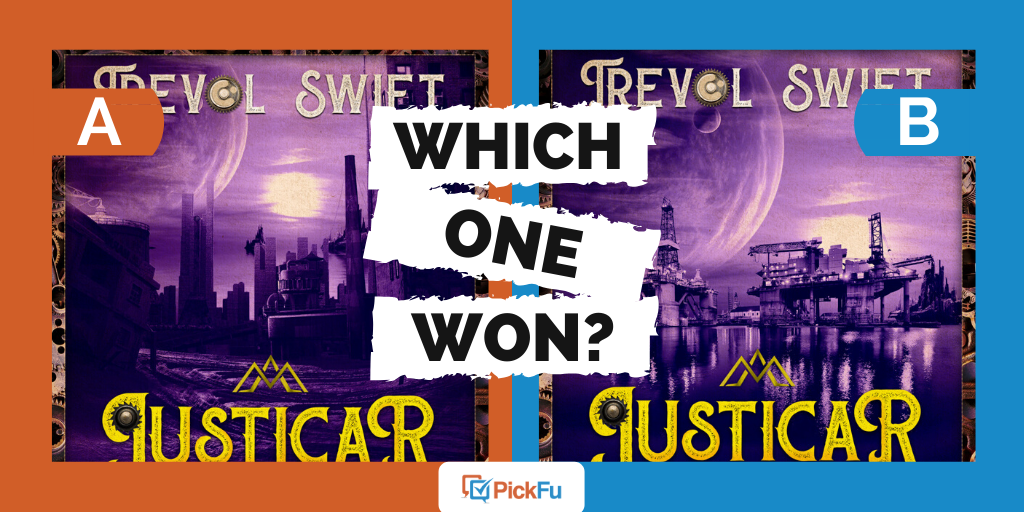 Even authors who've been writing and selling books for years can benefit from split-testing their book covers.
Take Trevol Swift, for example. Author of two previous books in the Justicar Jhee series, Swift took the third book to PickFu to find out which cover stood out best. Swift wisely tested with an audience of 50 fiction readers, stating that the book is a science fiction murder mystery.
Option A features a mysterious purple cover with a cityscape, water, and a moon (or two?).
In Option B, the cityscape changes. Swift does away with the enclosed feeling of the first cover but retains many of the same elements, including the super-cool type treatment of the author's name and book title.
Can you guess which one won?
And the winner is…Option A! With a score of 54 to 46, Option A was the favorite.
Let's find out why.
The cover should match the genre
While respondents recognized that the covers are almost identical, some favored Option A because it fit the sci-fi genre better.
As one respondent said, "I like [Option] A because I think the eerie look to the buildings along with the rushing look to the water makes it seem more science-fiction-like. [Option] B just looks kind of more industrial."
Another added that, "The mechanism and idea of 'house' of sorrows works better with a building. Option B might be more sci fi–as that moon (?) looks really large, but Option A has a more 'mystery' based element that would appeal to me."
These responses make it clear that Option A satisfies both the mystery and sci-fi components of the book, which is important.
Background photos should match the story setting
As you can tell, matching is important. I remember being so disappointed as a kid when a book cover showed a brown-eyed girl as a protagonist, only to discover within the story that the protagonist had green eyes. It felt like a huge mismatch and a letdown, and you want to avoid that if you're writing a book in any genre or setting.
Of Option A, one respondent noted that, "The background picture is more city-like for Choice A which I prefer. Choice B looks more like construction and oil rigs out on the water. It would really depend on which setting is more accurate for the series!"
She makes a good point: whichever background photo best fits the setting is the one the author should choose.
Don't separate the viewer from the story
One keen-eyed respondent said that Option A's background "offers more of a mysterious vibe and puts you closer to the action as if it were you looking from the street as opposed to [Option] B which is further away and separates the viewer from the story."
If you take a second look at Option A, you'll notice how true this is. You feel much closer to the creepy action about to take place in Option A, almost as though you're walking down the shadowy street yourself.
Option B, on the other hand, makes you feel like you're standing on the opposite shore of the action.
Key takeaways
While the differences between the two covers appear almost insignificant, they aren't. Option A:
Gives off a sci-fi and mystery vibe
Uses a background photo that most likely matches the story setting
Puts the viewer in the middle of the action
That last point is done so well. You can almost feel shivers crawling up your spine when you look at Option A's cover.
Do you want to achieve this for your own sci-fi or mystery book? Split-test your covers on PickFu and find out which one creeps your readers out the most — in the most delicious way.
---
Learn More:Boost your book marketing efforts by using PickFu to test book titles and covers with potential readers targeted by literary preference, reading frequency, and more.
Get 50 instant poll responses for $50.
Know what sells — even before selling it.