Which One Won: A more colorful label isn't always better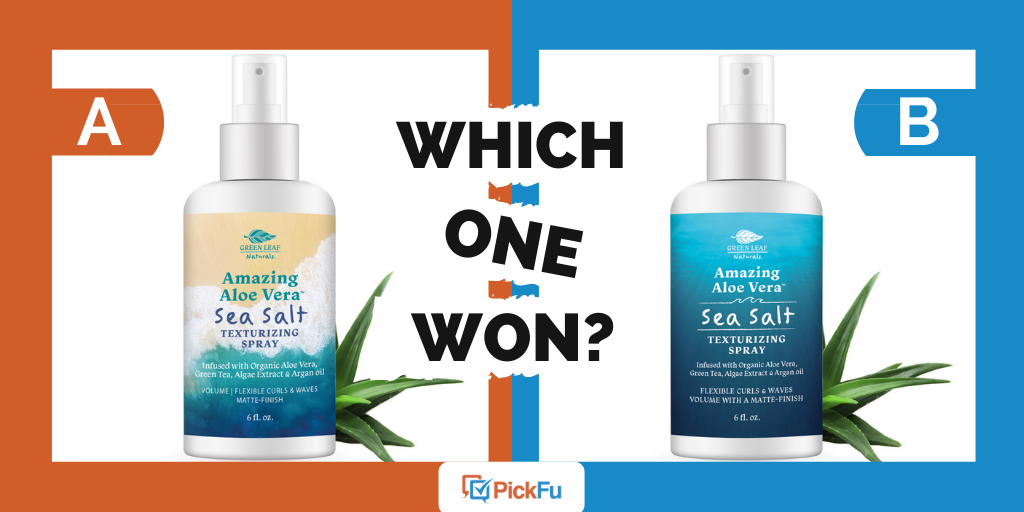 One of the trickiest decisions e-commerce sellers must make is choosing the right product image. Lighting, angles, and how a product is styled in the photo can all have an impact on how customers feel about your product and whether they end up buying it or not.
In this PickFu poll, a seller asked 50 consumers of basic body care products which image of a bottle of hair texturizing spray they preferred. The images themselves were similar. The big difference: the bottle in Option A sported a more colorful label.
Can you guess which one won?
Which One Won?
It was a close call between the two bottles, but Option B, with its calming ocean-blue label, came out ahead with 28 out of 50 votes.
Option A got a lot of positive comments for its use of colors and green font, with some respondents saying the label conveyed a more "beachy" vibe. Others said the multi-colored background made the text easier to read.
But more respondents agreed that Option B had a "finished" look.
Here's some of what they had to say about why they would be more likely to buy Option B:
"Having most of the label be blue invokes more of a calm feeling in me than the other label. It also feels more 'consistent,' since the text isn't all different colors."
"This bottle design was overall more appealing to the eye. It wasn't as busy, it was easier to tell what the design was, it looked more professional. In addition, it made me focus more on the product rather than the design."
"I like the variation of the blue color for the sea salt texturizing spray. This is excellent and looks better for the bottle. The uniform color is also nicer to keep. I would go with that as the better choice here. Excellent sea spray for the aloe vera."
"The image of choice B looked the most refreshing and gave the impression of being in the sea. The logo and design were more visually appealing and looked smooth together. A good texture if you will"
"I like [Option] B because I think the blue label looks a lot more attractive than A with all the different colors. I think that makes it look a bit cheap looks like a higher quality product based on the label to me."
A more polished look
Interestingly, the female respondents in this poll were split down the middle between Option A and B.
But the biggest takeaway for this seller was that respondents chose Option B because they felt the image and the product looked more professional and thus, more appealing.
Product images play a key role in how well (or not) your Amazon listing is optimized. If you're not sure which image to use in your listing, split test your options in a PickFu poll.
You can do the same with logos, brand names, and more. The insights you'll receive will help you navigate the toughest decisions with ease.
---
Learn More:Optimize your e-commerce product listings by testing design concepts, photos, and descriptions with a target audience of likely buyers.
Get 50 instant poll responses for $50.
Know what sells — even before selling it.