Get Concrete Data About What People Like
Give yourself an unfair advantage. Let PickFu's audience polls help you make data-driven decisions with unbiased feedback!
Find the perfect name for your new business empire or product line.
---
Get 50 instant poll responses for $50.
Start optimizing your business with audience-driven data today.
---
Current Ways To Test Market Your Businesses
Trust Your Gut
It's your baby. Which one feels right?
Ask Friends & Family
Send an email to your friends and family with the different businesses and ask for their feedback.
Buy Ads
Create a Google Ad or Facebook Ad for all the different businesses and see which one has the highest click-through rate (CTR).
Or

Use PickFu!

PickFu gets you the same quantitative and unbiased results as buying expensive ads, but much faster and without any of the hassle of trying to figure out how to setup the ads. As a bonus, you get written qualitative feedback you can use to further iterate on your businesses.

Armed with this data, you will have the confidence to choose the best business.
---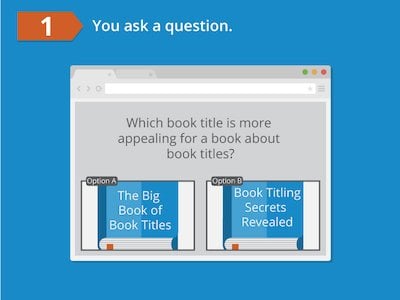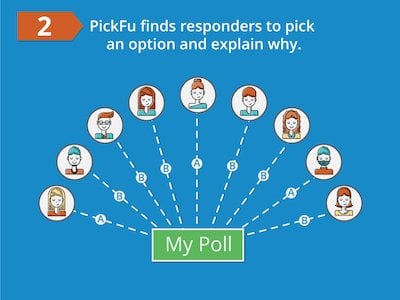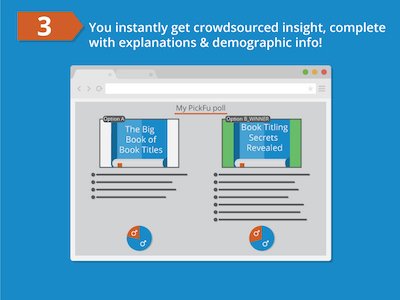 How PickFu Compares
Friends & Family
Buying Ads
Your Gut
PickFu
Definitive Quantitative Result
Qualitative Actionable Feedback
Large Representative Audience
---
Get 50 instant poll responses for $50.
Start optimizing your business with audience-driven data today.
---
Why use PickFu?
1-Minute Setup
Just write one question and two answer options and your business poll is ready to go.
We Bring The Respondents
Our respondents match US demographics, so you get balanced, unbiased results for your business.
Quick Results in Minutes
Keep iterating on your business throughout the day as you instantly get feedback you can use.
Fresh Perspective
Get an objective third-party point-of-view on your business.
Explanations
Learn the why behind each response and make better business decisions going forward.
Demographic Info
Slice and dice responses by age, gender, ethnicity, income, education.
---
Get 50 instant poll responses for $50.
Start optimizing your business with audience-driven data today.
---
Entrepreneur Testimonials
PickFu polling has been great. It has come in handy several times and the speed of the responses helps us keep moving forward in a timely manner.

One of the most important aspects of business I've learned is to assess rather than guess. This is crucial when it comes to finding the perfect book title and cover. PickFu has become my go-to resource to conduct surveys because of their speed, demographic breakdown, and helpful comments provider by the respondents. I recommend PickFu to all of my self-publishing clients as an essential part of the research process.

Your service is absolutely amazing. A true blessing to entrepreneurs. How time and money and hard effort saving! Brilliant idea!

Through PickFu, we were able to survey 50 respondents between the ages of 18 and 54 and ask whether, upon seeing our ad, they would text us if they were facing an issue at work. The results came in lightning fast—it took exactly 31 minutes.

PickFu is great because it allows you to get data outside of the current echo chamber you've created with your customers, communities, and true fans. It's a great way to test market messages, tag lines, and product names outside of your first-degree network. PickFu is now an essential part of every major marketing and product development initiative for us.

Crowd-sourcing is not ideal for naming, because a few people spending a lot of time on a name usually yields a better result than a lot of people spending a little time. But it is much more useful when it comes to validating a name. Services like Pickfu allow you to get a second opinion quickly if you're stuck between two options.

Blog Posts About Optimizing Businesses
Choosing a brand name is a big undertaking. Brand names need to be clever and catchy but also instantly recognizable, especially to people who are discovering it for the first time. One business owner considered two names for a brand that enables apartment dwellers to start an organic vegetable garden in their limited outdoor space. […]

As you're starting a business, the building blocks of its branding include your logo, tagline, and mission statement. A mission statement is a quick summary of the goals and values of a company. It acts as a compass to guide the organization as a whole. So when figuring how to write a mission statement, don't […]

Editor's Note: Thanks to Connor Gillivan of FreeeUp for the following guest post. While the earning potential of e-commerce is unquestionably good, running an online store isn't as easy as it looks. When businesses need help, many entrepreneurs turn to outsourced operations. Help from the gig economy is usually easier and more cost-efficient than full-time […]
---
Get 50 instant poll responses for $50.
Start optimizing your business with audience-driven data today.
---