Used by Half of the Top-Grossing iOS Strategy Games

Trusted by Thousands of Customers
Current Ways To Test Market Your Mobile Apps
Trust Your Gut
It's your baby. Which one feels right? Are you willing to invest your time and money into a purely gut decision?
Ask Friends & Family
Send an email to your friends and family with the different mobile apps and ask for their feedback.
Buy Ads
Create a Google Ad or Facebook Ad for all the different mobile apps and see which one has the highest click-through rate (CTR).
Or

Use PickFu!

PickFu gets you the same quantitative and unbiased results as buying expensive ads, but much faster and without any of the hassle of trying to figure out how to setup the ads. As a bonus, you get written qualitative feedback you can use to further iterate on your mobile apps.

Armed with this data, you will have the confidence to choose the best mobile app.
---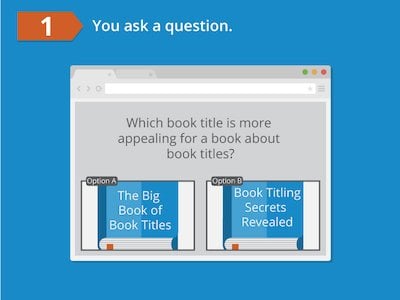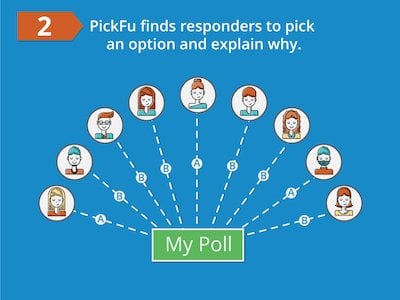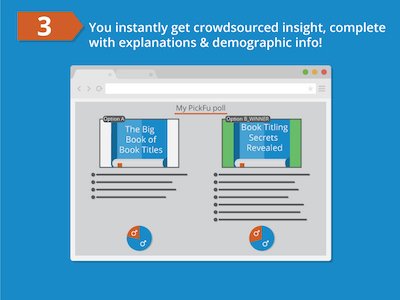 How PickFu Compares
Friends & Family
Buying Ads
Your Gut
PickFu
Definitive Quantitative Result
Qualitative Actionable Feedback
Large Representative Audience
---
Get 50 instant poll responses for $50.
Start optimizing your mobile app with audience-driven data today.
---
Why use PickFu to test your mobile apps?
1-Minute Setup
Write one question and provide 1-8 options, and your mobile app poll is ready to go.
We Bring The Respondents
Our panel matches US demographics for balanced, unbiased results for your mobile app.
Quick Results in Minutes
Keep iterating on your mobile app throughout the day as you instantly get feedback you can use.
Audience Targeting
Target your poll to segments like Amazon Prime Members, Mobile Gamers, and more. Read more about Audience Segmentation.
Explanations
Learn the why behind each response and make better mobile app decisions going forward.
Demographic Info
Slice and dice responses by age, gender, ethnicity, income, education.
---
Get 50 instant poll responses for $50.
Start optimizing your mobile app with audience-driven data today.
---
Mobile App Developer Testimonials
We chose PickFu because of the quality of the users and the speed at which we get results! Other online survey services take up to a week to complete, and we just don't have that time....Since it takes less than 15 minutes to get the survey results, we were able to alter our designs immediately and re-test them.

PickFu helped us make informed decisions around our art that are paying off well for Boomie Blast. We were able to leverage a lot of what we tested to make sure our game art is on point with our intended audience.

PickFu is one of the easiest & fastest ways to find out which of your mobile app screenshots or icons will drive more app downloads.

I can't recommend this service enough - what was eye opening to me was the comments the people left. They were even more valuable than the results of the test. You could tell that the people that chose the name "Super 80s World" really got it. The demographics backed it up even more: those responders were closer to the target age and salary demographic.

Blog Posts About Optimizing Mobile Apps
When someone is scrolling through the app store, what's the first thing to catch their eye? The app icon! With this in mind, creating an app icon that's catchy will help increase your downloads. If you only have a mediocre icon, people will scroll right past your app without taking a closer look.  A company […]

The design of your app can make or break your business. No matter how good your app idea is, it must have a great design behind it. The app functionality is important, but so is the user experience, layout, and brand color palette.  After coming up with two different color schemes for the HappySeller app, […]

Mobile app designs are a crucial component of user engagement. Everything from your app icon to the user interface can affect how addictive an app becomes and whether it drives revenue. In a pay-to-play game, your in-game store must be visually appealing and easy to use in order to encourage more purchases. A mobile app […]
---
Get 50 instant poll responses for $50.
Start optimizing your mobile app with audience-driven data today.
---