Current Ways To Test Market Your Businesses
Trust Your Gut
It's your baby. Which one feels right?
Ask Friends & Family
Send an email to your friends and family with the different businesses and ask for their feedback.
Buy Ads
Create a Google Ad or Facebook Ad for all the different businesses and see which one has the highest click-through rate (CTR).
Or

Use PickFu!

PickFu gets you the same quantitative and unbiased results as buying expensive ads, but much faster and without any of the hassle of trying to figure out how to setup the ads. As a bonus, you get written qualitative feedback you can use to further iterate on your businesses.

Armed with this data, you will have the confidence to choose the best business.
---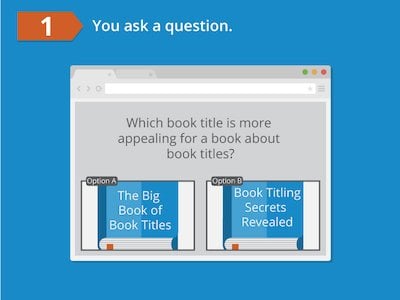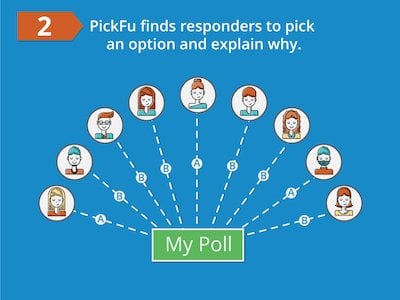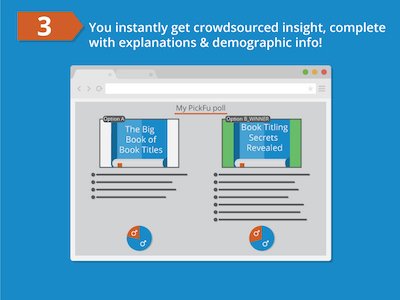 How PickFu Compares
Friends & Family
Buying Ads
Your Gut
PickFu
Definitive Quantitative Result
Qualitative Actionable Feedback
Large Representative Audience
---
Get 50 instant poll responses for $50.
Start uncovering actionable, audience-driven data today.
---
Why use PickFu?
1-Minute Setup
Just write one question and two answer options and your business poll is ready to go.
We Bring The Respondents
Our respondents match US demographics, so you get balanced, unbiased results for your business.
Quick Results in Minutes
Keep iterating on your business throughout the day as you instantly get feedback you can use.
Fresh Perspective
Get an objective third-party point-of-view on your business.
Explanations
Learn the why behind each response and make better business decisions going forward.
Demographic Info
Slice and dice responses by age, gender, ethnicity, income, education.
---
Get 50 instant poll responses for $50.
Start uncovering actionable, audience-driven data today.
---
Entrepreneur Testimonials
One of the most important aspects of business I've learned is to assess rather than guess. This is crucial when it comes to finding the perfect book title and cover. PickFu has become my go-to resource to conduct surveys because of their speed, demographic breakdown, and helpful comments provider by the respondents. I recommend PickFu to all of my self-publishing clients as an essential part of the research process.

Your service is absolutely amazing. A true blessing to entrepreneurs. How time and money and hard effort saving! Brilliant idea!

Blog Posts About Optimizing Businesses
Sam Bass, designer of popular logos such as AT&T, Warner Brothers, and United Airlines, once said, "Logos are a graphic extension of the internal realities of a company." That puts a lot of pressure on a company to create the perfect logo. Many companies use PickFu polls to help them test and see how effectively […]

Advertising expert David Ogilvy stated, "On the average, five times as many people read the headline as read the body copy. When you have written your headline, you have spent eighty cents out of your dollar." In other words, if you want your product to sell, then you better have a winning headline. To find […]

The logo is one of the staples of your business. It establishes your brand. It distinguishes your company from others. Therefore, it's important to make sure that you have tested your logo design on a target audience. It might surprise you to find that one of your creative design choices doesn't fly with your audience […]
---
Get 50 instant poll responses for $50.
Start uncovering actionable, audience-driven data today.
---