About the PickFu Panel
The PickFu Panel is comprised of U.S.-based, native English-speaking respondents that represent a wide swath of demographics. You'll find a diverse mix of ages, income levels, and education, as well as behavioral and psychographic traits including exercise frequency, reading habits, and mobile app usage.
Respondents are paid a small stipend for answering each poll. PickFu works with third-party services to find panelists, and then we take pains to ensure the highest level of quality. Our proprietary process interviews and vets candidates to confirm that they represent themselves honestly and will approach your poll with seriousness. In addition, each respondent is under a non-disclosure agreement not to share any content within your poll.
The People Who Power Our Polls
I like being able to give my opinion on things — what I think should be changed, or what I think works and what doesn't! It's fun to know my opinion truly helps things come to fruition.
I like how I can use my preferences on everyday products. As a whole, I enjoy working on the video game polls: seeing different ideas and concepts of new games first.
[PickFu is] a great opportunity to evaluate important brand features like logos, websites, slogans, product descriptions, etc.
---
I enjoy answering PickFu polls because I feel like I'm helping people make important decisions based on my inputs. I remember doing a poll that wanted feedback on their app design. After pointing out what could be improved on, it was great to see the contributions that I made. I was scrolling through the App Store one day and I actually saw the design of the app. It was really rewarding and shocking to see that the changes were actually implemented!
I have an MBA in Marketing and I enjoy being a part of this process where I can see a product or idea at its infancy and contribute my knowledge and experience to help others. I get the unique opportunity to contribute to the development and marketing of consumer products, innovative business ideas, new apps, and games. I enjoy the opportunity to help. The polls are well constructed and allow plenty of time to think through the concept before providing input.
I enjoy the opportunity to weigh in on new and exciting products coming to market! A poll that was particularly memorable to me was the screenshot series related to one of the Final Fantasy mobile games. I remember because I ended up playing the game and recognizing some of the screenshots I'd seen from the survey make it into the game! Fantastic.
---
I feel like my input matters. I like that I am helping choose book titles, photos for Amazon listings, details for apps, and the like. In one poll, I was choosing which colors of bedsheets I liked best. I tend to like the decorating-related ones quite a bit.
[PickFu offers] a chance to see some very interesting products that are being sold. A kids' dinosaur baseball cap that has a flip-down sunglasses was super memorable, because this is a product that I would love to buy my boys.
I really do enjoy all the work that I do for PickFu. It allows me to give an opinion on what I find interesting and valuable.
---
I like the polls because they make me think. I like having to be descriptive about what to say and about what I like about what is being shown. I learn about interesting new items and software and improvements on older items. That's really fun.
I enjoy how different and unique the polls are. I like giving my honest opinions to help others with their future endeavors. I had direct interaction with one author to clarify a misunderstanding. We had a great conversation, and I learned about a new book series.
I enjoy doing PickFu polls. I enjoy the challenge of pointing out differences in a product, concept, or service that may better or hinder its effectiveness or marketability.
---
I enjoy helping PickFu's customers out with hopefully useful opinions and ideas. I enjoy contributing to a crowd-sourced project and helping to shape the future ideas of customers. It is a great platform to get many thoughts on a product before going to market.
I always enjoy PickFu polls as a great way to start my day. The variety of design and style choices is always unique and fun to see and review. There was one poll of what book cover intrigued me most. It really made me think why I would pick the book up myself.
I enjoy the wide variety of polls and being able to see new products. There was a poll regarding designing a children's drawing mat. I enjoyed answering the poll and was pleased when the designer messaged me directly with a few more questions. That let me know that my answers do have an impact.
---
Panel Response Speed
PickFu is able to deliver responses rapidly — results arrive in a matter of minutes and hours, not days and weeks — because our respondents are highly motivated to respond to polls.
Respondents are paid for each poll response and can earn higher pay depending on a poll's requirements (for example, to watch a video).
Respondents may earn bonuses for consistent high-quality work.
Respondents enjoy the flexibility of answering polls at any hour of the day.
Panel Response Data Quality
Unlike many online panel sources, the PickFu Panel explicitly opts into responding to your poll. They do not participate in PickFu polls to unblock content or to continue playing mobile games.
Each respondent understands that if they do not do a satisfactory job, they may not be paid and may be blocked from participating in future PickFu polls.
PickFu ensures data quality and panel health through three layers of quality checking:
Every response from every respondent is subject to PickFu's machine learning algorithms. Each response is scored, and gibberish and nonsensical answers are automatically blocked and rejected.
The PickFu Quality Team manually reviews responses and assigns penalties or bonuses as appropriate.
As a customer, you may flag any response that you find unhelpful, signaling further review by PickFu.
Additionally, each respondent has an internal score based on their performance across PickFu's polls. We regularly review any low-scoring respondents and take action as appropriate.
Segmentation Data
Respondents self-report their demographic, behavioral, psychographic, and geographic data. Below is a sample of how some of our questions are phrased. For a full list of traits that we collect, refer to our audience targeting.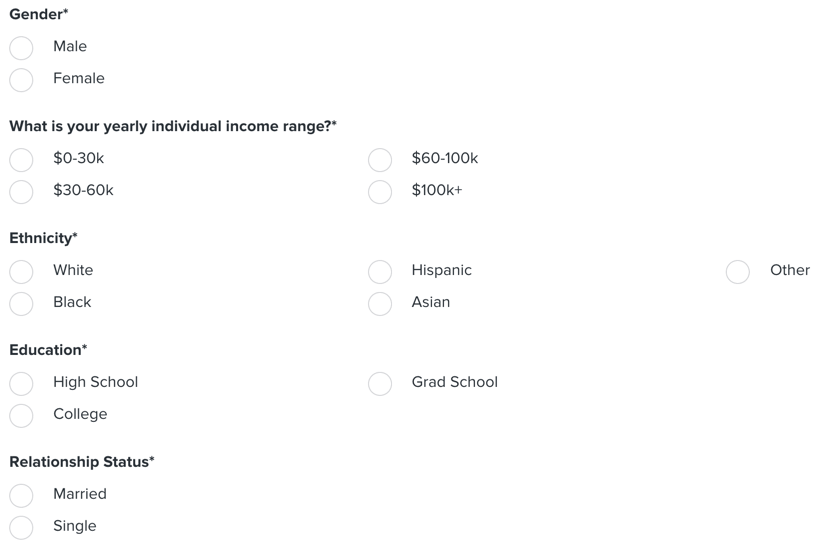 FAQs
Who answers my polls?

The PickFu Panel is comprised of U.S.-based, native English-speaking respondents that represent a wide swath of demographics. You'll find a diverse mix of ages, income levels, and education, as well as behavioral and psychographic traits including exercise frequency, reading habits, and mobile app usage.

What are the demographics of the respondents?

Our respondents are representative of broad US demographics. You can view the demographics of our current respondents.

Do the respondents see my results?

No. Respondents do not see the final poll results. Respondents see a different view of the poll that includes your question, answer options, and any relevant segmentation survey questions. They do not see others' answers or any identifying information.

Are respondents paid to unblock content?

Unlike other survey solutions, PickFu does not reach panelists through content-blocking or interstitial ads. Instead, PickFu panelists opt-in to answer each poll.

Is my data safe?

All respondents are required to agree to a non-disclosure agreement (NDA) before responding to polls.
Have more questions? View our help center or contact us.