If you're an established e-commerce seller and you want to expand your reach beyond Amazon's audience, it might be time to learn how to sell on Walmart Marketplace.
Launched in 2009, Walmart Marketplace is an e-commerce platform for third-party sellers to get their products in front of Walmart's robust audience of buyers.
Let's talk about how to sell on Walmart Marketplace, and why you should consider it.
Selling on Amazon vs. Walmart Marketplace
While Amazon is a smart place to sell, there's a lot of competition. When you sell on Amazon, you're competing with 1.9 million other active sellers (and 9.7 million sellers total).
On Walmart Marketplace, there are currently 50,000 sellers on the platform.
Despite the difference in number of sellers, the two retail giants are both top performers as far as monthly unique website visits go.
So what gives? Why does Walmart have fewer sellers for your brand to compete with?
The answer is simple: Walmart Marketplace has a vetting process that Amazon does not. Just about anyone can sign up to sell products on Amazon.
But in order to sell on Walmart Marketplace, you have to apply to be a seller and get an invitation from Walmart Marketplace to join.
And in order to apply, you must have U.S.-based business, with U.S. registry and a U.S. warehouse address.
Should I join Walmart Marketplace?
A smaller pool of sellers to compete with means more potential sales for you. But before you start the Walmart Marketplace application process, you need to ask yourself a few questions.
First of all, does your audience match up with Walmart Marketplace's typical customer? According to a 2020 webinar run by Walmart Marketplace, the Marketplace audience largely consists of:
Homeowners with a medium- to high-level income
Families with children
Millennials (individuals between the ages of 23-38)
It's a similar yet slightly different market than Walmart's brick-and-mortar storefronts. If your audience fits this buyer persona, that's a good sign that Walmart Marketplace could be a good fit.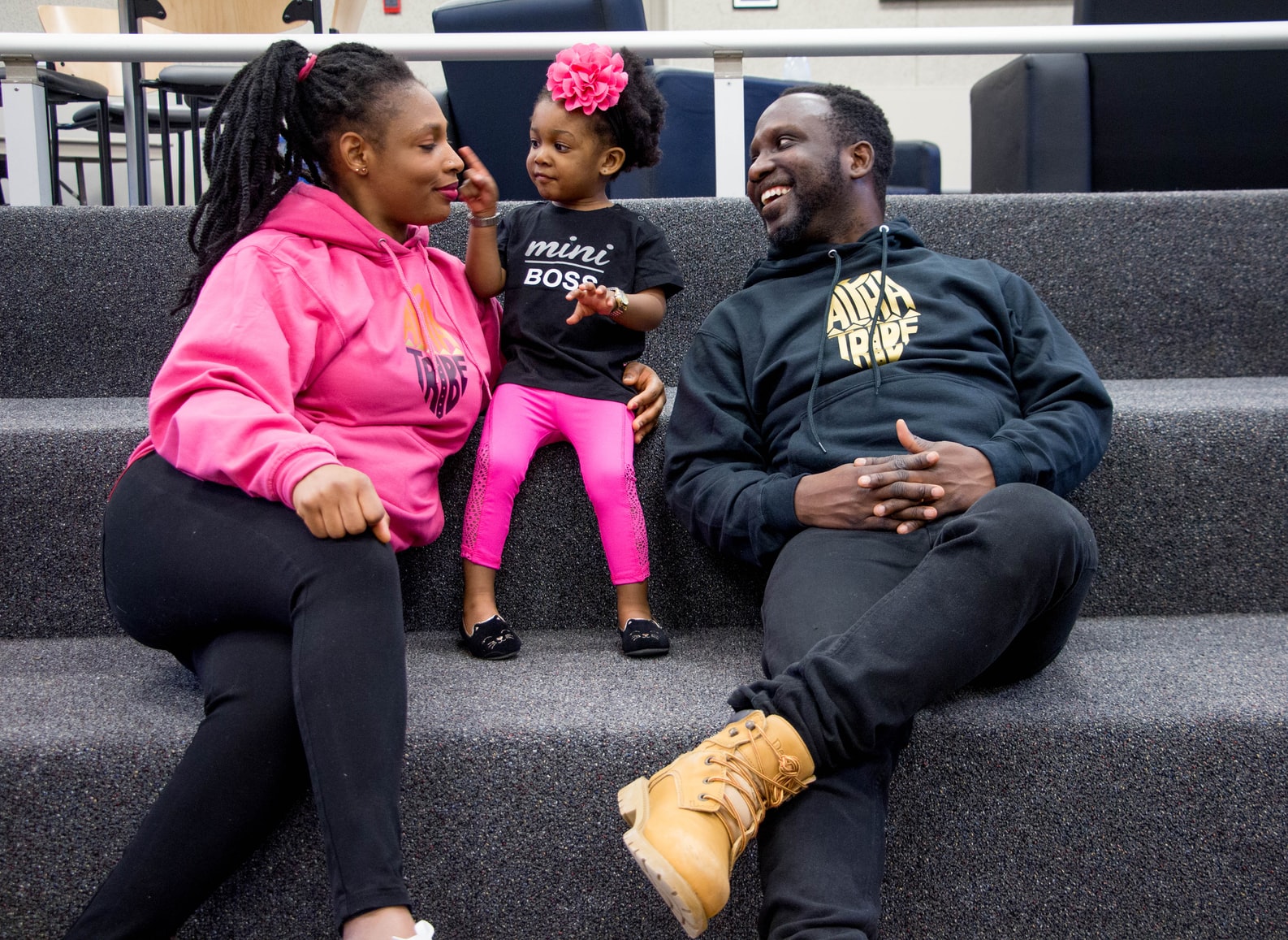 Next, you'll want to consider whether or not you have experience selling on eBay or Amazon. The Walmart Marketplace team will be looking for this type of experience when you submit your application.
This is also a good time to take a good, hard look at your sales. Do your items sell well? If they do, that's a positive sign, no matter what. But it's especially helpful when you want to impress the Walmart Marketplace team and convince them that you'd make those types of sales on their platform, too.
Finally, do you have the personnel required to handle the logistics, pricing, and customer service requests you'll need to quickly attend to if you get accepted to sell on Walmart?
Walmart Marketplace prioritizes high-quality customer service, so if you've been struggling in that department, now's the time to sort out any issues.
Once you submit an application, the Marketplace team invites applicants who:
Are established brands and businesses with good reputations
Provide top-notch customer service
Offer an irresistible range of products with competitive pricing
Can ship products quickly and reliably
If all of the above apply to you and you're wondering what steps to take next, read on.
How do you become a Walmart Marketplace seller?
The first thing you'll need to do is go to Walmart Marketplace's "Request to Sell" page. That's where you'll find the official Walmart seller application.
Before you start filling it out, make sure you have: a U.S. business tax ID; a W9 or W8 and Employee Identification Number (EIN) verification letter from the U.S. Department of Treasury; an address for your physical place of business; a planned integration method for your product catalog; and SKUs with verified UPC information.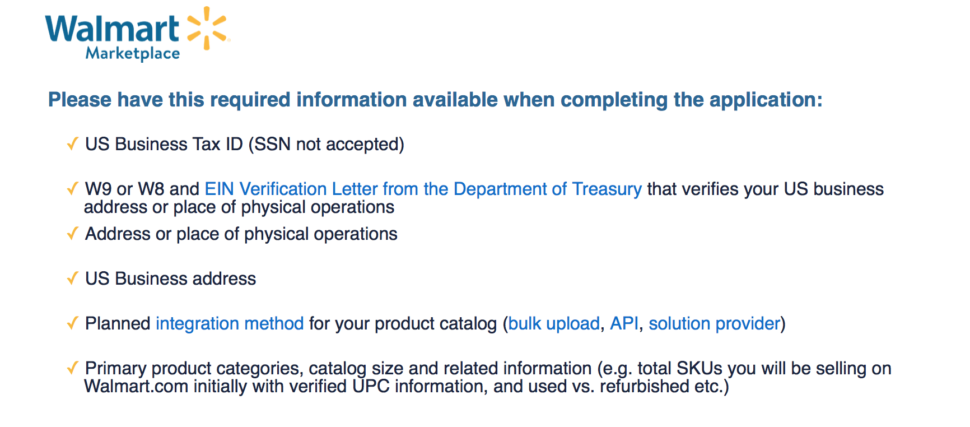 We know, it's a mouthful. But it pays to have it all ready to go before you start filling out the application.
Walmart recommends completing your application on Google Chrome. It should take between 10 and 15 minutes to complete.
After you submit it, Walmart begins its review. Expect this to take between two weeks and one month before you hear back from the Walmart Marketplace team.
Here's what Walmart will look for on your application:
Any previous Amazon or eBay experience.
Amazing, out-of-this-world customer service.
Positive product reviews on Amazon or eBay that prove you can fulfill orders quickly and reliably.
Assurance that you can fulfill orders without using FBA, since Walmart Marketplace requires you to stock and ship your own items. Walmart Marketplaces did add its own fulfillment service in 2020, Walmart Fulfillment Services (WFS), but you must apply to use it. (Do so here.)
An excellent array of products.
Competitive pricing — which means that your product needs to sell for the lowest out of all of its online competition (eBay, Amazon, Target, and the like).
Once you're approved, Walmart Marketplace will want you to upload and start selling products right away. You'll want to make sure your inventory is ready to go with replenishment options handy in case you get backed up on orders.
All your product images and descriptions should be as shiny and ready-to-go as possible, too. But if you know they still need work, fear not. PickFu can help you make sure your product listings are clean, compelling, and ready for customers the minute your business is Walmart Marketplace-approved.
Manage your product listings with PickFu
While you wait to hear back about your Walmart vendor application, focus your attention on making your product listings shine. Even if, for some reason, you aren't accepted, you'll have updated listings that'll get you more business.
This is where PickFu comes in.
PickFu allows you to split test your product images and descriptions with a target audience of U.S.-based consumers. Respondents provide two things: a vote and a written comment explaining why they voted the way they did.
When you're setting up a poll on PickFu, you can customize your audience by age range, gender, income, interests, and more.
In this e-commerce poll, the user split tested four different main images of an unusual but probably useful product, a jaw exerciser, with 50 Amazon Prime members:

Respondents selected Option B as the winner. Among their comments:
"I thought the packaging was needed to explain this ambiguous-looking product so Option A was ranked last. Option B showed the product and the packaging together in the most prominent way with the most detail and made the text on the packaging look the clearest."
"Option B is the best balance between showing the product and the box in the closest angle."
"I like the closer view with the box. Seeing the box always helps me decide on a product."
Almost everyone who voted for Option B appreciated the close-up image of the packaging.
If this seller hadn't run a PickFu poll and gotten this feedback, they might have chosen to use a different image that potential buyers would've skipped over because they couldn't clearly see the packaging.
Use PickFu for competitive analysis
In addition to helping you improve your product images and descriptions, PickFu is a conduit for competitive analysis.
Test your product image against a Walmart Marketplace competitor's on PickFu and see which one your unbiased audience chooses as the winner. If it's your image, you're in a good place! If not, you have some work to do.
Check out these articles on taking great product images and crafting strong product descriptions to help get you started.
Selling on Walmart Marketplace can be a huge boon to your e-commerce business. Now that you know what to do to navigate the process of becoming a Walmart Marketplace seller, go get that coveted invitation!
---