Trusted by Thousands of Customers
Get Real Feedback From Real People
Give your book an unfair advantage. Test before you publish, and let our audience polls help you make data-driven decisions to make your book stand out.
---
Get 50 instant poll responses for $50.
Start optimizing your book with audience-driven data today.
---
Current Ways To Test Market Your Book Listings
Trust Your Gut
It's your baby. Which one feels right? Are you willing to invest your time and money into a purely gut decision?
Ask Friends & Family
Send an email to your friends and family with the different book listings and ask for their feedback.
Buy Ads
Create a Google Ad or Facebook Ad for all the different book listings and see which one has the highest click-through rate (CTR).
Or

Use PickFu!

PickFu gets you the same quantitative and unbiased results as buying expensive ads, but much faster and without any of the hassle of trying to figure out how to setup the ads. As a bonus, you get written qualitative feedback you can use to further iterate on your book listings.

Armed with this data, you will have the confidence to choose the best book listing.
---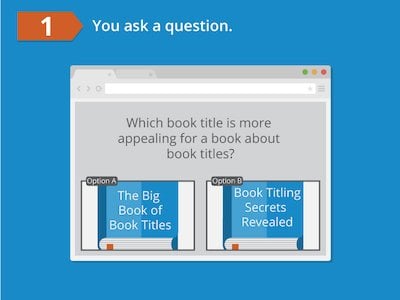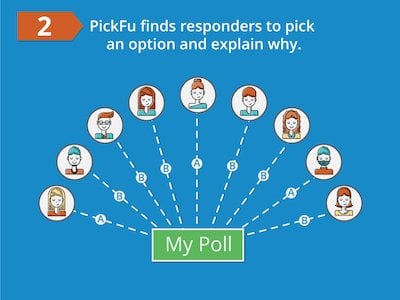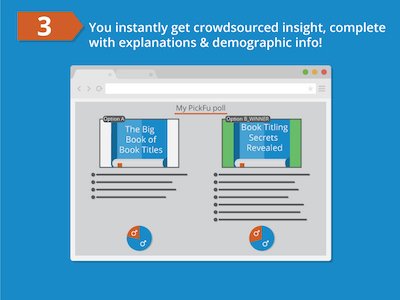 How PickFu Compares
Friends & Family
Buying Ads
Your Gut
PickFu
Definitive Quantitative Result
Qualitative Actionable Feedback
Large Representative Audience
---
Get 50 instant poll responses for $50.
Start optimizing your book with audience-driven data today.
---
Why use PickFu for your book marketing?
1-Minute Setup
Write one question and provide 1-8 options, and your book listing poll is ready to go.
We Bring The Respondents
Our panel matches US demographics for balanced, unbiased results for your book listing.
Quick Results in Minutes
Keep iterating on your book listing throughout the day as you instantly get feedback you can use.
Audience Targeting
Target your poll to segments like Amazon Prime Members, Mobile Gamers, and more. Read more about Audience Segmentation.
Explanations
Learn the why behind each response and make better book listing decisions going forward.
Demographic Info
Slice and dice responses by age, gender, ethnicity, income, education.
---
Get 50 instant poll responses for $50.
Start optimizing your book with audience-driven data today.
---
Author Testimonials
I have loved PickFu and recommended it to dozens of people already. I've used it to quickly iterate ideas and have some data to make decisions. I'm a huge fan and will definitely continue using it for various projects.

I highly recommend PickFu to the authors and aspiring authors I work with. Having the ability to objectively split test book covers and book titles from an unbiased audience is vitally important. Book titles and book covers can significantly impact purchase conversion, and a non-fiction author's thought leadership. Being able to test these factors is peace of mind.

I use PickFu to split test book titles and covers. It's been extremely helpful to know what readers prefer before I self-publish my books on Amazon. It enables me to make better decisions without relying purely on intuition.

Thank you for your vision and creating PickFu. As a businesswoman, financial coach, author and speaker, ​your company ROCKS! I write prolifically and need somewhere to go to get unbiased opinions from strangers that aren't just flaming my ideas because they had a bad day. It is the most helpful advice I can get when coming up with titles for books, headlines, and book covers. The diversity of the information and honest feedback is delightful. I've used the polls to help me narrow down a book title and soon I'll be using them to assist with my logo for my 8th business as well as the tag line for a new course I'm offering.

I was very impressed with PickFu. There were things I didn't expect: (1) I could choose the gender and age group. (2) Your age groups match the age groups that my Scribe Content software uses. Great. (3) The responses included a reason. That alone is super valuable and gave me a few branding ideas including images and copy tone. (4) You also broke down the respondents by education and income level. Wow -- I didn't think $70 could by so much happiness. This was money sooooo well spent!

PickFu.com is my go-to tool whenever I want direct and honest feedback for my cover or book title. What I love is I get results within an hour and how the respondents provide a detailed 'reason why' they voted a certain way.

Blog Posts About Optimizing Book Listings
Even the most seasoned authors need advice on which book covers attract their readers the most. Danielle Girard, author of 13 books — including several bestsellers and award-winners — created a PickFu poll to test book cover designs for her newest e-book series. She asked 50 readers of e-books this question: "Which cover (and why) […]

Even authors who write about how to make decisions more effectively need assistance when making a decision about their book title ideas. One such author took the question to PickFu to find out which of two titles appealed the most to readers. Option A reads, "The Decision Making Blueprint: A Simple Guide to Better Choices […]

It's important to know how to write a medical book title that calls attention to itself. Titles are the first thing potential readers notice when they browse books. With nonfiction books especially, titles play a crucial role in marketing: unlike with fictional novels, readers want to know exactly what they're getting. One medical author created […]
---
Get 50 instant poll responses for $50.
Start optimizing your book with audience-driven data today.
---