With almost 500 million products on Amazon, how do you stand out from the crowd? Split testing is one of the most effective means to optimize your Amazon product listings and increase engagement and sales on your products.
See split testing in action
Start your Amazon split test
What is split testing on Amazon?
Split testing on Amazon is an experiment between two or more variations to see which variation in the set performs best. For Amazon split testing, you might test variations of your product name, different Amazon listing photos, or versions of product copy. Split testing is also known as A/B testing because there is a version called A and a version called B. (If you add a third and fourth version, it's called an A/B/C/D test).
Amazon split testing tools
Traditional split tests direct a portion of your Amazon traffic to one test variation and another portion to a different variation. After the test, you compare how shoppers behaved with each variation. For instance, on average, did one set of visitors browse for longer? Did one set convert at a higher rate?
Many split testing tools exist to help sellers run split testing on Amazon, including Splitly, Listing Dojo, and Cashcowpro. Amazon's own split testing feature, Manage Your Experiments, allows eligible sellers to test the A+ Content of their brand's listings.
However, the traditional split tests that these tools offer have some limitations:
For one, in order to gather enough data to make an informed decision, you have to accrue enough traffic to test.
In order to do this, you'll probably need to pay to promote your products on Amazon, which can become expensive.
The tests also may take quite a bit of time, depending on the traffic levels. Splitly, for example, requires a minimum of seven days.
Further, because you're using live traffic for your test, you risk seeing an adverse effect on sales or search ranking if a test variation performs worse than your current listing.
Split testing on Amazon using PickFu
PickFu is a polling software that enables you to quickly test elements of your Amazon listing with audiences that match your customer profile and target demographics. For example, you could test product names, copy, or logos, or try image split testing with variations of your main photo.
Differences between live split testing and PickFu polling
Traditional split tests use Amazon shoppers as they are shopping as test subjects.

The PickFu Panel is comprised of U.S.-based respondents who are paid a small stipend to answer your poll. A popular audience available to test on PickFu is Amazon Prime members. However, a PickFu split test is conducted outside of the Amazon marketplace, so there may be variances between the PickFu Panel and Amazon shopper demographics.

When running a traditional split test, Amazon shoppers are not aware that their behavior is being monitored. They do not know that there are other versions of your listing other than the one they are seeing.

On PickFu, the Panel sees all variations in order to compare them and provide their feedback. Not only does each respondent vote on the variation they like best, but they each also provide a written comment explaining why they chose their preferred option. These written comments provide insight into what works with shoppers to help guide your decisions.

Traditional split tests often take days or weeks to complete.

Using PickFu, most polls complete in less than 15 minutes.

The cost of traditional split testing on Amazon is often unpredictable. You need to pay for the testing software you're using to split test, as well as the cost of the ads you're running to build traffic.

With PickFu, the cost is a flat fee. Polling starts at $50 but changes with different options you can use to customize your poll.

Traditional split tests use live Amazon listings.

On PickFu, your product does not need to be live on Amazon. You can test product variations such as color options or design before going into production. Get a sense of what shoppers want before committing to inventory. Or try Amazon package testing by perfecting your packaging with PickFu's audience.

Traditional split tests can only compare variations of your own Amazon listings.

Using PickFu, you can perform competitive analysis by polling your listing against competing listings. Gain insight into how your product fares against category leaders. Split testing product copy is especially effective with competitors.
The perks of testing outside of Amazon
Since PickFu polling happens outside of Amazon, you can run polls for idea validation before going into production or committing to inventory.
If you already have live listings, using PickFu means there's no risk of losing sales if the new variant performs worse than the original. You don't have to change anything in your listing until the poll results have shown it will perform better.
Another benefit of testing outside of Amazon is the ability to compare your products to a competitor or category leader. You can match your product directly against another to see how it fares with respondents. Since respondents leave written feedback along with voting, you discover what you're doing well and can work that into the messaging of your listings and branding.
What can you split test?
Using PickFu, you can test every element of your Amazon listings, such as
photography, especially the listing's featured photo
product videos
product bonuses or add-ons
Along with a voting system, PickFu allows for open-ended feedback. If you're stuck on pricing your products, you can turn to respondents for their opinions. Try running a poll with questions such as:
How much would you pay for this product?
Which product looks more expensive?
Do you think $14.99 is a fair price?
We've found from previous polls that if you list a price in the details, people will leave their opinion on price anyway. You may see feedback such as, "I prefer the photo from Option A, but I wouldn't pay that price for it."
How PickFu protects the confidentiality of your business
When running your own e-commerce business, especially with proprietary products you've created, confidentiality is a top concern. Rest assured that PickFu understands this. We have several measures in place to protect the confidentiality of your ideas, products, and business.
Before taking part in any polls, every respondent signs a thorough non-disclosure agreement (NDA). Respondents are restricted from taking or sharing anything they see in a poll.
PickFu polls are private by default. This ensures that anything you share in the poll won't be indexed by search engines and stays between you and the respondents. However, you have the option to include your poll in our public poll gallery, where sellers can get ideas on how to use polls and see how effective they are. You'll get a $5 discount for sharing your poll in the public gallery.
Who are the PickFu respondents?
We use a variety of online services to find our respondents, all of whom are based in the United States and native English speakers. On the back end, we have developed proprietary quality controls that include internal rating systems and spam protection. We take quality seriously and are always working to ensure that respondents give insightful feedback.
While we have gathered a range of people to respond to PickFu polls, you have the ability to customize your audience. You can choose a general audience, which is a mix of genders, age groups, and interests.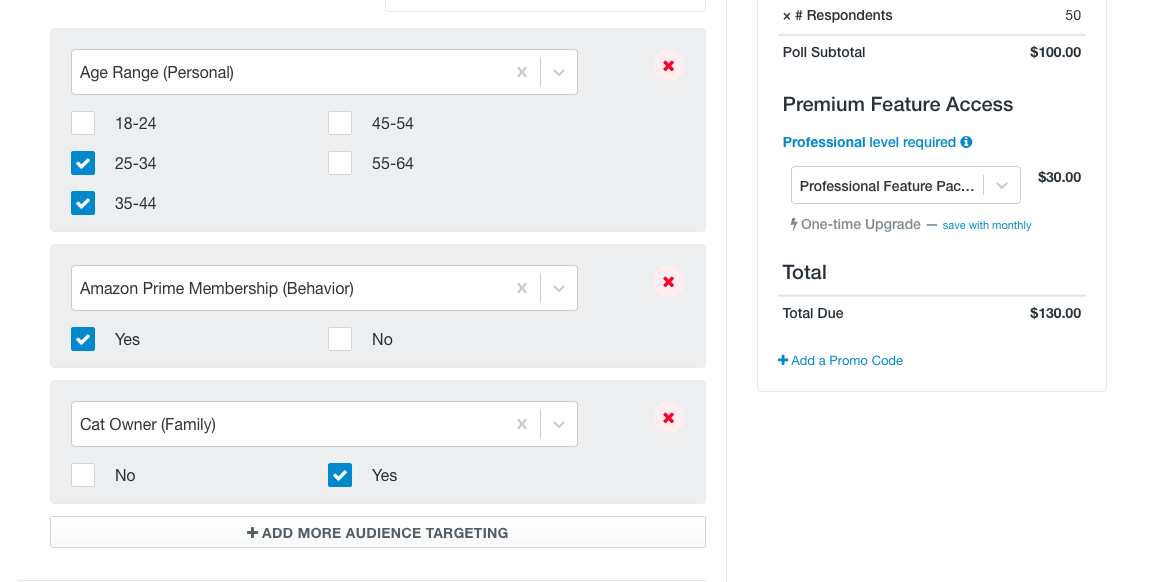 You can also specify the audience who votes in your poll. One popular option for e-commerce sellers is polling Amazon Prime members. If you're targeting your product to a specific kind of person, use filters like gender, age range, educational level, and income. For example, if you have a high-end product, you can target people who earn more than $100,000 per year.
You can choose multiple filters to get a specific audience, such as female homeowners or male mobile gamers in their 20s. We've also added categories that are especially beneficial for e-commerce users, such as cat owners or dog owners for pet products. Other information we gather from respondents includes:
exercise habits
cooking habits
if they use cosmetics
if they take nutritional supplements
the type of mobile device used
if they've donated to a Kickstarter campaign before
By combining different categories, you can niche your poll audience down to the same type of shoppers you are targeting with your products.
Our split testing software in action
When you create a poll on PickFu, start by inputting your question. For example, ask "Which image do you prefer?" or "Which design do you prefer?" You can input up to eight different options in a single poll, and these options can be images, text, links, or embedded videos.
If you have more than two options, you can either have respondents rank the options in the order they prefer or set up head-to-head matchups, which is a more complete way of polling.
You can also test product descriptions and entire product listings by including links in your polls.
Split tests of product photos
Split tests of physical product design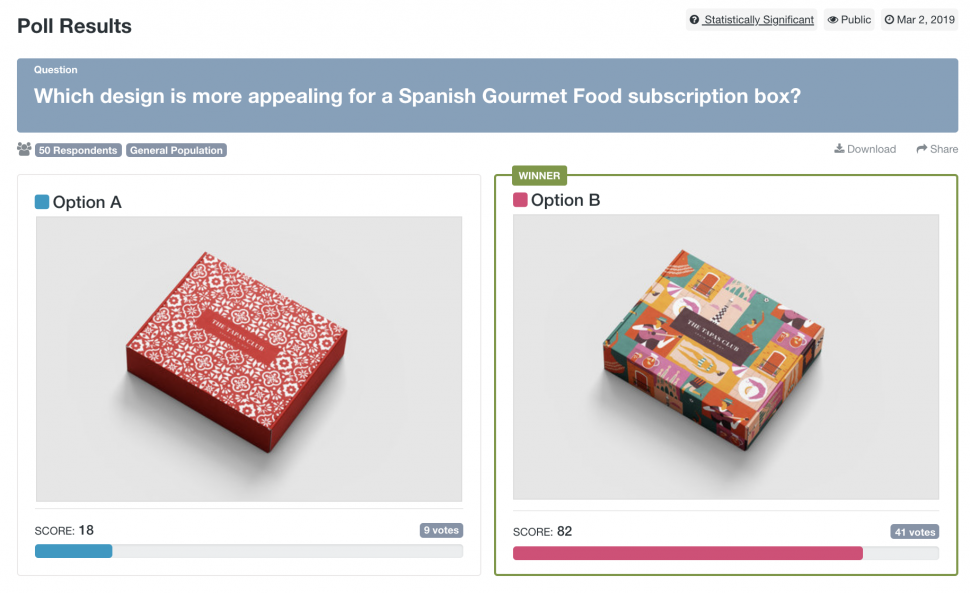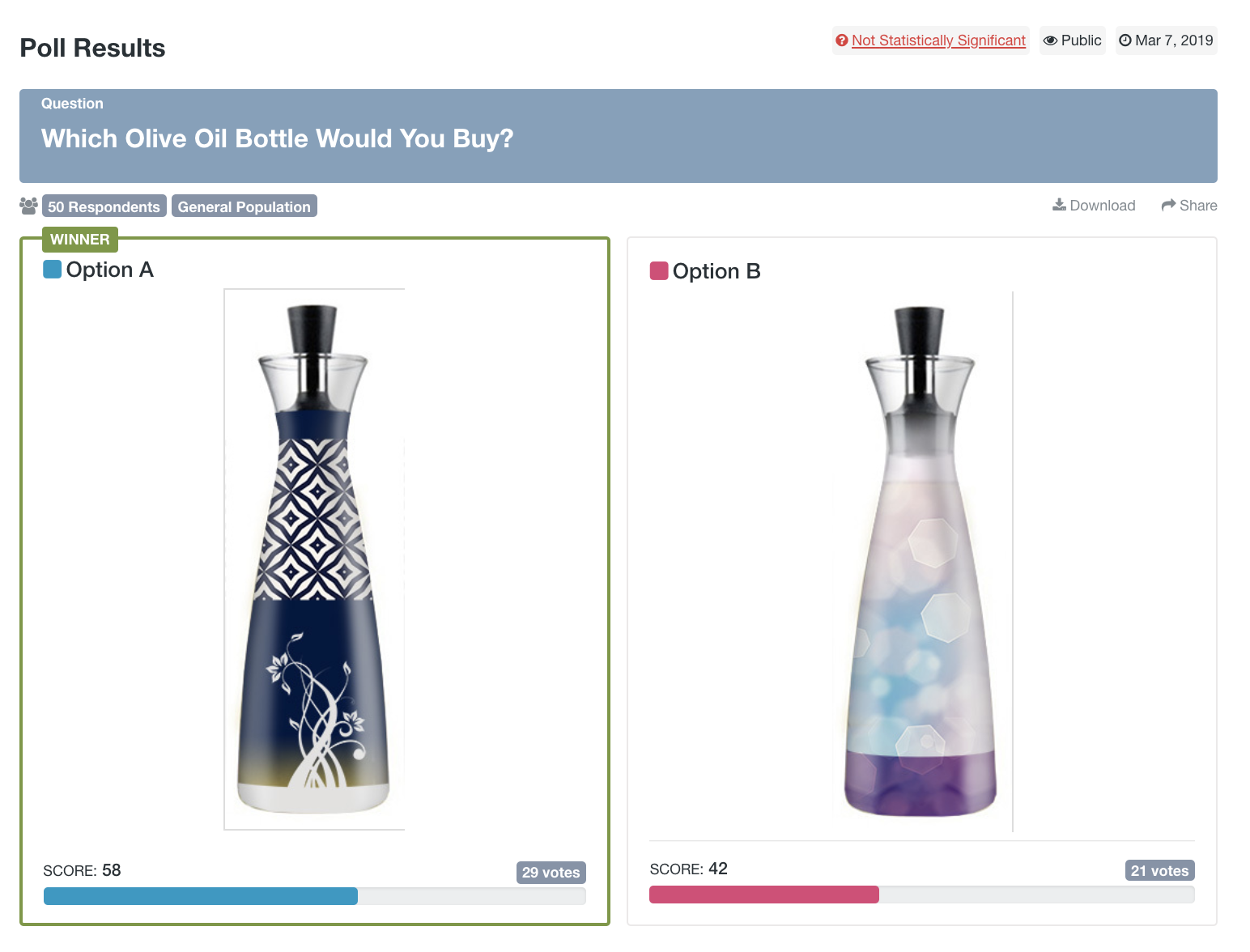 ---