Owning an Amazon business is not for the faint of heart.
With 9.5 million sellers globally and millions of options for shoppers, standing out in a sea of sameness can be downright tricky.
Luckily, we've polled 100 American consumers to learn what they look for when reviewing Amazon product descriptions.
We discovered what matters to Amazon shoppers for product descriptions, and the order might surprise you. The most important elements are easy-to-read text and explanation of benefits.
Meanwhile, the product title is almost an afterthought to consumers.
In this post, I'm going to show you how to use this information to your advantage. With our poll findings, you'll discover how to optimize your Amazon product descriptions to attract the attention of your ideal customer.
Here's the quick navigation list for the article:
We'll also share some concrete examples of how to implement these tips. Let's jump right in.
What do customers look for in a product description on Amazon?
When I asked 100 American consumers where they prefer to do their online shopping, 90% said they prefer to buy products online from Amazon than other e-commerce retailers/stores.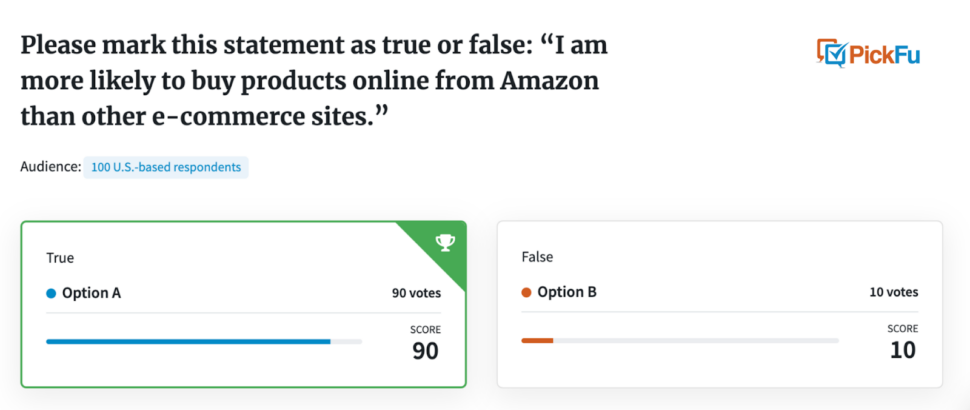 People vastly prefer Amazon over other alternatives, making optimizing your product listing description on Amazon a surefire way to improve conversions.
Don't just take our word for it, though. We asked another 100 respondents to rank how important Amazon product descriptions are on a scale of one to five:
Results show that product descriptions play a big part in decision making. 55% of respondents said the product description is extremely important, while 32% said it's very important.
Overall, the 100 respondents agreed product descriptions are very important.
("Say important one more time, Anna.")
Respondents said the product description is where they look for more product details to help them decide if it's right for them.
Here were some of the big highlights for me:
"The description is very important as I need to tell if the product has certain aspects I'm looking for."
"When I'm not sure if a product is going to be great or not, or I have questions about it, I always read the product description. If it has typos or errors in it or doesn't give me enough information, I usually do not purchase the product."
"It is really important because I like to do my homework and learn about items before I buy them. I think the pictures and ratings might be more important but the description is still up there."
So, we know the product description matters, but what do people actually look for in them? I asked another 100 respondents what's important to them when they review Amazon product descriptions.
It turns out formatting is most important, with benefits being a close second.
(We didn't ask about product images as part of this poll, but if you want to dig into the visual side instead, check out this article on testing product photos.)
The comments were where things got interesting. Respondents gave even more insight into why the specific elements mattered to them.
Formatting with bullet points makes it easier to find the information they need to make a decision. It also influences their belief that it's a quality product.
"There is nothing worse than having product information that is difficult to read or understand. Having it easy to read is extremely important. I would think that the description is more important than the title so that is second."
"I like to be able to easily scan the description and bullet points help."
"Being able to actually read and see the description because of proper formatting makes it much easier and gives me more confidence in the quality of the product."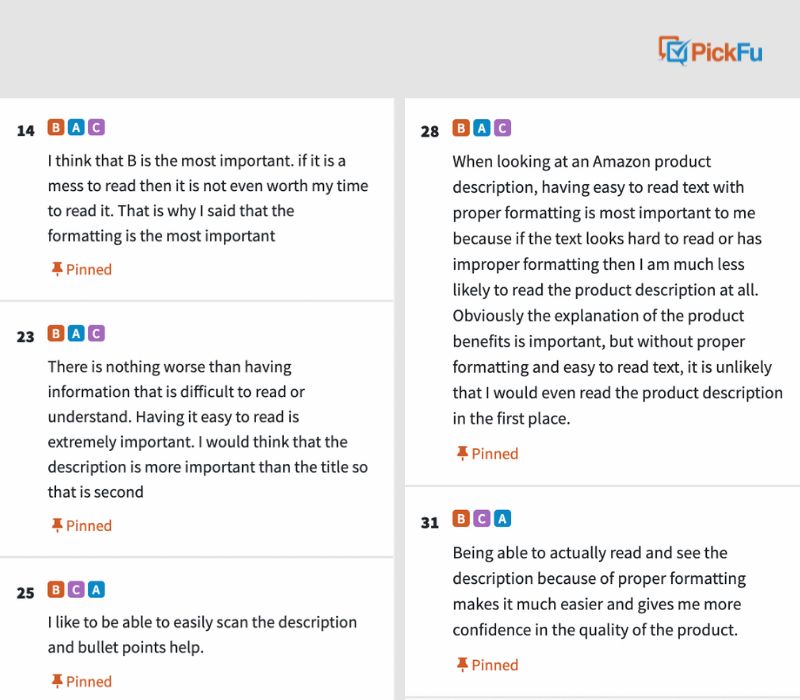 From the poll results, we can conclude that product descriptions play a significant role in purchases on Amazon.
Results also indicate that when shoppers are considering a product on Amazon, they look at the following elements of the product description:
An explanation of the product benefits
Easy to read text with proper formatting (bullet points, white space, etc.)
The title of the description
Bottom line:
Your number one goal when selling on Amazon should be to solve the customer's problem. You can do this effectively by helping them decide on your product — if it's right for them — by writing a compelling product description.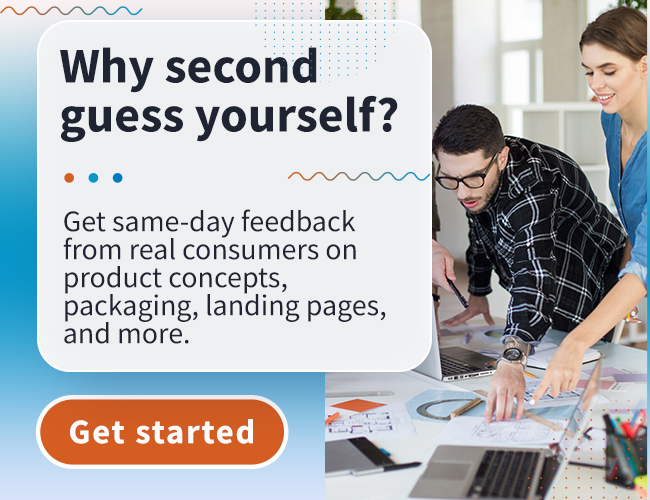 How to write an effective Amazon product description
#1. Incorporate keywords
While this one didn't show up in the polls we conducted, it's very important.
66% of American consumers start their research on Amazon. They typically don't go beyond the first page of results. So when it comes to Amazon search, SEO is important.
SEO, and more specifically keyword research, is key to optimizing your Amazon product listings for maximum visibility. There's no point in going through the trouble to write a great product description if no one can find it.
Amazon's SEO is not like standard SEO. In fact, the Amazon search algorithm — called A10 — has one job, and that one job is to show shoppers products that they're most likely to buy.
Unlike traditional SEO which focuses on four distinct search intents, Amazon SEO treats every search as transactional.
The algorithm focuses on two things: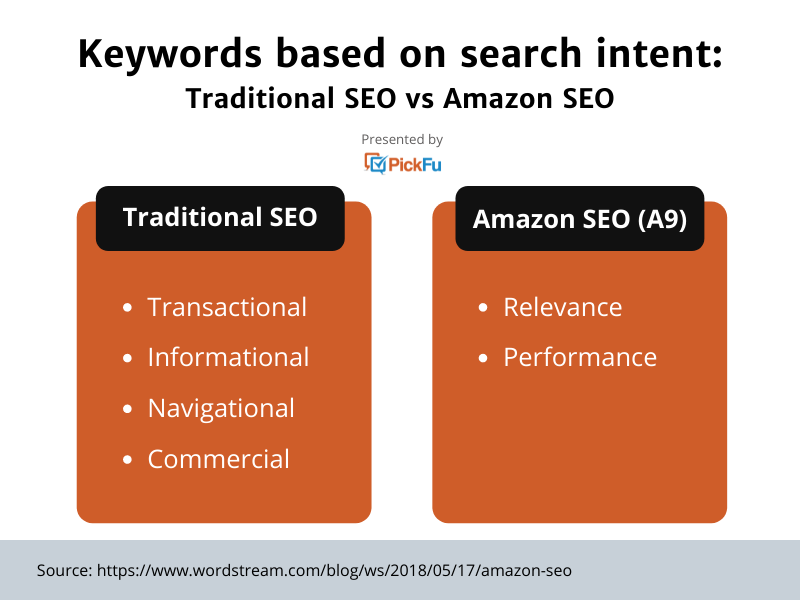 This is useful when you consider the intent behind searches on Amazon, and how to use keywords on the site.
Finding the right keywords
The most significant part of the challenge will be finding the right keywords. In this instance, research will be your friend.
The right keywords will be a balance of volume and relevance to your specific product. Once you use available resources to find and include the right ones, you should see an improvement in the conversion rate on your product pages.
Start your keyword research on Amazon
There's no better place to start your keyword research than with the auto-fill feature on Amazon, since Amazon already knows and understands your potential customers' buying habits.
First, go to Amazon.com (or whatever your target country's subdomain) in incognito mode on your browser of choice.
Using the search bar, start typing the name of your product. Amazon will suggest additional words related to your primary word based on the search habits of shoppers.
In the example below, typing "bracelet" into the search bar brings up multiple keyword phrases that may be worth exploring.
Continue with the name of your product followed by different letters of the alphabet.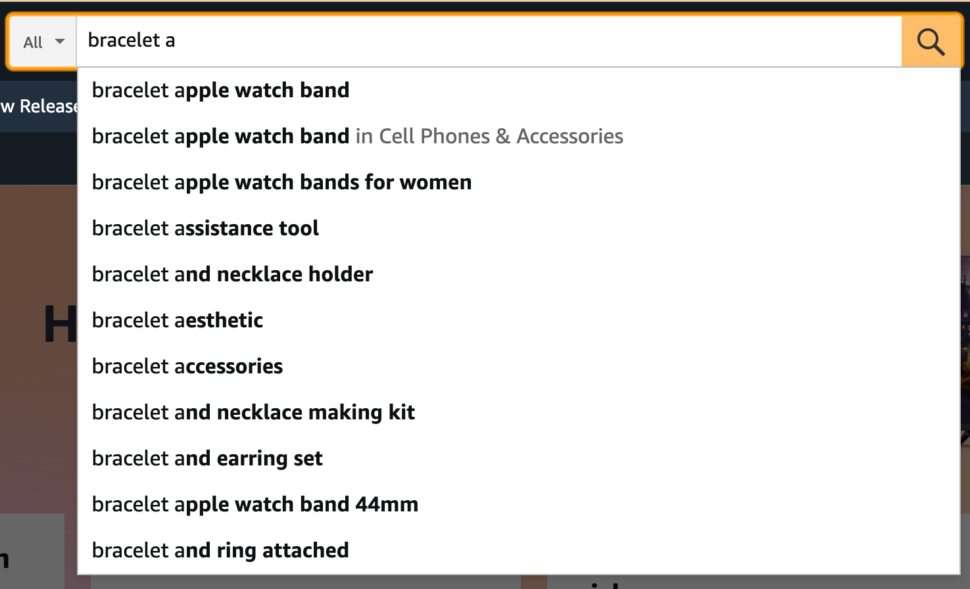 For example, "bracelet a" will bring up a different set of options than "bracelet b".
There's no need to go through the entire alphabet. Going through the first five letters (a-e) should give you a solid initial list.
This is a good way to get started for free since many keyword research tools tend to be pricey. It won't take you all the way to the market, but it'll get you started.
Explore other keyword research tools
Keyword Tool is a great option that provides adequate results to get you started without a paid plan. While this tool is primarily built for search engine marketing, it's an excellent free brainstorming tool for Amazon keywords, too.
Just make sure you do your competitive research, too. Search terms from Keyword Tool are a starting point, but not an end-to-end solution. Compare your potential terms to similar products on Amazon before committing to anything.
Continuing with our earlier example, searching for the word "bracelet" brings up a keyword overview that shows search volume, trend, cost per click, and competition.
If you want more detailed insights, you will need to upgrade to a paid plan.
The phrase "bracelet making kit" shows up in both the Amazon search and the Keyword Tool search with a significant search volume and upward trend.
This tells us two things:
It's a competitive phrase
There's probably a lot of interest in bracelet making kits
This is a keyword phrase that would be worth pursuing if you're selling these kits. It's also helpful if you're trying to decide if a product is worth your time.
How to use your keywords
Once you've narrowed down your keywords, they can be used in three ways on Amazon:
In your product title
In your product description
In Seller Central (hidden keywords)
Since our main goal is to help you write Amazon product descriptions that convert, we'll only cover using keywords in your product title and your product description.
You can learn more about using hidden keywords on the backend in Seller Central here.
Use keywords in your product title and description
When using keywords in your Amazon product title and description, the main rule is to avoid black hat SEO practices like keyword stuffing.
Include keywords in a way that reads naturally, paying attention to relevance.
While our respondents said the product title was the last thing they looked at, it's still arguably the most important element of your product description.
Its ability to woo the algorithm determines which products shoppers actually see.
A9 (remember Amazon's search algorithm?) cares about your product title — and A9 decides what products your potential customers see based on the title and description.
When optimizing your Amazon product title, bear the following in mind:
D — Description: Include a summary of your product description
I — Ingredients: Mention what it's made of, e.g., colors or materials
B — Brand: Include your brand name or the name of the product
I — Information: Mention what the product does
C — Count: Mention how many units, if applicable
K — Keywords: Include relevant keywords
S — Size: Include the size of the product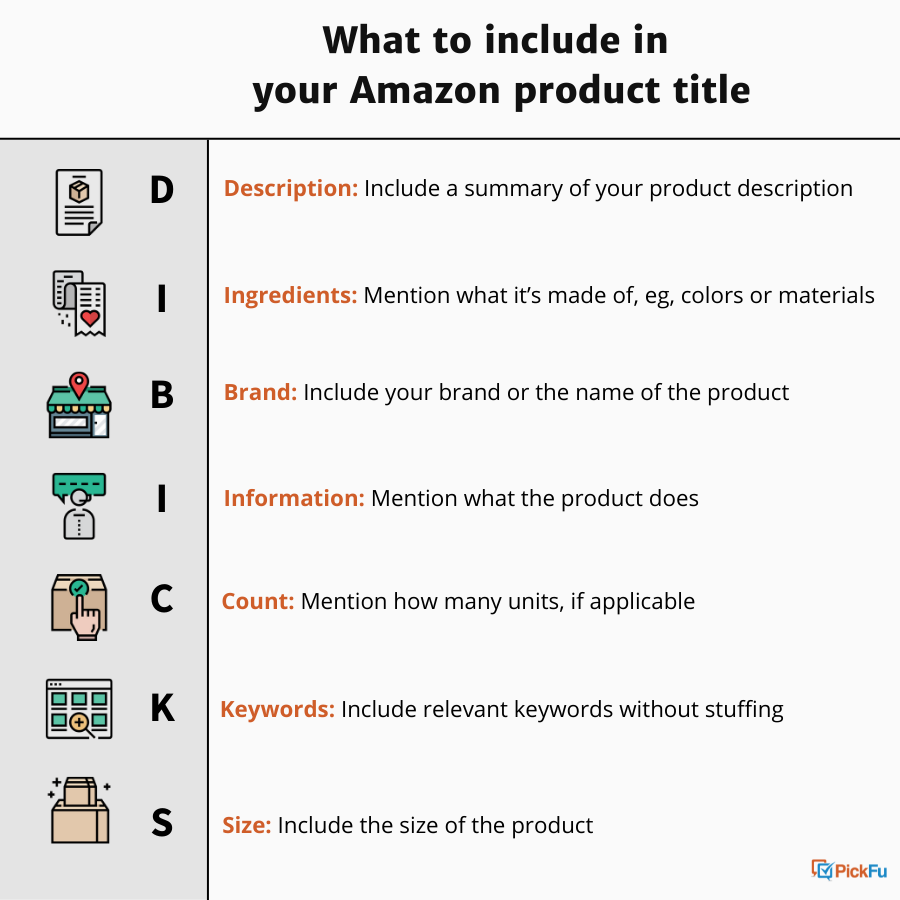 Pay attention to Amazon's guidelines
Amazon has made it clear that keywords are an essential part of your product description. Their detailed guidelines on the different types of keywords and when to use them are a good resource to use when writing your product descriptions. Ultimately, the best way to learn about Amazon's search engine is through Amazon itself.
Keywords categories for Amazon marketplace include the following:
Intended use — describes the context the product is used in, which can be an activity or location e.g. gaming, bedroom.
Other attributes —describes features of a product e.g. waterproof, glow-in-the-dark.
Style-specific terms — words that describe apparel items e.g. ankle-boots, fur-lined
Subject keywords — should only be used to describe Media products
Armed with the right keywords and a clear understanding of how to use them, you'll be better equipped to work on your product descriptions.
#2. Focus on benefits
Product features are essential, but benefits are equally — if not more — significant. Buyers want to see the benefits of your product in the context of their daily lives, and it needs to happen in your product description.
Recall that 42% of the poll respondents above said an explanation of product benefits was most important to them.
Here are some of their responses:
"What it does and how it works are the most vital things. I don't care as much about the others."
"Option A is the most important because you want to know what the benefits are right away when looking at a product. Having easy to read text with proper formatting is also a good thing to have as well to make it easier to understand the benefits of the product."
This doesn't mean you should ignore the product features in your description. The best approach is to make your benefits the star with features as your supporting actor. Include them to validate the claims you make with your product benefits.
The marketing adage "Features tell, benefits sell" applies to your product descriptions. It's also a simple distinction to help you avoid the trap of confusing a feature with a benefit.
How to turn a feature into a benefit
Start by listing the key features of your product.
Then follow up by outlining your potential customers' needs. (What need are they looking for your product to fill?)
Next, ask and answer the following question for each feature: "How does this feature allow the product to meet your customers' needs?"
Here's an example of this at work.
If you're selling memory foam mattresses on Amazon, your product features are an excellent place to start. But don't just stop there.
Ask and answer the question, "How does this feature allow the product to meet your customers' needs?"
This will help you uncover the benefits.
"How does this feature allow the product to meet your customers' needs?"
A memory foam mattress provides good pressure relief, reduces back and neck pain, and is great for spinal alignment. It's also hypoallergenic and does a good job of regulating temperature.
All these benefits together make it a great choice for consumers looking to get a good night's sleep from a mattress they can expect to last.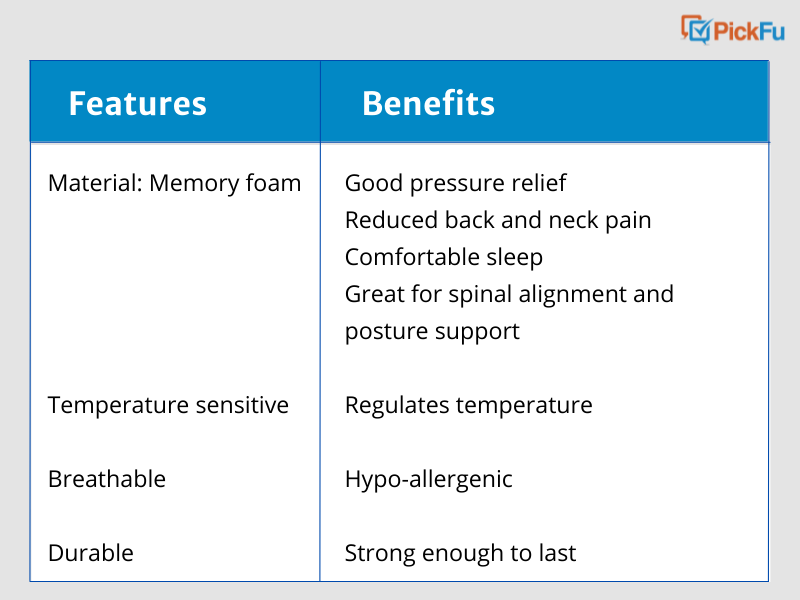 Let's take another example, this time directly from Amazon. This example is inspired by a recent purchase.
When I searched "heat gun" on Amazon several things were important to me:
Beyond price and reviews, I knew I wanted a heat gun that had range.
I needed something powerful enough for peeling wallpaper and melting candle wax but also gentle enough to shrink plastic tubing when I need to repair my phone charging cable.
I also wanted multiple attachments for different use cases.
The two product descriptions below do a good job of outlining both the product features and benefits.
Both descriptions mention safety and ease of use — concerns you would have when looking for a heat gun to purchase. Most hobbyists who purchase a heat gun will also appreciate one that can multitask and provide a good temperature range.
The SEEKONE product description highlights its ergonomic design — a feature. But they go further by explaining the benefit of this. They claim the user doesn't have to worry about repetitive strain injuries, which is a real concern with smaller handheld tools.
They also do a great job of making the information easy to read — which brings me to the next point.
#3. Keep your text clear and concise
Formatting is everything when it comes to your Amazon product description. Benefits, buyer-focused copywriting, and relevant keywords won't matter if potential buyers don't read what you've written.
It's important to write in clear short sentences that are easy to read.
More Amazon shoppers complete transactions on desktop, but data suggests they are browsing on mobile first, so it's important to make your descriptions easy to read on mobile.
Use white space and bullet points
White space and bullet points are your friends when writing your descriptions.
58% of respondents polled said clear and concise descriptions were the most critical part of a product description:
"There is nothing worse than having information that is difficult to read or understand. Having it easy to read is extremely important. I would think that the description is more important than the title, so that is second."
"I like to be able to easily scan the description and bullet points help."
"I like things to be easy to read and to not have to dig to find the information I need about the product."
The two earlier descriptions for the heat gun show what a properly formatted Amazon description should look like. This product description for a dog shampoo also does a good job.
They use bullet points and pull the eyes toward key phrases with all caps text, which they use sparingly so it stands out. If you also have a lot of features and not a lot of space, it's an excellent strategy to copy for your product descriptions.
Lastly, eliminate buzzwords, repetition, and unnecessary information.
Repeating keywords to trick the algorithm or using lengthy sentences isn't necessary. Above all, cut buzzwords and go for precision. Customers will likely skip over the description if it's too long instead of reading it.
When it comes to Amazon product descriptions, concision is key for conversion.
#4. Review the competition
Looking at what your competition is doing and doing it better is a great way to improve your Amazon product descriptions.
(Or products generally.)
Look at top sellers in your category and see what you can learn from their listings.
A consumer research tool like PickFu is excellent for this. You can A/B test your title or description against your competitors with real Amazon customers. Then you can use the findings to improve your listing.
Here's a walkthrough of how you could do this, using the two Amazon listings for door sweeps below.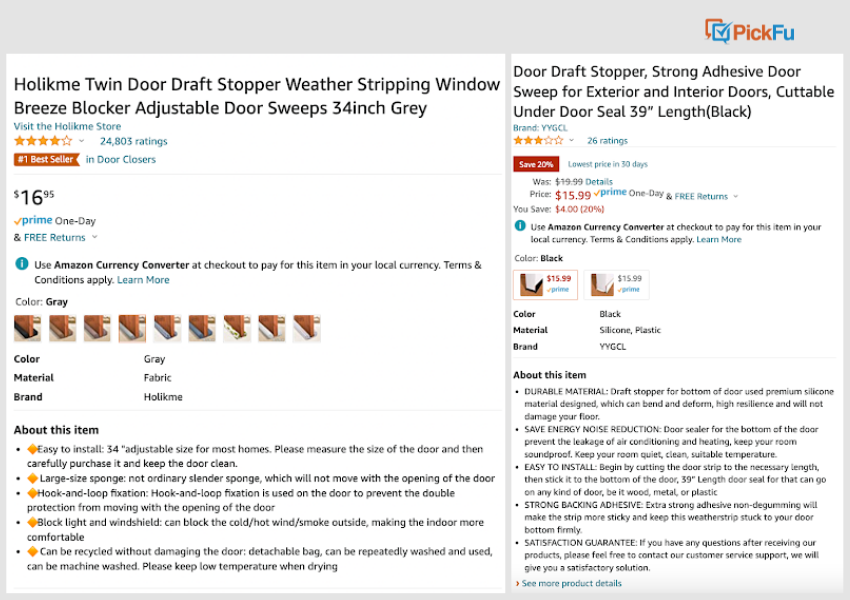 A. How to run a comparative test on PickFu
Start by creating a PickFu account.
Once you've created your account and logged in, select "+ New poll" from the top right of your screen.

You can choose between using a pre-configured Combo poll template or building your poll from scratch with the Poll Builder.
They're both convenient. For this, I'll use the Poll Builder by clicking "Start from scratch."
It's time to add your question, which is where the Poll Builder shines. 
You can write your own question, choose from one of our pre-written questions and use it as-is, or tweak it to make it more tailored to your scenario.
I'm testing the description for two door sweeps on Amazon. My question will be: "Based on the description, which door sweep would you rather buy?"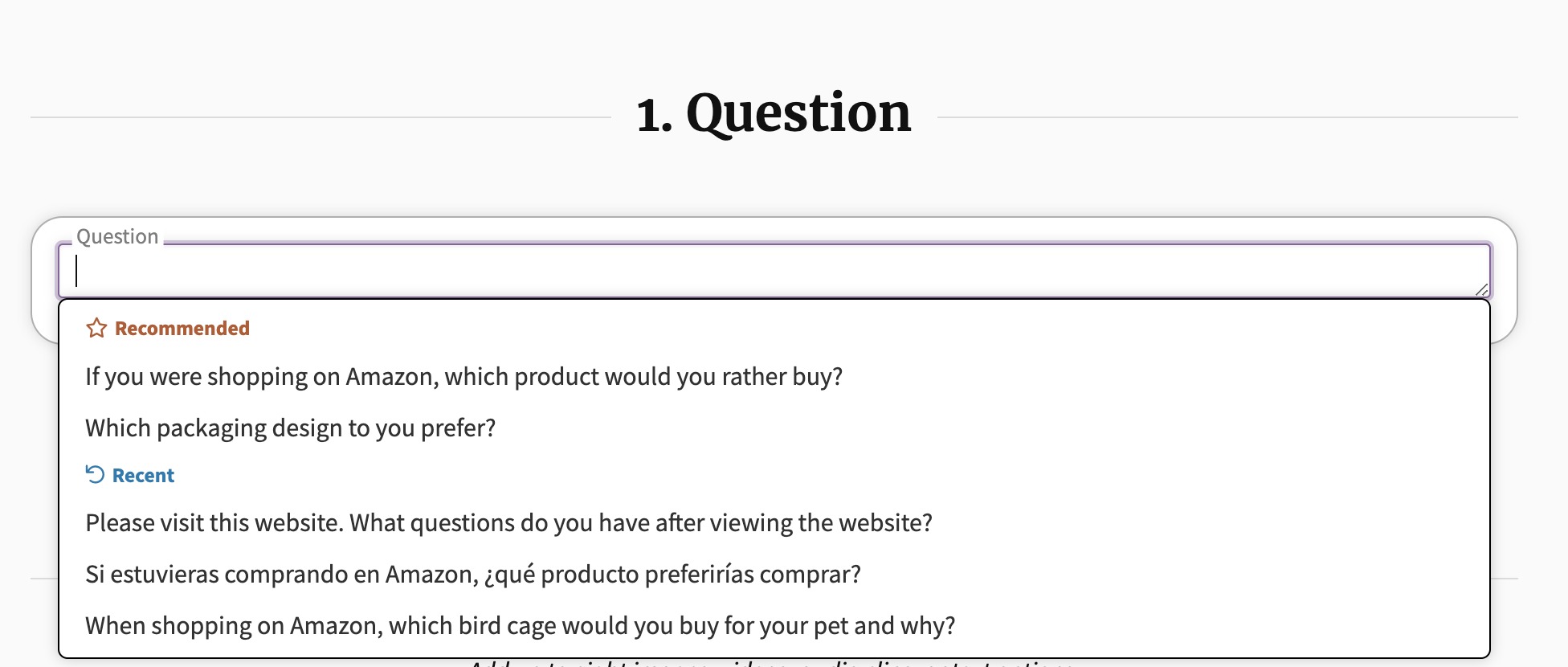 Next, it's time to add the product descriptions you want respondents to choose from.
You're able to add multiple options — up to eight.
Since this example is for a comparison poll with a single competitor, we only need to fill out two.
Our polling software allows you to run a variety of poll formats:
The next step is to choose your audience size. Fifty respondents is an excellent place to start. We typically recommend starting with a smaller audience size for more general questions, then increasing as you iterate on your product listing.
For my purposes, I'll be polling 100 respondents.
Next, you'll choose between a random and a targeted audience. To include Amazon Prime shoppers, select "Targeted audience."
You can choose from 90+ traits, including purchasing habits, age, pet ownership, etc. We typically recommend that Amazon sellers include Amazon Prime members so you're getting feedback from your ideal customer.
This next step will allow you to choose additional demographic questions for respondents to answer. 
Depending on your budget, it's OK to leave this as-is, but you can select from the options below if you need additional data based on your product.
Every poll includes respondents' age and gender identity.
Now it's time to review and confirm your settings.
A CSV download is automatically enabled for every poll. We'll be using that file after we get our poll results.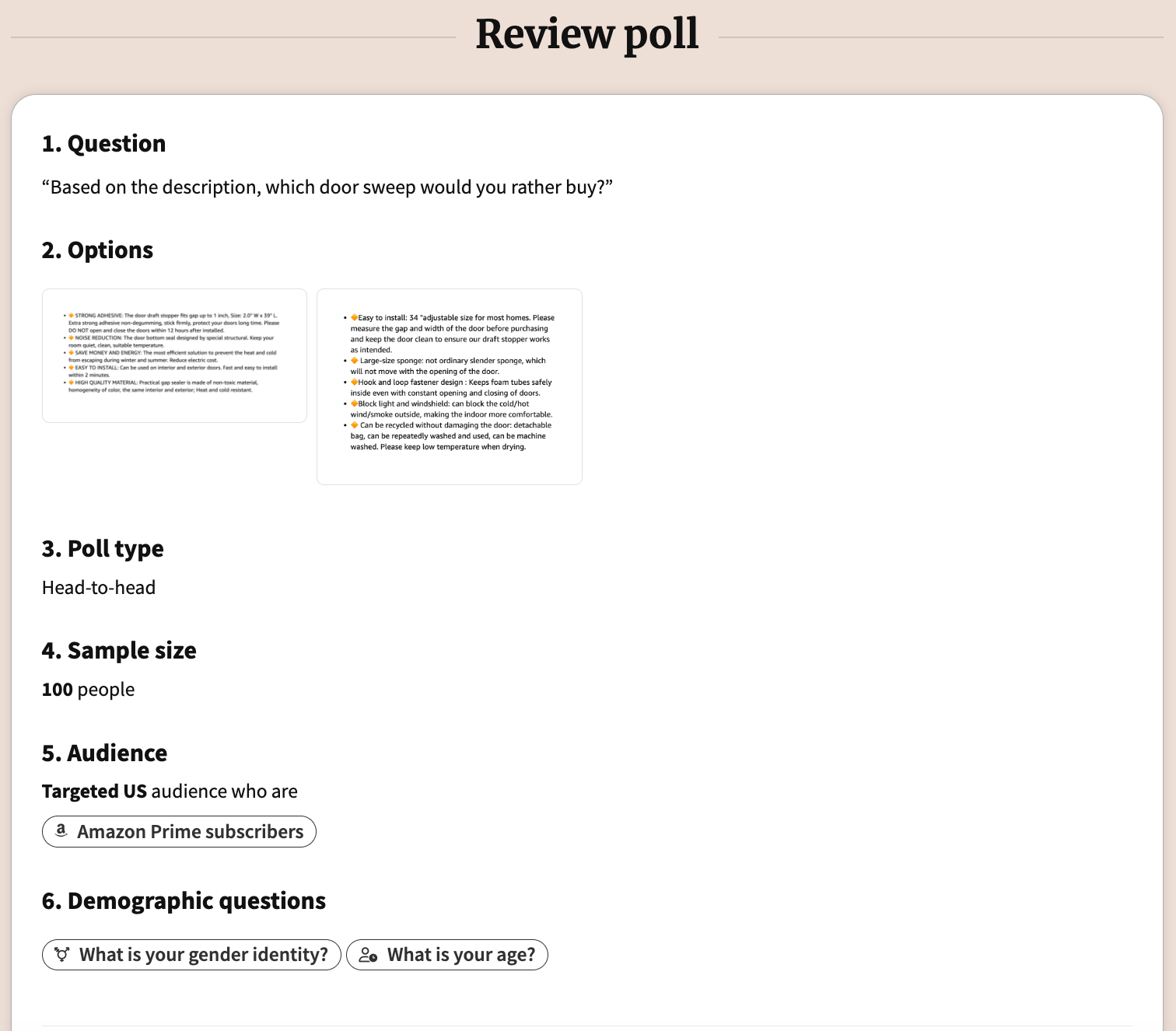 You can preview your poll before confirming.
Once you're satisfied, click "Go to checkout" at the bottom of your screen. This takes you to a final review screen with a cost breakdown of your poll.
Enter your payment information and click the "Pay $X.XX button" to start your poll.
That's it. You're all set. You'll start receiving responses in a matter of minutes.
My 100 person poll was completed in 1 hour and 18 minutes, but most of our polls come in under an hour. For larger audiences and more detailed targeting, your poll may take longer.
As with many of our polls, the real gems are in the comments. Here's a peep at what respondents had to say.
"These points are a lot clearer and more attractive, this is a better organized description."
"Includes more comprehensive information on the product."
"B gives a better understanding in a format that I can digest."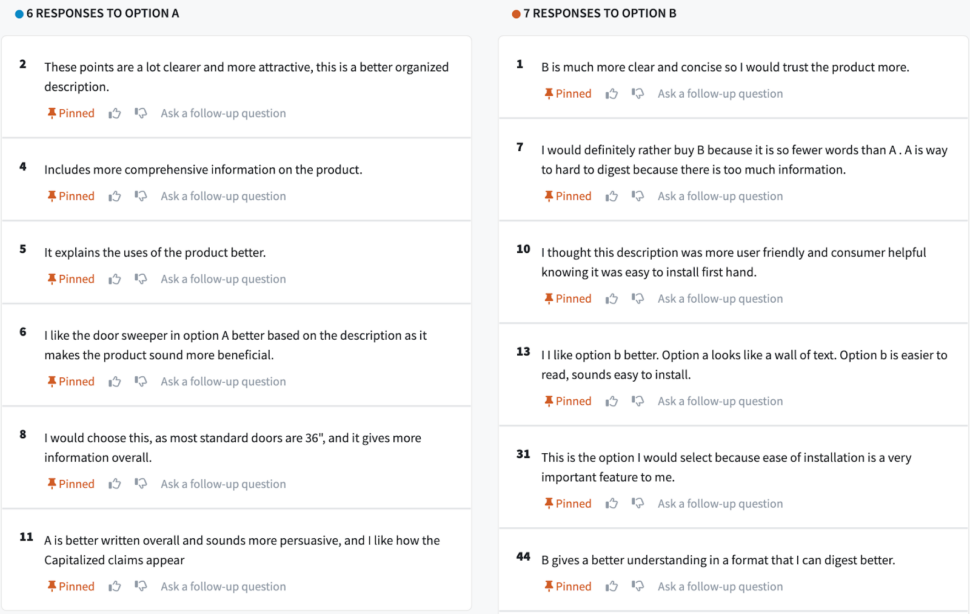 Now I'll walk you through what you can do with these responses.
B. Analyzing your poll results
Based on our poll results, 85% of respondents would purchase Option A. But the best part of the results is the comments because we learn why.
Most respondents said they chose Option A because of the format of the description and the detailed information included. This is consistent with earlier polls where respondents said product descriptions heavily influence their buying decisions.
But as an Amazon store owner, what can you learn from the comments?
Pay attention to specifics.
If respondents didn't choose your product, why did they prefer the competition? Did they like the capitalization of the benefits? The use of bullet points? Inclusion of details that you left out?
The more insight you gather, the better.
C. Gathering more insight from your poll results
For this section, you're going to need the CSV file of your results.
Starting from your poll results screen, select the download icon (it looks like a download tray with an arrow pointing down) and then select CSV as your format.
You'll be working with the file in Google Sheets so upload the file to your Google Drive folder. The file name starts with PickFu.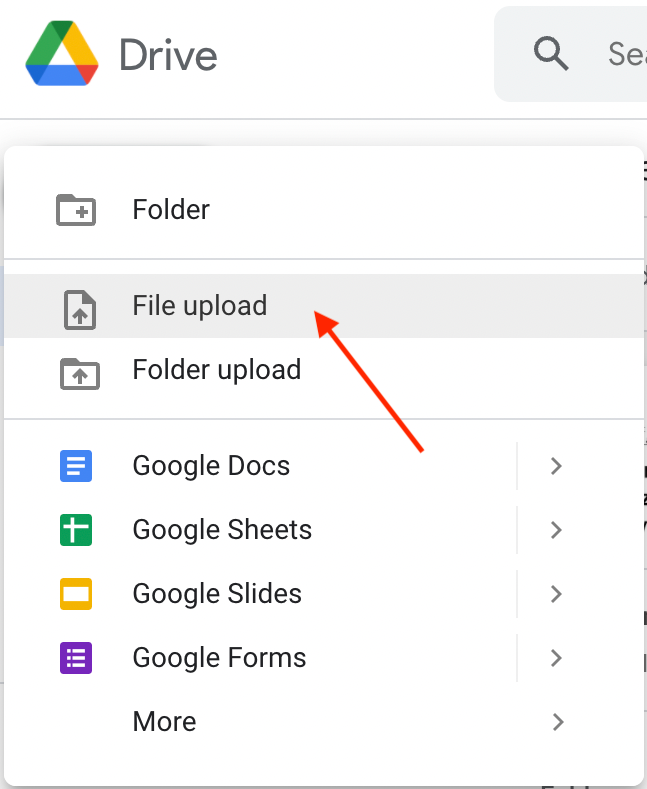 After uploading, click on the file and open it with Google Sheets.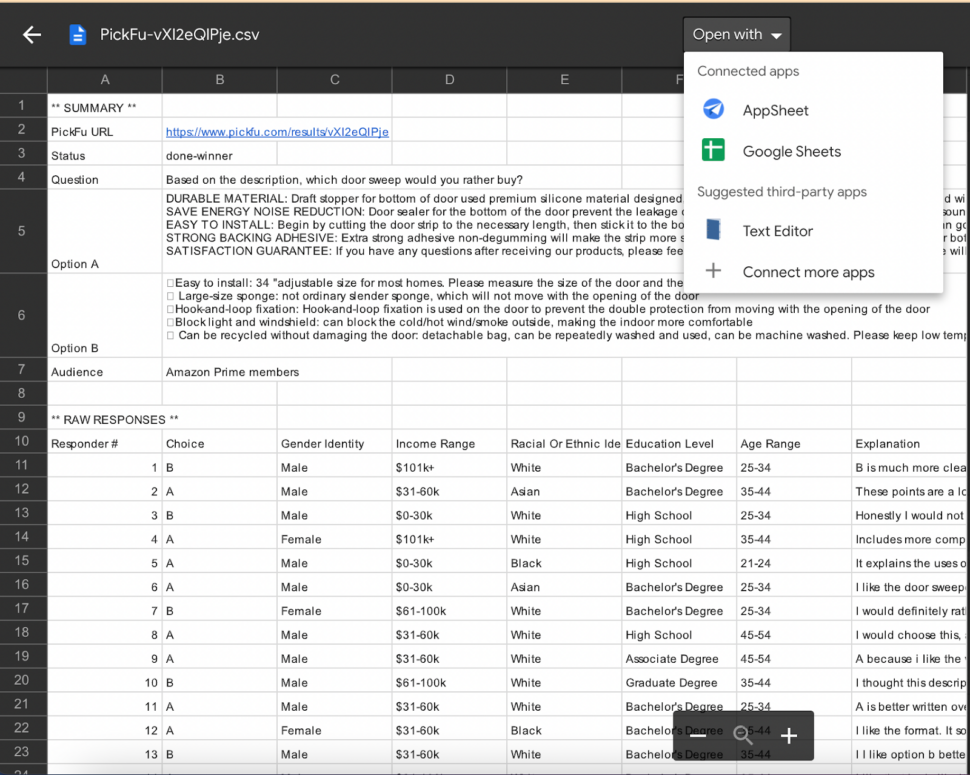 Rename your file and main sheet to something more convenient that makes sense for you.
I've renamed my sheet "Poll Results".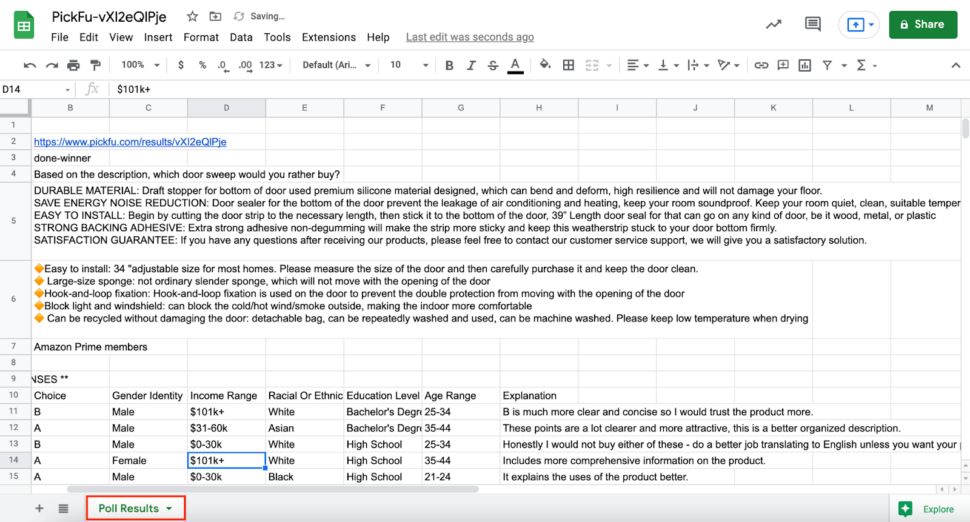 Now you're ready to use the data.
A word cloud generator is a great tool for seeing what words show up consistently in the comments from poll respondents. In this walkthrough, I'm using a free word cloud generator by MonkeyLearn.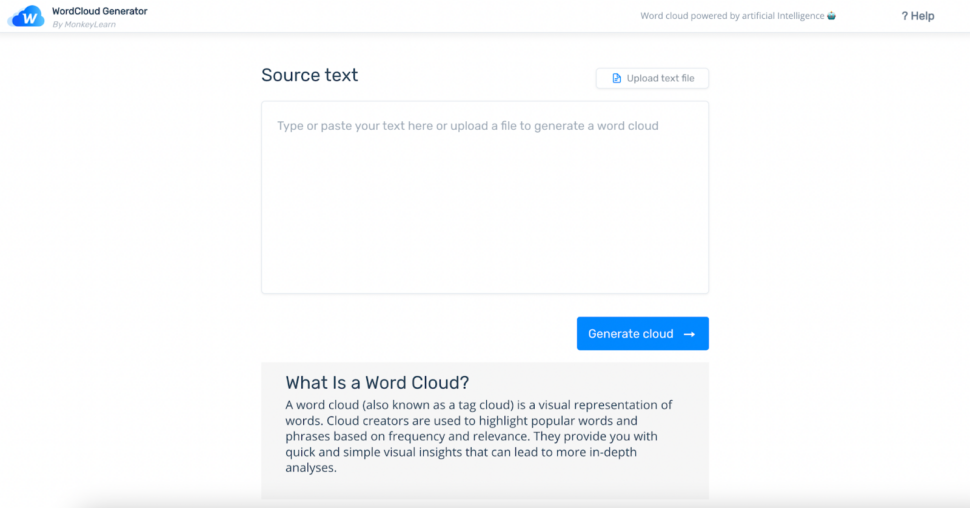 Go back to your Google sheet and copy everything (all 100 comments) under explanation. This should be in column H if you haven't moved anything around on your sheet.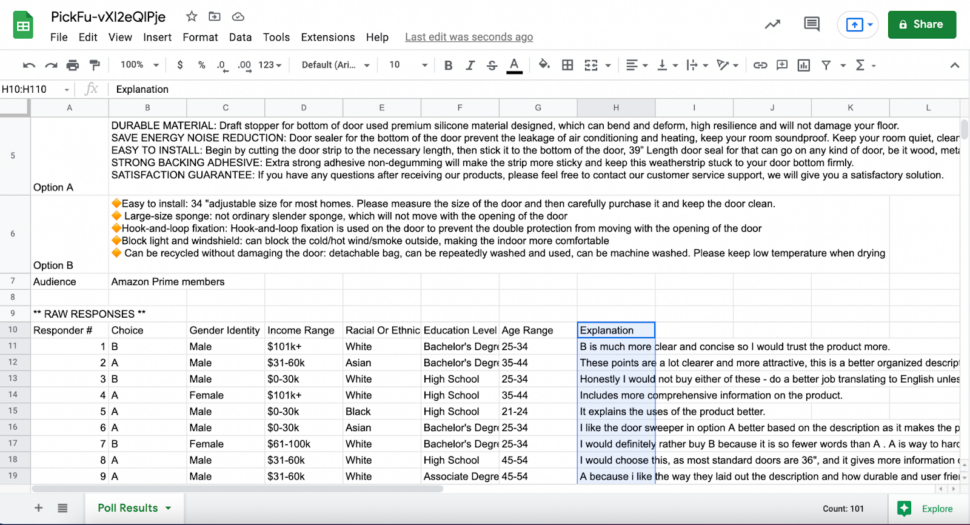 Paste this into the box for Source Text and click the button to generate your word cloud.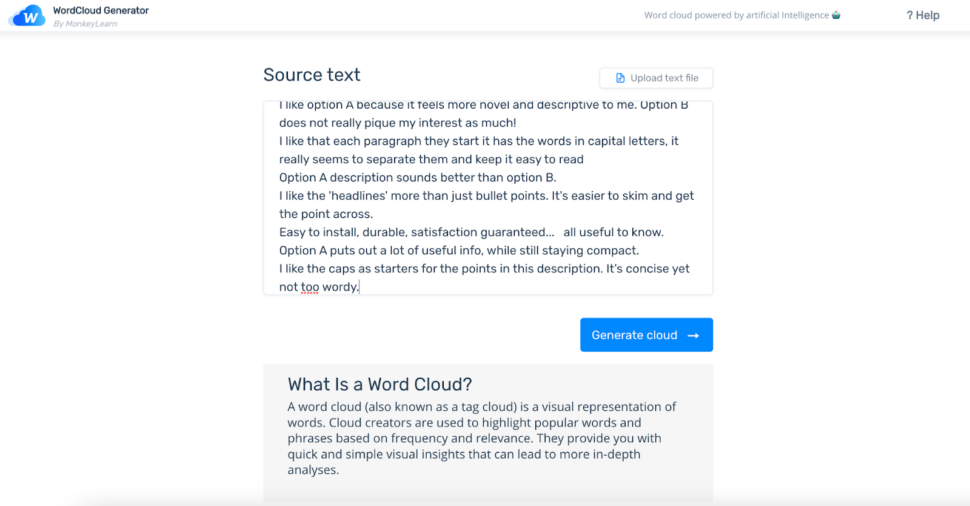 The largest words in your word cloud are the words that appeared most frequently in the comments by poll respondents.
These words can give insight into what mattered most to them when they reviewed both product descriptions.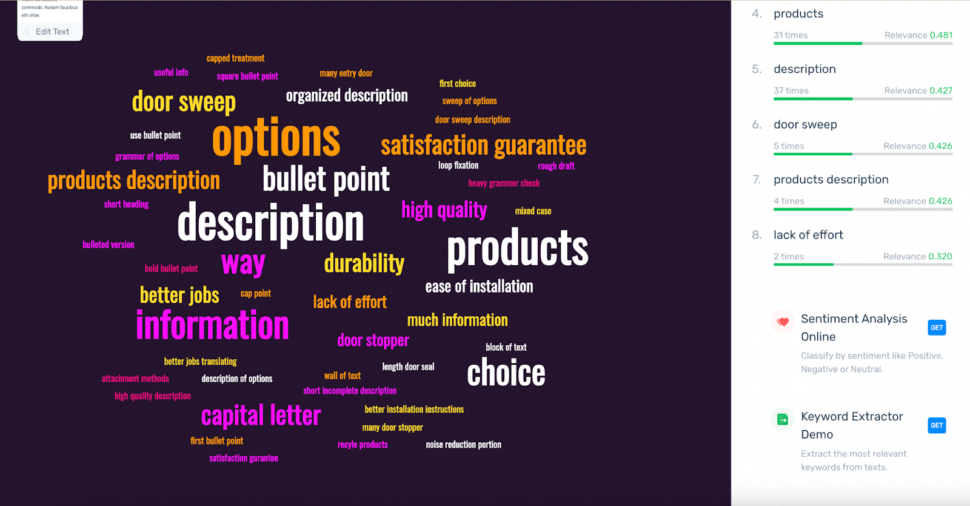 Not all the words highlighted will be important. For example, we know "products", "description", "choice", and "options" are dominant because those words are key to answering the poll question.
But other words and phrases like "bullet point", "capital letter", and "information" show that these elements were important to respondents.
"Satisfaction guarantee" was also mentioned a lot — suggesting that this was something that respondents liked seeing in the description.
Even though it appears in smaller text, there are multiple references to "grammar". Respondents felt the descriptions had too many grammatical errors.
And just like that – with little over an hour to run the poll, and twenty minutes to analyze – I have actionable consumer insights about my Amazon product descriptions.
There are also insights to be found in the column to the right of the word cloud. The column provides a more linear view of the most frequently used words for easy analysis.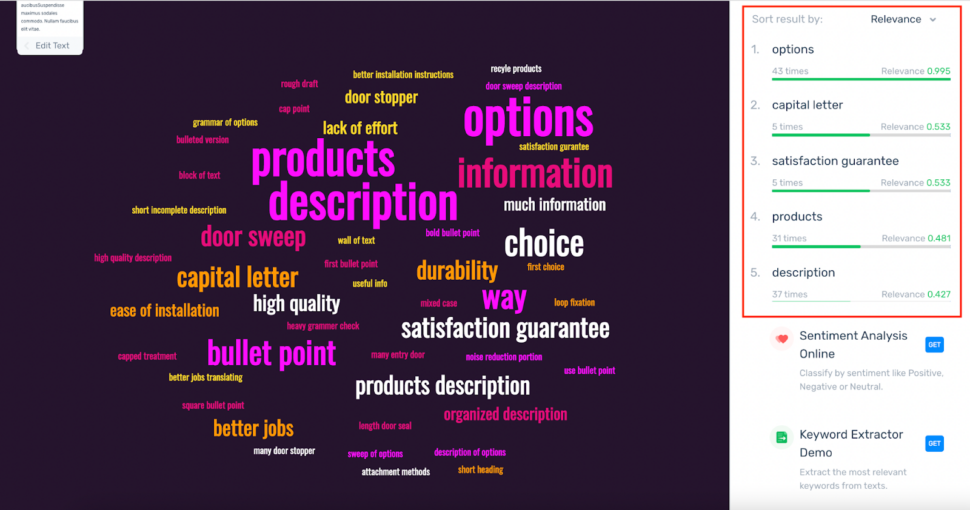 Using these insights, you can now go back to the drawing board to improve your product listing.
Take note of which words were used in a positive light and incorporate more of those elements in your description. Note the words that reflect negative feelings from respondents and remove those elements from your description.
Then rinse, wash, repeat, and profit.
TL;DR: Improve your Amazon product description by focusing on these four things
Selling on Amazon doesn't have to feel daunting if you know what customers want. Here's what we, and the hundreds of consumers we polled, recommend:
Make keyword research part of your process. Keywords are critical and can help make your product discoverable on Amazon.
Focus on features and benefits. Customers want to know what your product can do for them and how it will solve their problems.
Keep text clear and concise. Formatting is crucial for shoppers, so don't crowd your descriptions with too much information that makes them difficult to read.
Learn from the competition. PickFu makes this easy with fast, efficient responses from Amazon shoppers. Run a comparative analysis poll to discover what changes you need to make to improve your listing.
Armed with these four tips, you'll be ready to tackle optimizing your Amazon product descriptions for conversion. And if you have any challenges along the way, we'll be here to help.
---