Imagine this: a customer browses Amazon, looking for the perfect handheld latte frothing stick. Options abound, many of them with excellent reviews, and she's having a hard time deciding which one to buy.
So she reads the Amazon product descriptions for several of her top choices. Some are just chunks of text, replete with run-on sentences and typos.
This makes her wonder if the company is high-quality. Will it really be able to deliver a lasting product if they can't take the time to craft a sharp description?
One description stands out as not only grammatically and syntactically clean, but also witty.
The bullet point reads, "A MATCHA WHISK AND A WHOLE LATTE LOVE: Your collection of mixers kitchen hand held appliances just got a whole LATTE better with this multiple-use kitchen mixer."
Cute, no? The rest of the description briefly outlines information the buyer wanted to know. Whether the mixer was stainless steel, and how it got its power.
So, the customer purchased this frother instead of the other ones on Amazon. (Yes, that customer is me. I'm looking forward to enjoying deliciously frothy lattes in my near future.)
If you're an Amazon seller who hasn't historically put tons of effort into product descriptions, you're missing out.
Even if you have decent conversions, imagine how much better they could be if you polished your description until it shines. How can you make it informative, eloquent, and irresistible to your customers?
In this article, we'll reveal the best tips and tricks for improving your Amazon product descriptions so that they'll attract the attention of the Amazon ranking algorithm and hook customers.
What exactly is the Amazon product description?
There are two product descriptions on an Amazon listing: the one a shopper sees right under the product title, and the one you have to scroll way down to see.
Since the product features description next to the product title is what most shoppers notice first, that's the one we'll be discussing.
By improving your product description, you're also improving your Amazon SEO: you'll have a better chance to rank on Amazon's first page of results, which is where the bulk of customers end up converting.
What are some easy steps to write a description for any product?
It can be tough to know where to start. If you feel stuck before you've written even one word, take a look at these simple steps for writing a description.
Your description should do three things:
Show the customer why the product is worth their money
Provide details to show customers exactly what the product is
Give examples for how customers can use the product
Don't worry about fulfilling these three key goals all at once.
Take the writing one step at a time, and before long you'll have an irresistible description to work with.
Follow these steps to get there.
1. Figure out how the product helps your customer
The first thing to ask yourself is this: "How does my product address my customer's need?"
Before you worry about making the description look tidy, worry about this super-important point, because deep down, it's all your customer cares about.
For now, just jot down notes about what your product does for its users.
For example, if you're selling a planter to an audience of gardeners, how does your planter help the gardener? What extra thing does it do that other brands don't?
In this situation, you might write down phrases like:
The planter comes with a foolproof self-watering system that will help customers not accidentally kill their plants.
The material looks and acts like moisture-retaining, heat-reducing terra cotta, but it won't break if you drop it. Great for gardening with kids.
Take every nifty edge your product has over its competition and show customers how it helps them.
2. Provide informative details
Next, think about the technical details of the product. Take the gardening pot. How big is it — how tall and wide? How much does it weigh? Is it suitable for growing any type of plant?
Shape these questions to fit your product, whether it's a book, a cooking gadget, or a kids' hooded towel.
Ask or answer the questions that customers might ask. For a cooking gadget that requires batteries, someone might wonder if the product comes with batteries or not. Whether it does or doesn't, say so!
The same thing goes for any accompanying attachments or accessories that come with your product. Your customers will want to know about them.
3. Give examples for how your customer can use the product
In the product description for the milk frother I bought, you'll notice that the company gives several potential uses for the hand mixer — plus, they tell you what it's not.
They slipped that latter part into a product details bullet point: "Our handheld mixer (which is not a blender, by the way) has two speeds: 13,000 and 15,000 rpms."
By putting that into the product description, even those who are quickly scanning the information will know what they are — and aren't — getting.
If your product serves an unexpected purpose, put that in the draft of your description, too. Write down every example you can think of, and then select the most relevant three to five, plus that unexpected use, to use in the bullet points.
That way, you don't risk overloading customers with ideas but you do give them several to pique their interest.
The next step? Crafting this information into five clean Amazon bullet points.
How important are Amazon bullet points?
Okay, here's the deal. If you're wondering whether bullet points are really necessary, think about this: do you want to read a huge chunk of text, like a book-length paragraph, about a product?

Yeah, I didn't think so. Imagine reading a product description like that on an iPhone, where it would be twice as long and daunting.
Shoppers are going to second-guess whether to keep reading a big old chunk of text, which is why hardly anyone leaves their product description like that anymore.
Bullet points are essential. That's how important they are. Organizing your info into neat bullet points allows your product features and benefits to shine.
So once you have a nice messy draft of your product description, it's time to whittle it down into the compelling, easily digestible snippets that are Amazon bullet points.
How long should each Amazon product description bullet point be?
You want your bullet points to be concise, but not too short.
In this product listing for a milk frother, for example, we get pertinent information, but the bones are pretty darn meatless. Some of the info is even written twice, which is a no-no — you never want to plagiarize yourself, as it can lead algorithms to think you're spammy.
And while you do want to use simple sentences for your bullet points, you don't have to use barely utterable phrases.
Check out this graphic from 7 Pillars of Selling Online for an excellent example of what bullet points should (and shouldn't) look like :
The 'Best' bullet point paints the details in a captivating way, clearly showing customers how the product benefits them.
It's more than just descriptive. It's compelling.
Aim to do the same thing in your Amazon description.
The Frothy Hand Mixer bullet points are longer than the example above, mostly because they precede each sentence with a mini headline (the capitalized part).
You can do this, too, to help make the features stand out.
Keep in mind that Amazon's rules for vendors versus sellers differ. Vendors can feature up to ten bullet points, but each point can only comprise 255 characters.
Sellers, on the other hand, get a character count of 500 but can only feature five bullet points.
Carefully add keywords
Do your keyword research beforehand so you know which ones will serve you best. Then, slip them into your bullet points carefully, by which I really mean naturally.
Keyword stuffing is (thankfully) a thing of the past.
Triple-check your spelling and syntax
Even the smallest errors can scare potential buyers away. So triple-check your syntax. Make sure it's error-free. Read it aloud to yourself.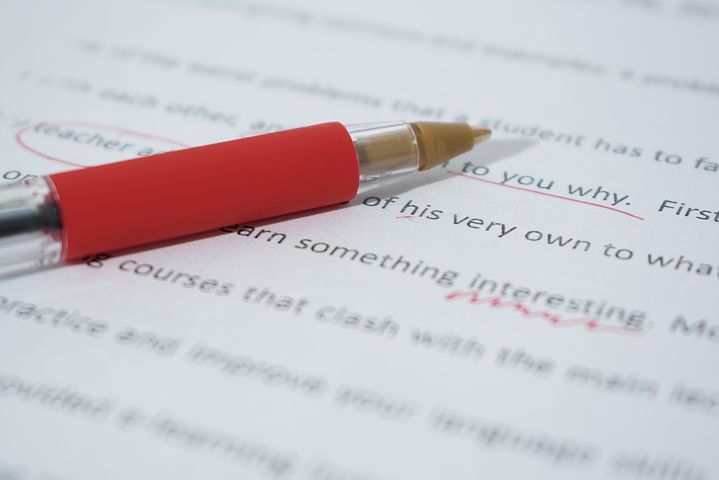 Basically, proofread your listing like it's a final paper for an Honors English course in high school that's worth 50% of your term grade or something wild like that.
Can Amazon product descriptions use HTML?
Amazon is a bit picky about how much a seller can customize fonts. They encourage and even push the use of HTML in certain cases — authors, for example, need to use HTML to create enticing listings.
The Kindle Direct Publishing page even has a full list of supported HTML tags for your book descriptions, which you can find here.
Most books use the bold font to highlight reviews by well-known authors, along with awards and other accolades.
But when it comes to sellers of non-book products, things get a little tricky. Put simply, Amazon doesn't want you to use HTML, especially if you're a seller (versus a vendor), but there are ways to work around it.
For tips on how to format your listing with line breaks, bold font, and more, check out this article from Feedvisor.
If you don't overdo the HTML, it's unlikely you'll get flagged.
What should I make bold in my Amazon product description?
If you're an author, following a structure like the following bestselling books do is a good way to increase visibility.
Use bold font to incorporate keywords like bestselling and award-winning while keeping the description in paragraph form, like Chimamanda Ngozi Adichie's Americanah listing.
Or, highlight pertinent details and accolades, along with the book's major hook, as in Michelle McNamara's I'll Be Gone in the Dark.
You definitely don't want to sprinkle bold text in among everything else. That gets too distracting and messy. Instead, focus on making the first part of the description bold to catch the reader's eye, as the authors above did.
Sellers and vendors of non-book products have to be even more careful. In these cases, it's best to bold what you'd put in all-caps: the 'headline' for each bullet point.
How PickFu can help you succeed
Before you rush to publish your Amazon product description, create a poll on PickFu to make sure your target audience is drawn to it.
PickFu enables you to poll an audience of your choosing — including Amazon Prime Members, people who like to garden or hike, people who are avid home cooks, people who take nutritional supplements daily, and much more.
By selecting a target audience, you ensure that the respondents who answer your poll are the same type of people who'd buy your product, giving you the most relevant feedback.  
Your poll can be either open-ended, in which you show one description and ask a question about it, or it can be a comparison poll, in which you show more than one option and ask respondents to choose the one they prefer.
Benefits of an open-ended poll
In an open-ended poll, you simply post your Amazon product description and ask your audience how it could be improved.
It's quick and easy to create an open-ended poll, as you can see below. In addition to feedback, you can collect a rating from the respondents.
Preview the poll before you publish it to make sure everything's as you want it, and then you're set.
Modify your question to fit your needs. Ask things like:
"What could be improved in this Amazon product description?"
"Does this description make you want to buy the product?"
"What would you change about this Amazon description?"
"After reading this description, what questions do you have about the product?"
Respondents can give the description a rating between 1 and 5, and they'll also answer your question.
Take the feedback you receive and use it to improve your poll before you publish it on Amazon.
Benefits of a comparison poll
A comparison poll is a strong alternative to traditional split testing. In a traditional Amazon split test, you rotate variants of a product listing live on Amazon to see which one earns you the most conversions.
A live split test can take weeks to run, often with inconclusive results. That's why split testing on PickFu is so beneficial to Amazon sellers: instead of waiting weeks for results and potentially losing sales on a lesser variant, you get feedback in as little as 15 minutes.
It's quick and simple to create a PickFu poll. You can copy and paste the text, or take screenshots of two different versions of the description and upload the images.
You can even screenshot a competitor's product description, pitting it against yours, to see which one customers would choose.
Again, you'll see a preview of what the poll will look like before you commit to it. Make sure you read through it carefully and make tweaks as necessary.
Better Amazon product descriptions mean better sales
Amazon product descriptions are a key element of any listing. Along with Amazon product photos and titles, descriptions are one of the first things a customer will pay attention to when they're considering whether or not to purchase what you're selling.
Make sure that your description shines. Take the time to draft and craft a compelling set of bullet points, and then test them on PickFu to your target audience.
And as always, feel free to comment if you have any questions or extra tips.
Happy description-writing!
---