If a customer is searching for a product on Amazon — cookware, for example — they're likely to select a pot or pan featured on the first page of their search results. They'll never see the thousands of other products because the first page of results met their needs before they even had to click to the second page.
According to Amazon's data, 70% of users only view the products on the first page. As an Amazon seller, you want your product to rank on that page so that people will actually see it.
Amazon listing optimization is a course of deliberate actions meant to help your product listing rank on the first page for relevant search terms. These actions may include tracking keywords, optimizing content such as photos, title, and description, and improving your seller reputation. Because selling on Amazon is a tremendously competitive online marketplace, ranking for relevant terms can often be difficult.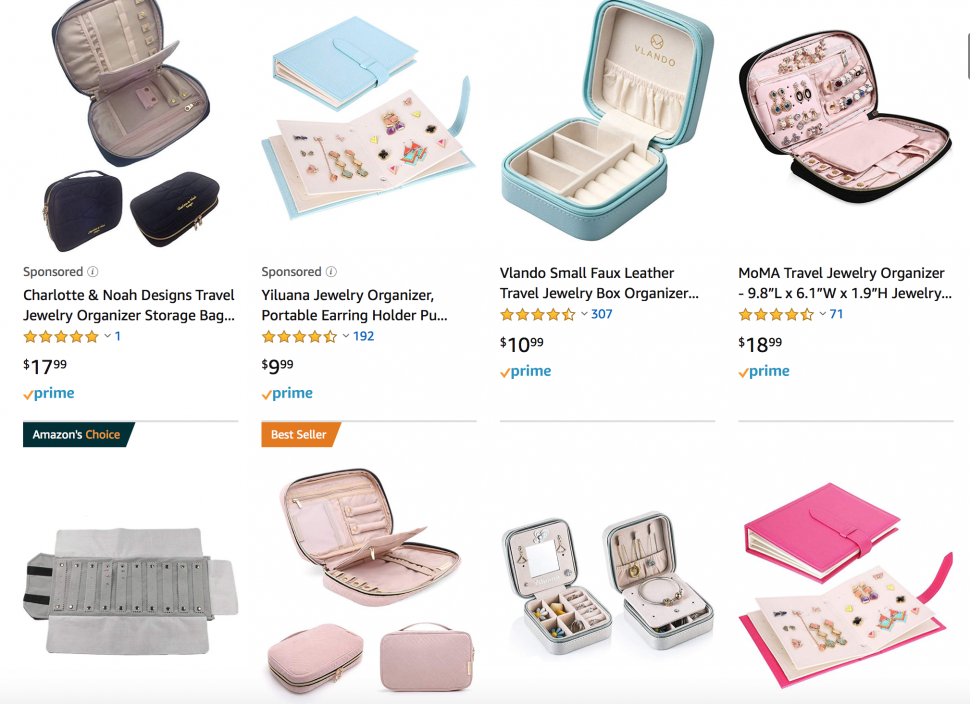 Three trends impacting Amazon listing optimization
Trend #1: Keyword tracking tools to monitor how you rank on Amazon
You could take a DIY approach to finding the right keywords and tracking them for your product listing, but using a keyword tracking tool can save you time and money. These Amazon-specific keyword research tools include the following:
Keyword Scout: connected to Jungle Scout and Splitly
Keyword Scout, Jungle Scout's keyword research tool, uses live Amazon data to give you relevant keyword options for your product listing.
What you get with Keyword Scout:

Data on how often your target keywords are searched on Amazon
Calculation of how much product you'll need to sell at a large discount through a Jungle Scout Launch campaign (formerly known as Jump Send)
A "relevancy score" using competitors' data to find out if your keywords are profitable
Price: Keyword Scout is included in a Jungle Scout plan, from $39/month. (Because Jungle Scout and Splitly are part of the same company, you can then easily transfer this data into a Splitly account to track your keyword ranking.)
MerchantWords: keywords pulled from the global market
MerchantWords claims to be the "most extensive database of searches from real Amazon shoppers." From this data, it pulls the most valuable and relevant keywords for you to use in your product listing.
What you get with MerchantWords:

ASIN-analysis and keyword search history-backed information on how to rank on that coveted first page
Live, global data collection to keep you fresh on what's happening in your market
Special attention to back-end keywords that can sneakily boost your ranking
Price: $60/month or $600 for the entire year for information on the entire global Amazon market; $30/month or $300 for the entire year for US-only. For $300+, you can have MerchantWords write and optimize your entire listing.
Sonar: a strong FREE keyword search tool
Sonar, a Sellics program, also pulls its data from real customer searches on Amazon.
Here's what you get with Sonar:

A database of product and keyword combinations that is updated only once or twice a year. The data could be fresh — or it could not, depending on the last update. This limits the helpfulness of Sonar.
Reverse ASIN search to help you find out which keywords are working for your competitors
Keyword translator to different languages
Sonar Keyword Index Checker to see if Amazon is indexing your keywords
Price: FREE. That's the big plus with Sonar. But all free software comes with a catch — when the software is free, you (and your data) are the product. Sonar is offered by Sellics, a company with a suite of paid Amazon seller tools. Sonar is essentially a lead generator for Sellics's other offerings.
While these tools can help you start your Amazon listing optimization with the right keywords, they can only take you so far. Once you've chosen your keywords and have woven them into your product listing, you'll want to track them to see how they're performing.
Trending keyword trackers include the following:
KeyworX: a cost-effective rank-tracking tool
KeyworX is an Amazon rank-tracking tool that

tracks the first 10 pages of Amazon search results for any keyword or ASIN — yours, or that of your competitor
daily keyword tracking data
the ability to share your login information with your team so that all of you can view the data
Price: from $27/month
Splitly: continue your Keyword Scout research with ease

Splitly includes Amazon rank tracking as part of its suite of services. With Splitly, you can

check your keyword rankings several times every day
compile the data into history charts
find out where your product features (first page of results, second page, etc.) and in what position
Price: from $47/month, included with a Splitly plan
AMZ Tracker: a comprehensive keyword rank tracker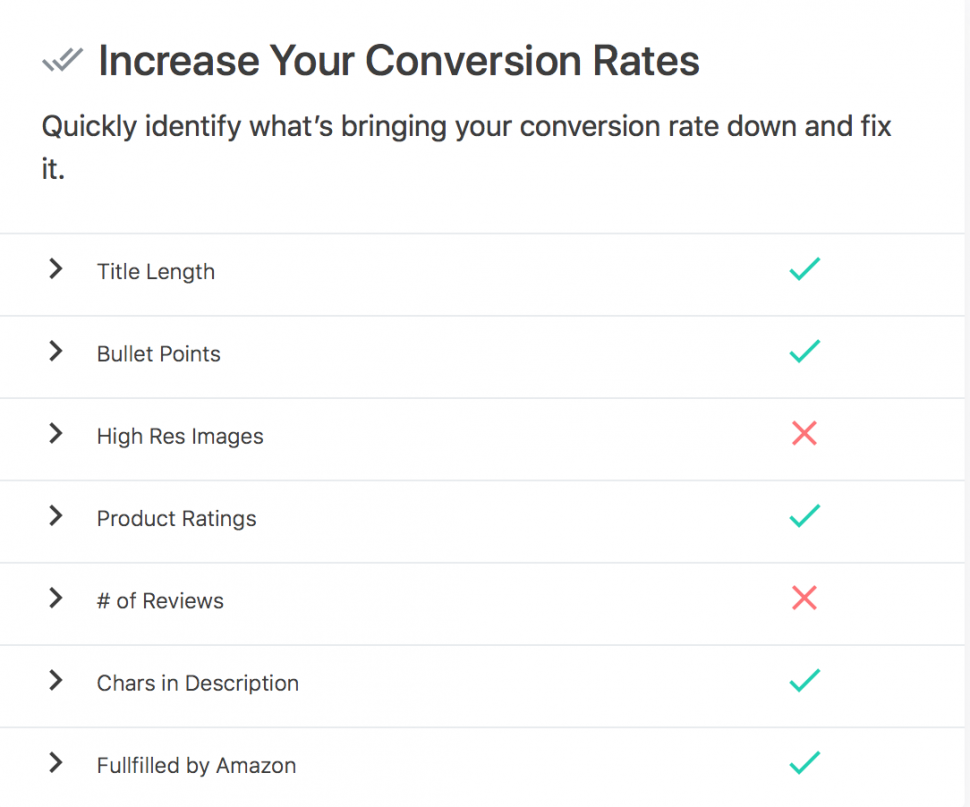 With AMZ Tracker, marketed as a "one glance Amazon keyword rank tracker," you get comprehensive listing optimization features, including

keyword research tools
daily rank tracking updates from 19 pages deep on Amazon's search results
the ability to track parent/child products
rank history storage for one year
super URL generator
a helpful breakdown of what is strengthening your listing and what is making it weak
negative review alerts
Price: from $50/month
Trend #2: A/B testing tools to test live listings on Amazon
Amazon A/B testing tools help e-sellers figure out what exactly about their product listing drives customers to act. In a traditional Amazon split test, sellers run variants of their product listing, collecting data over time to figure out which listing garners more conversions and sales.
Three top Amazon split-testing tools are Splitly, Cashcowpro, and Listing Dojo. These A/B testing tools operate within the Amazon marketplace. They take your variant listings and automatically rotate them on Amazon. All three have different strengths and weaknesses, and different means of collecting and interpreting the data, which you can read about here.
Trend #3: A/B testing tools outside of Amazon
While all the tools listed above can be helpful, especially for the algorithm side of Amazon listing optimization, none of them fully address the customer side — what will appeal to humans?
Plus, running live tests on Amazon can negatively impact a product's sales. If your variant performs worse than your original listing, you lose potential sales only to get frustrating answers.
In addition, live tests take days and weeks to see results. That's all time lost on potentially lessened sales.
Enter PickFu: the polling software that gives you worry-free A/B testing
Popular with Amazon sellers as an A/B testing tool, PickFu enables you to quickly test your creative ideas with audiences that match your customer profile and target demographics.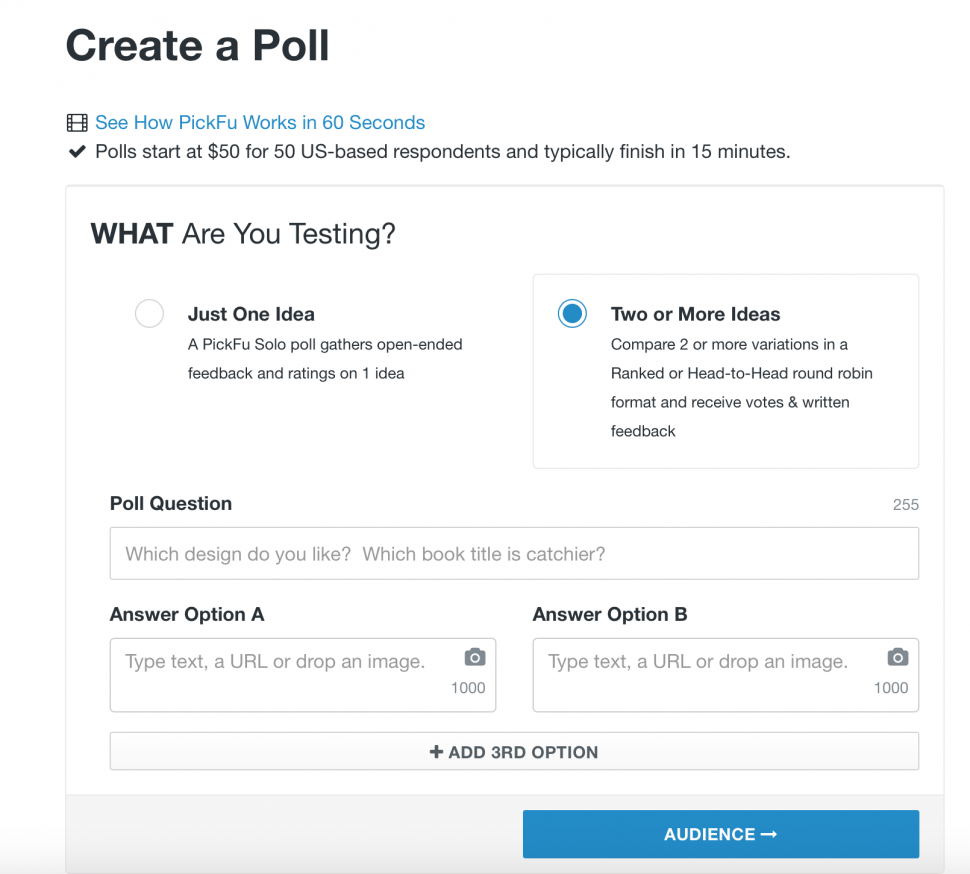 PickFu runs entirely outside of the Amazon marketplace. Your live listings are not affected.
This is a huge difference from traditional A/B testing, in which customers only see one variant. Since they don't know that their behavior is being monitored, they aren't active participants in the test and cannot compare versions to choose a favorite. Rather than rotating your variants on Amazon, you create a poll that includes your variants. PickFu then shows them to a group of respondents for feedback.
With PickFu, you can
Create a poll that includes your product listing variants. PickFu then shows them to a group of respondents for feedback.
Easily test product names, main images, and product descriptions.
Get your poll results back on the same day — often in as little as 15 minutes!
Choose from a wide range of audiences, including the popular Amazon Prime members audience.
Receive written comment explaining why a respondent chose the variant they did. How cool is that? You can use the feedback to optimize your listing for your flesh-and-blood customers, not just the A9 algorithm.
After you discover which variants of your product PickFu respondents like best — and why — you can optimize your Amazon listing accordingly, with the confidence that the changes will work.
Is PickFu the only Amazon listing optimization tool you need?
PickFu is essential to figuring out how to optimize your product listing for your potential customers. But because PickFu operates entirely outside the Amazon marketplace, you won't compare click-through rates, impressions, or revenue.
You cannot test price or keyword variants or track rankings using PickFu. In order to affect your performance with the Amazon algorithm, you might need to run a live test in addition to a PickFu poll. The two testing styles can work together to give you comprehensive results that include both data- and human-driven feedback.
The individual pieces that make up Amazon listing optimization
Now that you know which tools you need in order to optimize your Amazon listing, you might be asking: what exactly goes into a well-optimized Amazon listing?
There are three distinct pieces that make up ideal Amazon listing optimization.
1. Product title optimization
Your product title might just be the hardest element of your product listing to optimize for both humans and the A9 algorithm. Why? Because algorithms love straightforward product titles with clear keywords. Humans, on the other hand, want evocative product titles.
Take the Instant Pot, for example. What if the product creators had called it the Multi-Use Programmable Pressure Cooker (which is, in fact, a keyword listed as part of the Instant Pot's product description on its Amazon listing)?
Would it currently rank at #1 in Electric Pressure Cookers on Amazon, and #3 in Kitchen & Dining?

Probably not. There's something about the name "Instant Pot" that immediately makes customers think of quickly made food. In a fast-paced world, so many of us want to make nutritious dishes in a short amount of time. The Instant Pot suggests that we can do just that.
What should you take into consideration when you're naming your product?
Name length: In most cases, shorter names are better. They're easier to remember and to integrate into everyday speech. Plus, you're bound to run into character limits almost everywhere, including on Amazon's product listing page, email subject lines, social media promotions, and more.
Longevity: Is this a name that will endure? Or does it follow current trends that might not be popular several years from now?
Messaging: Does the product convey a particular message? Does say something about what the product is, how it will make a customer feel, what value it will add, or who it's for? Are there any negative associations to the name?
Misspelling: Product names are often intentionally misspelled, especially in an effort to claim trademarks or domain names. Flickr, for example, is a misspelling of "flicker." The founders wanted to name the company Flicker, but flicker.com belonged to Flicker Beer, whose owner didn't want to sell the domain name. Flickr then lost 3.6 million visitors per year to Flicker Beer's website until Yahoo! bought the domain name for a hefty price. Brand strategist Jeremy Miller says that misspelling can be a tricky choice because "people will naturally use the proper spelling first."
Pronounceability: Sometimes a hard-to-pronounce name helps you stand out. Other times, it may alienate part of your customer base. One classic example is Fage yogurt, which is the #1 Greek yogurt in Greece but falls far behind Chobani in the United States. And Chobani came onto the American market nine years after Fage! Fage — pronounced "fa-yeh" — is harder to figure out how to pronounce. Chobani, on the other hand, is easy — it's pronounced exactly as it's spelled.
Keywords: You're allowed up to 200 characters in an Amazon product title. Lead with the human-friendly product name, and then incorporate keywords into the remaining space. Make sure to follow Amazon's product detail guidelines.
2. Product image optimization
Why is product image optimization important for your Amazon product listing?
Your Amazon product photography is one of the most crucial factors in your store's conversion rates. Remember, online shoppers can't feel your product in their own hands, so photos are the closest they'll come to experience the product before buying it. Your photos must convey not only the physical aspects of your product (color, fabric, size, etc) but also the emotional appeal you hope to impart to customers.
Read these tips to create beautiful product photography and ideas to improve your product imagery.
Once you have gorgeous product photos to choose from, test them. You could run a live split test on your website, or, for even faster results, run a PickFu poll on your featured photo.
An example of how PickFu helped a businessperson increase sales
Steve Chou, owner of e-commerce store Bumblebee Linens, tested two product photos using PickFu. In less than 20 minutes, he saw that 50 female respondents preferred a new featured photo over the old one by a 3 to 1 margin. When he updated his listing with the new photo, sales of the item jumped 209%.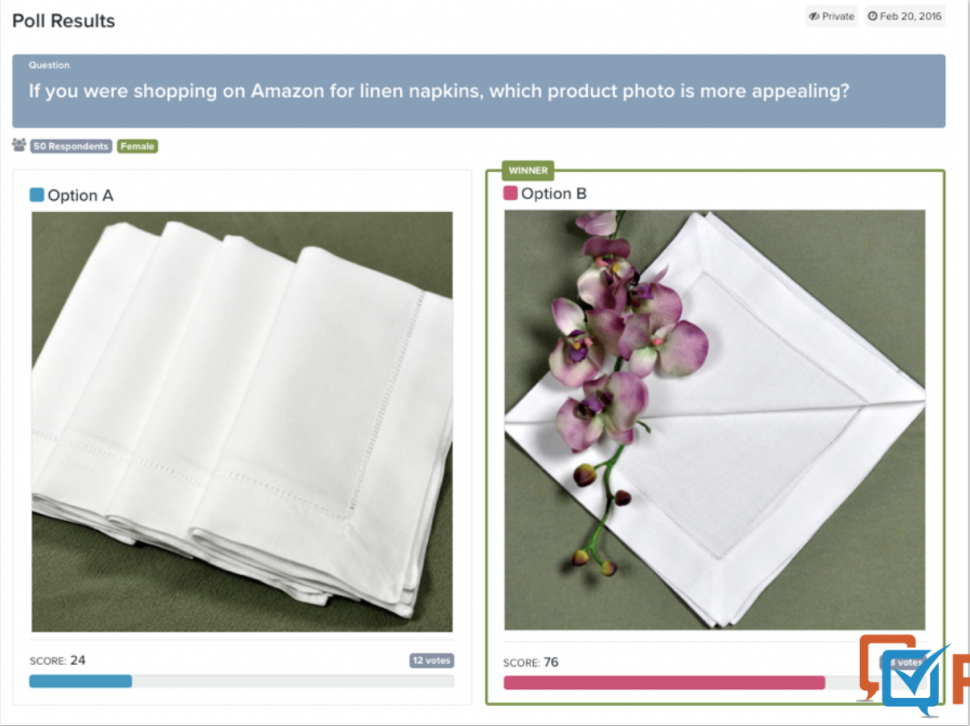 Want to be like Steve? Read 3 Top Tips for Testing Product Photos, look at completed PickFu polls testing product photos, then try it out for yourself.
Optimizing images specifically for Amazon
The above ideas are effective in seeing how people react to your photos. But there are ways to optimize your product photos for the Amazon algorithm, too.
First, follow all these technical image requirements for Amazon — this includes image size, color mode, format, and file name. Then:
Hire a professional photographer to take the product photos for you. A terrible product photo will equal terrible sales. Investing in a photographer can save you a lot of money!
Use all the image slots Amazon gives you. Fill them each with quality photos of your product at different angles and with one to-scale photo or another relevant informational photo such as a sizing chart. If you're selling earrings, for example, an image of the earring on an ear will help potential buyers know if they like the earring's size. They won't be surprised by a bigger or smaller earring, and will be less likely to leave a negative review.
Only photograph products included in the purchase. Take the example below of an Amazon product image for a dog toy. Even though the fine print in the upper right-hand corner says that the two toys are sold separately, many buyers thought that they'd receive both.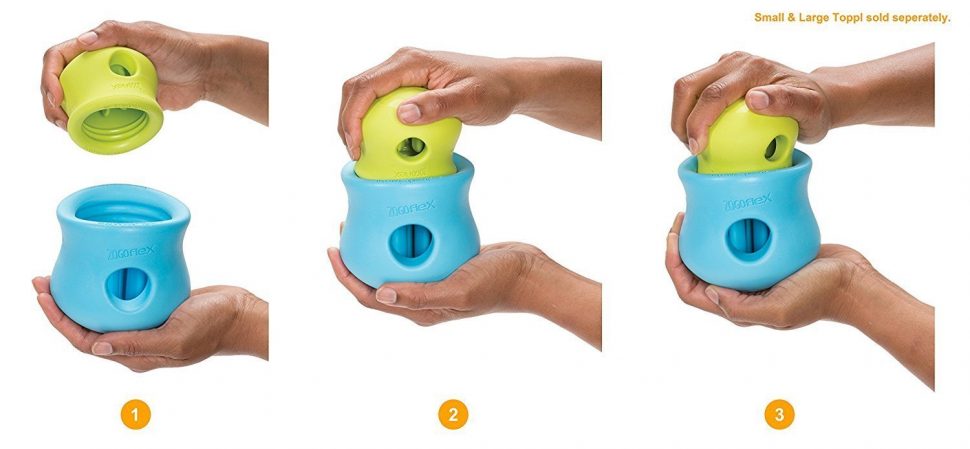 3. Product description optimization
Just like your product's title, your product descriptions should combine carefully considered keywords for the A9 algorithm and well-written copy to appeal to your customers. Answer your customers' most frequently asked questions. Provide enough detail to make shoppers feel confident that they're making the right choice.
Here's what to keep in mind for product description optimization
Incorporate keywords into bullet points. Bullet points are easy to read, which helps your customer, while keywords make the Amazon search engine happy.
Describe what the product will do for the customer. Instead of telling your potential customers all about your product's bells and whistles, tell them how it will change their lives. Take this product description for a toddler snack cup by Skip Hop:

See how the product description tells moms what the snack cup will do, including encouraging independent snacking (less work for Mom!) and a crumb-free purse?
Include all relevant product information. Think like a customer. What would you want to know about a plastic snack cup? The Skip Hop description provides important information about the food staying fresh with a snap-top lid (which many other snack cups don't have), two lids, a flexible yet spill-proof opening, and BPA-, PVC-, and Phthalate-free plastic.
As you write your product description, try different approaches, experimenting with length and tones of voice. Then test your descriptions by split testing them on your website or creating a poll on PickFu.
One PickFu pollster tested product descriptions for a spherical ice tray with 50 Amazon Prime members. The two descriptions were similar in length, but one used all capital letters to introduce each bullet point. Respondents found this description easier to scan and more attention-grabbing. You can now see the winning description live on Amazon.
How are they the same?
Both individual e-commerce websites and Amazon product listings have the same goal in mind: to convert browsers into clickers, and clickers into buyers. For both, product title, images, and descriptions are equally important.
How are they different?
In order to provide a uniform shopping experience for its customers, Amazon limits what you can do to your product listing. With your own e-commerce website, on the other hand, you're able to do more with the site layout, call-to-action buttons, user interface, and more.
Another difference is that for your e-commerce store, you'll be optimizing for all search engines. Amazon product listings only need to be optimized for Amazon's A9 algorithm system.
---