You could have the shiniest, most useful product in the universe, but if you don't take special care to write a strong Amazon title, you won't get all the sales your product deserves.
An Amazon title comprises several things. First, the product name, which is typically a brandable, memorable marketing tool.
Think the eminently recognizable brand name "Instant Pot" versus a keyword like "electric pressure cooker," for instance.
The other two parts of your Amazon title include the following:
Keywords, which help the Amazon A10 algorithm match you with ideal customers
Product descriptors to help describe your product to your customers
By making sure your product title works on all three levels, you'll help ensure the success of your product.
Why are product titles important on Amazon?
You wouldn't get anywhere in the e-commerce world without posting photos of your product, so clearly Amazon product photos are the most important part of your listing.
But what do people do after they see an enticing photo of your product? They read the title — which is why it's crucial to make it a good one.
In 2019, Amazon changed its rules for titles to make them cleaner, with the idea that if a seller's title didn't follow the rules, it would get flagged and suppressed, keeping potential customers from seeing it.
They did this because of a study that found a connection between bad customer experience and bad Amazon product titles.
That's enough to make any committed seller want to write a strong title.
But what about the SEO side of things? How much does a product title matter for the A10 algorithm?
How important is the product title for Amazon SEO?
Here's the bottom line: if a bad product title is keeping your product from selling, it won't rank with A10. Amazon's goal is to sell products, so if they aren't selling, they won't show up in search results because they're not bringing Amazon any profit.
Two things determine how well your product listing as a whole rank for Amazon SEO:
How relevant it is
How well it performs — think sales and reviews
According to Wordstream, an online advertising company, your Amazon product title is the single most important factor for Amazon SEO.
Why? Because of the keywords you place in the title. Those keywords play a huge role in determining where your listing ranks in the Amazon search results.
What is the best strategy to write an Amazon title?
There are several easy formulas to help you draft a strong Amazon product title.
Here's a general formula you can apply to many situations:
Brand + Sub-brand + Model name/number + Product type + variants (flavor, color, size)
In practice, it would look like this:
Quaker + Oat Bran + Hot Cereal + with Fiber and Protein + 16 oz box (pack of 6)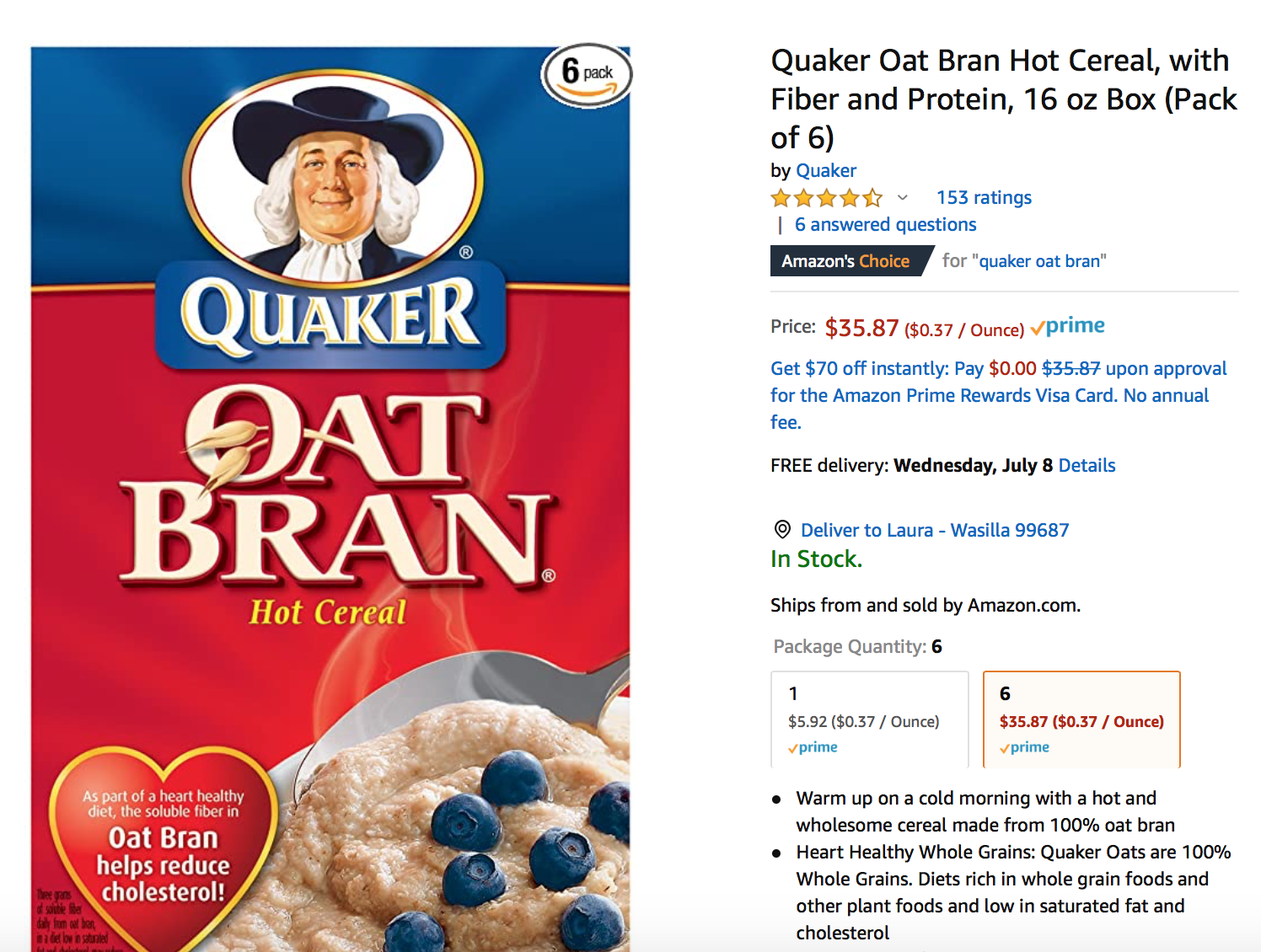 Notice the absence of promotional content, such as:
Free shipping
Best-selling
Quality guaranteed
Amazon doesn't allow promotional or subjective content in the product title. For a full list of its specifications for titles, see the Amazon Quick Start Style Guide.
Now, let's break down why each component of a product title — brand, model name and number, product type, and variants — matters.
Brand
A strong brand name makes your product look professional, which is why it's important to include it at the beginning of your title.
Even if the brand name appears in the product image or elsewhere on your listing, including it in the title is the only way to make sure it shows up in search results.
In the image below, for example, you'll notice that Columbia includes its brand name in the Amazon product title despite also displaying it in the seller name.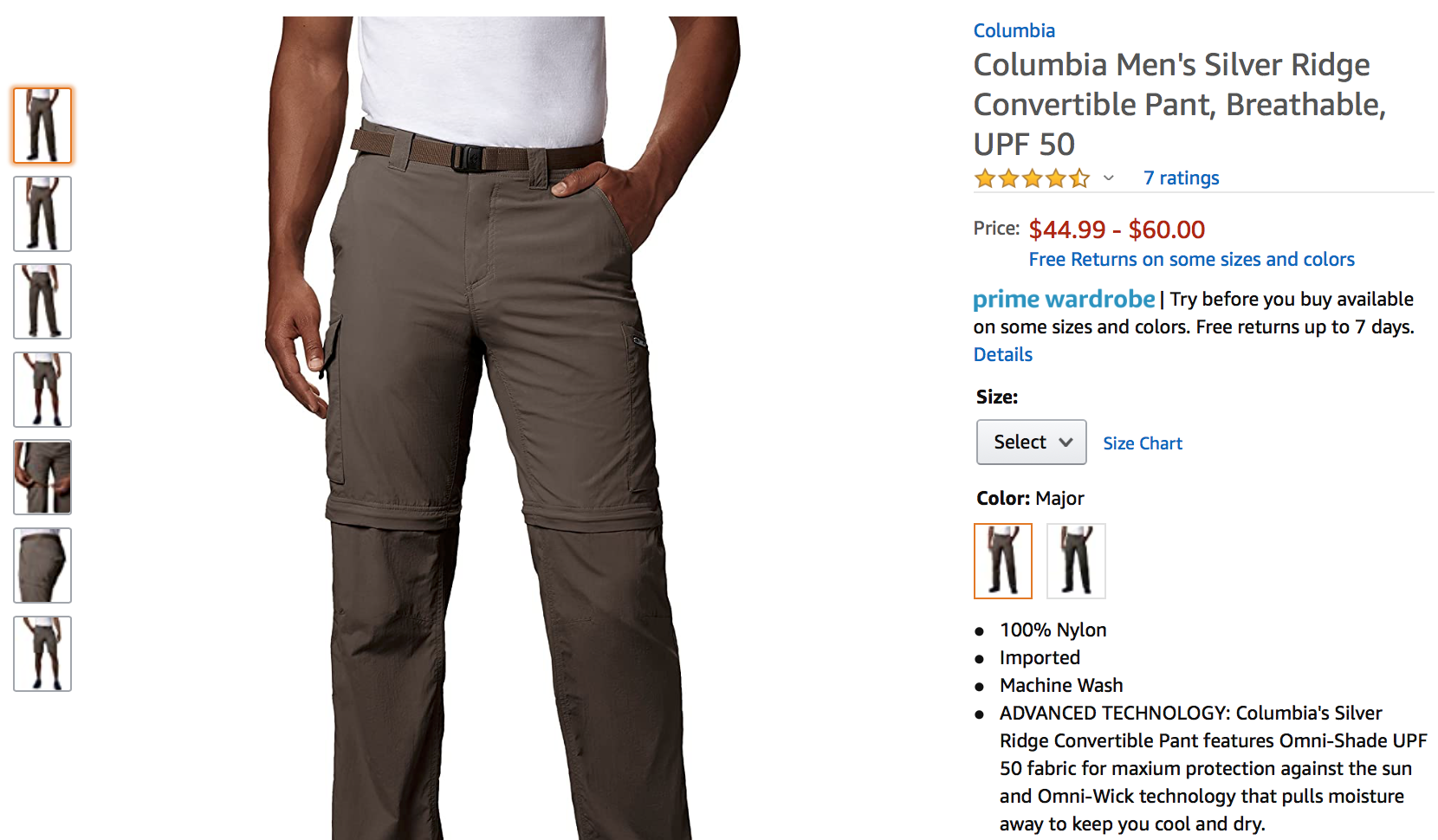 The more your shoppers associate your brand with the quality products it's selling, the more recognition — and therefore sales — you'll enjoy.
Model name and number
The model name and number is mostly important when you're selling technology. If the model name and/or number wouldn't influence a buyer's decision, don't include it.
But if you're selling something like an iPhone, you'll definitely want customers to know which model they're getting.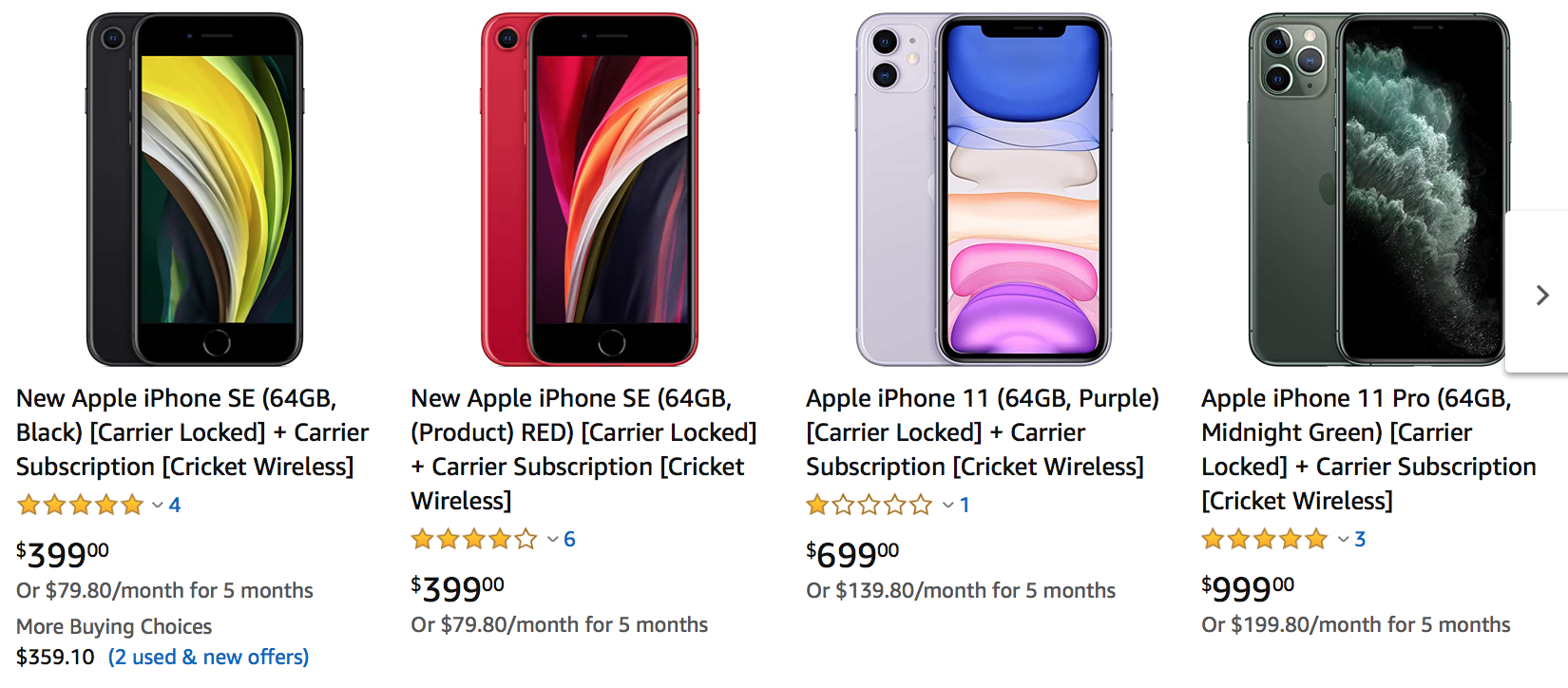 Product type
As mentioned in the introduction, a product title should be descriptive. Amazon customers want to be able to quickly scan a title and know almost exactly what they're getting.
This is where the importance of the product type comes in.
Take a look at the Amazon product title for the Kate Spade New York purse below.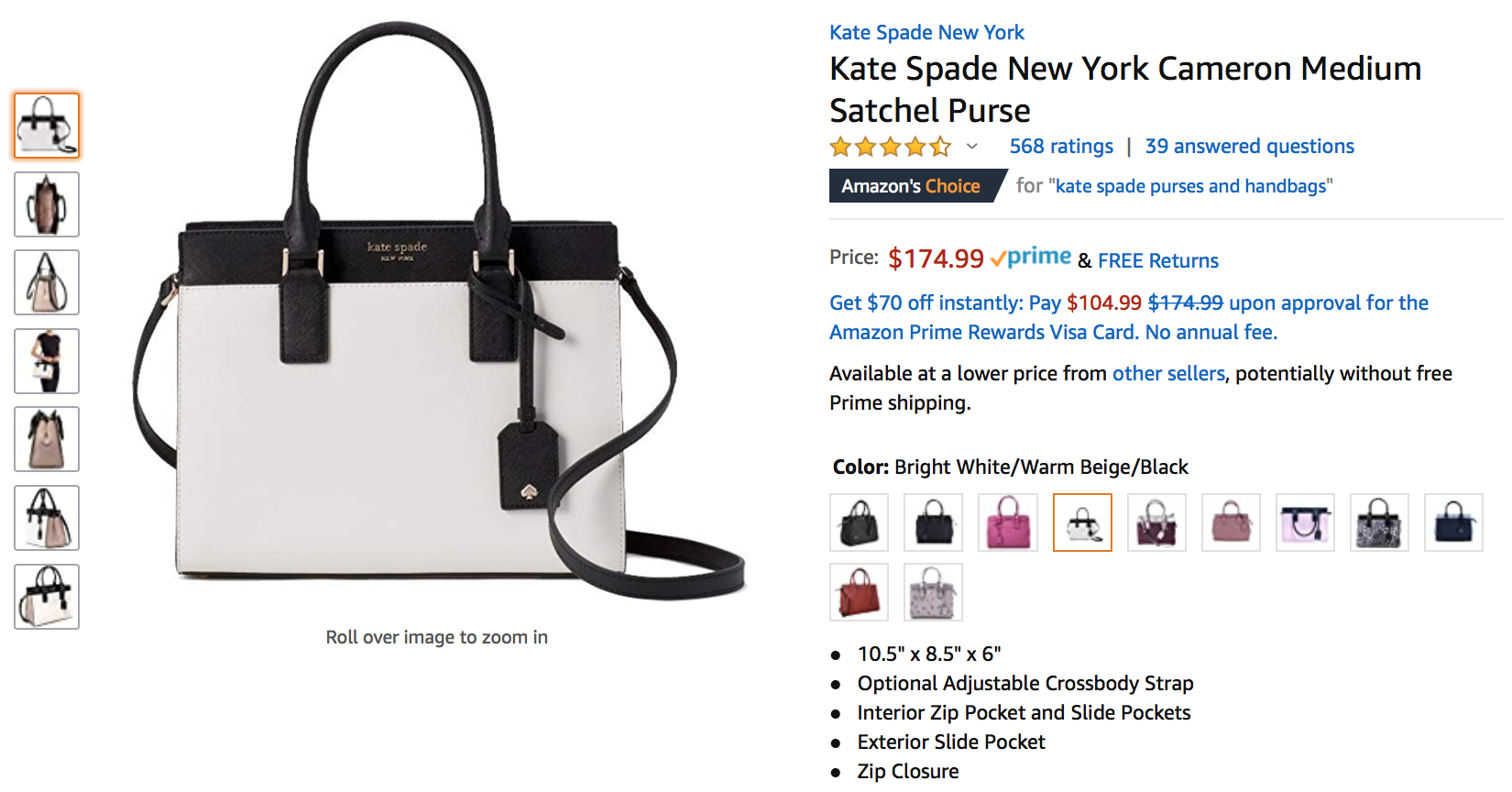 The product type comes right after the brand: 'Cameron Medium Satchel Purse.'
This lets a shopper know that they're getting a medium satchel-style purse. If they're looking for a Kate Spade tote instead, they can move on to the next listing.
The product type section of an Amazon listing is an excellent place to slip in relevant keywords, which help your title rank for Amazon SEO.
In this listing for laundry detergent, high-end keywords in the product type section of the title include cruelty-free and biodegradable.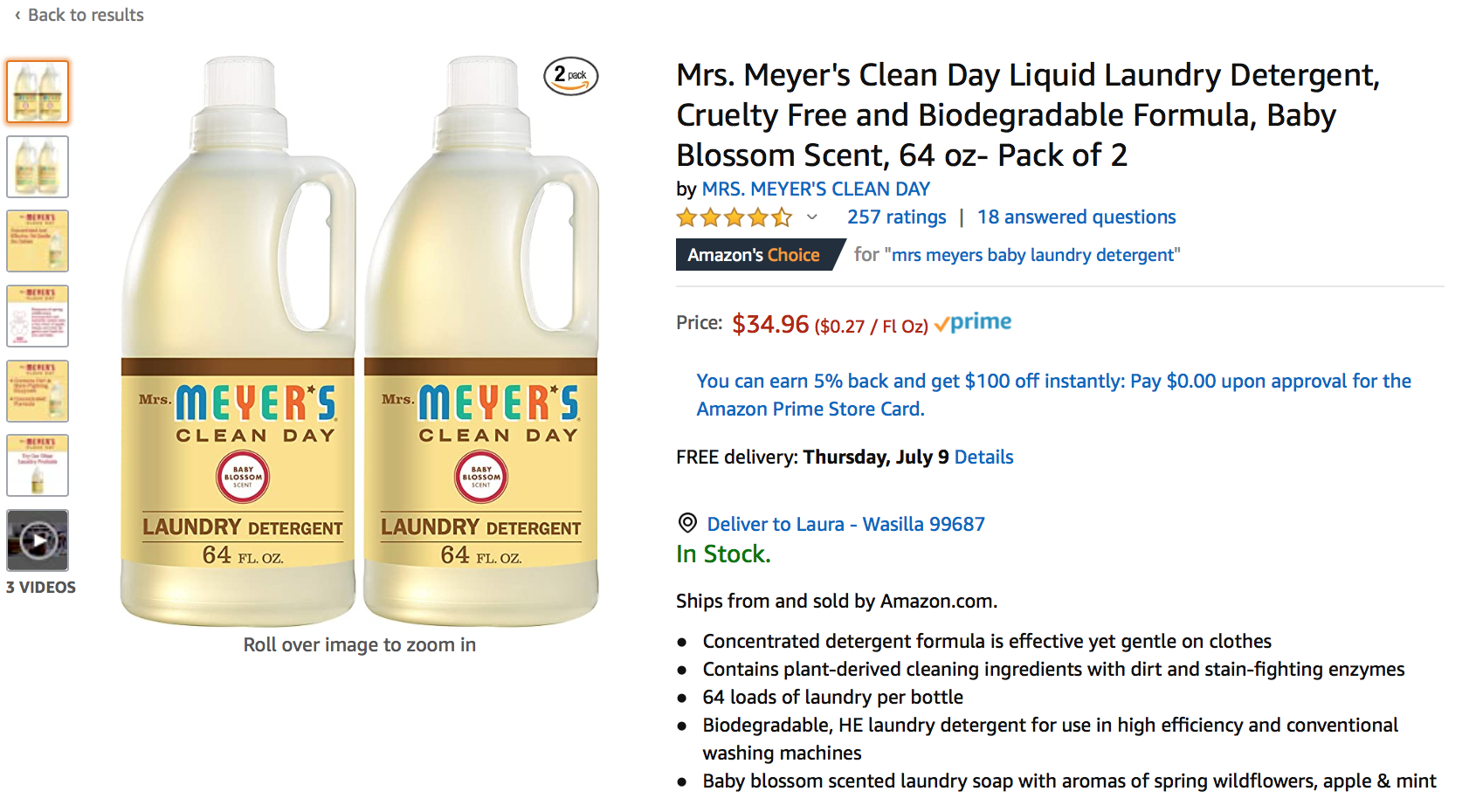 When shoppers include one or both of these keywords in their search, this particular product will more likely make it onto the first page of search results.
Say you're selling gluten-free cookies or even granola bars that are gluten-free. You'd better include that keyword in the Amazon title, because it's a popular one.
Search for 'gluten free cookies for kids' and these are the top four results.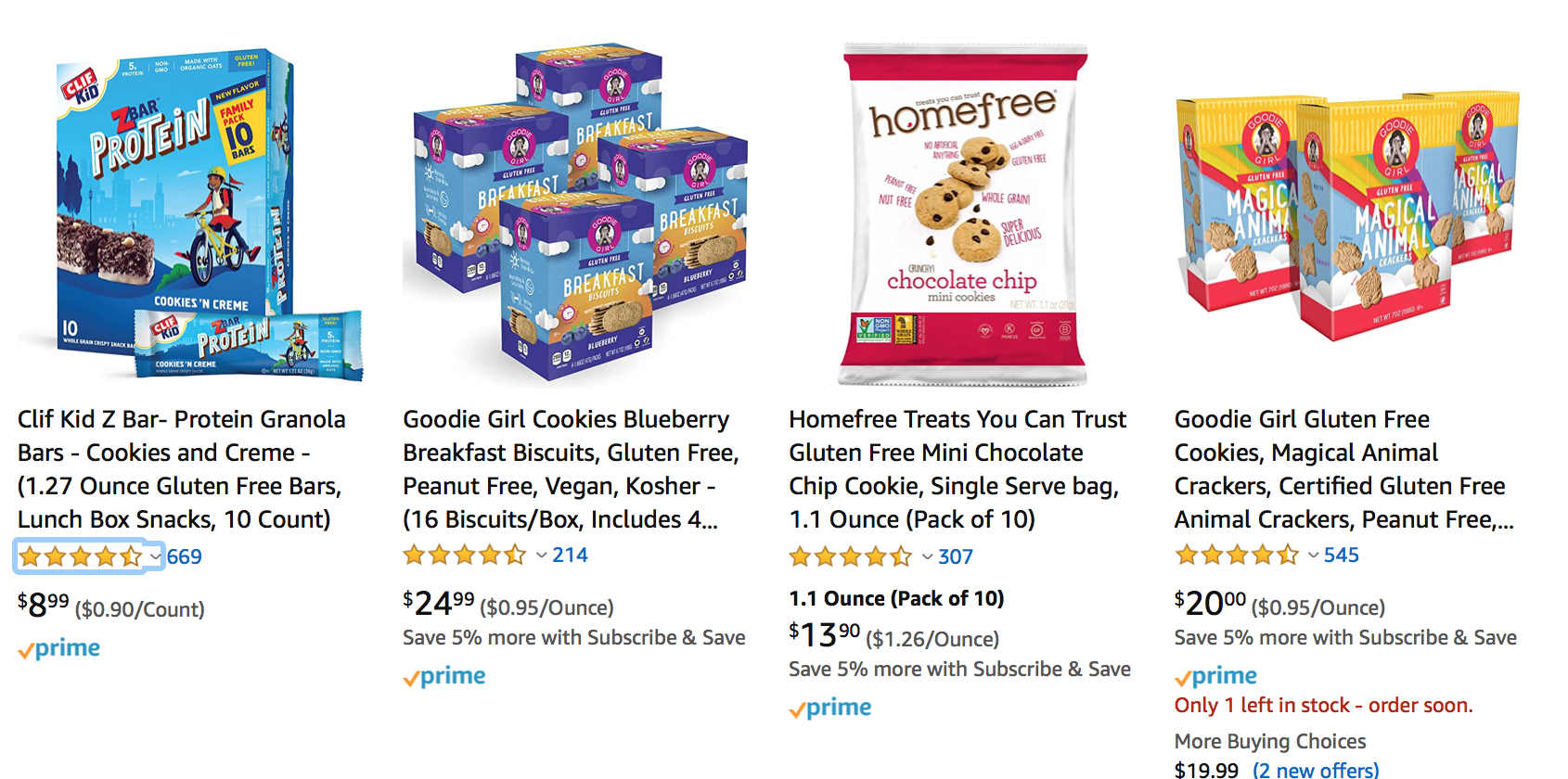 So if your cookies are excellent for kids, you can't exactly say that because it's promotional material. But you can include keywords like 'animal crackers' or 'peanut free' if they apply, as these will appeal to parents with kids who love animal-shaped cookies or who have peanut allergies.
Don't overdo the keywords in this section, but do include two or three highly relevant keywords.
Variants
Variants are another component to make your title descriptive enough for audience members to make a quick, informed decision about purchasing.
Let your potential customers know what size or amount of something they're getting, and how many of that thing are included in one order.
This Amazon listing for Tate's Bake Shop cookies lets us know that you're getting four 7-ounce bags of cookies.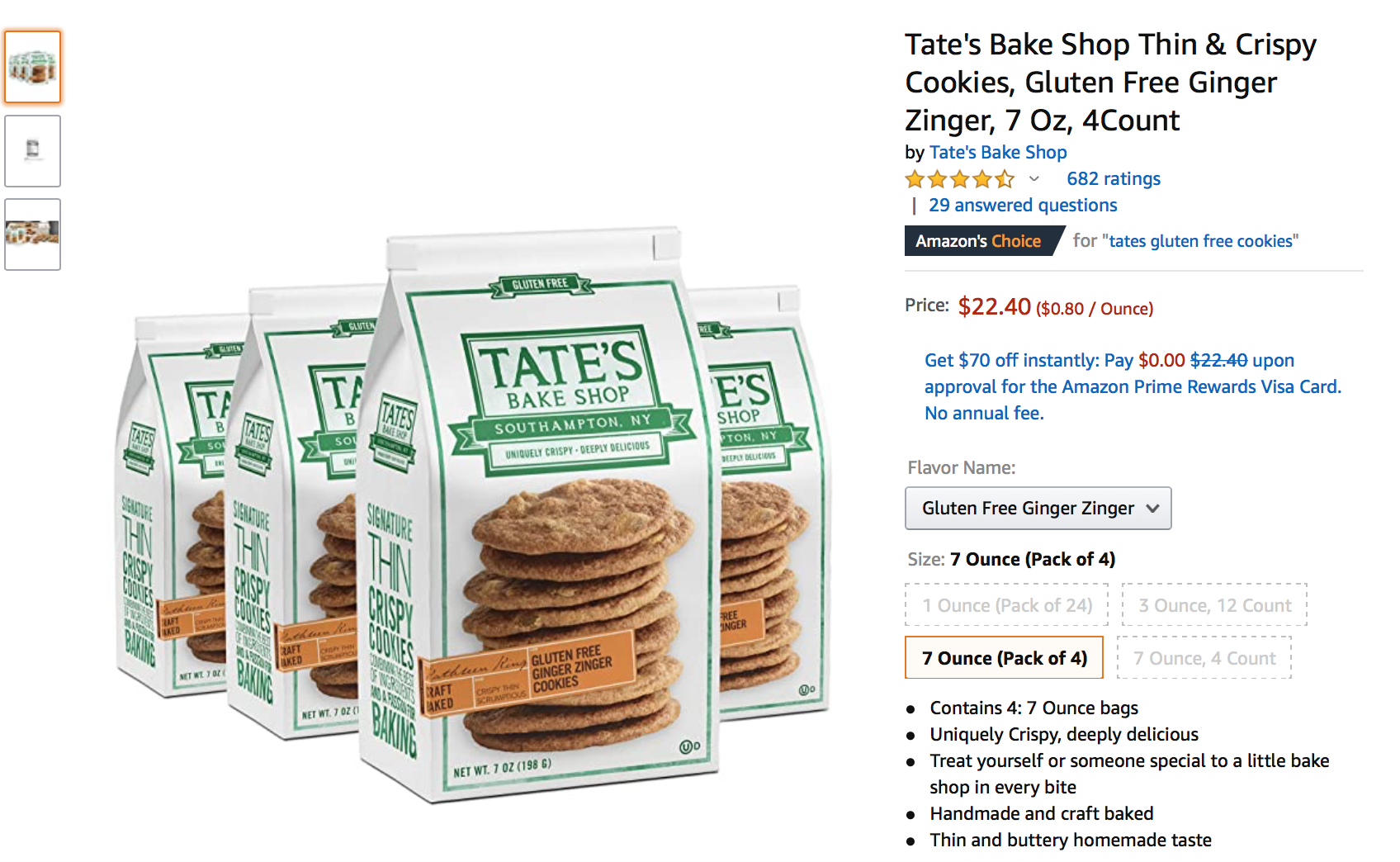 You want the decision-making process to be easy for your customer, because the more time they spend wading through the listing trying to figure out what exactly they're getting, the more annoyed they'll get (and the less likely they'll be to buy your product).
How long is the Amazon title supposed to be?
Once you've got a good draft down, know that you only have 200 characters to work with if you're a seller and 50-200 if you're a vendor. It depends on which category your product falls into.
But shorter is almost always better, as long as the pertinent information is there. Usually, only the first 60-70 characters of a title show up in the search results.
Everything important should be in those first characters anyway so that shoppers can quickly scan the title and choose which product to purchase.
Take some time to draft a few different titles. This will help keep you from stressing about fitting every single thing that you feel is important into one title.
You can then implement one of the four tips below to help you choose the best one.
What are 4 tips to write a better Amazon title?
Take these four tips to help you create that strong, solid Amazon product title.
Put the most important keywords as close to the beginning of the title as possible
If you're selling coffee, put the word coffee immediately after your brand name.

The closer the main keyword is to the beginning of the title, the more likely it is to show up at the top of a search results page.
Avoid keyword stuffing
Once you start working on the product description, you'll get to incorporate any keywords you have to leave out of the title.
Just don't stuff your title with keywords. It makes for unpleasant reading, and it might even cause Amazon to mark your product as spam.
Remember those descriptors
Whatever you do, don't forget to add product descriptors. If your water bottle keeps things cold or hot for a long time, writing 'hot & cold' in your title describes that feature without being too long.

The key is to distill long descriptors into short keywords, as we talked about above.
Test your titles on PickFu
Once you've got a couple versions of your title, test it on PickFu with people in the product's target market.
Some of the audiences PickFu offers include people who like to garden or hike, people who are avid home cooks, people who take nutritional supplements daily, and Amazon Prime members.
In a recent poll, a PickFu user tested two potential Amazon product titles to an audience of Amazon Prime members and hikers.

Respondents were nearly equally split between both titles, mostly because they were drawn toward different features of the product — a camping pillow.
"As a back pain sufferer, I am drawn to the "Relieving Neck/Back Pain" statement first."
"When I am camping, relieving neck and back pain is the least of my concerns. That is why Option A is a more appealing choice."
"This headline is more about me. Ultra-light and compact is more important for me than saying it's hypoallergenic."
"I need pillows that are hypoallergenic so that's why I picked Option B."
"I like the retains its shape for 5+ Years in Option B. This sounds like a durable product."
As you can see, much of the feedback came from personal preferences and contradicted what other respondents had to say. People were drawn to different features in the product title, but the good thing is that they were drawn to the titles.
The seller could choose the title with the most votes and be sure to include the features in the second title in the product description bullet points.
If you're ready to test your own Amazon product title, it's easy to start your first poll. Decide between two to eight different titles or craft an open-ended question for ratings and feedback on just one title option.
Now you've got everything you need to create a powerful, easy-to-love Amazon product title.
---