If you're interested in advertising or selling on Walmart Marketplace, now is an exciting time to join.
In January 2021, Walmart rebranded its Walmart Media Group, formerly in charge of advertising, under the new name Walmart Connects. This new ad group offers Walmart Marketplace sellers more than ever, including the holistic integration of Walmart.com, the Walmart App, Walmart+, and brick-and-mortar locations. Walmart is hoping this catapults it into the same advertising league as Amazon and Apple, although the program is still young.
This article will outline the basics of pay-per-click (PPC) advertising and the Walmart PPC tool called Walmart Sponsored Products, as well as some of the best Walmart seller tools.
First, let's talk about the Walmart Marketplace itself and why every online seller should consider it.
What are some benefits of selling on Walmart?
For years, Walmart has been gunning to unseat Amazon as the leader of e-commerce. The idea seemed laughable at first, but it becomes more and more realistic every day, especially considering Walmart's 79% increase in e-commerce sales in 2020.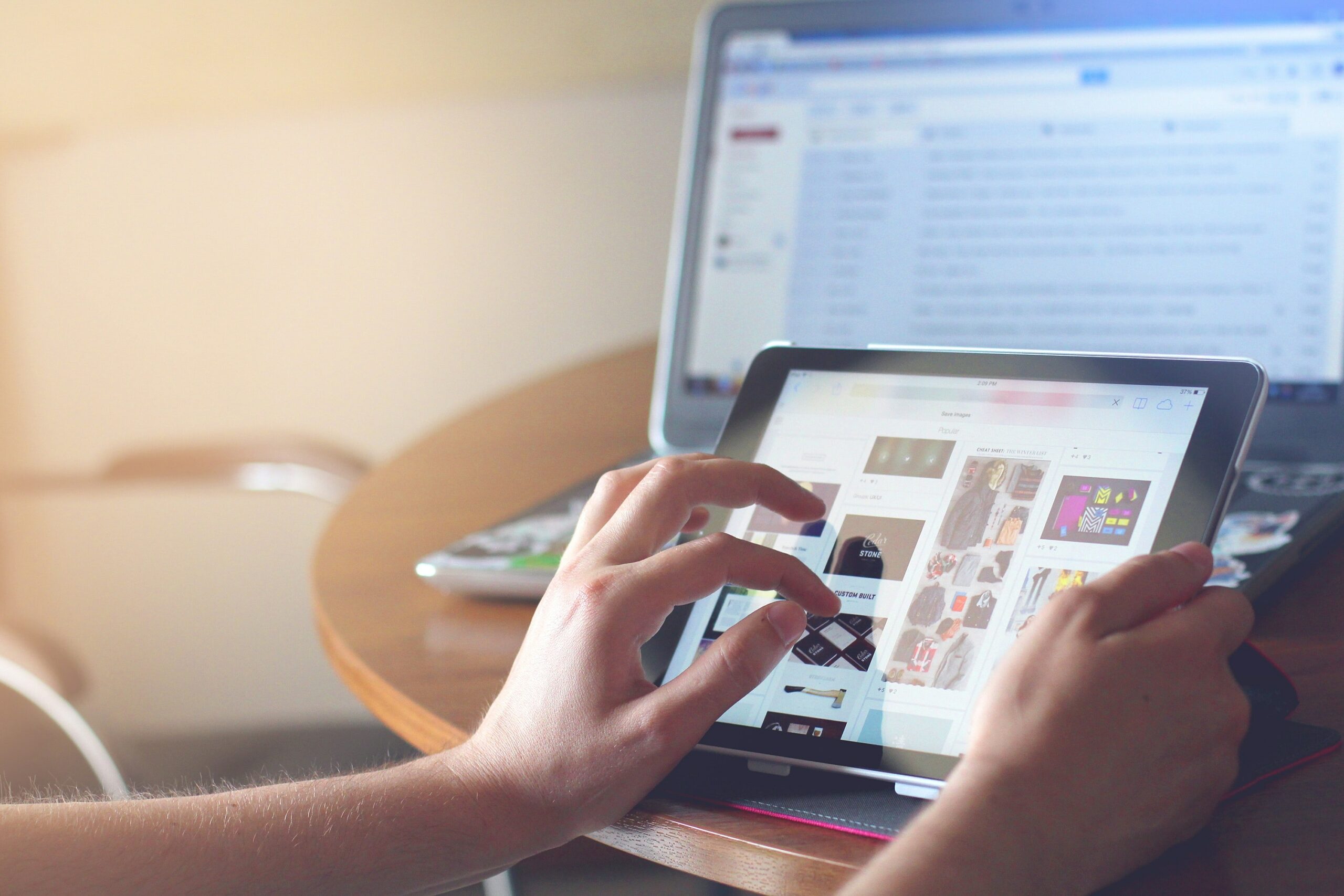 Part of the company's strategy is to attract more and better sellers with enticing perks. For example, Walmart Marketplace sellers only pay a fee when they make a sale. On Amazon, sellers must pay monthly fees regardless of how much they sell.
There's also the reach: 120 million visitors monthly on Walmart.com and the Walmart app. If you want to sell on a channel that comes with a built-in customer base, Walmart.com has one of the biggest.
First things first, you need to be approved. Read our article on how to get started as a Walmart Marketplace seller so you know what's required for the application process.
How does advertising work for Walmart Marketplace sellers?
Walmart Marketplace sellers have a few different advertising options, categorized as either Sponsored Products or Display ads.
1. Sponsored Products
Walmart Sponsored Products are highlighted product entries that appear in shopper search results or relevant product pages. These automatically take some of the best screen space for visibility and often blend in with organic search results.
Sponsored Products appear in four forms:
Search in-grid. Your product automatically appears on the first page of search results for your keywords.
Brand amplifier. Your brand logo and three of your best products appear at the top of search results for your main product categories.
Product carousel. Your product appears in carousels on search, category, and item pages as part of alternative purchase options.
Buy Box. Your product appears as the best alternative purchase option on competing product pages.
A Sponsored Product campaign runs like a PPC auction, with sellers placing a bid from a fixed budget and the winner earning the slot. Luckily, you only have to pay when you win and a shopper actually clicks your ad.
You can choose to run your Sponsored Product campaigns automatically or manually, depending on how hands-on you want to be.
Choosing to manually manage your bids requires learning about search engine optimization (SEO) on Walmart, but lets you target specific keywords and build more customized and focused ad campaigns.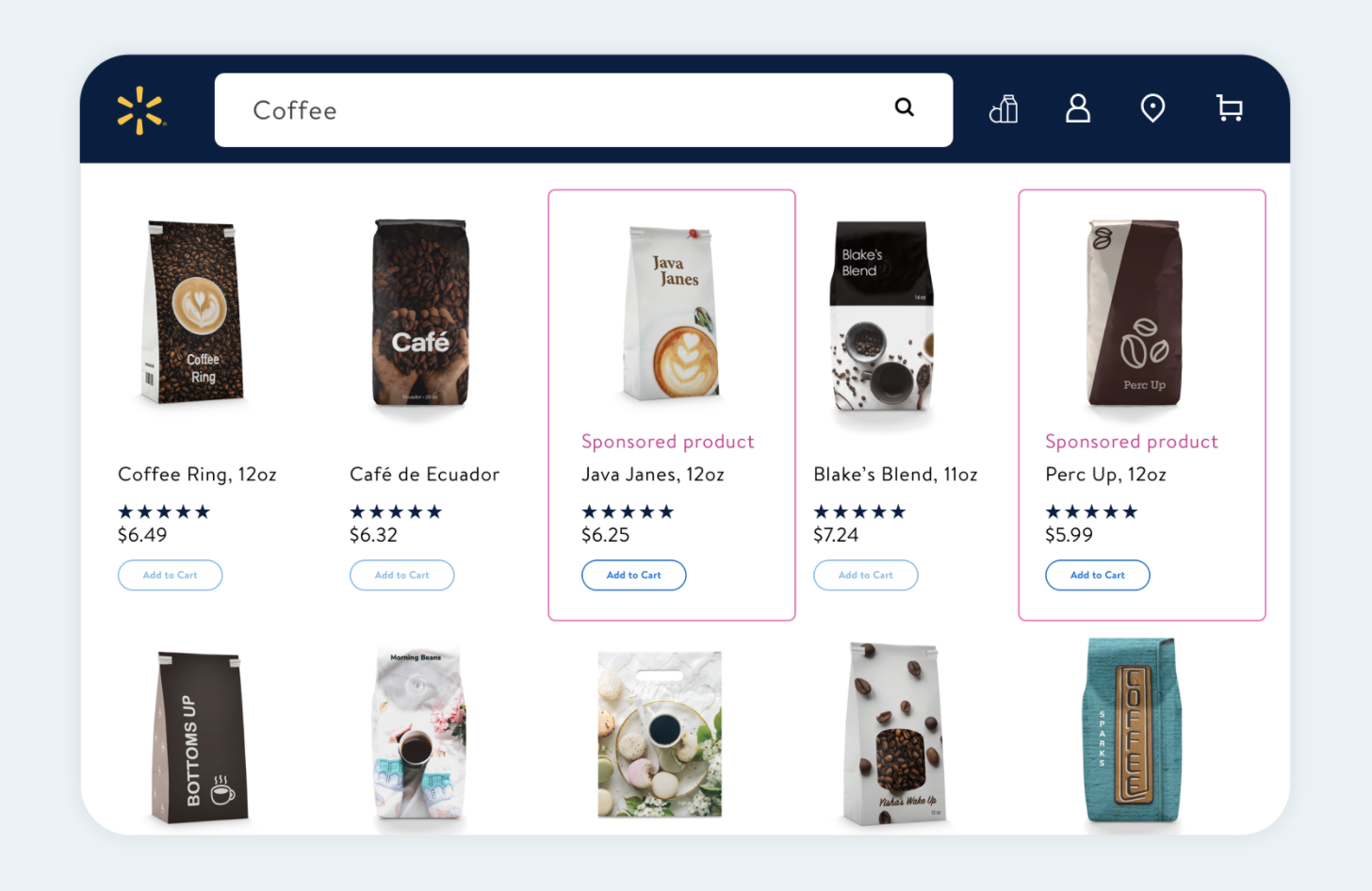 2. Display ads
Walmart's display ads follow more traditional advertising methods. Your digital ads can appear on all of Walmart's properties: Walmart.com, the Walmart app, and in-store display screens.
Display ads are a great method for new brands trying to build awareness or to raise publicity for new types of products that the public doesn't know about yet.
You can also use Walmart display ads offsite, specifically on Facebook, Instagram, and Pinterest. This could be a valuable feature if your ad campaign relies heavily on social media and social selling.
Who can advertise on Walmart.com?
For starters, you must be a registered Walmart Marketplace seller to take advantage of Walmart PPC tools. And if you're hoping to bid on a Sponsored Products ad, there are still more hoops to jump through.
Walmart maintains a high level of criteria for whom they sponsor with Sponsored Products. To be eligible, you must win the Buy Box for your product type. That alone is no easy feat.
In addition, your seller account must pass certain standards:
high shipping standards
competitive prices
the product must always be in stock
the product must have positive reviews
On top of that, Walmart Marketplace sellers have to commit to a monthly ad spend of $1,000 minimum, with a $100 daily cap.
What are some good Walmart seller tools?
You'll want to complement your ad campaigns with the best Walmart seller tools, including third-party software and services.
Here are 5 of the best Walmart seller tools.
A real-time data analytics tool that helps you make informed decisions about pricing, product range, and marketing budget spend.
Partnered directly with Walmart, this shopper engagement platform can help improve your customer reviews and increase positive reviews.
A 3PL fulfillment service that guarantees fast shipping times, including two-day Walmart deliveries.
Only the best product photos get clicks on Walmart. This instant polling platform helps you determine which images perform best, according to real consumers who fit your target market.
An analytics tool for Walmart Marketplace sellers that suggests product ideas, SEO keywords, and editorial improvements for your product listings.
What's the best way to learn Walmart seller analytics?
Your performance on Walmart Marketplace does more than just influence your business decisions; poor performance might get your account suspended. This is why it's vital to understand your seller analytics and how they affect your day-to-day operations.
You can check your Walmart seller analytics from your Seller Central account. Go to Analytics > Performance. Under the Seller Scorecard tab, you can check your Order Defect Rate, On-Time Shipment Rate, and customer reviews. The Fulfillment tab has your shipping analytics.
Depending on your sales strategy, you may want to track more or different sales analytics relating to your Walmart account. Some of the third-party tools we mentioned above can help.
How to sell more on Walmart Marketplace
Advertising is just one part of e-commerce. To be successful as a Walmart Marketplace seller, you'll need to do more behind-the-scenes legwork.
For starters, you need to effectively drive traffic to your Walmart listings. The tactics include mastering SEO on Walmart, optimizing your product titles, correctly using product attributes, and above all, perfecting your product photos.
When you test your Walmart listings on PickFu, you get quantitative data as well as qualitative feedback in the form of written comments from each respondent you survey. You can target respondents by specific traits, such as income level, app store spending habits, travel frequency — and even Walmart.com shoppers.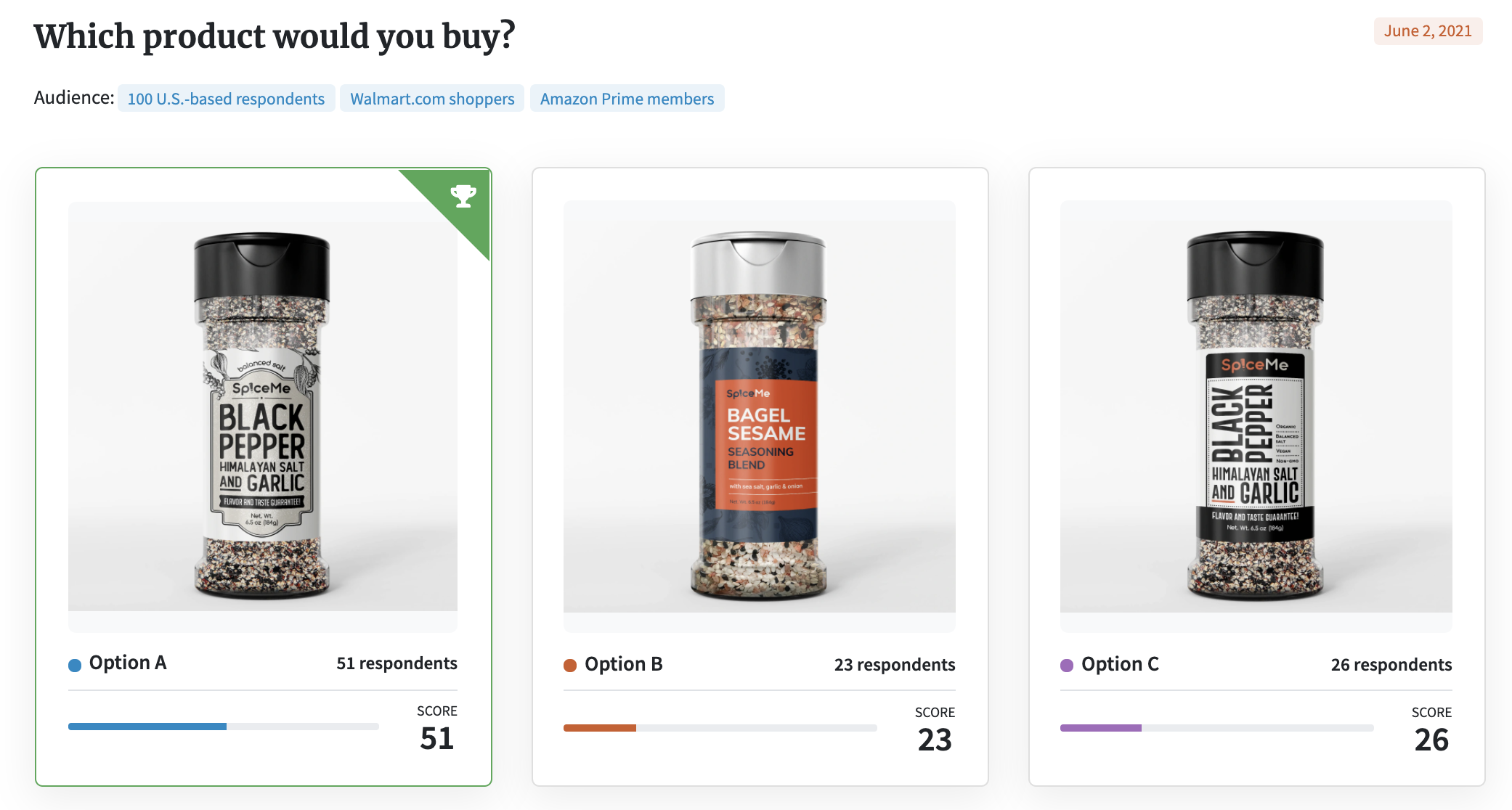 The feedback you get will help you determine the best images, titles, call-to-action copy, and display ad composition that will boost your sales.
Curious to learn more about how to use PickFu as a Walmart seller? Check out our e-commerce guide for ideas and to get started.
---