Amazon may be the biggest e-commerce marketplace, but it's not the only one. More and more retailers are looking to eBay to sell their goods, especially collectibles like sports cards and Pokemon cards, which suit eBay more than other online stores (even Amazon).
Although eBay has a charm of its own, there's still a bit of a learning curve to it. The platform doesn't operate like the others, so you need to know a few essential rules and tips before opening up shop.
In this guide, we'll provide expert tips for beginners and answer the most frequently asked questions about eBay. Read on for the answers to these questions plus our top tips to selling on eBay.
How large is eBay?
With 185 million active users in 2021, eBay is the third-largest e-commerce company in the U.S. with a 4% market share, behind only Amazon and Walmart.
This gives it a bigger built-in audience than its peers Etsy, Swappa, and Poshmark, which also specialize in rare and homemade goods.
What are the top products to sell on eBay?
In the battle of eBay vs. Amazon, how can eBay win? By specializing in niches that Amazon can't touch, such as unique and rare items.
The bestselling products on eBay in 2021 still revolve around the top e-commerce products in general: phone accessories, beauty products, jewelry, etc. These sell well on the other e-commerce marketplaces as well, so to truly succeed on eBay you have to play to its strengths.
eBay started as an online auction house, and it's still known for unique goods, antiques, and collectibles. You can find buyers on eBay for a diverse range of one-of-a-kind goods, even weirdly shaped Cheetos.
Most notably, eBay is the go-to marketplace for rare items like trading cards, vintage comics, stamps, coins, action figures, and memorabilia.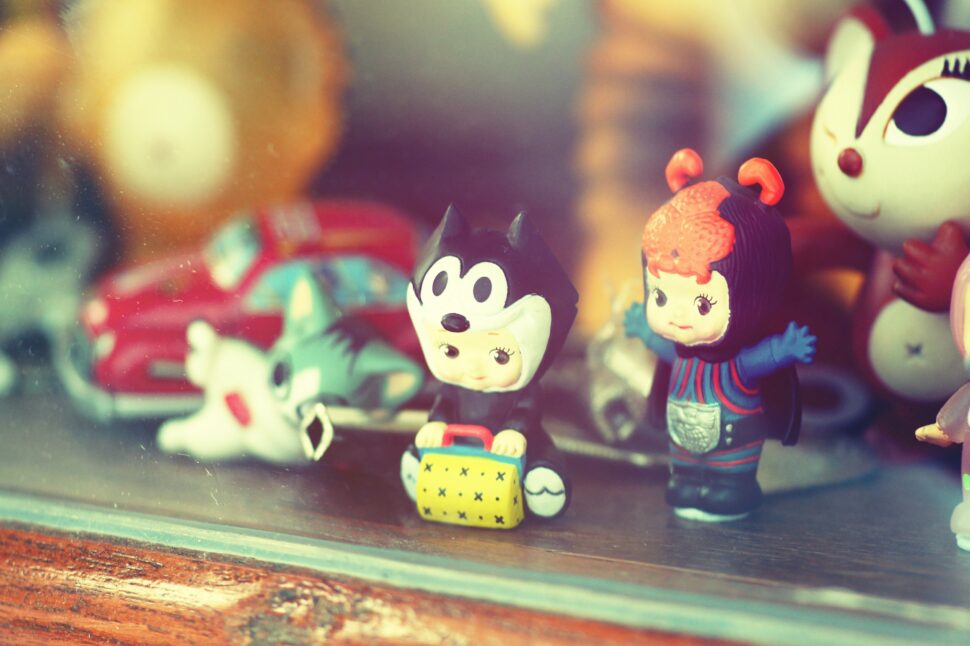 eBay is also ideal for reselling used goods, especially vintage clothes. Sellers can get good deals on their old clothing by widening their geographic reach — no one's going to drive from out of state to your garage sale, but they would easily order your old stuff delivered. This is particularly true for reselling watches and sneakers, two popular product categories on eBay.
Last, eBay has developed a dedicated community for auto parts. For one thing, this fits into its predilection for selling used goods. Plus, shoppers like buying auto parts from eBay because of the confidence guarantees. You can see a seller's rating and reviews to make sure the auto parts actually work and it's not a scam.
Once you know what to sell on eBay, your next step is acquiring the goods. Sellers have a few different options, from retail arbitrage to white- and private-label. To learn about your options, read our guide to eBay product sourcing.
What are the most important rules when selling on eBay?
eBay's rules are pretty standard among e-commerce marketplaces, with reasonable restrictions on problematic items like firearms or biological products. If you've sold online before, you'll be used to eBay's rules.
However, pay attention to the fine print. In particular, you're not allowed to bid on your own items, nor are you allowed to use eBay to drum up sales outside of eBay.
The marketplace also will penalize or boot sellers who try to circumvent eBay fees by inflating shipping costs or offering to sell outside of eBay.
Moreover, if you're looking for dropshipping tips, eBay is actually cracking down on dropshipping, so you might want to sell elsewhere.
If you are serious about running an eBay store, familiarize yourself with all the eBay rules and policies to make sure you're not stepping on any toes.
Is it better to sell my art on eBay or Etsy?
Etsy and eBay are both known as the e-commerce outlets for original and homemade creations, including artwork.
But which one is better for sellers?
Generally, it depends on how well known you are. The reason eBay works for art is its option for auction bidding. But if you don't have enough demand for your work, the bidding will be stagnant.
If you're a new or undiscovered artist, you might find better results on Etsy, which can help you make a name for yourself when starting out.
Really, though, you can try both and see which you prefer. Just be careful about double-selling an exclusive item — you'll be penalized for canceling an eBay auction if you decide to sell the item on another platform instead.
Can you sell on eBay with Shopify?
It's not only possible to sell on eBay with Shopify — Shopify makes it easy with direct integration built into its platform. Here are Shopify's instructions for connecting eBay to your account.
On the other hand, according to recent chatter in Shopify seller forums, sellers are reporting problems with eBay. Some Shopify sellers have been inexplicably banned from eBay, sometimes permanently, with no reasons or explanations given.
We don't know much about why this is happening or how to stop it, but a number of sellers have stepped forward, so it's something to be aware of if you sell or are thinking of selling on eBay.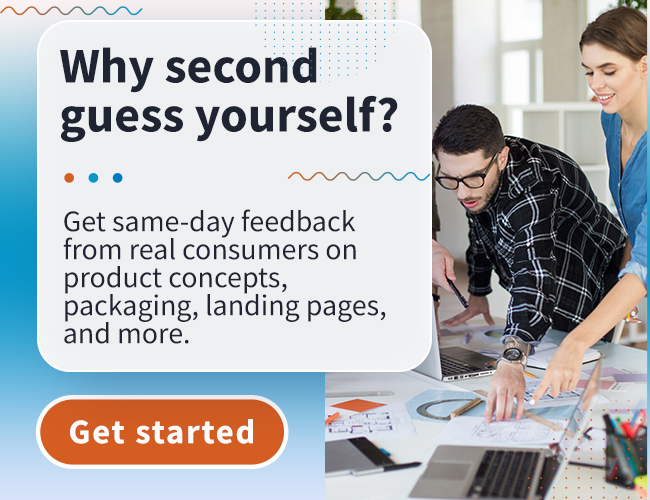 Are there companies that will sell on eBay for me?
In 2014, eBay launched a service called eBay Valet that handled the busy work of selling online for a cut of the profits. Four years later, eBay discontinued the service.
Considering the rising risks of scams and the crackdown on dropshipping, it makes sense that eBay wants to lean away from third-party sellers.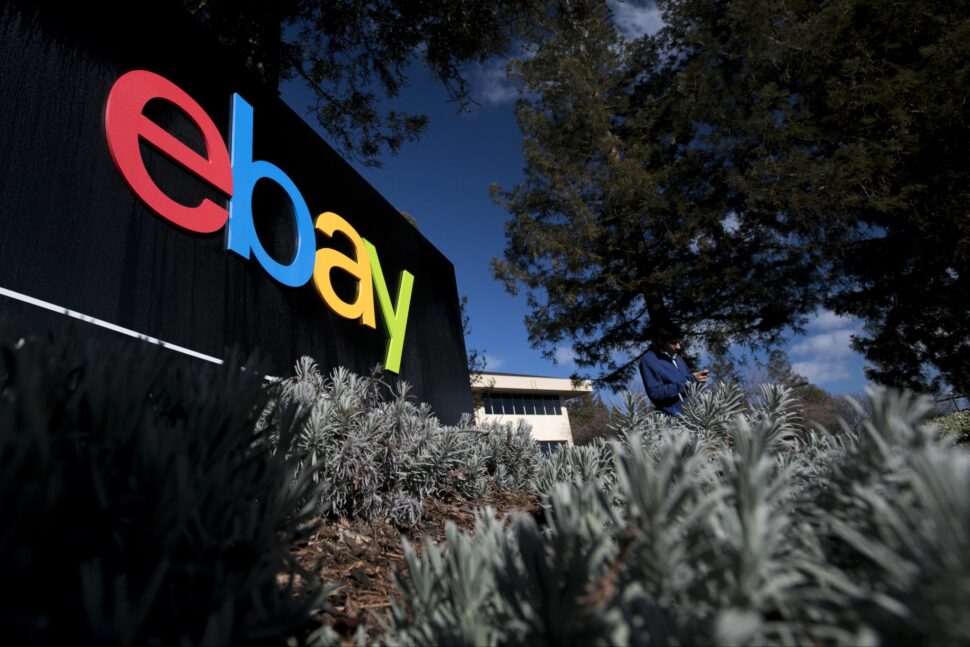 Selling on eBay: Tips for beginners
Want to get started selling on eBay? Here are 5 expert tips to give you a head start.
1. Understand when to use auction and fixed prices
One of the advantages of eBay is that you can sell by either fixed price or auction, but these choices are not interchangeable.
If you're selling rare or unique items like sports cards or Pokemon cards, auction-style works best. This applies to all commerce where demand outweighs supply, and still holds true on eBay.
If you're selling common goods, i.e. goods a shopper can easily find elsewhere, a fixed price works best.
2. Price your items based on other items listed
As with all e-commerce, your shoppers are going to compare prices. Forego the market price in lieu of a price that can compete with what other sellers are offering.
If you're selling collectibles or other unique items, base your price on similar items if you can't find an exact match.
3. Offer a generous return policy
Another advantage for eBay sellers in the eBay vs. Amazon matchup is that, unlike Amazon's rigid returns policies, eBay lets the seller decide how big the window for returns is, if any.
While it's tempting to dissuade returns with a draconian policy, the data actually favors a lenient, if not generous, one. According to an eBay report, listings with a 30-day return policy had 17% more conversions, while listings with a 60-day return policy had 34% more conversions.
4. Weigh items in their shipping package
Shipping fees are a big issue on eBay, both for sellers and buyers. To simplify things, it helps to weigh your items in their shipping package and use that figure for the online shipping calculator. That way, you get more accurate shipping costs and can price items accordingly.
Even better for pleasing customers is offering free shipping, although that's not always viable. Free shipping will impress shoppers, but the shipping costs cut into your profits. In particular, avoid offering free shipping on large or heavy items.
5. Optimize your eBay listings
Your product listing is one of your most important sales tools. The better it is, the more shoppers click on it, ultimately leading to more sales.
Product photos are crucial to your listing. That's what shoppers naturally look at first when they browse online, especially on a photo-heavy platform like eBay.
On top of that, image clarity and the angles and layouts of your products give shoppers a better understanding of what they're buying, and confident shoppers are more likely to purchase.
So how do you know if your product photos will stand out on the search results page? Different customer groups have different tastes, so it's too risky to guess.
By testing your photos on PickFu before you set your listings live, you can find out what your target customers prefer, thus increasing your chances of getting clicks and making a sale.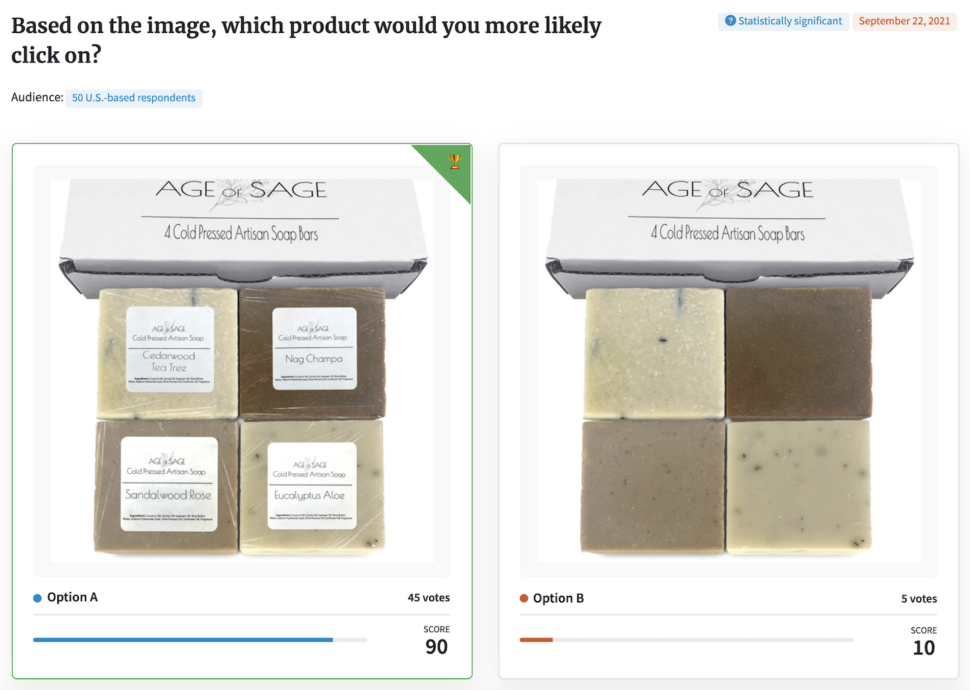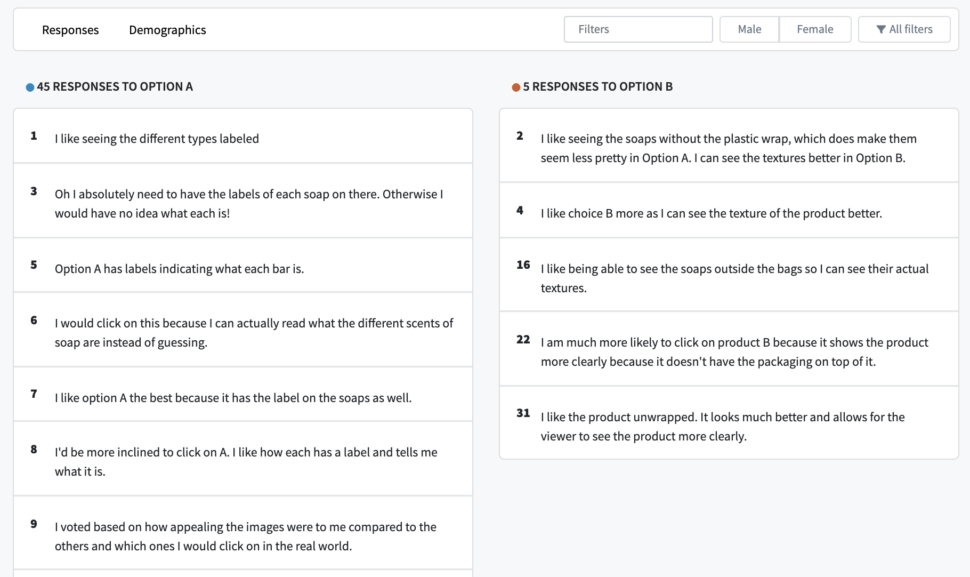 Audience targeting on PickFu lets you hone in on the particular customers you're after, whether by age group, income, gender identity, or interests and hobbies. You can even target eBay shoppers.
A PickFu poll completes within hours — sometimes minutes — so you'll know pretty quickly which images your audience prefers. By reading their commentary, you'll also understand why.
Don't stop at photos. Run similar tests with the other key elements of your eBay listing, including your product titles and seller bio. Or, run an Open-ended poll on PickFu to get feedback from your target customers on your pricing.
Ready to start selling on eBay? Read our guide to eBay listing optimization to learn more about how to polish your eBay business.
---