eBay has been an e-commerce seller's dream spot for years — and for good reason. You can sell almost anything on eBay: used items, collectibles, refurbished gadgets, and of course, new goods. And while there's a market out there for nearly anything you could sell on eBay, you need to keep your eBay listing optimization skills sharp and up-to-the-minute.
Also called eBay SEO, eBay listing optimization makes it easier for your target audience to find your product amidst the 1.3 billion listings currently featured on the site.
Here's the key detail about eBay's search engine, Cassini: its main goal is to keep shoppers — not necessarily sellers — happy.
Everything you post on your listing, therefore, needs to be aimed at shopper ease and satisfaction. By optimizing your eBay listing according to your buyers' needs and desires, you're optimizing the listing for eBay's search engine.
Here are 6 ways to do just that.
6 tips for eBay listing optimization
1. Take high-quality photos — and split test them
My mom went through a Longaberger basket frenzy in the early 2000s, when the now-defunct company was in its heyday.
Our house started looking like a second Longaberger factory, so she decided to sell some of them on eBay.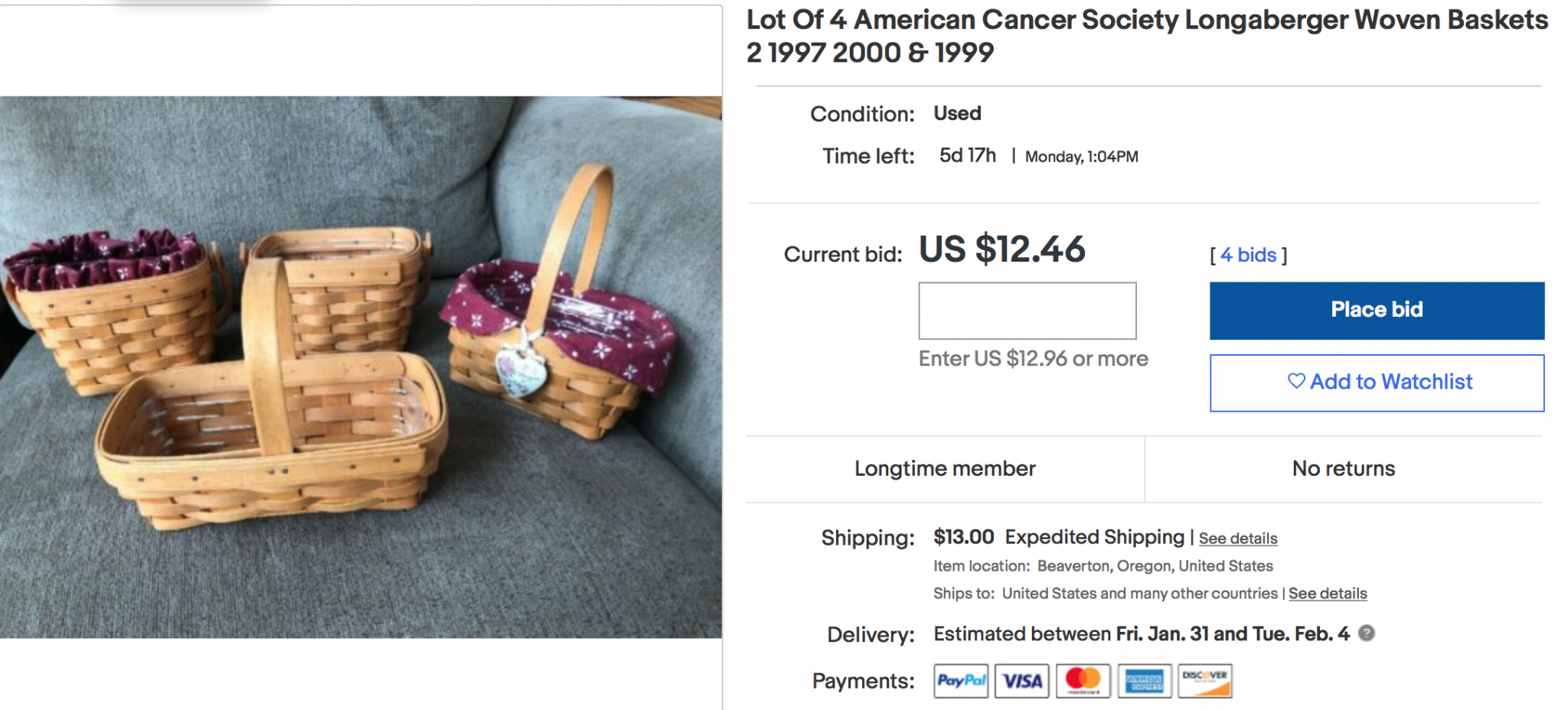 I vividly remember walking into her office and watching her arrange each basket on a white sheet, painstakingly shooting photos of the front of the basket, the inside, the back, an up-close shot of the fabric liner, and hard plastic liner.
Back then, it looked like an awful lot of work just to sell a basket. But my mom was onto something, even though she probably knew nothing about eBay listing optimization at the time.
She sold all the baskets she listed.
One explanation is that Longaberger baskets were in high demand at the time. The other? Each of her listings clearly showed the buyer exactly what they were going to get.
eBay gives you 12 free spaces for photos, with the option to purchase more spots if needed. Use as many of the free spaces as you can, and make those photos shine.
First, follow eBay's size guidelines to the letter. Be sure to make your photos as professional as possible by following our guide to improving your e-commerce photography.
Second, make sure your images showcase everything about your product, including:
The packaging
Every side or angle of the product
Ingredients, if applicable
The accessories that come with the product
Infographics that explain what the product can do for the buyer
A lifestyle photo showing the product in its intended setting (a blender on a kitchen counter, for example)
A model wearing the product (a person if it's clothing or a dog if it's a harness, as is the case below)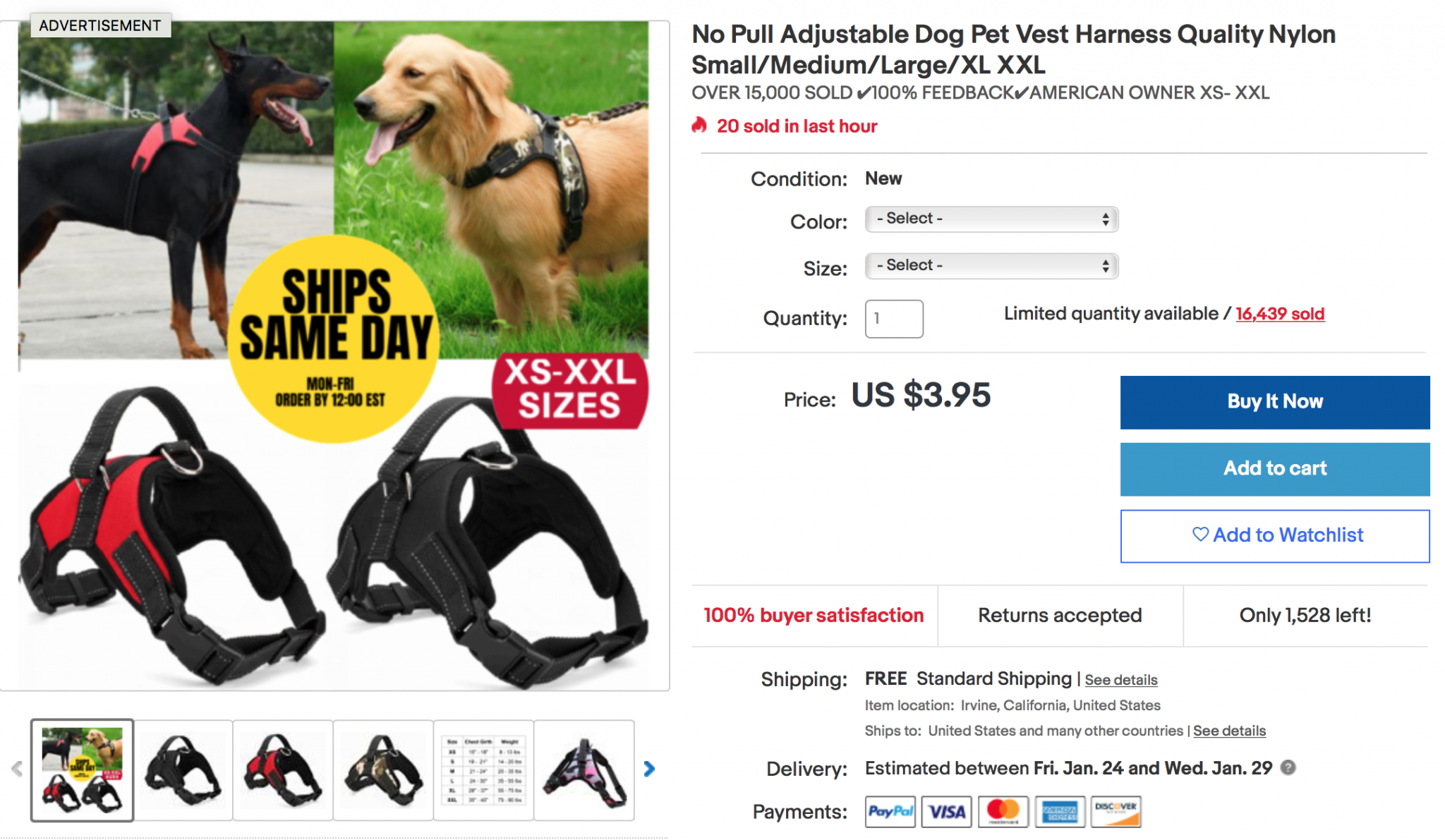 Take your time with this step. It's important.
While I adore Target, I always get frustrated with its app because ingredients for products like snack bars or applesauce are never shown in the listing photos. You'd easily be able to read the ingredients list in a store, so why can't you do it with ease on the app?
It's hard to make a purchase when you don't know exactly what you're getting. So make sure your audience knows your product inside and out just by the 12 photos included with your listing.
If you're struggling to figure out which photos are the most helpful to your potential audience, run a poll on PickFu to find out, just like this PickFu user did.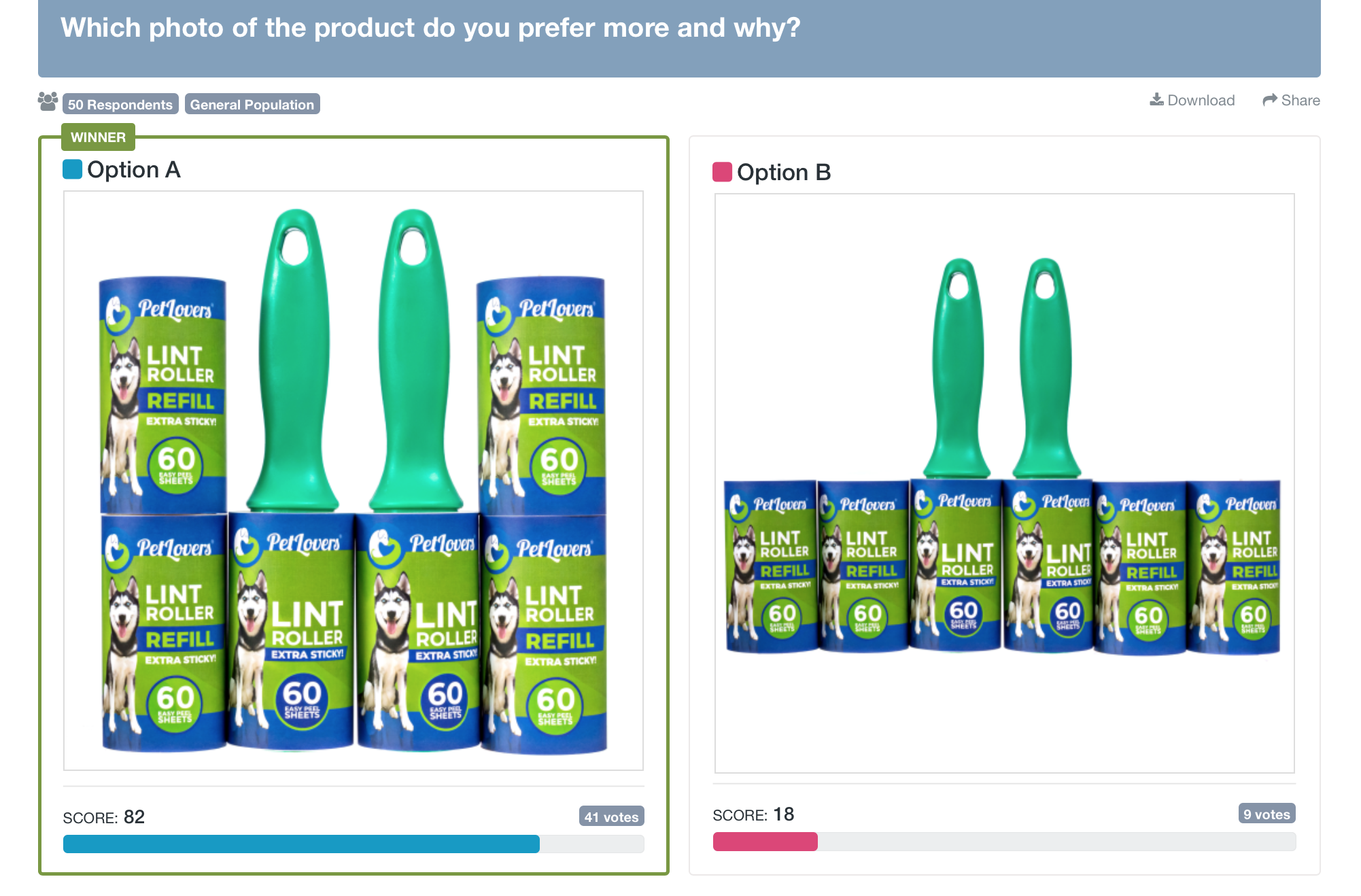 Not only do PickFu users vote on a favorite photo, but they also provide the reasoning behind their choice.
This feedback is invaluable to you, the eBay seller. It can help you make informed decisions about what type of photo to use in your listing.
Even better, with PickFu you can run a poll with a targeted audience. Are you selling lint rollers, like the PickFu user above? Choose an audience of cat and dog owners.
You can target respondents by all sorts of traits relevant to your products, such as frequent exercisers, homeowners, nutritional supplement users, cosmetics users, and more.
By testing listing photos with a targeted audience before you post your eBay listing, you'll make sure that the images have the highest chance possible of attracting buyers.
2. Create meaningful product titles
Have you ever seen those keyword-stuffed product titles that bend your brain just from trying to read them?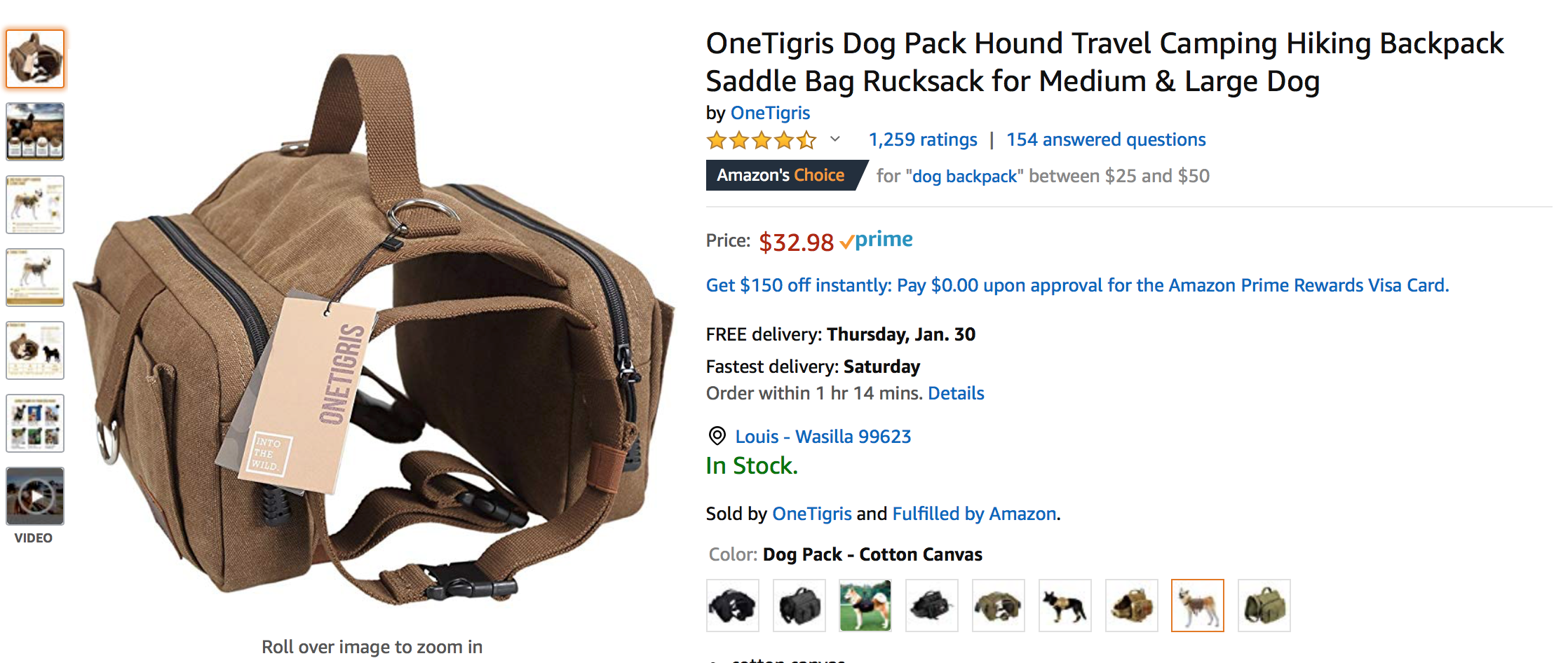 We learn about spelling, punctuation, and syntax from a young age for a reason. Words clear the path for easy communication, and good communication sells.
Make sure your product title gives the reader a wealth of information — the brand name, model number, product description, and colors or sizes offered, for example.
These identifiers will also make sure that when a potential customer runs a search on eBay, Cassini delivers a list of relevant matches — your listing included (hopefully near the top).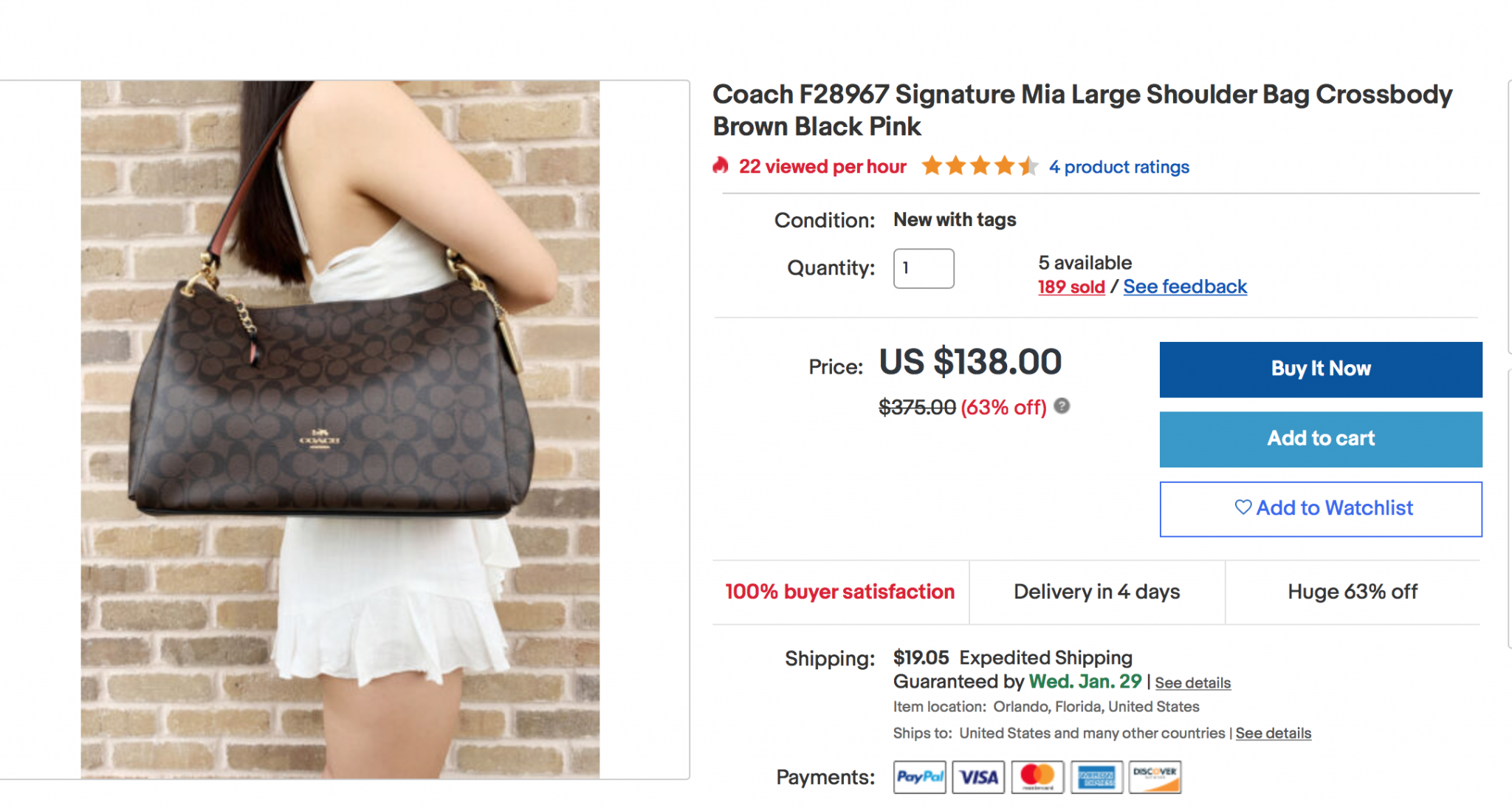 One trick to making sure you get your listing right is to search for items similar to the ones you're selling. If it's selling well and has lots of attention, copy and paste that listing title. Then plug your own product information into it.
Don't plagiarize, but use a winning format as a guide. And never, ever stuff keywords into the title — especially not keywords that have nothing to do with your product! If you take anything away from this eBay listing optimization guide, let it be that.
For example, this Coach seller could have stuffed 'Gucci' and 'Prada' into the crossbody bag listing featured above just to get more hits. But when people who actually searched Gucci and Prada get Coach, they won't be happy. They'll bounce, hurt your conversion rate, and over time, your rank will suffer.
Just include the long-tail keyword that best defines your product. This is useful to the customer and it's useful to you because people who search that keyword will be looking for exactly what you're selling.
You can use a tool like Google Keyword Planner or Terapeak to help you find the right keywords for your eBay listing optimization efforts.
After you've come up with a product listing title, test it on PickFu with an audience of people who might be interested in the product. They'll tell you if the title is clear and meaningful — and how you might fix it if it's not.
3. Craft customer-centered product descriptions
After getting pulled in by your photos and product listing title, your target audience will want to read a product description that does one thing above all else: make it clear what the product does for them.
A fantastic example? This eBay listing for a refurbished Cuisinart coffee maker.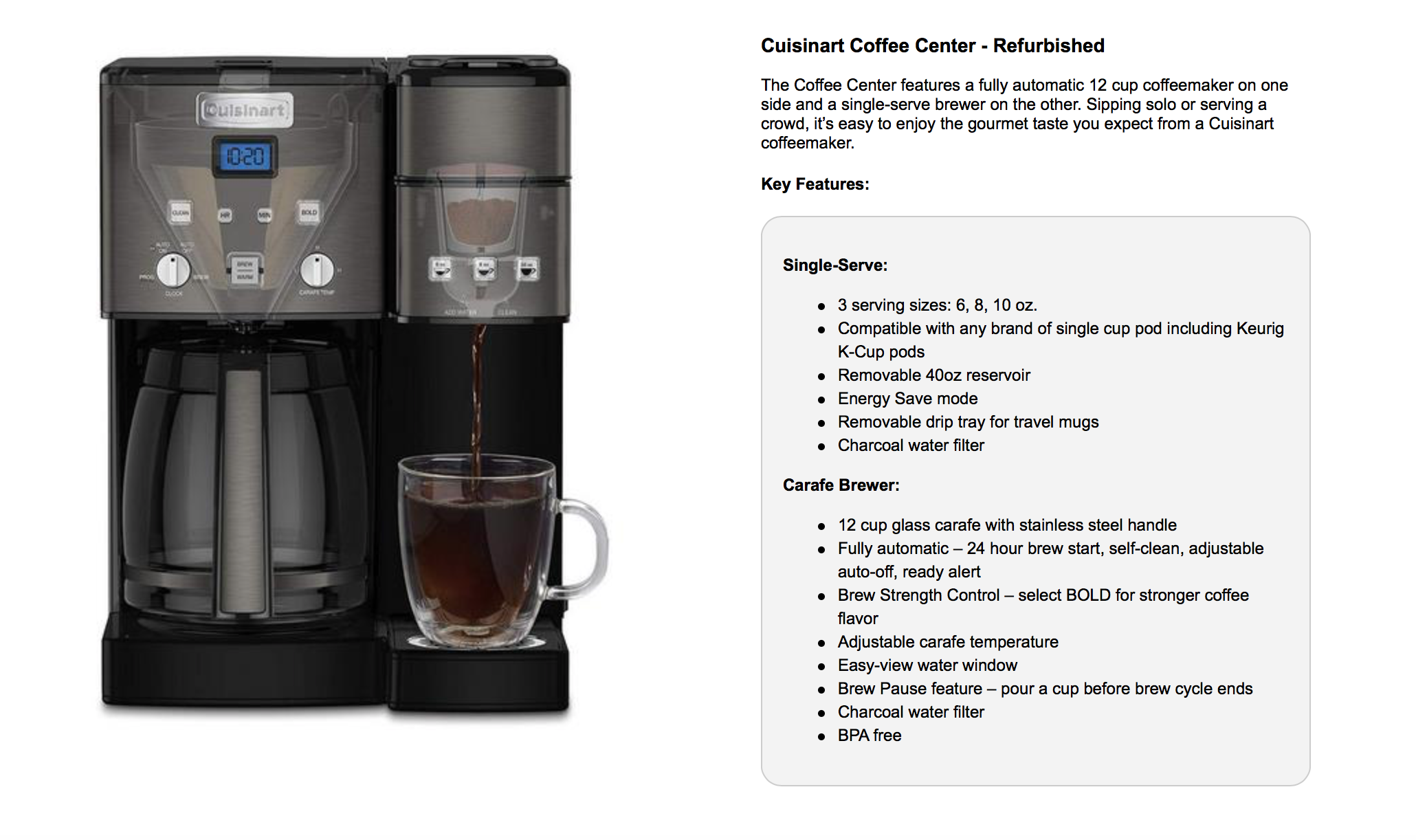 The intro sentence tells you exactly what the item is — "a fully automatic 12 cup coffeemaker on one side and a single-serve brewer on the other."
But the next sentence makes it all about the buyer: "Sipping solo or serving a crowd, it's easy to enjoy the gourmet taste you expect from a Cuisinart coffeemaker."
The sentence tells you how simple it is to enjoy high-quality coffee whenever and however you want.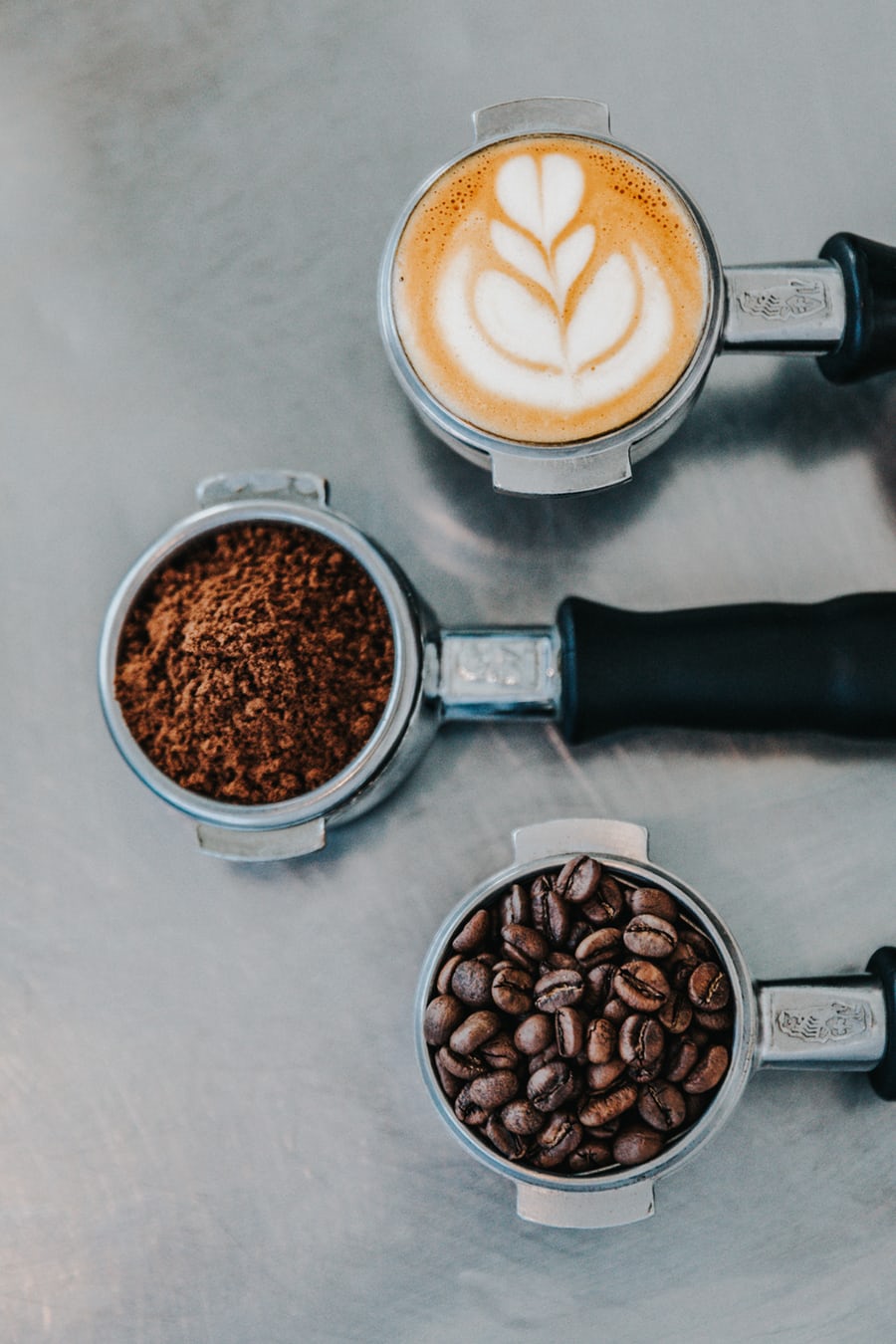 Then, you get easy-to-digest details about both the single-serve side and the carafe-brewer side of the coffeemaker.
Even then, the information is customer-oriented, with statements like "easy-view water window" that take the user's experience into account instead of a product-oriented feature like "clear water window."
Aim for customer-oriented language whenever you can in your own listing descriptions.
One of the best things you can do is create two versions of your product description and split-test it like this PickFu user did.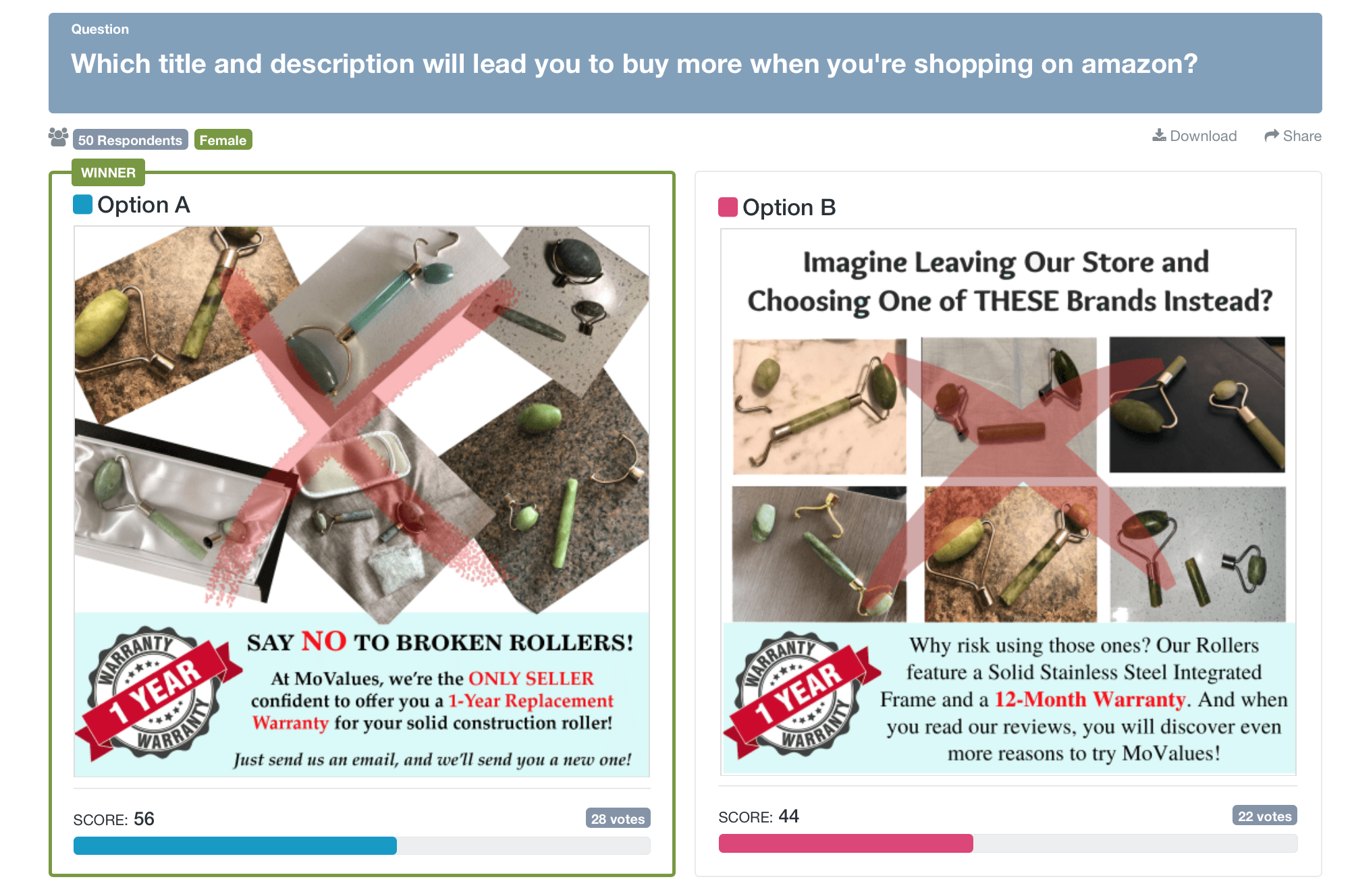 Or, you can link to your eBay listing once it's live and ask PickFu respondents to tell you what's missing from the product description.
Ask things like, "How can I make this product description more user-oriented?" or "Does this product description make you want to buy?"
Pay careful attention to the feedback and apply the advice in your description.
And don't forget to make your product listing easy to read on a mobile device. 61% of eBay sales take place via a mobile phone, so no large, long chunks of text belong in your product description.
As with the Cuisinart coffeemaker listing, use bullet points to craft an organized product description. And use bold styling in relevant spots to alert both potential buyers and search engine Cassini that something is important or noteworthy.
And always, always proofread your copy.
4. Build trust with your customers
When I worked at Burger King as a fifteen-year-old, the first thing my manager told me was to be kind to every person who walked in the door, answer all questions politely, and remember that the customer is always right.
This applies to your eBay store, too.
eBay has a strict and efficient member-to-member contact system, making it easy for buyers and sellers to communicate within the site.
If a potential buyer emails you with a question, answer it as soon as you see it.
The same principle applies if a customer raises a concern with your product or service: connect with the buyer and fix the issue right away.
In addition,
And last but certainly not least, make sure your product is exactly as described, if not better.
By building trust with your customers, you'll be more likely to get high ratings on the eBay Feedback system.
This, of course, leads to more business for you.
5. Optimize your seller bio
While the product listing itself is the most important thing to optimize, making sure your seller bio is interesting, engaging, and relevant is helpful, too.
Would you rather buy from a seller who has no description, or from one who makes it clear that customer satisfaction comes first in its business?

A lot of eBay sellers don't fill in their bio, so by fleshing yours out, you're a step ahead in the optimization game.
Think of your seller bio as yet another place to tell shoppers what you can do for them and why your service or product is unique.
Incorporate keywords naturally into the text, because Cassini scans your bio, too. But as always, avoid keyword stuffing. Make every keyword relevant and helpful.
6. Open your own eBay store
Have you followed all the previous tips and seen significant growth in your eBay e-commerce business?
It's time to take your brand to the next level by opening your own eBay store.
Choose from five different subscription levels (they start at under five bucks a month!) to get started.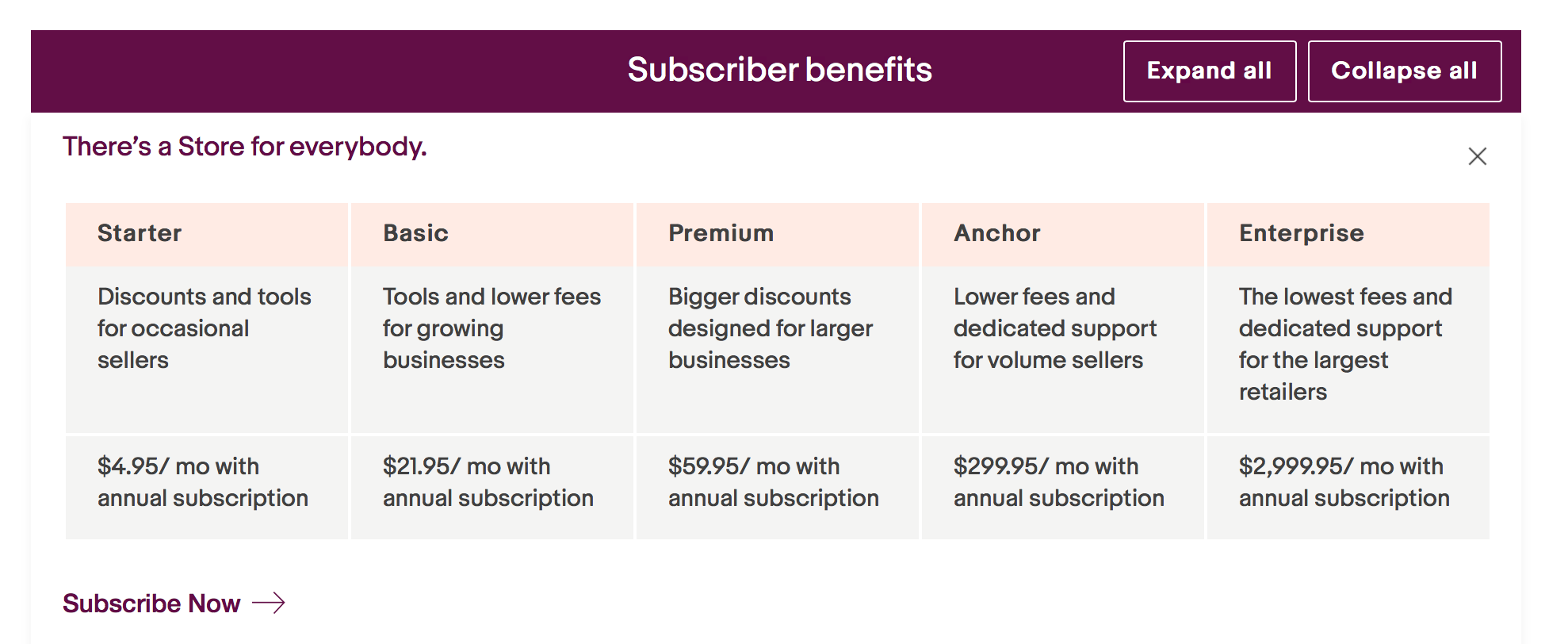 You'll get to choose your own store design, complete with your brand logo and eBay Store URL. You can organize all your products by category and promote listings within your site.
eBay Store subscribers also benefit from lower selling fees, discounts on eBay shipping materials, and a higher likelihood of being spotted by Cassini. (How's that for built-in eBay listing optimization?)
And as you can see in the image above, the higher the subscription level, the more benefits you get.
This is a smart option whether you sell things on eBay a couple times a month or are dedicated to making eBay e-commerce your full-time job.
The ultimate key to eBay listing optimization
You've probably noticed that it takes a bit of effort to create a well-optimized eBay listing. But trust me, this effort is absolutely worth your time.
The advice listed here all boils down to one thing: you need to put yourself in your shopper's place as you build your product listing. And then, test what you think will work to get real input from people in your target audience.
At the end of the day, you are not your product's target customer. A polling site like PickFu can get you feedback from people who actually are.
The information these potential buyers provide is more valuable than any keyword combination because eBay and its search engine are shopper-focused.
So, ask not what your buyers can do for you, but what you and your product can do for your buyers.
---