Introduction
If you're new to e-commerce, you might feel overwhelmed by the idea of building a successful e-commerce marketing strategy. Maybe you're at the beginning of your journey, where you're still deciding whether to set up your own site or create an Etsy or Amazon page.
Or maybe you started your business a few months ago with high hopes, but nothing's happening. The water is quiet and no one's biting. What can you do to keep your brand from flopping?
It all starts with having a strong e-commerce marketing plan. Without marketing, your business goes nowhere.
This guide will take you on an overview of steps you can take to solidify your e-commerce marketing strategy and make your brand thrive.
Strategies to improve search ranking
Search engine optimization, or SEO, is a much-discussed term no matter if you're a blogger, an online retailer, or an ebook author. Everyone wants to know how to get found by search engines because search engines help customers find you.
Most people search on Google, so your main SEO goal is to get listed on Google's search engine results pages, or SERPs.
If you sell kids' winter coats, you might think that working to rank for "kids' winter coats" is your best bet.
But take a look at the Google SERP for that search term.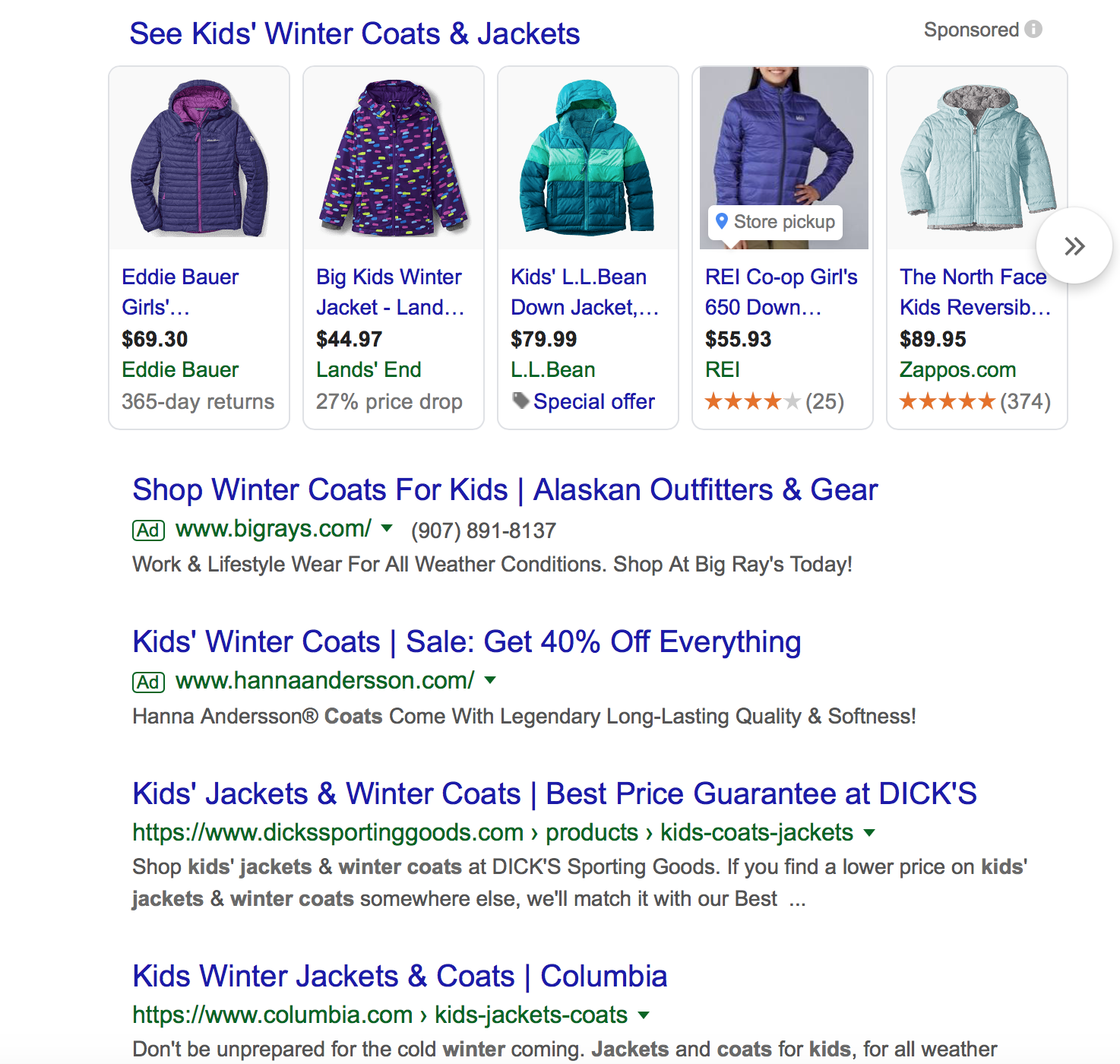 The top five brands that popped up in the (paid) Google shopping carousel are Eddie Bauer, Lands' End, L.L. Bean, Zappos. Under that, you have Big Ray's, Hanna Andersson, Dick's Sporting Goods, and Columbia.
That's some tough competition.
Instead of trying to rank for a high-volume keyword that describes your entire site, work on ranking for specific and searchable keywords that are relevant to each individual product.
For example, you could work on ranking for "purple coat for five-year-old girl." In the image below, you'll see that Amazon is the first organic search result. If you're selling on Amazon, your purple coat for five-year-old girls might appear in the search results page in Amazon.
Make that your goal.
This comprehensive guide to SEO for e-commerce marketing can get you started.
Because product descriptions are key, we've included tips to optimize product listings.
Product description tips
Write clear and helpful product descriptions. Tell your customers exactly how this product will help them, how they can use it, what sets it apart from the competition, and what tools or accessories your product does (or does not) include. Knowledge is power. A complete understanding of your product will help browsers convert to buyers.
Never duplicate content. This includes your own content. Do not copy and paste from one product to use it on another, similar item. This will make search engine crawlers think you're spammy.
Don't overdo keywords. Nothing is more annoying than trying to read a product description on Amazon that's so packed with keywords that it's almost impossible to understand. A few carefully researched and well-placed keywords will do the trick.
For more product description related tips, see 7 SEO Tips for Product Descriptions.
SEO marketing tips
Here are a few additional tips to keep in mind:
Diversify your channels. If you sell on Amazon, sell on Etsy, eBay, and Shopify, too. The more places you're listed, the more potential customers will find you.
Maximize your content. Does traffic for your kids' coat business mostly come from your wintry blog posts? Make sure you feature your related products in each post. This helps your readers become your customers.
Consider creating videos. These could be how-to videos, product use videos, or just videos about fun winter activities to do (in your awesome kids' coat, of course). Videos help build trust, get more eyes on your product, and show potential buyers how your product works in real-time.
Take lots of photos of your product. And consider allowing anyone to use or share them as long as they give credit that links back to you. Visibility is everything!
E-commerce marketing strategies to drive traffic
Google Ads
A pay-per-click (PPC) based ad program, Google Ads can be crucial to your success. This guide to Google Ads from Hubspot will get you started in creating focused ads that will pop up on potential customers' SERP with perfect timing.
You should know these basics before you dive any deeper, though.
Google search ads appear in the Google search network — on Google's SERP and on partner sites' search pages. When someone types in a keyword that relates to your ad, the ad will pop up near the results list.
Google shopping ads are super useful for those who sell through online or brick-and-mortar stores. Send Google your product data through Merchant Center, set up a Google Ads campaign, and let Google do the rest for you. They'll set up ads that look like this all around the internet: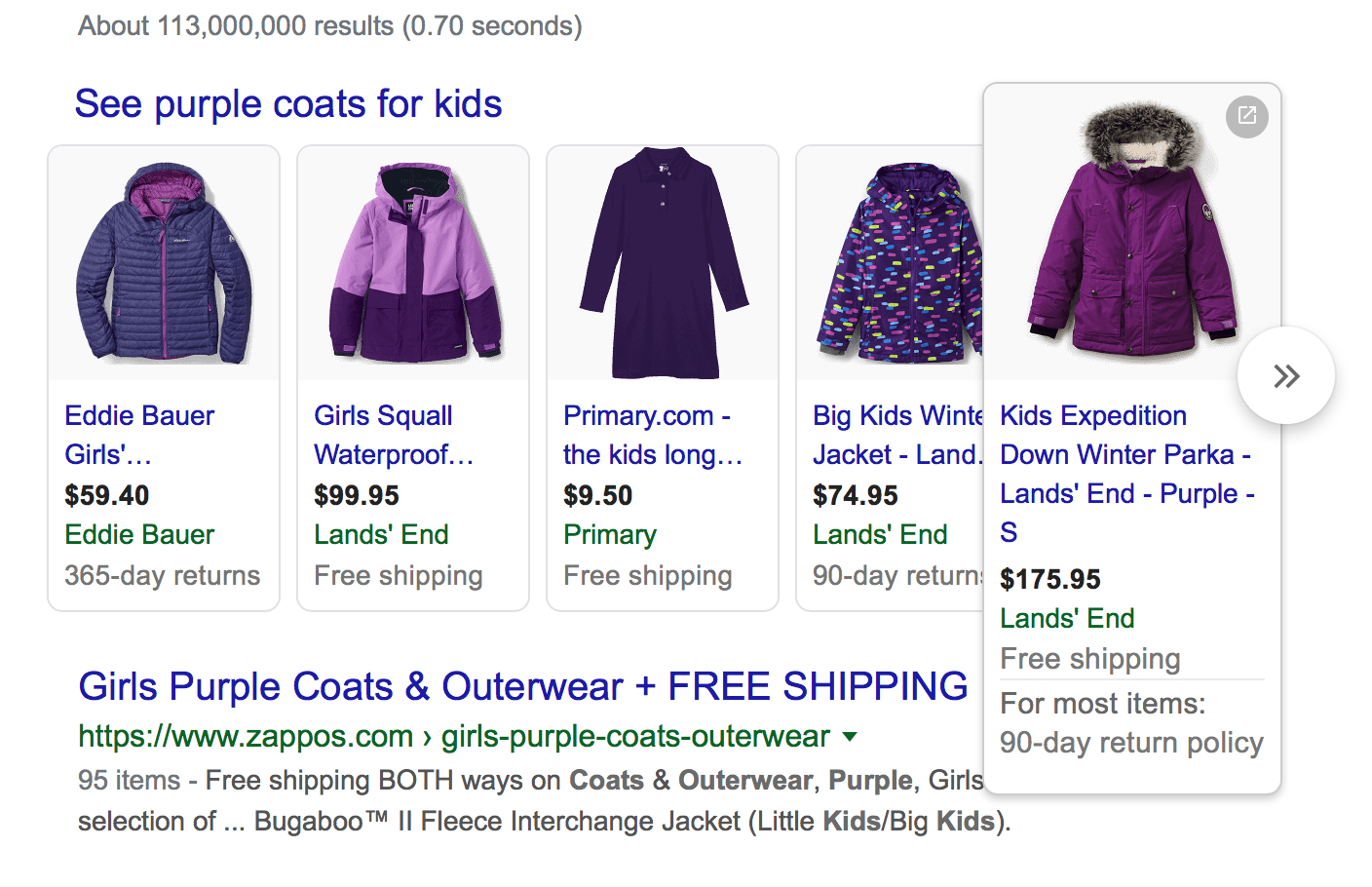 Shopping ads allow potential buyers to quickly see the information that could help them decide whether or not to buy. If someone does click on an ad, there's a high chance they will convert to buyers because they already know so much about the product.
Image ads appear on third-party sites within Google's Display Network and link to your online storefront. You can create static or animated image ads.
Facebook Ads
Easy to create and widely read, Facebook Ads are a good way to get your product out in front of a lot of eyes. You can run Facebook ads on Facebook, Instagram, Messenger, and Audience Network. With Facebook Ads, you pay upfront and then Facebook runs your ad until the amount is spent.
This means that you know how much you're spending every day or over the lifetime of the ad, which makes it easy to work a small or big advertising budget into your finances.
In order for your ad to appeal to your target audience, you can make sure it's perfect before it goes live by split-testing two or more Facebook ads with PickFu. See an example of this in our article about split-testing Facebook ads.
Another plus about Facebook Ads is you can create a catalog that holds all your product information. You can then build a dynamic ad that pulls information from this catalog to make buying easier for browsers.
Amazon Ads
Amazon's pay-per-click ads are keyword-driven, meaning that you can specify keywords and negative keywords to help control when and where your ad pops up in a search.
The neat thing about Amazon ads is that people are already on Amazon to buy something. When they see your ad, they're already primed to put it in their cart!
For more information on Amazon ads, check out this guest post by Zhané White of Sellozo.
Email marketing
It may sound old-fashioned, but email marketing campaigns are still a strong way to connect with customers who've previously contacted you, purchased your products, or subscribed to your blog.
Research shows that email marketing has a super high ROI — $44 back for every $1 you spend. And you honestly don't have to spend much. Instead of flashy, expensive campaigns, this article argues for personalized plain-text emails that make your customers feel heard and cared for.
You'll need strong audience targeting skills to carry this out, but the conversions and connections you make will be worth the effort.
Email campaigns are a great place to offer customers coupons or deals on your products to help them return to your brand, too.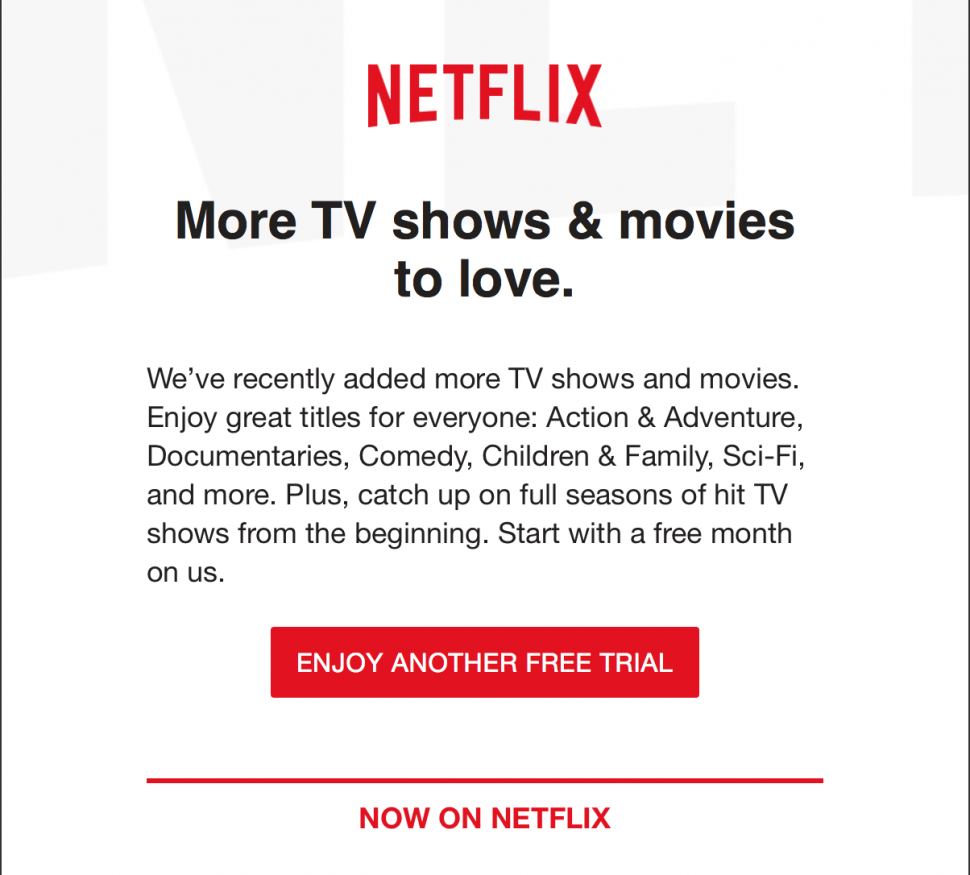 This email campaign from Netflix is a great example of solid email marketing. The company offered a former Netflix user a second free one-month trial. Who can beat that? Netflix is banking on the customer wanting to continue to watch all their shows even after the free trial ends.
And they'll probably be right.
Promotions as an e-commerce marketing strategy
If you're part of the free Starbucks Rewards program, you know about the draw of a Star Dash. On a normal day, you earn 2 stars for every dollar spent at Starbucks. But during a Star Dash challenge, you can earn up to 40 or 50 bonus stars, depending on the promotion.
How do you earn the extra stars? By ordering Starbucks three days in a row.
Yes, you get bonus stars that contribute to free food, drinks, and even merch. But Starbucks gets you in its doors, buying the delicious, expensive coffee, three days in a row.
That's the power of good promotion. Amazon has Amazon Prime Day, marketed as a global deals day exclusively for Prime members. Not only does Amazon get new paying Prime members every Amazon Prime Day, but existing Prime members also spend more money that day.
You can also run after-Christmas sales, Black Friday deals, and more. Short-lived promotions get people in the door quickly because they know time's running out — but you get new customers hopefully for life!
Strategies to attain product reviews
It's never a good idea to violate Amazon, Google, and countless other platforms' strict review policies and buy positive reviews from people. The closest thing you can do is to ask customers for an honest review in exchange for a free product — and then post that the review was collected as part of a promotion.
Even that type of review isn't as genuine as just a regular old customer review. But those can be difficult to get. Often, people will post reviews if they hate something about a product. They're less inclined to do so if they love the product, sadly!
This is where email marketing comes in. Henson Wu, co-founder and CEO of FeedbackWhiz, wrote an excellent guest post on using email marketing to collect customer reviews. Read it here!
Strategies to improve seller reputation
Everyone's human, and humans make mistakes. If something goes wrong with your product or service, it doesn't take much for your whole reputation to collapse.
But there are things you can do to improve your reputation even after a fall. For five in-depth tips on how to improve your seller reputation on Amazon — or any site — check out this article by Becky Trowbridge of eComEngine. She focuses on everything from the importance of setting realistic expectations in your product descriptions to the importance of answering customer queries in all their forms.
Even though these seem like simple steps, they're some of the most important in creating a foolproof e-commerce marketing strategy.
Other e-commerce marketing strategies
Consider adding related products under whatever product a customer clicks on to view. Target does this really well: if you choose something — say, lavender bubble bath liquid — Target will pair that product with three related products and give you the total price.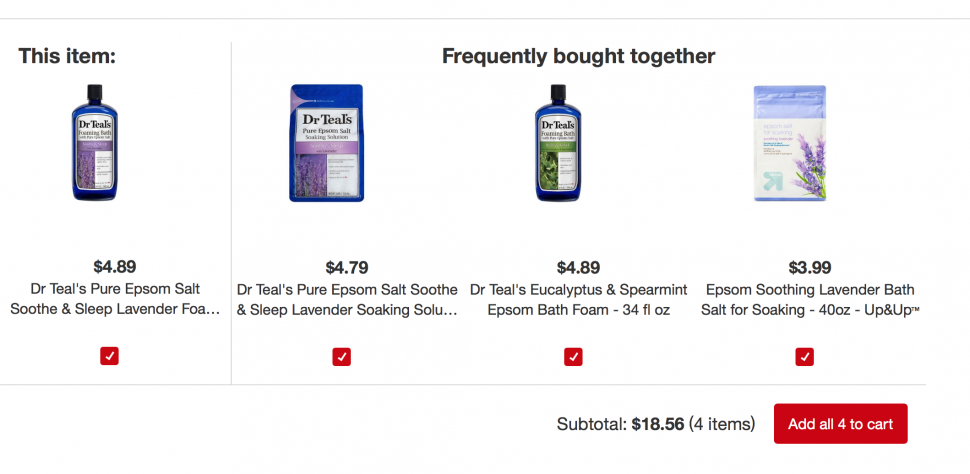 Then it offers you a warm red button to click so you can add all four items to your cart. So easy! So effortless! And smart, on Target's part.
More products in a buyer's shopping cart equal more sales for you.
You can further beef up your e-commerce marketing strategy by:
Adding stickers with your website and contact info to all the products you send out
Proactively reaching out to customers to offer support before they even need it
Using influencer marketing to reach a wide audience
Together, all these different angles on a powerful e-commerce marketing strategy will ensure that your brand's reach is deep and wide.
---