Deciding to open an e-commerce store is an exciting move. Creating your own business, whether with physical inventory to manage or through dropshipping, is no small task. You need the best e-commerce website tools to back you up.
One of the first things to consider is which online platform you're going to use. This crucial tool will enable you to build and manage your store from scratch.
What to look for in e-commerce website tools
When choosing your website builder, consider the following:
monthly costs, including any transaction fees
ease of the design process
integrated shipping methods and associated rates
any additional features, customizations, and plugins available for future functionality
If this is your first online store, look for a straightforward website builder that is easy to use. If you already have experience with e-commerce, you can look for a tool with more customization options. Let's take a look at five different e-commerce website tools to help you arrive at a decision.
5 of the best e-commerce website tools
1. Shopify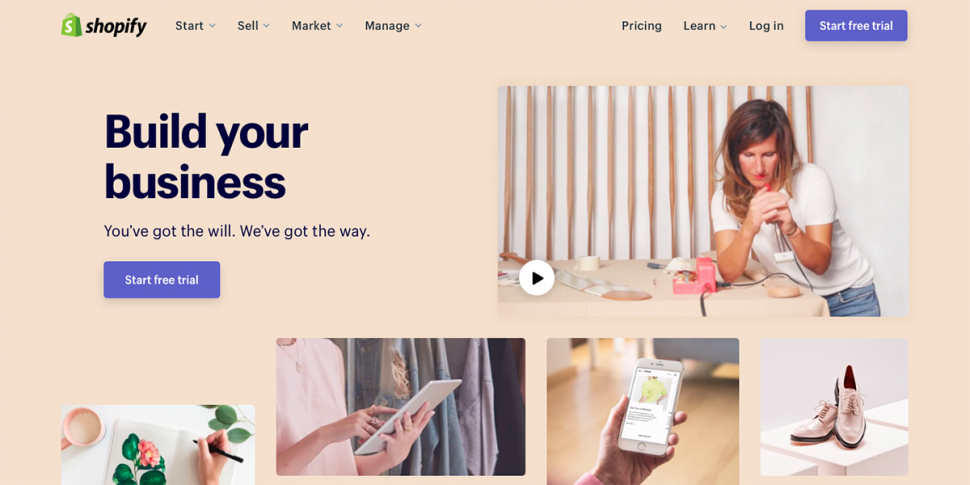 In the online world of e-commerce, Shopify has been one of the most well-known website building tools for years. The team at Shopify focuses on innovation, always bringing something new and useful to the table.
Benefits of Shopify
Shopify offers an innovative but still easy-to-use website editor that is ideal for new sellers. You can create a brand new store and be ready to sell in just a few minutes. Choose an existing theme to customize, or work with a Shopify Expert to have it built for you.
Shopify offers tiered pricing plans starting at $29/month. You can integrate different payment gateways and shipping methods, which will affect the final price you pay.
Disadvantages of Shopify
Shopify is only available in certain countries, so depending on where you're located, it may not be right for you.
If you're looking for a budget-friendly option, Shopify's most affordable plan doesn't give you a fully-featured store.
Recommendation
Shopify is best for those looking for a seamless experience building an online store.
2. WooCommerce
If you've already set up a WordPress website for your business, then WooCommerce is the easiest way to add shopping functionality. This WordPress plugin connects to your existing site, giving you the ability to sell, manage orders, create coupons, and more. For example, you can sell digital goods like e-books or audio tracks in addition to physical products. WooCommerce handles file delivery via email.
Benefits of WooCommerce
WooCommerce is a free and quick installation to your existing WordPress website. If you're already familiar with WordPress, there won't be much of a learning curve.
WooCommerce is open-source, so there are plenty of themes to customize its look and third-party hacks to extend its functionality.
Disadvantages of WooCommerce
Being a plugin, WooCommerce requires that you already have a website in place for it to work.
Unless you have purchased a product from WooCommerce, there's not a ton of support offered except documentation. If you get stuck at any point, you may need to hire someone with greater WooCommerce knowledge. Luckily, because it's a popular platform, many developers are familiar with it.
Recommendation
WooCommerce is perfect for someone who already has a WordPress website.
3. Squarespace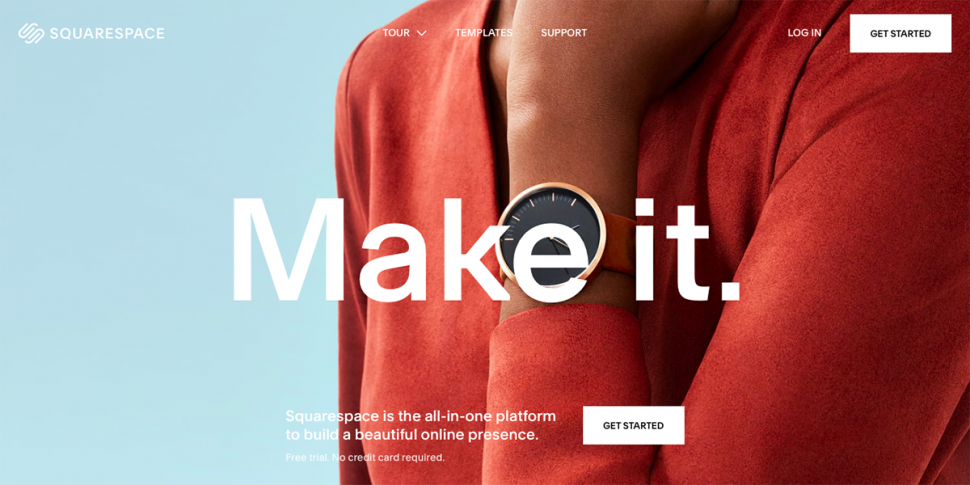 Squarespace is another well-known name, built on a reputation of gorgeous templates that are easy to use. There are dozens of customizable themes to choose from, although not all of them are e-commerce compatible.
Benefits of Squarespace
Squarespace offers some of the most attractive website templates with extra features built-in, like SEO, social media, landing pages, and email campaigns. It is also known to provide excellent customer service, including live chat.
Disadvantages of Squarespace
Squarespace is primarily meant for creating traditional websites. E-commerce is secondary for the company, so selling features and updates aren't always the most up-to-date. It's also a pricier option (about $40/month) if you want advanced e-commerce features.
Recommendation
If you're looking for a modern design and don't mind investing more money, Squarespace is the way to go.
4. BigCommerce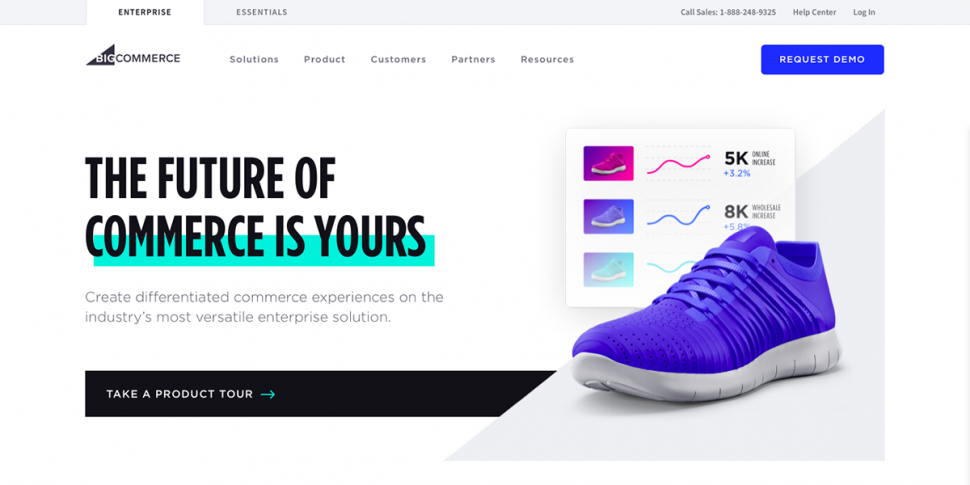 BigCommerce has made some serious strides in the last couple of years to become comparable to Shopify. Offering many of the same features, plus plenty of free and paid themes to choose from, BigCommerce starts at $29.95/month with no transaction fees.
Benefits of BigCommerce
If you have multiple shops and staff working for you, BigCommerce is designed with you in mind. You can make changes to products across all your stores with BigCommerce. On any plan tier, you can set up unlimited accounts for your staff.
Disadvantages of BigCommerce
BigCommerce is a serious tool aimed at advanced sellers, so it's not for sellers that are just starting out. The paid themes are on the more expensive side, with some running $150-200 each.
Recommendation
If you intend to run multiple shops and have numerous staff involved in your websites, BigCommerce has related features you won't find anywhere else.
5. Wix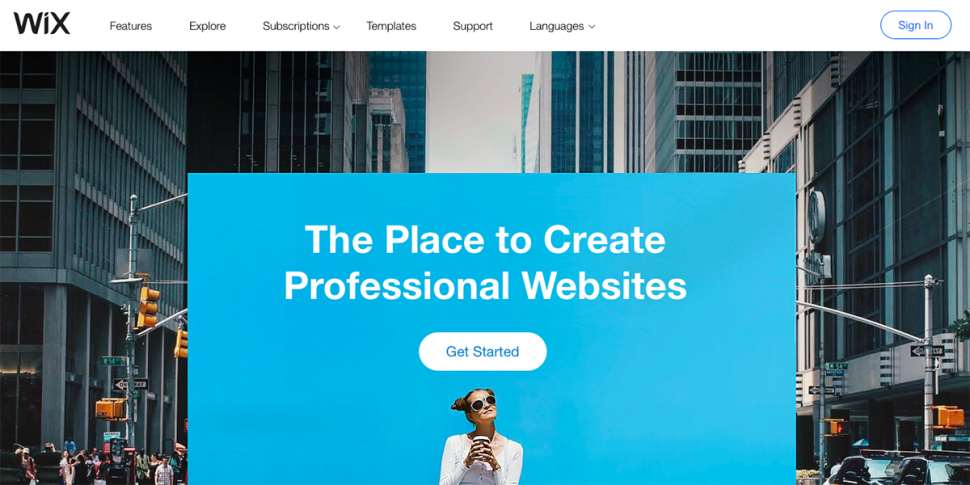 Similarly to Squarespace, Wix began as a tool for building regular websites and then grew into e-commerce from there. At this point, it's almost impossible not to have heard of Wix because of its steady online marketing campaign with plenty of internet celebrities.
Benefits of Wix
Wix has an incredibly easy-to-use interface that is all drag-and-drop — no need to deal with any code if you don't want to. With more than 500 themes ready to use, there's a good choice for almost any kind of business or niche product out there. Since Wix was originally created for standard websites, you can easily build your e-commerce store and an impressive business site at the same time.
Disadvantages of Wix
While regular business sites are more affordable, an e-commerce website on Wix with the full suite of features is $49/month. You also have to be ready to commit to the theme you choose — once you've built your site, you can't change it.
Wix also has a notoriously bad reputation when it comes to SEO. If search ranking is important to you (and these days, what business doesn't think it's important?), then approach with caution. While improvements have been made, understand what you're getting into.
Recommendation
If you have some coding experience, Wix is a great choice for you. Its editor offers more flexibility and customization than Squarespace, which in order to retain design integrity, keeps elements more structured.
If you need to migrate from Wix to Shopify (or any other platforms), LitExtension is an automated tool that will help you transfer products, customers, orders, and other related data seamlessly and securely.
Conclusion: The best e-commerce website tools
When creating your e-commerce website, it's critical to choose a platform that will be both easy for you to use and easy for your customer to navigate. Look at what payment and shipping options are available, and how much each will cost. Calculate the real cost of the platform, including any transaction or credit card fees before committing.
Most of these tools offer a free trial period to give you a test run as far as ease of use. Take advantage of a trial to see how easy it is to upload products, set up promotions, and build the store to your liking.
Once you've got an attractive storefront in place, start to narrow in on the finer details like your product descriptions and product photography. Dive into split testing once you've established an audience. Pulling all these pieces together will help you find success in the e-commerce world.
---