Current Ways To Test Market Your Product Designs
Trust Your Gut
It's your baby. Which one feels right?
Ask Friends & Family
Send an email to your friends and family with the different product designs and ask for their feedback.
Buy Ads
Create a Google Ad or Facebook Ad for all the different product designs and see which one has the highest click-through rate (CTR).
Or

Use PickFu!

PickFu gets you the same quantitative and unbiased results as buying expensive ads, but much faster and without any of the hassle of trying to figure out how to setup the ads. As a bonus, you get written qualitative feedback you can use to further iterate on your product designs.

Armed with this data, you will have the confidence to choose the best product design.
---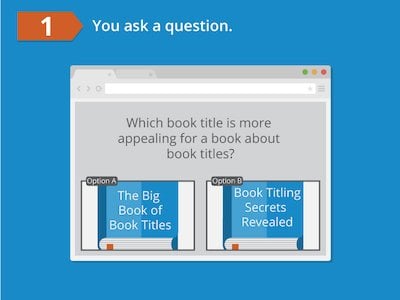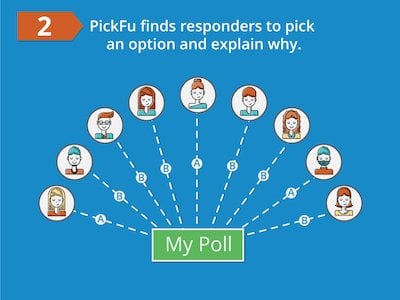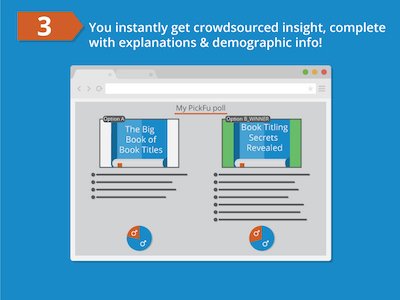 How PickFu Compares
Friends & Family
Buying Ads
Your Gut
PickFu
Definitive Quantitative Result
Qualitative Actionable Feedback
Large Representative Audience
---
Get 50 instant poll responses for $50.
Start uncovering actionable, audience-driven data today.
---
Why use PickFu to test your product?
1-Minute Setup
Write one question and provide 1-8 options, and your product design poll is ready to go.
We Bring The Respondents
Our panel matches US demographics for balanced, unbiased results for your product design.
Quick Results in Minutes
Keep iterating on your product design throughout the day as you instantly get feedback you can use.
Audience Targeting
Target your poll to segments like Amazon Prime Members, Mobile Gamers, and more. Read more about Audience Segmentation.
Explanations
Learn the why behind each response and make better product design decisions going forward.
Demographic Info
Slice and dice responses by age, gender, ethnicity, income, education.
---
Get 50 instant poll responses for $50.
Start uncovering actionable, audience-driven data today.
---
Ecommerce Sellers Testimonials
PickFu is like a real-life fortune teller. Just set up a test and it will predict the future for you, saving you a ton of money and aggravation in the process.

PickFu is an outstanding tool for Amazon sellers to quickly and easily split-test almost every aspect of their product and listing. A+

PickFU has been an absolute game changer. It is so simple, easy, and affordable to test images. Since incorporating PickFU, not only have new product launches have been more successful, but more importantly, a few top tier products have jumped from being in the Top 10 on Amazon to being #1. For one of those top tier products, the PickFU results informed us that we should use the exact same main image, but at a slightly different angle. This increased sales over 25% and increased ranking to #1. PickFU has become an integral part of our business operations. And, not only that, the people there are great! I highly recommend PickFU for all e-commerce sellers.

PickFu makes it easy for new entrepreneurs to execute the 'Lean Startup Method' - running quick tests to find which ideas will make the biggest splash.

PickFu.com is where I go when I want to quickly split test Amazon product images to actual Amazon Prime customers, and know which images customers prefer, before I make my product listing live. I get results within 1 hour with detailed 'reasons why' they voted a certain way. This has the potential to save thousands of dollars in lost sales from choosing the wrong image.

PickFu is an easy and quick way to test market your new business ideas before committing valuable resources. It's also an affordable way to optimize your e-commerce marketing images and copy before buying ads!

Blog Posts About Optimizing Product Designs
Getting products listed on your e-commerce website is only the beginning of the sales cycle. Once customers purchase from you, it's important to gather information from them using product feedback tools. But how should you get as many online reviews and as much feedback from your customers as possible, without chasing each one of them […]

Editor's Note: Thanks to BQool for providing this guest post on common Amazon seller mistakes. Amazon operates differently than other online shopping platforms by focusing heavily on the buyer's shopping experience. As a buyer-oriented marketplace, Amazon has strict rules for sellers in terms of account settings, product management, logistics, customer service, and feedback. If you […]

In this week's featured poll, an e-commerce seller learned an important lesson about how to photograph clothing for Amazon. The pollster tested two product images on an audience of Amazon Prime members. Option A showed a folded pair of tights. Option B showed a pair of legs modeling the tights. Can you guess which one […]
---
Get 50 instant poll responses for $50.
Start uncovering actionable, audience-driven data today.
---