Gaming toxicity and the need for better moderation
A revealing look at toxic gamer culture
We partnered with Utopia Analytics to report on the state of online gaming in 2021 and provide recommendations for improving the gaming experience for users through effective moderation of player communities.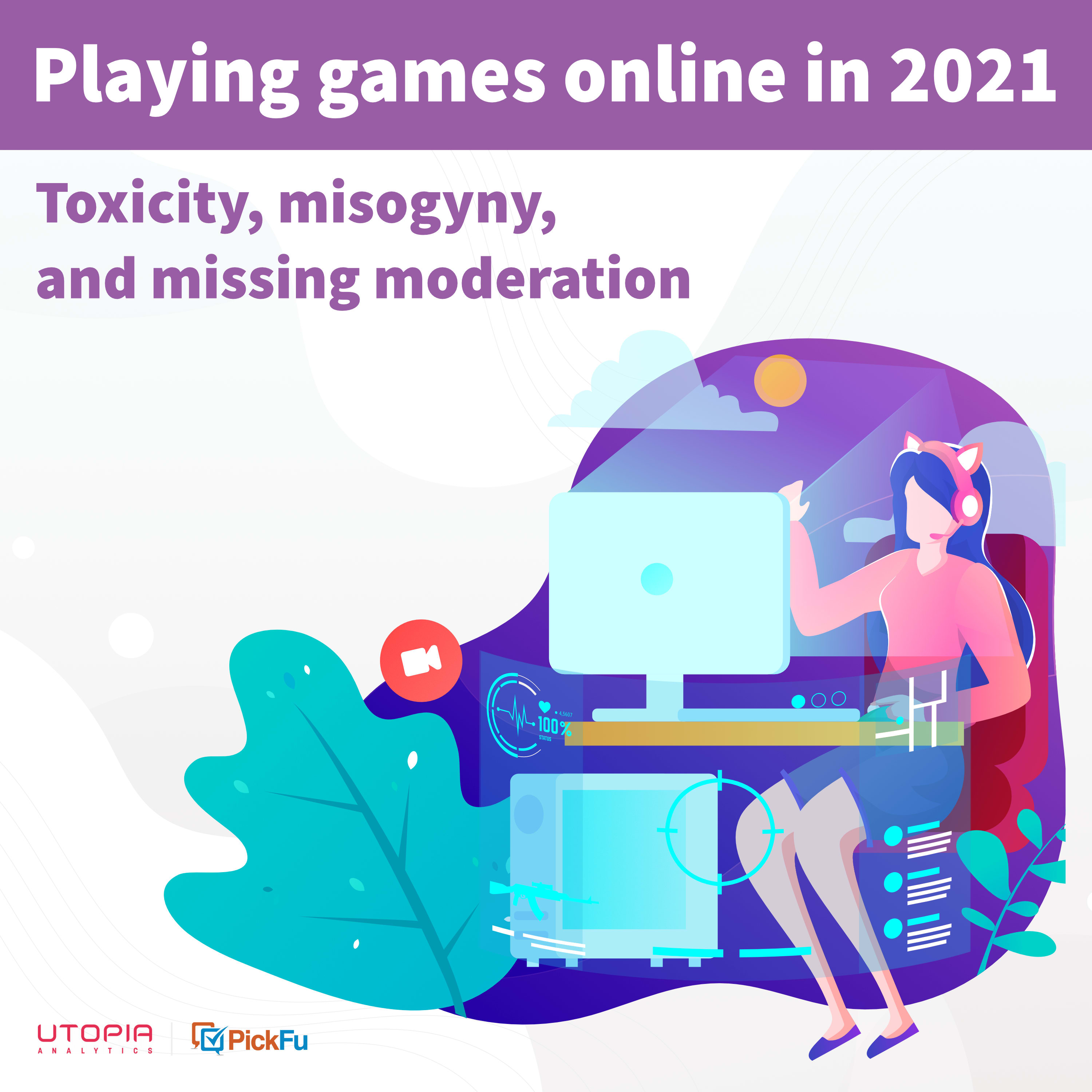 70% of gamers said they've experienced or witnessed harassment and abuse while playing online.
Online gaming is big, and harassment and abuse in online gaming is a problem — and growing.
This report looks at the breadth of toxic behavior in online gaming in 2021 and the impact on its players who shared their firsthand accounts. It also offers ways for the industry to create safer online spaces.
The most popular game genres — and the top 5 with the largest # of toxic interactions
Types of harassment that players most often experience or witness
Abusive experiences of specific groups within the online gaming community
Factors contributing to toxic behavior among players
Strategies and tools for effective moderation of player communities
Get the free report
By opting in to receive this report you also consent to be added to our mailing list. You may read more about our privacy policy here.
Why does this matter?
Online gaming is nearing $200 billion in revenue

More than 225 million Americans play games regularly
74% of U.S. households include someone who identifies as a gamer

These numbers indicate there is a real need to evaluate the experience of gamers and to come up with solutions to the challenges that arise.

Toxicity in gaming is abusive player behavior that's directed at other players. Examples of such behavior include doxxing (publicizing others' private information), sexual harassment, violent threats, and hate speech.
The communities where gamers see or experience toxic behavior tend to be in the role-playing, action, and adventure genres. Games associated with toxicity include mega-titles such as Call of Duty, Fortnite, League of Legends, Overwatch, and Rainbow Six.
Gaming studios that recognize the deep and harmful impact of toxicity are taking steps to crack down on the issue and create safer communities. These efforts include improving in-game reporting systems and communication with players; employing new technologies to moderate and filter potentially offensive content and users; disabling features that breed negativity and abuse, and permanently banning accounts.
Online gaming is competitive and anonymous by nature — two key factors that experts believe contribute to toxicity in gaming. At its worst, gaming fosters highly emotional, impulsive, and extreme behaviors in players, leaving other players vulnerable to harassment and abuse.
The research for this report was conducted by PickFu and Utopia Analytics.

PickFu polled 1,000 adult gamers across the U.S. ages 18-74.
The poll ran from May 6-June 5, 2021. PickFu and Utopia both analyzed the data.

We will always keep your personal information safe. We ask for your information in exchange for a valuable resource in order to:

(a) send information to you that we think may be of interest to you by email or other means.
(b) send you marketing communications that we think may be of value to you. You can read more about our privacy policy here.