Current Ways To Test Market Your Book Listings
Trust Your Gut
It's your baby. Which one feels right?
Ask Friends & Family
Send an email to your friends and family with the different book listings and ask for their feedback.
Buy Ads
Create a Google Ad or Facebook Ad for all the different book listings and see which one has the highest click-through rate (CTR).
Or

Use PickFu!

PickFu gets you the same quantitative and unbiased results as buying expensive ads, but much faster and without any of the hassle of trying to figure out how to setup the ads. As a bonus, you get written qualitative feedback you can use to further iterate on your book listings.

Armed with this data, you will have the confidence to choose the best book listing.
---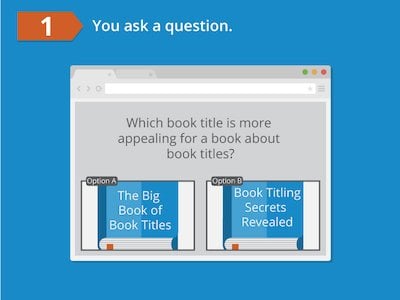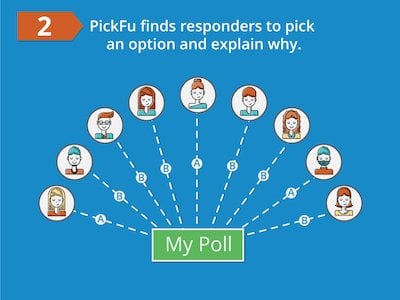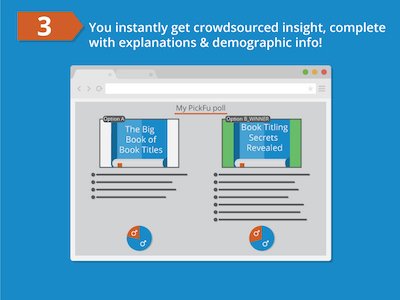 How PickFu Compares
Friends & Family
Buying Ads
Your Gut
PickFu
Definitive Quantitative Result
Qualitative Actionable Feedback
Large Representative Audience
---
Get 50 instant poll responses for $50.
Start optimizing your book with audience-driven data today.
---
Why use PickFu for your book marketing?
1-Minute Setup
Just write one question and two answer options and your book listing poll is ready to go.
We Bring The Respondents
Our respondents match US demographics, so you get balanced, unbiased results for your book listing.
Quick Results in Minutes
Keep iterating on your book listing throughout the day as you instantly get feedback you can use.
Fresh Perspective
Get an objective third-party point-of-view on your book listing.
Explanations
Learn the why behind each response and make better book listing decisions going forward.
Demographic Info
Slice and dice responses by age, gender, ethnicity, income, education.
---
Get 50 instant poll responses for $50.
Start optimizing your book with audience-driven data today.
---
Author Testimonials
I have loved PickFu and recommended it to dozens of people already. I've used it to quickly iterate ideas and have some data to make decisions. I'm a huge fan and will definitely continue using it for various projects.

I highly recommend PickFu to the authors and aspiring authors I work with. Having the ability to objectively split test book covers and book titles from an unbiased audience is vitally important. Book titles and book covers can significantly impact purchase conversion, and a non-fiction author's thought leadership. Being able to test these factors is peace of mind.

I use PickFu to split test book titles and covers. It's been extremely helpful to know what readers prefer before I self-publish my books on Amazon. It enables me to make better decisions without relying purely on intuition.

Thank you for your vision and creating PickFu. As a businesswoman, financial coach, author and speaker, ​your company ROCKS! I write prolifically and need somewhere to go to get unbiased opinions from strangers that aren't just flaming my ideas because they had a bad day. It is the most helpful advice I can get when coming up with titles for books, headlines, and book covers. The diversity of the information and honest feedback is delightful. I've used the polls to help me narrow down a book title and soon I'll be using them to assist with my logo for my 8th business as well as the tag line for a new course I'm offering.

I was very impressed with PickFu. There were things I didn't expect: (1) I could choose the gender and age group. (2) Your age groups match the age groups that my Scribe Content software uses. Great. (3) The responses included a reason. That alone is super valuable and gave me a few branding ideas including images and copy tone. (4) You also broke down the respondents by education and income level. Wow -- I didn't think $70 could by so much happiness. This was money sooooo well spent!

Blog Posts About Optimizing Book Listings
The best memoirs aren't vague self-help style books—they're pieces of literature that take the reader into the memoirist's unique experience. Memoir titles should reflect that unique experience. One author created a PickFu poll that asked respondents which title would compel them to purchase the book. The two options had the same memoir title (Dream Take […]

Even though we've all heard the saying "don't judge a book by its cover," that's exactly what most of us do. That first glance decides whether or not we pick up the book and peek inside. So it's crucial that authors choose book covers that convince readers to do just that! This principle applies to […]

If you're a parent who also works, you know how hard it is just to survive some days. So when a book comes along promising to help you navigate a career, kids, and holding onto your self-love in the process, you'll want to buy it. But which book cover designs will attract your attention the […]
---
Get 50 instant poll responses for $50.
Start optimizing your book with audience-driven data today.
---