Get instant market feedback on your business decisions
— for as little as $1 per response
PickFu matches you with U.S.-based audiences who share valuable feedback on your business ideas, product photos, marketing copy & more
Get Feedback Now
Thousands of Customers Are Selling Smarter with PickFu
Need to Validate an Idea? PickFu is for You
" PickFu makes it easy for new entrepreneurs to execute the 'Lean Startup Method' - running quick tests to find which ideas will make the biggest splash. "
" PickFu is like a real-life fortune teller. Just set up a test and it will predict the future for you, saving you a ton of money and aggravation in the process. "
---
---
3 Simple Steps to Useful Market Feedback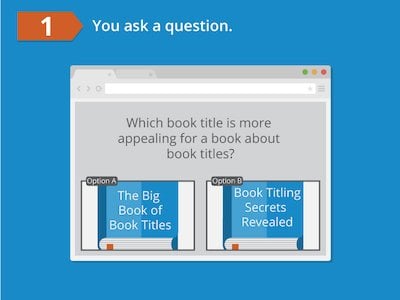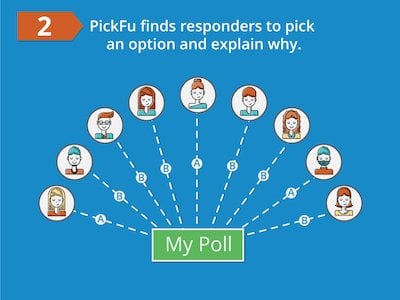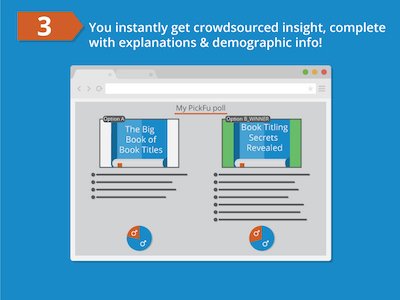 Reliable, Ready-to-Go Respondents
Targeted to the Segments You Choose
1-minute Setup
Write one question and provide 1-8 options, and your poll is ready to go.
U.S.-based, Unbiased Respondents
Our panel matches US demographics for balanced, unbiased results for your project.
Results in Minutes
Keep iterating on your project throughout the day as you instantly get feedback you can use.
Target Audience Segments
Target your poll to segments like Amazon Prime Members, Mobile Gamers, and more. Read more about audience segmentation.
Useful Explanations
Learn the why behind each response and make better decisions going forward.
Demographic Info
Slice and dice responses by age, gender, ethnicity, income, education and more.
---
---
Loved by Business Owners, Designers & Marketers Like You ❤️
PickFu is an outstanding tool for Amazon sellers to quickly and easily split-test almost every aspect of their product and listing. A+

PickFu.com is where I go when I want to quickly split test Amazon product images to actual Amazon Prime customers, and know which images customers prefer, before I make my product listing live. I get results within 1 hour with detailed 'reasons why' they voted a certain way. This has the potential to save thousands of dollars in lost sales from choosing the wrong image.

PickFu.com is my go-to tool whenever I want direct and honest feedback for my cover or book title. What I love is I get results within an hour and how the respondents provide a detailed 'reason why' they voted a certain way.

PickFu is an easy and quick way to test market your new business ideas before committing valuable resources. It's also an affordable way to optimize your e-commerce marketing images and copy before buying ads!

Inspiration is nice, but real-world feedback is more practical, especially if you want to sell books.

We chose PickFu because of the quality of the users and the speed at which we get results! Other online survey services take up to a week to complete, and we just don't have that time....Since it takes less than 15 minutes to get the survey results, we were able to alter our designs immediately and re-test them.

---
& start gathering actionable product research right now
Or read more about how PickFu works
---