Optimize Your Product Pages
And get more traffic, conversions and profit
Use PickFu's feedback polls to:

split test product detail images
choose appealing product variations
compare product page elements against your competitors'
How PickFu Works
Get feedback from an unbiased (and demographically targetable) audience of tens of thousands.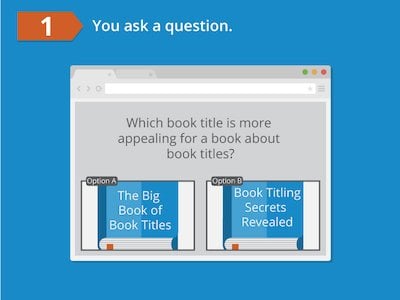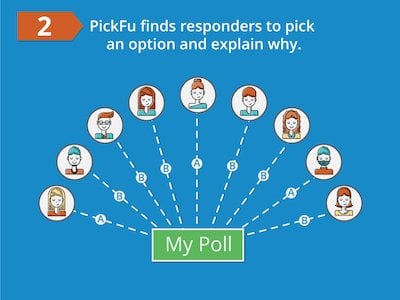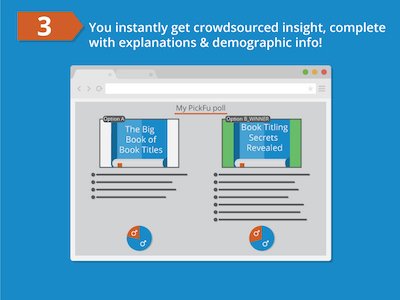 Best Practices for Amazon Split Testing
PickFu will help you optimize each of the following:
Product Name & Title
The more detailed, the better - Amazon gives you 500 characters, and you should use all of them.

Run PickFu polls to choose ones that are readable and appealing (instead of just keyword-stuffed).
Product Images
Use at least 5-6 high quality images. Images should be professional, fill 85% of the image frame, and be at least 1000px in one dimension.

PickFu excels at quickly split testing product page photos for your target audience (e.g. female Amazon Prime Members 55+)
Product Features
List the key features of your product here - the bullet points on the product page are the best place to quickly convey what makes your product unique.

Use PickFu to ensure you're publishing the right set of features vs. your competitors.
Trusted And Recommended By The Experts
PickFu is an easy and quick way to test market your new business ideas before committing valuable resources. It's also an affordable way to optimize your e-commerce marketing images and copy before buying ads!

PickFu.com is where I go when I want to quickly split test Amazon product images to actual Amazon Prime customers, and know which images customers prefer, before I make my product listing live. I get results within 1 hour with detailed 'reasons why' they voted a certain way. This has the potential to save thousands of dollars in lost sales from choosing the wrong image.

I heard about PickFu from a fellow student and I have to say that it has been an amazing experience. My first poll told me exactly what the US Amazon customers like in terms of the shape of the decanter and the one I did last night took it a step further in terms of the actual design. It really makes a difference in terms of the decisions you make when wanting to launch new products into the market.

PickFu makes it easy for new entrepreneurs to execute the 'Lean Startup Method' - running quick tests to find which ideas will make the biggest splash.

PickFU has been an absolute game changer. It is so simple, easy, and affordable to test images. Since incorporating PickFU, not only have new product launches have been more successful, but more importantly, a few top tier products have jumped from being in the Top 10 on Amazon to being #1. For one of those top tier products, the PickFU results informed us that we should use the exact same main image, but at a slightly different angle. This increased sales over 25% and increased ranking to #1. PickFU has become an integral part of our business operations. And, not only that, the people there are great! I highly recommend PickFU for all e-commerce sellers.

We recommend PickFu for Amazon sellers who want to quickly split test Amazon product Images to actual Amazon Prime buyers. Results come back within an hour and there's no better way to get this kind of data than PickFu.

I recommend PickFu to any Amazon FBA seller who wants to instantly increase their sales and CTR by simply creating a poll using PickFu's easy to use platform. PickFu's audience are real Amazon prime customers that will give you valuable, realistic opinions when you are split testing your images or text on your product listing. Get results in as fast as 15 minutes!

When I need to know which product photo will convert into sales on my Amazon listing, I go to PickFu.com. This allows me to split test Amazon product images which results in far higher sales. PickFu gives me detailed reasons why viewers prefer one image over another. This vital customer data not only saves me a ton of time and dollars but is vital for scaling your million dollar Amazon brand!

I've used PickFu multiple times from testing logos to packaging and it's saved me from making poor branding decisions I thought would've worked, but the markets thought otherwise.

PickFu is an outstanding tool for Amazon sellers to quickly and easily split-test almost every aspect of their product and listing. A+

PickFu is like a real-life fortune teller. Just set up a test and it will predict the future for you, saving you a ton of money and aggravation in the process.

We LOVED it!! The results gave us so much clarity. I can't believe we have taken this long to start using the service!! It's a game changer, thank you!

PickFu is one of the best tools you can go with, with the software polling targeted audiences on the questions you pose…What's neat about this alternative is that sales are a completely independent factor during the process. You're getting survey results from real people before risking changes with actual products and sales, giving you information you can use in the real world. It's also a really fast process, with most polls taking under half an hour to complete.

Trusted by Thousands of Companies
---
Get 50 instant poll responses for $50.
Start optimizing your product page with real audience-driven data.
---