There's only one speed in the Snapchat cooking game Ready Chef Go!: fast. Players have to move quickly in the virtual kitchen if they want to sauté their way to victory.
The same could be said of Mojiworks, maker of Ready Chef Go!. As one of only a handful of third-party developers on Snap Games, Mojiworks is intimately familiar with the nonstop pace and ever-changing demands of the social app and gaming landscape.
Fast development, constant iteration, and frequent updates are the norm. To keep up, Mojiworks asks Snapchatters directly for feedback inside the platform. To get ahead, it turns to PickFu.
The problem: A/B testing alone isn't enough
Ready Chef Go! launched on Snapchat in December 2019. Since then, it has gained more than 65 million players and a plethora of valuable opinions.
Feedback from the player community has been crucial to the evolution of Ready Chef Go!. A/B testing via Snapchat has helped Mojiworks understand which icons and tiles players prefer as it cycles through updates and develops seasonal content.
Still, it's a lengthy process to run A/B tests and manually review results. And while the data shows players' preferences, it leaves a sizable gap, namely, the reasons why players like or dislike certain features.
The solution: Poll players offline
Mojiworks needed an agile surveying tool that would complement its Snapchat A/B tests and return meatier consumer feedback on key creative assets and seasonal content.
Enter PickFu.
"It's the fastest and most useful way we've found to test icons and tiles outside of Snapchat," said Jen Bolton, vice president of player insights at Mojiworks.
The results
Using PickFu, Mojiworks regularly tests key creative assets, including icon and tile iterations for its holiday 2020 release, Jingle Burgers, with a target audience that mirrors its real-life, predominantly female player base.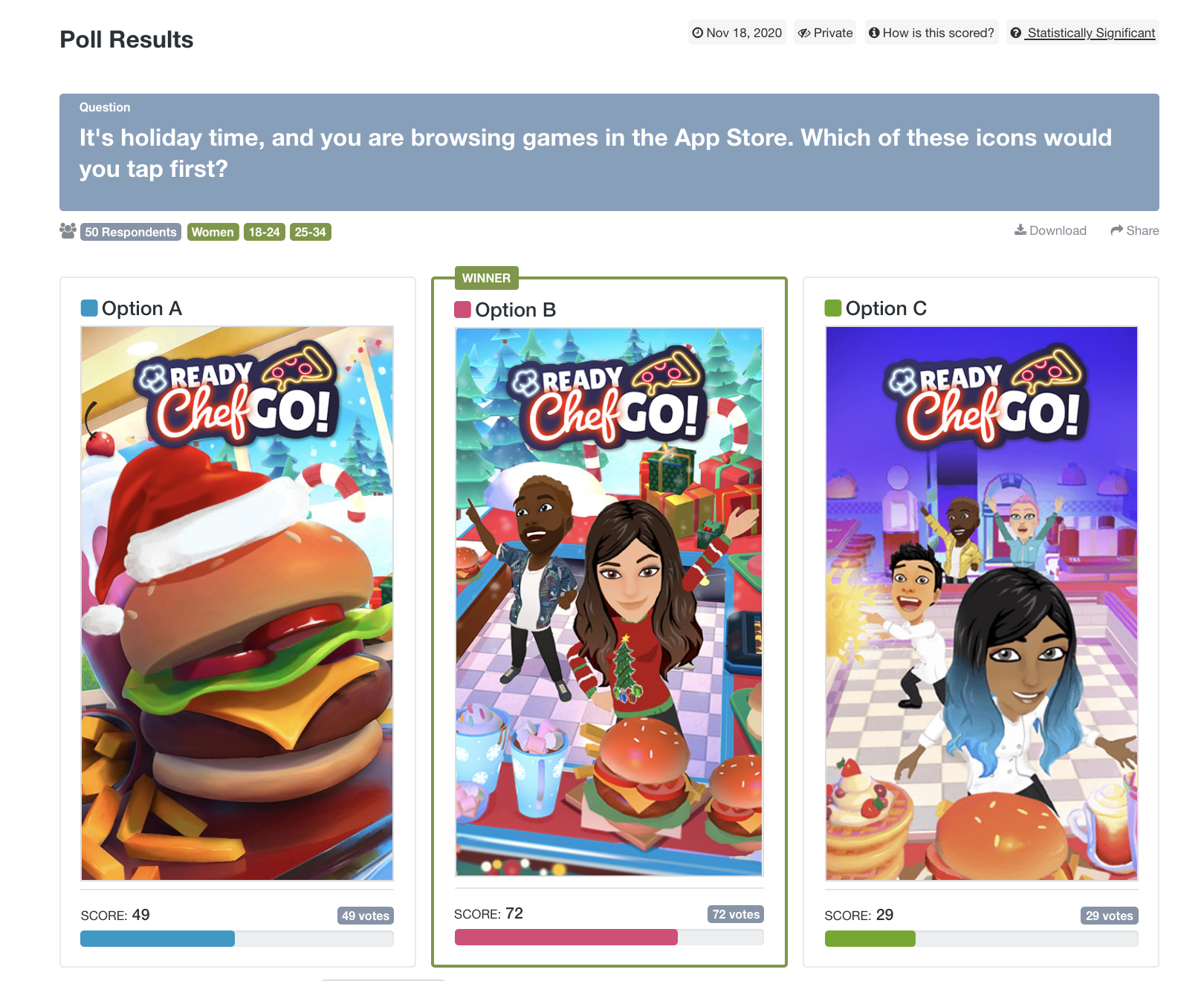 Creating the polls and uploading the visuals for its seasonal content was quick and easy. Within a few hours, Mojiworks had not only quantitative but qualitative results: respondents' votes along with written insights into why they favored one option over another.
It was all the Mojiworks team needed to confidently — and quickly — tailor the assets for new Ready Chef Go! content in line with players' tastes. And it's working: players staffed more restaurants in the game than exist in the entire world.