Mike Fishbein has self-published 12 books. "I used to think that I could just write a great book and publish it and then the sales would roll in," he wrote in a blog post. "I was wrong."
Mike's most recent book, Your First Bestseller: How to Self-Publish a Successful Book on Amazon, became the top-seller in Direct Marketing.
So what changed?
Mike learned that it's not enough to write a compelling book. The book has to be designed in such a way that readers will want to buy it. And that means having a well-crafted title and a stand-out cover.
For that, he turned to PickFu.
"I had a radical idea to use a 1970s-style motif for the title and cover," Mike told us. After brainstorming many ideas, he was most excited to title his book Pimp Your Book: How to Self-Publish a Bestseller on Amazon. "I thought it would add character and be attention-grabbing, [but] when I tested it on PickFu, I learned that readers found it unappealing and tacky."

Here are some actual responses:
I feel like "Pimp your…" is over done and a little bit dated now. It also implies a cheap way to do something, not a money saving or independent way to get something done.
Don't think the title "Pimp my Book" is appropriate or appealing! Makes me think of hookers not book publishing!
I dont think using the word pimp in a book will attract people who are serious
I do not like option A's use of the word "pimp" as it's juvenile and offensive.
"The unfortunate truth," Mike said, "is that my opinion is not always right. Fortunately, PickFu told me what my readers think, which is the most important opinion at the end of the day. Had I used my personal favorite title idea, instead of the one that tested better on PickFu, I'm not sure I would have had the same results."
With his title decided on, Mike went to work with a graphic designer to create the book's cover.

"People see your cover in places like the 'Customers Who Bought This Item Also Bought' of related book pages, category bestseller lists, and search results," he wrote. "Your cover, in addition to your title, will in part determine whether or not they click through to your book page."
In the past, Mike made what he called the "rookie mistake" of hiring a designer on Fiverr and expecting great results. It took trial and error before finding a designer with whom he's got a great working relationship.
Mike now recommends designing at least two versions to split test. "Designers will likely charge more for that, but I believe it's worth it."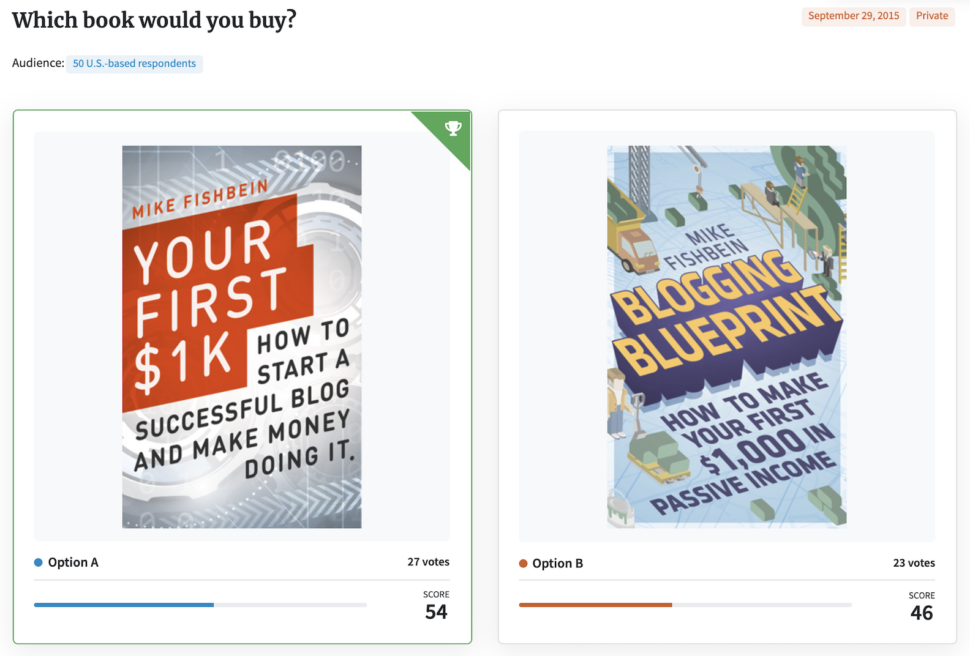 Mike discovered another benefit to using PickFu. "Previously I relied on my email list for feedback. I get great feedback from my email subscribers, but it's hard to get a high volume of responses in a short amount of time. In addition, I'm limited to my existing subscribers as testers. PickFu enables me to get a large volume of feedback in a short amount of time from people that aren't already on my email list."
Mike's book sold over 400 copies in the first ten days of its launch, and attributes some of his success with the tests he ran before publishing. "I would recommend PickFu because it's easy to use and provides actionable feedback that's both quantitative and qualitative. It enables you to see not only what cover or title is favored, but why it is favored."
Have you had similar success as an author using PickFu? Tell us about it in the comments.
P.S. We used PickFu to test the title of this article. See the results!