Have you ever seen a really neat product on Amazon that you considered buying until you read the product description? Maybe there were missing words, misspellings, jumbled sentences, or glaring grammatical errors. It's clear the company did not try copy testing before it went live.
What is copy testing?
If you're a seller of any product, you know that clean, meaningful copy helps your product sell.
Copy testing is the best way to make sure you put your sharpest words before your customers' eyes. You take your marketing copy (see examples below) and show it to an objective crowd. The test respondents then provide you with detailed feedback so you can know what's working and what's not before you put your copy out into the market.
Copy testing is especially effective when you're selling across borders to ensure that your copy hits the right notes in the native language. Even British English and American English have distinct cultural differences, and you want to how customers in your relevant regions respond to your words.
7 ways to use copy testing
#1: Explaining your business
As a business owner, there are two important pieces of copy you'll put on your website, investor decks, and consumer-facing materials.
First, the elevator pitch
An elevator pitch is a 30-second speech you memorize so that when you're at a business meeting, conference, convention, and someone asks, "So what do you do?" you can answer with your elevator pitch.
A strong elevator pitch answers these three questions:
Who are you?
What does your company do?
What value does your product bring to customers?
Once you've got that down in about three sentences, add a compelling statistic or fact about your brand.
Finally, edit your pitch. Cut fluff words. Try writing a second version that's got different stats than the first. Test both versions on PickFu to see which one your potential audience likes better, and why.
Second, your business's tagline
Taglines are what make brands memorable. Though they're short, they can build unthinkable wealth. Think of Nike's "Just Do It." Disney's "The Happiest Place on Earth." Capital One's "What's in your wallet?"
A tagline can position your company in the market, emphasize your product benefits, or set a brand voice that sets you apart from the competition.
One PickFu user recently copy tested taglines with the question, "Which tagline makes you feel most interested and most like the source is trustworthy?"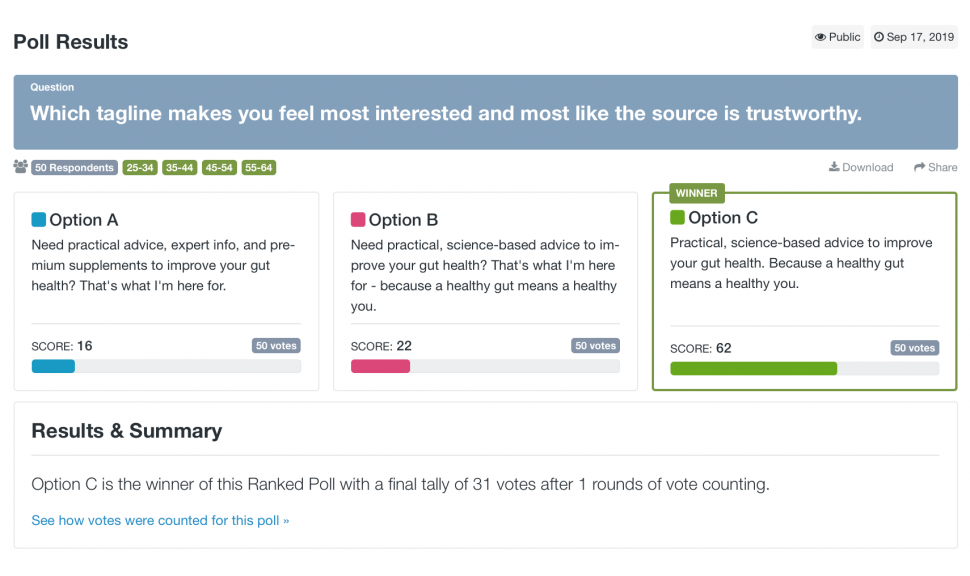 The taglines are all longer than typical taglines, but Option C won by a lot of votes for being the shortest. It reads more like a typical tagline than the other two, and PickFu respondents noticed.
One respondent put it best when she said, "Option C is straightforward and doesn't feel manipulative or question-based like [Options] A and B are."
Another respondent addressed the trustworthiness aspect of the question by saying, "I love that it tells you 'a healthy gut means a healthy you' because it is very true and it sounds as though a friend is telling you."
Option C is the clear choice here, but the business owner wouldn't have known that without testing the tagline copy.
#2: Email marketing
Sure, you could run a standard A/B test when you send an email newsletter to your list. But let's say Subject Line A performs far better than Subject Line B. Having already sent the email, you've lost all the potential conversions from those who received Subject Line B.
With PickFu, you can test an email subject line, body copy, and/or description snippet to ensure you get the highest open and click-through rates before you send.
Testing subject lines
Email marketing is still one of the strongest forms of marketing you can do. 99% of people use email, and some of us check our email inbox up to 20 times a day or more.
A lot of us delete emails from people we don't know. We might even delete or ignore emails from brands whose email lists we've joined because the subject line doesn't draw our attention.
The subject line of an email decides whether someone opens it or not, so make sure it's compelling.
On PickFu, you can ask questions like, "Would you open this email?" or "Which subject line would make you open this email?"
Check out the email title that this PickFu user copy tested.
Body copy testing
You wrote such an intriguing subject line that people open your email. That's wonderful! Now what? Make sure they hang around long enough to read the rest.
If you need help writing stellar email copy, check out these 10 tips. After you've drafted a version or two of an email newsletter, test it using PickFu.
#3: Social media
Instagram and Twitter bio
People want to know what you're all about when they see your Instagram or Twitter bio, but you don't have much space to tell them. For your bio, Instagram gives you 150 characters. Twitter lets you have 160.
Use this space well! The new PBS Kids TV show, Molly of Denali, is a prime example of space used smartly.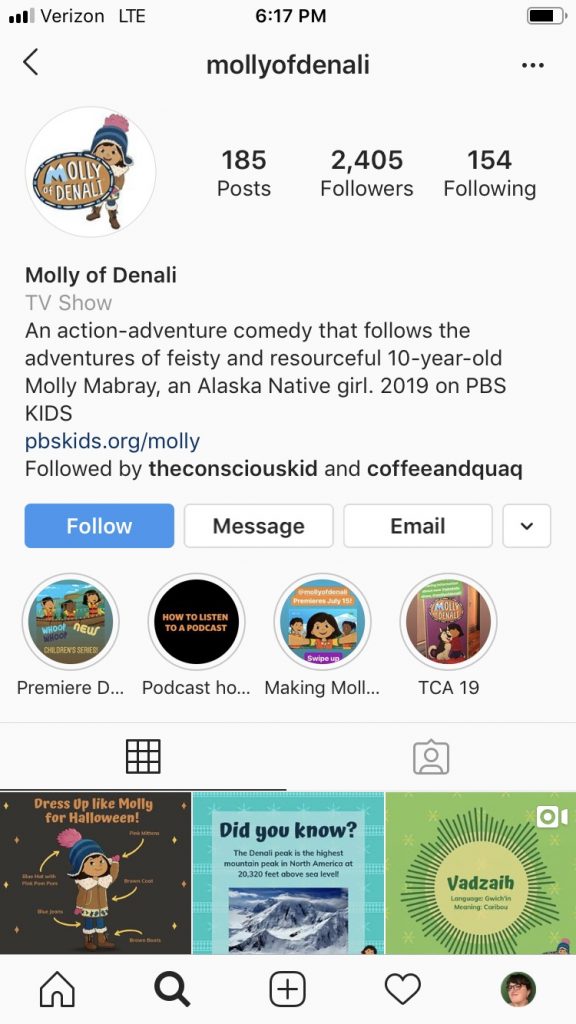 The bio tells you what Molly of Denali is, why it might be interesting, and where to watch it.
Copy testing your bio for Instagram, Twitter, or any relevant form of social media is crucial to your success. Because after someone sees your photo, they're going to look at your bio.
Make sure it tells them something that pulls them in.
Facebook and Instagram posts
Whether paid social ads or organic social posts, gauge what audience reaction will be before you publish. A slight copy tweak could be the difference between a lot of shares and a lot of silence.
The ideal Facebook post length may be shorter than you think, so make sure you do some research into ideal post lengths for various social media channels. Instagram may be an image-based site, but those images still perform best if paired with a caption. In fact, Instagram posts often do better with longer captions — usually carefully formatted, heartfelt stories that draw readers in and add meaning to the photo.
Captions like the one below from popular podcast She Explores draw lots of responses on Instagram. And that engagement is exactly what you want.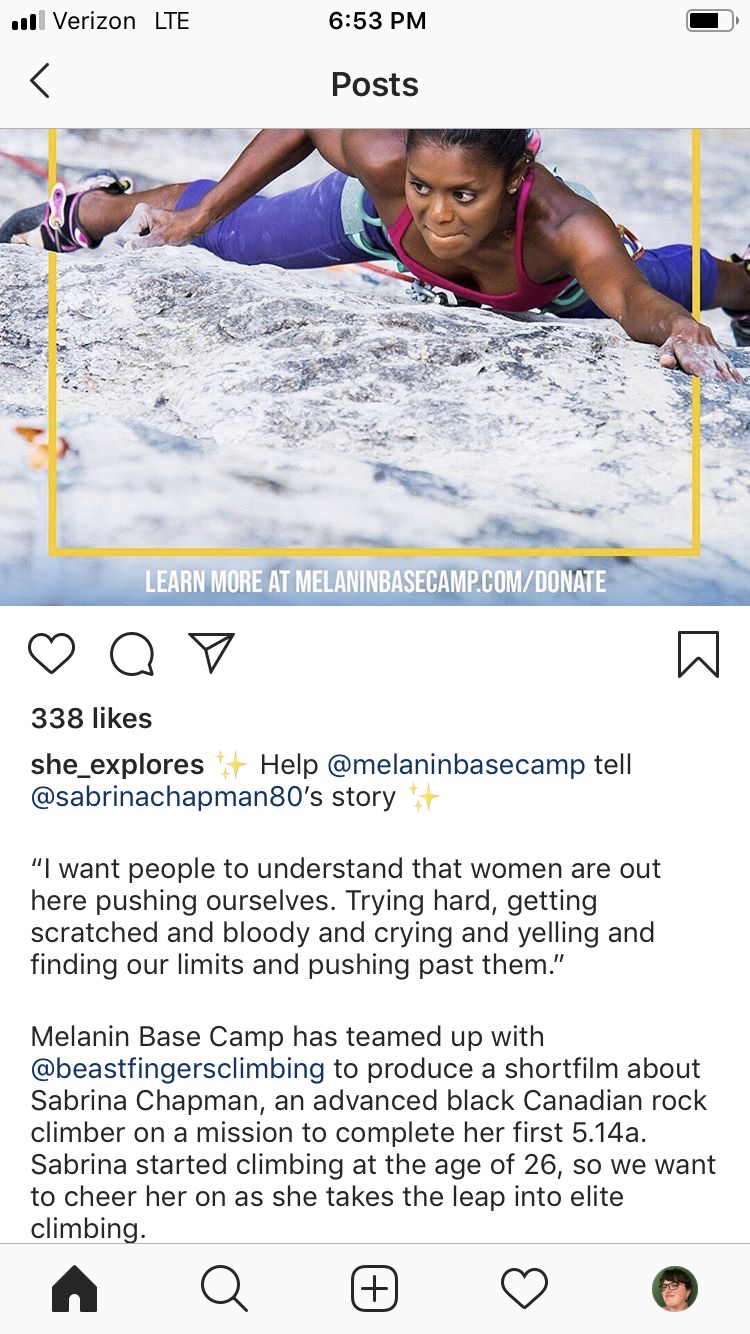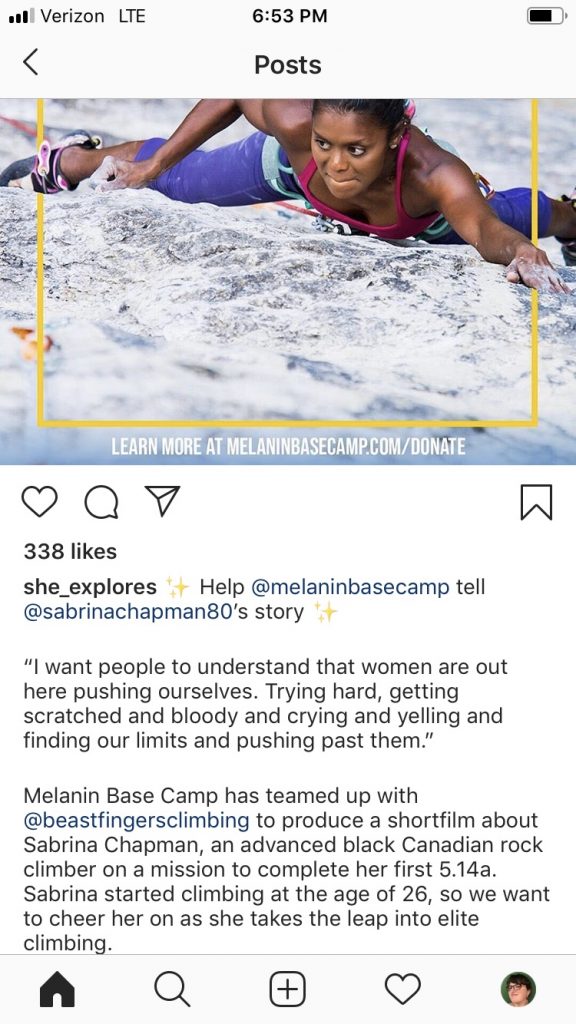 Before you post on Instagram or Facebook, test your copy on PickFu to see if it resonates with readers.
YouTube video descriptions
If you think video descriptions on YouTube don't matter as much as the video itself, you'd be wrong. The copy beneath your video is crucial to your success.
As Hootsuite puts it, "YouTube descriptions can boost SEO, subscriptions, view counts, and watch time. They can also help your videos rank in YouTube's 'suggested search' function."
Tons of videos go up on YouTube and get lost among the cat videos and how-to clips. To make yours stand out, you need to focus on specific goals for your video descriptions. The full list appears in that Hootsuite post, which I'll link to again because it's a good one:
Use 1-2 keywords that describe your video in a tiny nutshell
Don't use clickbait titles. Your title and description should tell your readers what to expect without giving everything away.
Infuse your description with your personality. You're not a robot, so don't write like one!
Once you've got your description written, copy test it on PickFu to see what your audience thinks. You can even keep the YouTube video unlisted and link to it on your PickFu poll. That way, respondents can watch the video and see if the description matches what they see.
Blog titles
Your blog title is the one thing people will glance at before deciding whether to click through to your post.
There are a couple dozen formulas that almost guarantee that people will click on your posts. Find the full list here. A few examples:
Number + Adjective + Keyword + Rationale + Promise = Ultimate Headline
The Secret of __________
Build a _________ You Can Be Proud Of
Whenever you write an article, don't just draft one headline. Draft 10 or 20. You can test up to 1,000 characters, or around 250 words, on PickFu. Run a few polls to find out which titles are your top two, and then do a final round.
Or you could do we at PickFu did and test three top titles at once:

Note how the winning blog title promises to reveal something the reader may not have known before. It doesn't ask a question and it doesn't offer a "pro tip" which may or may not be taken seriously. It pokes at reader curiosity, daring them to open the article.
#4: PPC Ads
Facebook and Google are two common places to create pay-per-click, or PPC, ads. We see ads everywhere, to the point where it seems like it's easy to write one. It's not. Whole professional ad agencies put their sharp, professional copywriting skills to work to create clickable ads.
So how can you — a brand owner but possibly not a pro copywriter — create ads that people will click? Being in a leadership position can seem especially scary when you're trying to build ads that will sell.
Here are two points that might surprise you, taken from Brad Smith's excellent article on writing ads that prime you for scaling up, "A 6-Step Process to Write PPC Ads on Scale" on the Wordstream blog:
Point 1: Drop the creativity! Overthinking an ad can hurt you. Use proven formulas as the framework for your ads.
Point 2: Don't push your product at anyone. Instead, find out what your audience's pain points are and show them how your product can help them.
For more insight on how to create electric Facebook ads, check out "How to Create the Perfect Facebook Ad in Minutes."
To find out how to maximize your copy on Google Ads, see "How to Create a Revenue-Generating Google Ads campaign."
You should have several versions of ads for each platform, and each of them needs to be spot-on. Testing your ads on PickFu will help ensure their quality and effectiveness before they go live.
One PickFu user posed a short, pointed question to help guide their copy test of an advertisement for fostering or mentoring kids in San Francisco: "Which ad makes you think 'yes, I could do that."
You could ask a similar question — something like, "Which ad makes you think, 'yes, I need this in my life.'" Or, "Which ad would you click on if you saw it on Facebook?"
Get more tips on split testing Facebook Ads here.
#5: E-commerce
Product titles
Tons of people use PickFu for testing product titles and other parts of their e-commerce listings.
This PickFu user tested two product titles for a hanging planter.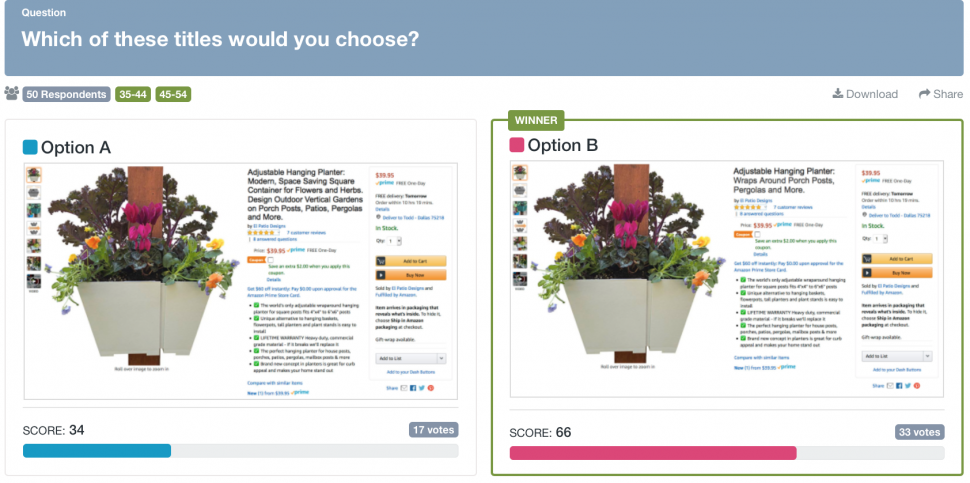 Option B, with its shorter, less SEO-packed title, won by a big margin. The winning title focuses on what the hanging planter does for you — it wraps around the porch posts, pergolas, and more. That's it. The first title stuffs keywords in a way that makes it hard to read.
You don't want your customers to find your listing illegible or unattractive.
Product listings
You can copy and paste a product listing straight into your PickFu poll, or you can link to the live listing like this PickFu user did.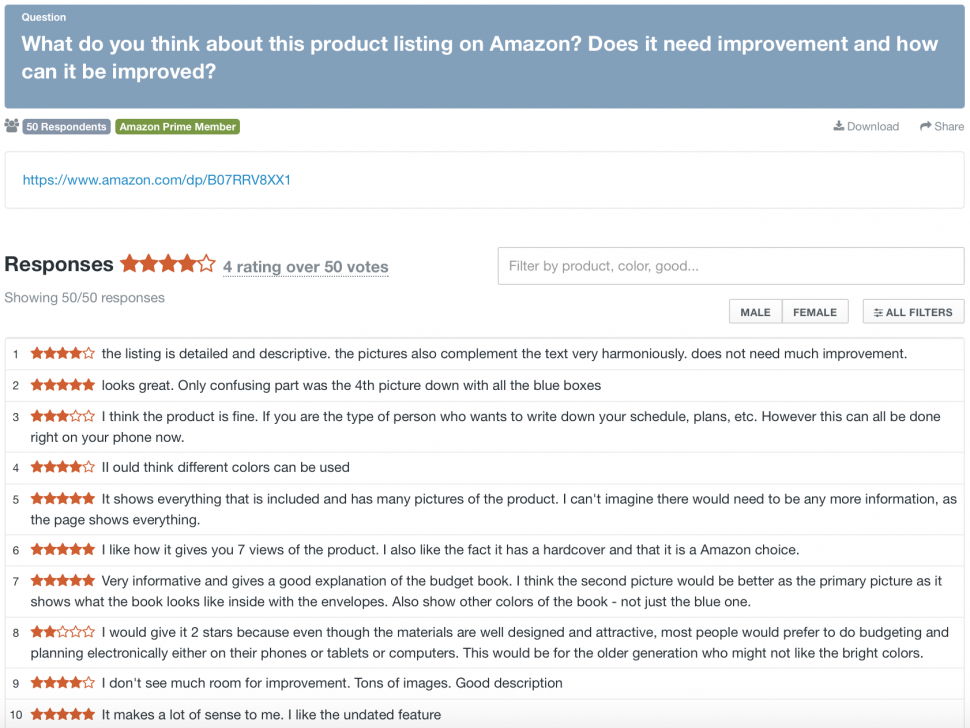 Notice how instead of split testing, the user asked an open-ended question? Don't think you're limited to split testing! Choose whatever type of poll or test is most helpful to YOU.
In the comments, most people like the product description, calling it "detailed and descriptive." Some also have comments on the product itself. This input can give you countless ideas for improvement.
#6: Mobile apps
App titles
How do you make your app stand out among a crowd of millions? First, write a killer title. Whether you're making an app for Android or iOS, you should
Give browsers a peek at what the app does for them
Keep your title user-friendly — limit the made-up, hard-to-say words
Study the competition and then figure out how to make your name different
Keep it short
While browsing the most popular paid app titles, my eye caught on a certain app with a short, simple name. Can you guess which one?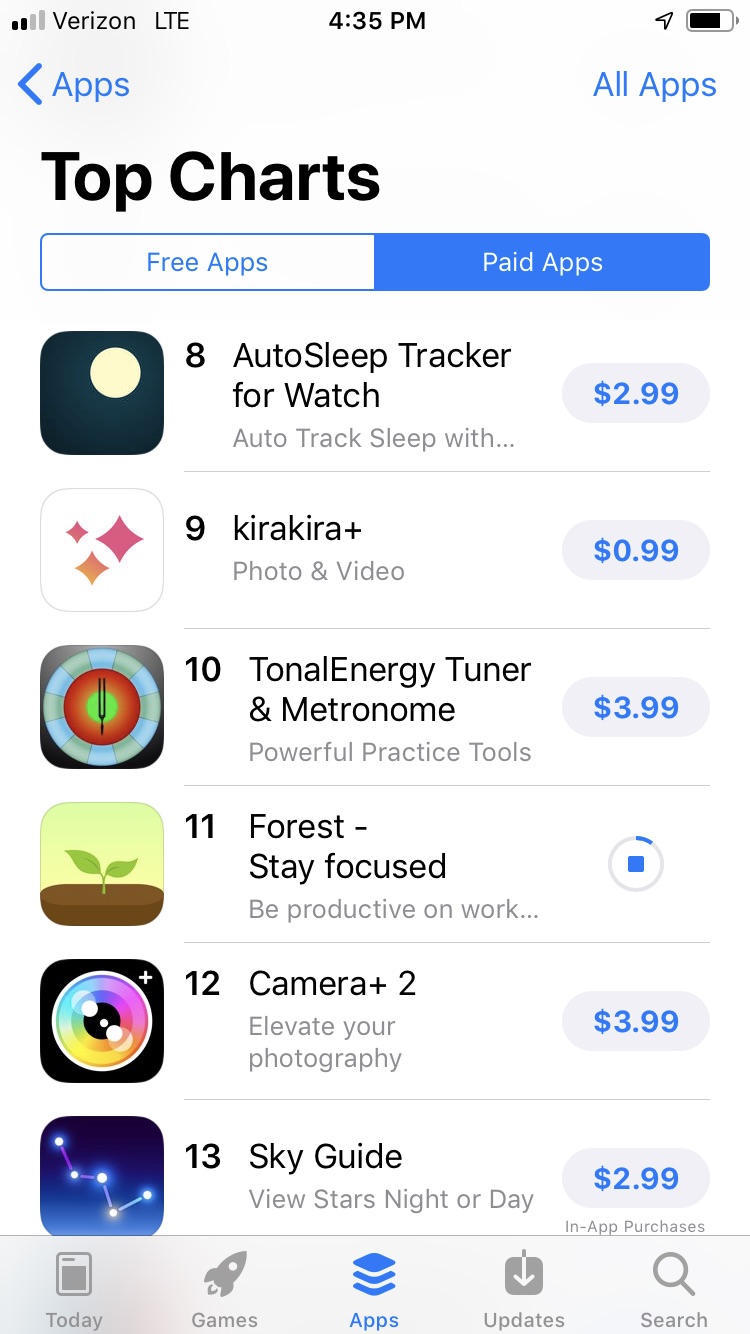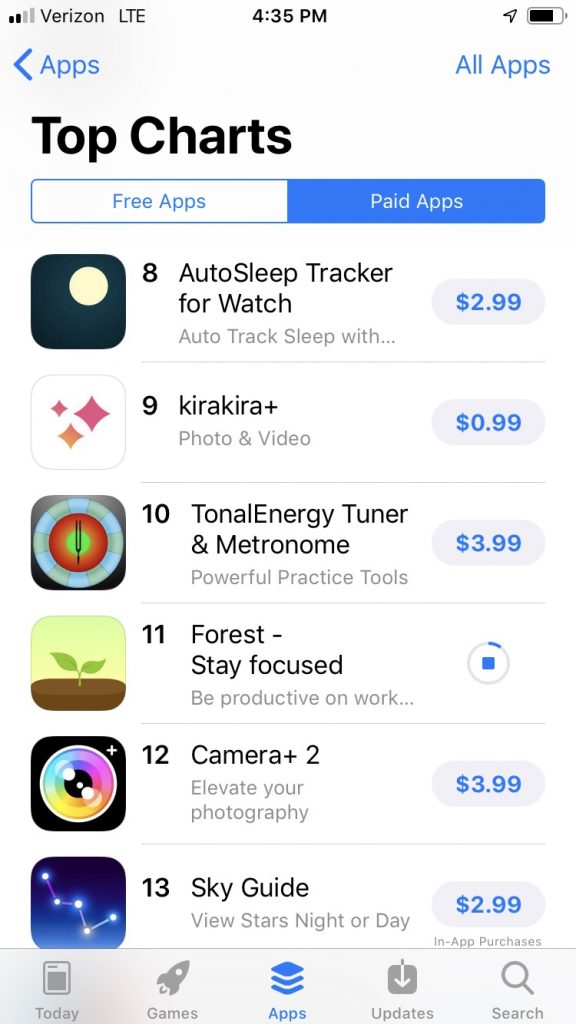 If you guessed the popular stay-off-your-iPhone app, 'Forest – Stay focused', you'd be right. The subtitle, 'Be productive on work & study' invited me to click through. After reading several glowing reviews, I bought the app.
Among other productivity apps, 'Forest – Stay focused' remains a short, unique, clickable app name.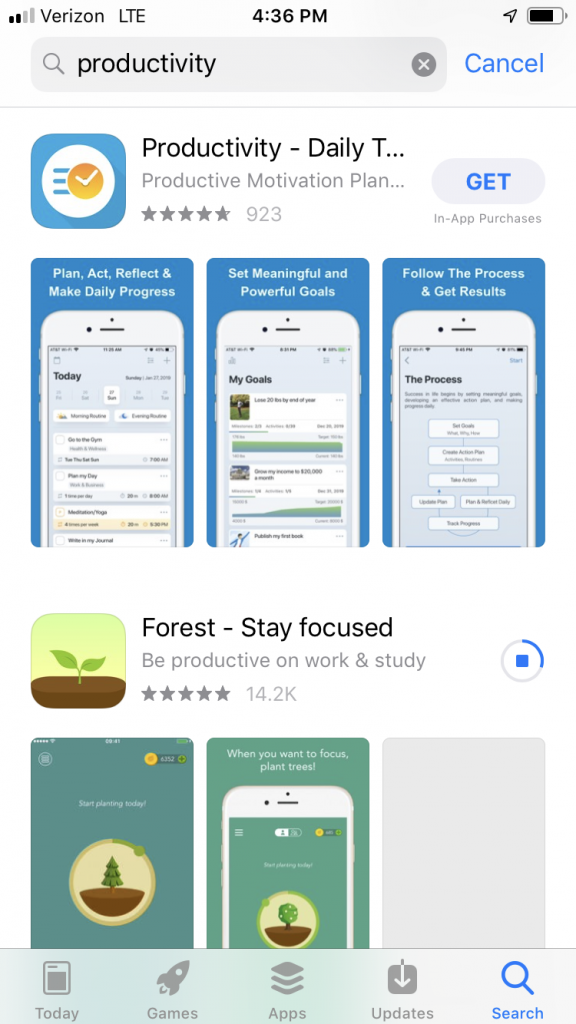 And — you guessed it — once you have a few different app titles, test them to see which one stands out to your audience. You can even target respondents by iOS or Android device.
This PickFu user tried copy testing a title for a SpongeBob-based app:

PickFu respondents loved the middle one, which is focused, clear, and exciting.
Promotional text
Once app browsers click on your title, your promotional text has to win them over. This is the text that appears on your app screenshots.
'Forest – Stay focused' has short, catchy promotional copy on its screenshots. One says, "When you want to focus, plant trees!"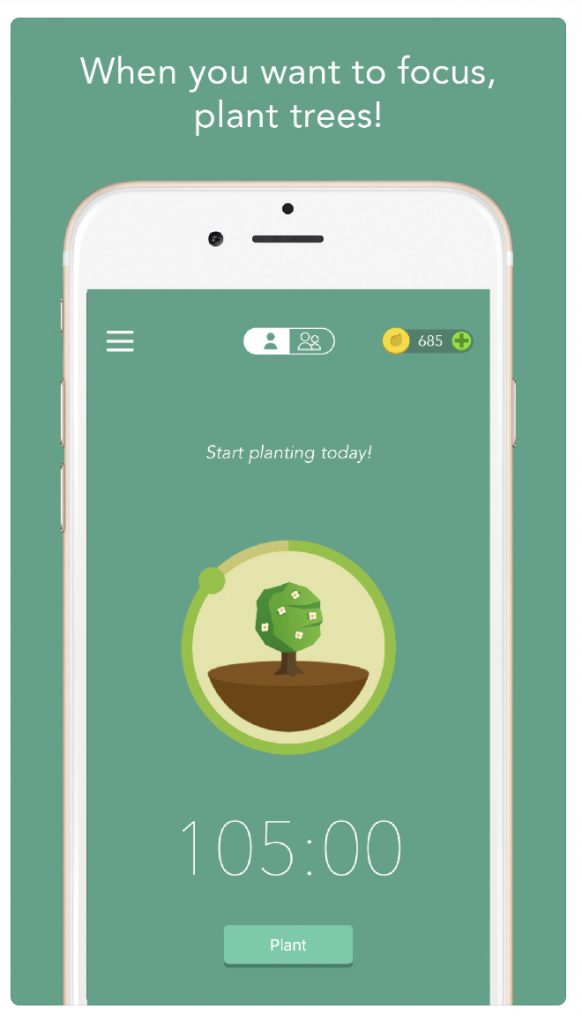 A couple screenshots later, your motivation to plant productivity trees becomes clear: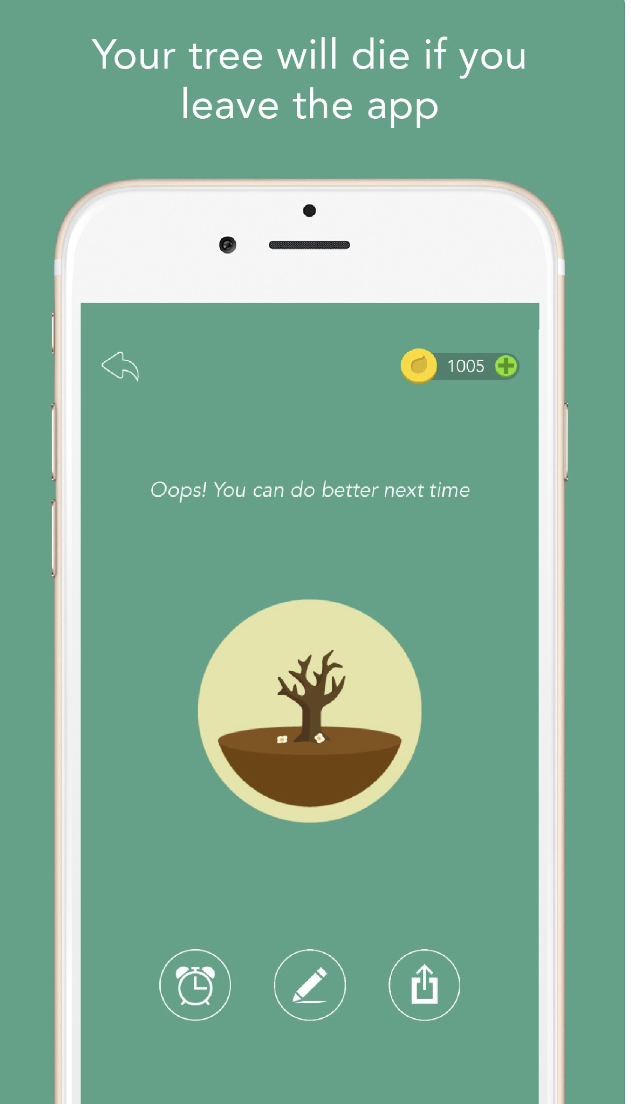 As with the title, keep this text short, clear, and to the point. Copy testing your text is crucial to making sure it resonates with your target market.
App description copy
Once potential buyers have made it past the screenshots, they're partially sold. It's time for the specifics: What's the main idea of the app? What problem does it solve? Who loves it?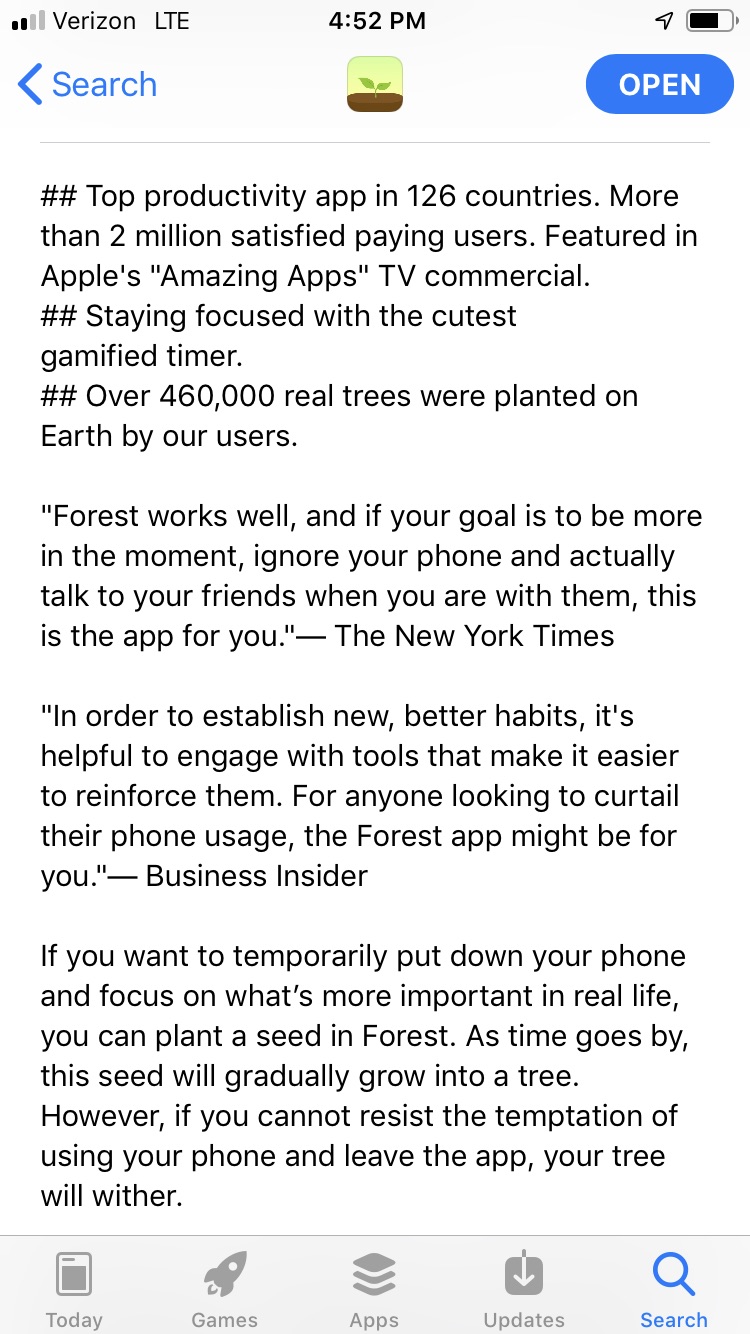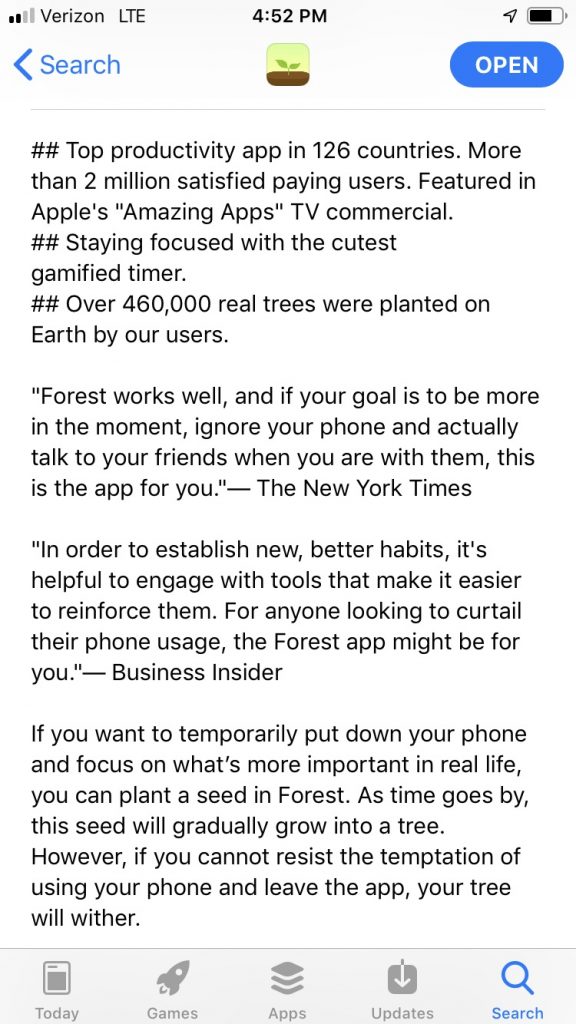 For detailed, step-by-step instructions on writing app description copy, check out this article. Once you're done, don't forget the important step of copy testing it on PickFu.
#7: Publishing
Book title and subtitle
Book titles are tricky. You want them to reflect your art, but you also want them to sell your books. Sometimes those two goals scrape against each other.
Take a look at Kindlepreneur Dave Chesson's "How to Title a Book: Making Titles that Sell." Whether you're publishing ebooks or trying to carve out a path to traditional publishing, this fascinating guide leads you through every step and consideration you need to take.
To increase book sales and promote upcoming titles, authors often create bookmarks. Think about what type of title and subtitle or mini-blurb will catch readers' eyes in formats like that.
One author tested three titles on PickFu, and Option A won by a landslide. The author would be remiss to use any title but the one PickFu respondents loved: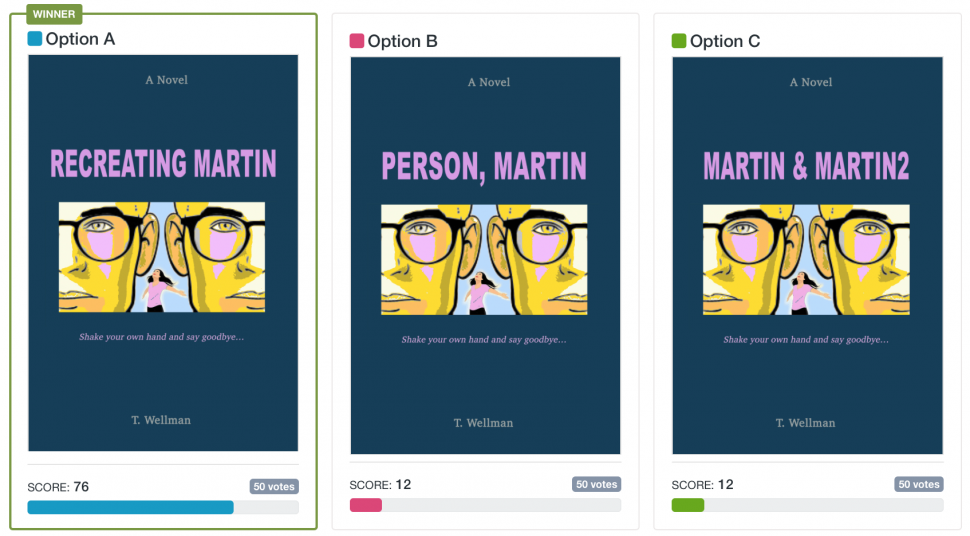 Note that the author specifically asked, "Which book TITLE is more appealing?" This makes it clear to respondents that even though the cover is showing, that's not what they're reviewing. Make sure you make your questions crystal clear when copy testing so you get the right type of feedback. And read these 8 tips for crafting book titles from authors who have been there.
Book blurbs
If your title convinces shoppers to click on or pick up your book, they'll often turn to the blurb — or super short, intriguing, but non-revealing summary — before they make their final purchasing decision.
You'd be surprised how hard it is to condense your book into 200 words without giving anything away.
Once again, my favorite how-to article on this subject comes from Kindlepreneur: "How to Create a Back Book Cover Blurb that Sells".
In it, Dave Chesson outlines why you need a blurb even if you're selling ebooks and several methods for writing a blurb that people won't be able to resist. He even offers a template at the end to make it easy for you to write your blurb.
Authors love to copy test blurbs on PickFu. One author asked, "Which middle-grade book would you want to read?" and then posted two versions of the blurb.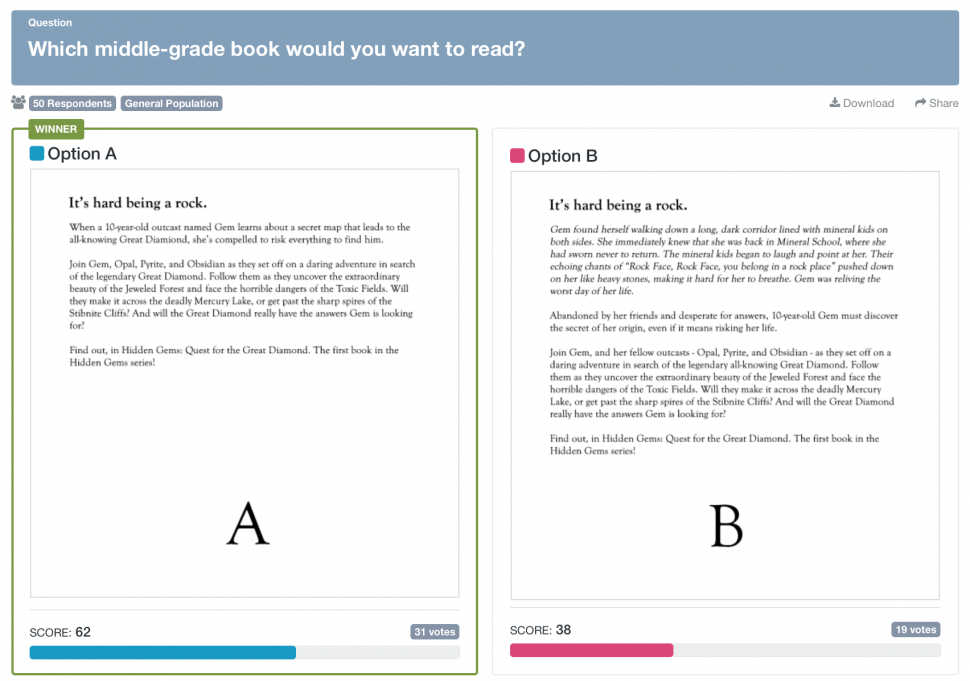 Respondents loved Option A because it's short and pointed. Plus, "the description keeps going forward. The best adventure stories set up on the premise and just keep going. And then? And then?"
The creative soul in the author might have preferred the more mystical Option B, but it's clear that Option A appeals to readers more and will tug them into that mysterious adventure within the covers.
Author bios
Done well, your author bio will point your reader in the direction of your website, blog, or additional books (or all three). When crafting a bio, think about how it would look in a book news blog post or pamphlet.
More importantly, your author bio is a place to build trust with your readers. If your novel is about racing dogs in the Iditarod, readers will want to know that you know your stuff. You'd better be a musher or a devoted researcher who can state those facts on your author bio.
For more tips on crafting the perfect author bio for your novel, see this article from the Reedsy blog, "How to Write a Killer Author Bio." Templates for both fiction and non-fiction book bios are included!
Once you have your bio written, remember to copy test it on PickFu. Pair it with an image of your book and ask, "Does this bio match the book?" or simply ask, "Would you read more of this author's work?"
As you can see, there are tons of ways to put copy testing to work for you. Try it yourself here!