When it comes to optimizing your Amazon listings for Q4, what is your strategy?
Some sellers look at optimization simply as a way to game Amazon's algorithm. But that's only one side of the optimization coin. The other side is about creating a positive human experience. Remember, the algorithm looks at that too, through metrics like video views and conversion rates. And optimizing your listings for real people is something you can only do with a powerful feedback tool like PickFu.
Does your listing live up to the challenge? Does it capture eyeballs and attention like you need it to?
If not, it's okay! You still have time to make improvements. But to capture your slice of the increased Q4 traffic, you want to make sure that you start optimizing immediately.
The competitive edge
The first thing to do to prepare for Q4 is to analyze the competition. Start by taking a look at what your competition is doing right.
Look up the top two or three sellers in your category and examine their creative to understand why they're "winning."
Some questions to consider as you size up the competition:
Have they incorporated interesting props in their photos?
Are they using A+ content in a unique way?
How are they leveraging video content?
Does an infographic demonstrate how the product works?
Take your learnings and find a way to make them work for you. (Note: don't blatantly steal ideas. That's not cool.)
Once you've created new images, infographics, or videos based on your research, run a few PickFu polls. Take your top assets and see how they stand up against the competition.
You can optimize every area of your listing, ordered below from the highest impact to lowest, with PickFu.
Main image
If you optimize nothing else in your product listings, be sure to optimize the main image.
As humans, we are drawn to visual elements that capture our attention. So get with your graphic designer and spin up a few new options. Try the following suggestions:
Introduce a pop of color
Change the angle or orientation of your product
Show the product in use by incorporating a prop that your target market would connect with
Display inclusions that come with the product (For example, don't just show the headphones, but show that it comes with a case, charging cable, etc.)
Then take the images that you think are the strongest and run a PickFu poll asking, "Which image do you prefer for this [product]?"
Example poll (click the image to see the full results):
Secondary images
Nice job — you've got a potential customer checking out your product. After capturing them with a strong main image, the next thing that they're likely to look through is your secondary images.
Secondary images are a chance for you to communicate the most important features and functions in a powerful and visual way. You have up to six images to communicate the following:
Unique functions of your product using graphics and text
How your product looks when in use
Compatibility information that could help convert customers (For example, does your microphone work with both Mac and Windows computers?)
The main goal of your secondary images is not only to show the product but to overcome objections. Say someone is shopping for a gaming headset. They want to find a headset that will work with their specific gaming system. Your product might connect the two, but if you don't show this connectivity visually, this potential customer might be unclear if it will work. And you will lose a sale.
After you and your graphic designer create some new images, take them to PickFu and ask, "Which image best communicates that this bottle brush can go in the dishwasher?" or "Which image best communicates that these binoculars work in the dark?"
You can also use PickFu to determine if you're showing the correct secondary images. Each image should have a purpose, such as showing the size, overcoming an objection, or highlighting a lifestyle situation.
Example poll (click the image to see the full results):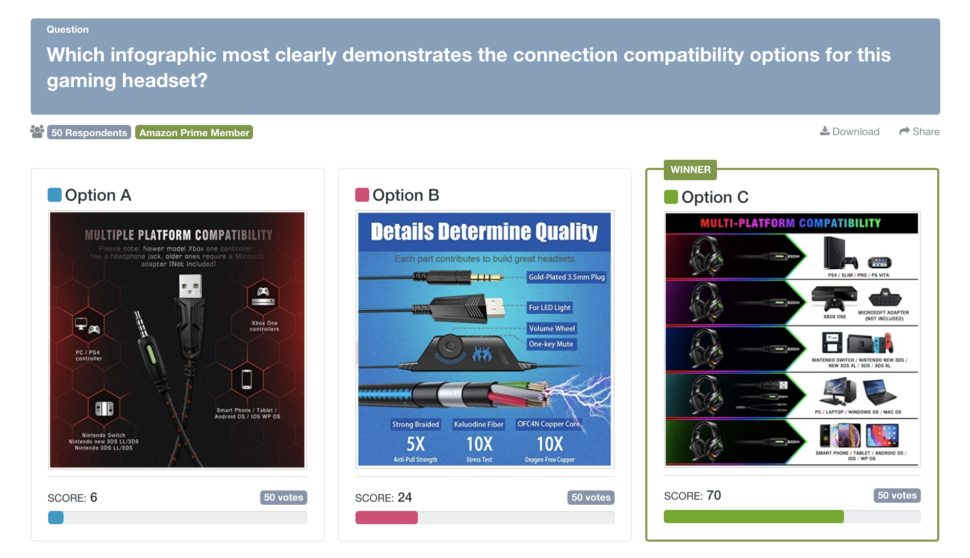 Videos
Have you tested your videos using PickFu yet?
Video content is your chance to bring your product to life for potential customers. Optimize every aspect of your video, including the following:
Your video's hook (the first :05)
How you demonstrate the product in use
Product shots on different videos
Different voiceovers
Ways to display information with text animation
PickFu makes testing videos easy. You can upload YouTube or Vimeo links, video files, or even .mp4 of voiceovers.
Example poll (click the image to see the full results):
Product title
Your title should clearly speak about what your product is and what it does.
As you play with different phrases and adjust the order in which you use them, landing on the right product title may feel like a riddle you're trying to solve (especially given Amazon's character count restrictions). However, this important part of your listing deserves your time.
Some sellers use the product title as a way to cram keywords and trick the Amazon algorithm, but this is a newbie mistake. For example, check out the difference between these product titles:
Himalayan Salt Lamp Bowl with Natural Crystal Chunks, Dimmer Cord and Classic Wood Base Premium Quality Authentic from Pakistan
vs.
Salt Lamp Night Lights,Salt Wall Lamp Plug in,Natural Himalayan Salt Rock Lamps, Mini Hand Carved Crystal Night Lights, Used for Lighting, Decoration UL-Approved Plug (Natural Shaped Two Pack)
It's pretty clear why the first product title is on page 1 of Amazon search results while the other is, well, not. The first option is easy to read and clearly describes the product. Communicating this way builds trust with customers and is more likely to get clicks.
If you have a professional copywriter, get with them to wordsmith a few title variations of your current product title. You could play around with:
How you describe your product
How you describe what your product does
Whether you should include your brand name or not
The order of your words and phrases
Whether to include compatibility information in the title
As you work through different options for your product title, keep in mind that clarity always wins. Yes, it is important to include keywords for the A10 algorithm, but also be sure it makes sense to potential customers.
Once you nail down a few titles that you think are strong contenders, upload them to PickFu and get real, unbiased feedback in less than 30 minutes.
Example poll (click the image to see the full results):
Bullet points
When was the last time you evaluated if your current bullet points are helping (or hurting) conversions? It's time to optimize them. The best part? You can test and optimize your bullet points in a few different ways.
We've outlined some of our favorites below:
Test out different tones/voices by having your copywriter write up vastly different bullets. One set can be straightforward, whereas another can be playful.
Test your leading words for each bullet. For example, instead of describing your standing desk as "Durable and water-resistant," you could try, "Stands up to anything."
Test the order of your bullets to see which bullet points are the most important to potential customers.
Example poll (click the image to see the full results):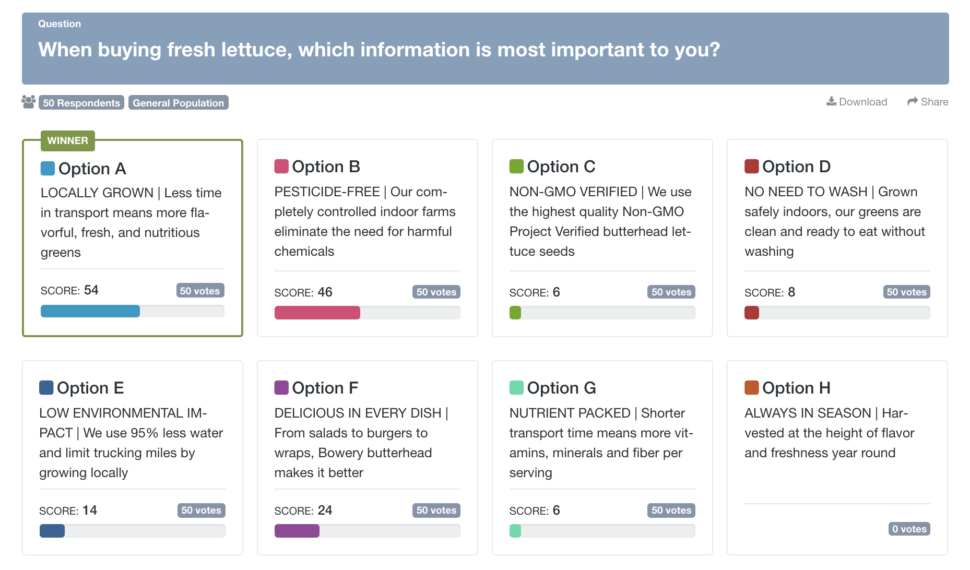 Search results
This last one is a biggie. Once you've optimized your main image, title, and description, you need to pay special attention to how your product stands up against the competition on a search results page.
To test this, complete the following steps:
Open Amazon and search for your product's category.
Take a screenshot of the search results for the top three (or so) products.
Take a screenshot of your product listing in the search results.
Upload these screenshots to a PickFu poll.
For this test, we recommend posing a question like, "Which of these [product description] would you be more likely to click on, and why?"
Example poll (click the image to see the full results):
We're here to help
Phew, that was a lot of options to optimize your listings for Q4. 
To help you build the best optimization strategy for your product(s) schedule a free strategy call with our Customer Success team.
---