Creative professions require a different skill set than, say, managing a business, so when a business owner inevitably needs creative work done, it can get complicated.
Logo design, web design, product packaging, advertisements — all require an artistic touch. You might have a creative idea, but do you have the technical know-how to design it yourself in software like Photoshop or Illustrator?
Many graphic designers go freelance for this very reason. Companies hire them for one or two projects, or something more regular if everything goes well.
For business owners, the question then is: how do you find good freelance designers?
Although there are plenty of options, 99designs stands out as one of the best. But if you've never used the platform before, how can you be sure it's right for you?
In this article, we'll review what 99designs is and how to use it, with details on its pricing structure and the kinds of projects you can get done.
What is 99designs?
99designs is a service that connects businesses with freelancers. Unlike freelancing platforms like Fiverr or Upwork, 99designs focuses exclusively on design work. Sticking with design allows 99designs to offer more specialized services like the 99designs logo contest.
While known mostly for logos, 99designs covers most areas of graphic design, from websites to mural artwork — even book covers.
How does 99designs work?
With 99designs, you have three options for finding a designer to work on your project. All three options grant you ownership of the copyright afterward.
1. Browse designers' profiles and reach out to them yourself
99designs makes it easy to search through its community of designers, with filters for skill level and areas of expertise, and industry specializations. The cost depends on the designer.
2. Commission a contest
The beauty of a 99designs logo contest or app design contest is that you can see multiple submissions for your assignment and choose the one you like best. This is the perfect approach for people who want to see what they're buying before they pay.
Contests start at $299 for 30 entries. You can pay for more entries or to receive only submissions from high-level designers. There's also a money-back guarantee (with conditions) in case you don't like any of the entries.
3. Get a free design consultation
You can request a consultation with a 99designs rep to explain your project. They'll suggest designers based on your needs.
This option essentially plays out like a 1-on-1 project. It's a huge convenience for people who aren't sure what to look for in a designer or who don't have a lot of time.
Is 99designs free?
No. 99designs charges both clients and designers (although it's free to join).
Client pricing includes a 5% platform fee on top of whatever the designer charges. Designers' rates are in line with normal industry rates, but 99designs evaluates and organizes designers into three skill levels — Entry, Mid, and Top — so you can find the right designer to fit your budget.
For designers, the pricing structure includes both a variable platform fee and a client introduction fee. The client introduction fee is 20% of your first few projects with that employer, up to a maximum of $100. After that, the fee is waived.
The platform fee differs based on designer level. Entry Level designers pay 15%, Mid Levels pay 10%, and Top Levels pay 5%.
Is 99designs worth it for UX designers or artists?
99designs has a broad interpretation of design that encompasses UI design, illustration, tattoo design, mural painting, and many other fine arts. So whether you're a UX designer or an artist, if you're having trouble attracting clients on your own, then yes, 99designs is worth it.
Less experienced professionals often need the exposure the most. Although they must pay more in umbrella fees on 99designs, the platform has a pre-existing clientele, not to mention its own advertising and marketing. By paying these extra fees, beginner designers don't have to spend as much time getting their name out there.
For higher-tiered professionals who may not need new clients, 99designs cuts some of the fees and showcases them as Top Level designers. This makes it easier for experienced designers to justify higher rates, not to mention have a more reliable flow of work.
Is it possible to make money on 99designs?
Yes, that's the whole idea! Browsing the platform is free. 99designs only makes money when a designer makes money.
Designers are free to charge whatever they like and reject jobs they don't want. However, it helps to charge a fee appropriate for the level 99designs assigns you, otherwise clients might have the wrong expectations.
What are the pros and cons of 99designs?
Pros: community and customer service
Large designer community. 99designs has one of the biggest design communities of all the freelancing platforms. That means you can find any design discipline and artistic style, each with a range of pricing.
Your choice of methods. Not all freelancing platforms offer features like 99designs logo design contests or the ability to talk directly with designers.
Money-back guarantee. If you're commissioning a design contest, 99designs has certain safety nets in place to ensure your satisfaction.
Excellent customer service. 99designs is known for its prompt and accessible customer support, which is ideal if you need help throughout the whole process.
99designs promo codes. You can sometimes find 99designs promo codes to knock a little off the cost.
Cons: the costs add up
Price. The pricing for 99designs is its biggest downside. Although ultimately the designers decide what to charge, the service fees don't help. You can find cheaper options on other platforms, but the quality of work tends to decline as well.
What's better: DesignCrowd or 99designs?
DesignCrowd is another major freelancing platform that focuses exclusively on design work. It differs from 99designs in a few ways.
For starters, 99designs has over twice as many designers to choose from. That means you're more likely to find your preferred art style, field of expertise, or skill level on 99designs.
It's also easier to browse designers on 99designs. The filters are better, and designers' profile pages read like portfolios.
The DesignCrowd business model is built around contests, so their 1-on-1 capabilities are lacking.
Where DesignCrowd has the advantage is its pricing structure. DesignCrowd charges less money for more submissions in its design contests. Even if you're using a promo code on 99designs, you'll still pay more for a 99designs contest.
However, be aware that more designs doesn't always mean better designs.
Best alternatives to 99designs
If you don't want to pay the fees of 99designs (or DesignCrowd), you have options. Here are two of the best alternatives to 99designs.
Fiverr
Fiverr is known as the "fast and cheap" freelancing platform for all kinds of odd jobs, from administrative assistants to psychic mediums. The starting price for gigs on Fiverr is $5, hence its name.
While Fiverr doesn't specialize in design, it supports a rich design community with lower-than-usual rates — although actual prices are much more than $5, especially with experienced designers.
Hiring via Fiverr is a bit of a risk, though. The company doesn't involve itself in disputes all that much, so it's a buyer beware scenario (and a seller beware scenario as well). These loose rules and suspiciously cheap prices tend to hurt Fiverr's reputation, but occasionally you can find great deals.
crowdspring
Like 99designs and DesignCrowd, crowdspring is a freelancing platform dedicated to design work. It offers many of the same features and options as its rivals.
Critics have noted that crowdspring's 40% service charges, which include a hefty fee for clients, make it a more expensive option than the competition.
What's more, crowdspring has received bad press concerning its policies, in particular not paying its freelancers on time or at all.
While crowdspring is worth visiting to see designers who aren't featured on other platforms, all in all, it should be treated more as a last resort.
How to get the best designs
Finding a freelance designer is only the beginning. While you may spitball ideas back and forth, you'll only know if they're effective after your audience sees their work. That's why it's best to complement any design work you do with split testing on PickFu.
If you're torn between two designs, upload them to PickFu. The site's Poll Builder lets you test logos, web pages, product packaging, banner ads, and more. Customize the respondent pool by age, gender, income, and other demographics to match your target audience.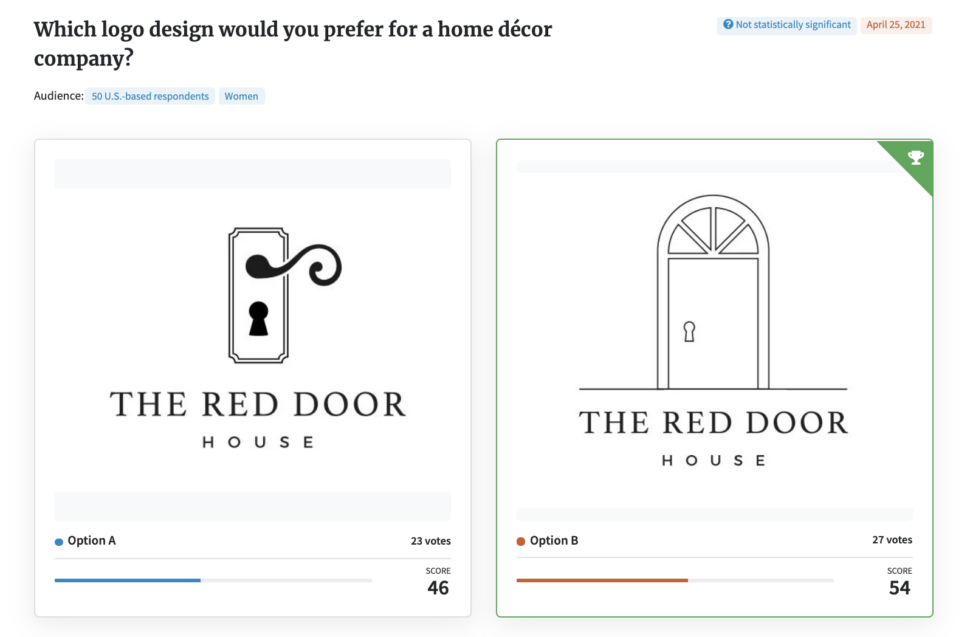 Say you've commissioned a book cover on 99designs. To make sure the design is headed in the right direction, request variations of the cover from the designer. You can upload as many as eight options at one time for your target audience to vote on.
Respondents don't just vote; they also submit written comments. As soon as your poll goes lives, you'll start to see the results come in.
Author Sean Rosensteel used PickFu to test title options and cover designs for his debut book. He ended up with a bestseller across five Amazon categories.
99designs review: A recap
All art, including design work, is subjective. It's less about the skill of the designer and more about the audience's taste. To get the most out of your design project, it needs to be optimized for your customer base.
By getting feedback on your designs with PickFu, you'll understand your target audience's preferences so you can be sure you're choosing the best design for your business.
Read about how we at PickFu crowdsourced our own logo on 99designs, then tested the final contenders in a series of PickFu polls.
---