On the internet, and especially in a competitive marketplace like Amazon, reviews matter. E-commerce sellers count on positive reviews to build their customer base. Reviews are Amazon gold, but they can be hard to get. That's where your new best friend comes in: the Amazon feedback tool.
What do Amazon feedback tools do?
All Amazon feedback tools are slightly different. But they all focus on collecting reviews or feedback from customers. If you've ever received an email inviting you to leave a review after purchasing something on Amazon, you've been on the receiving end of an Amazon review-collecting service.
But most Amazon feedback tools also help you stay on top of negative reviews, which can become Amazon kryptonite. Angry customers are more likely to post negative reviews than satisfied customers are to post positive ones. And according to one entrepreneur, it can take about "40 positive customer experiences to undo the damage of a single negative review."
Amazon feedback tools can help with all of this.
FeedbackWhiz
An all-around Amazon seller's management tool, FeedbackWhiz does more than just convince customers to write reviews. With FeedbackWhiz, you can
Manage all your orders
Create email campaigns that get sent to customers after each purchase
Get instant notifications when someone leaves a negative review
Keep track of your data with FeedbackWhiz's analytics tool
Build email sequences based on audience behavioral segmentation
Receive notifications when customers leave reviews or return products, as well as if anyone hijacks your listing
Work within 1 Amazon marketplace, with the opportunity for more at additional cost
When you receive a notification that someone's left a bad review, FeedbackWhiz helps you contact that person directly. You can offer to reimburse them or replace the unsatisfactory item. You shouldn't solicit a modified review — instead, allow your customer service to do the convincing for you.
Benefits of FeedbackWhiz as an Amazon feedback tool
As a web-based software, you don't have to download or maintain anything. FeedbackWhiz offers a free trial of its Starter Plan, which lasts for 30 days.
At the end of this time, FeedbackWhiz stops pulling your Amazon data and asks you to upgrade. You can choose to upgrade or to cancel your subscription without penalty.
All about organization
In addition to helping you stay on top of reviews, FeedbackWhiz helps you keep your Amazon-based business organized. It makes audience segmentation easy by telling you who your repeat customers are and what they purchase from you.
It also keeps track of important details like which of your products are bestsellers, how many people are opening the automated review-collecting emails you send, and more.
Even though it keeps track of a lot of information, FeedbackWhiz has a friendly user interface.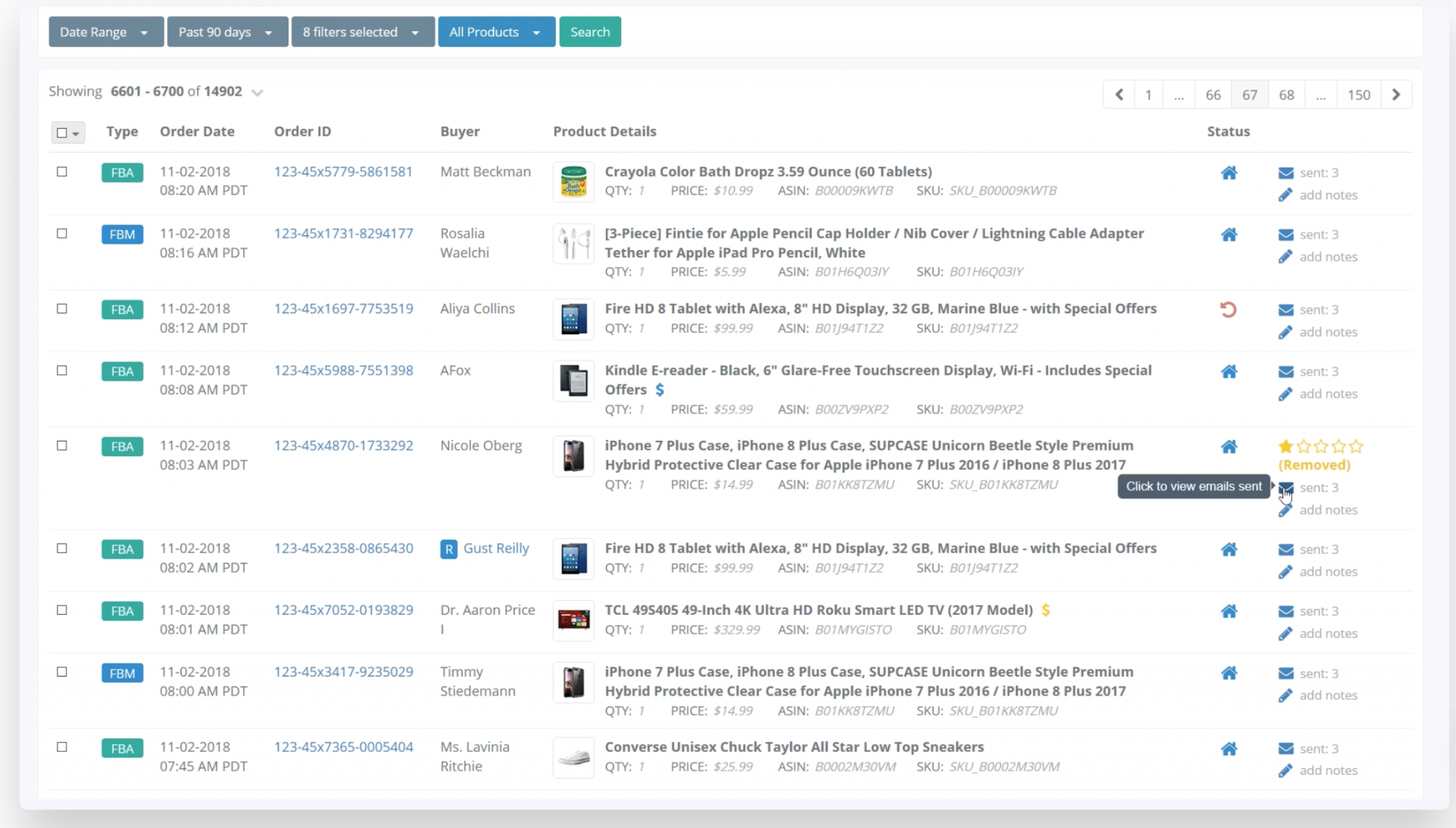 For its most basic plan, you don't have to pay anything. But you only get one email campaign. For 10 email campaigns, the pricing starts at $19.99/month.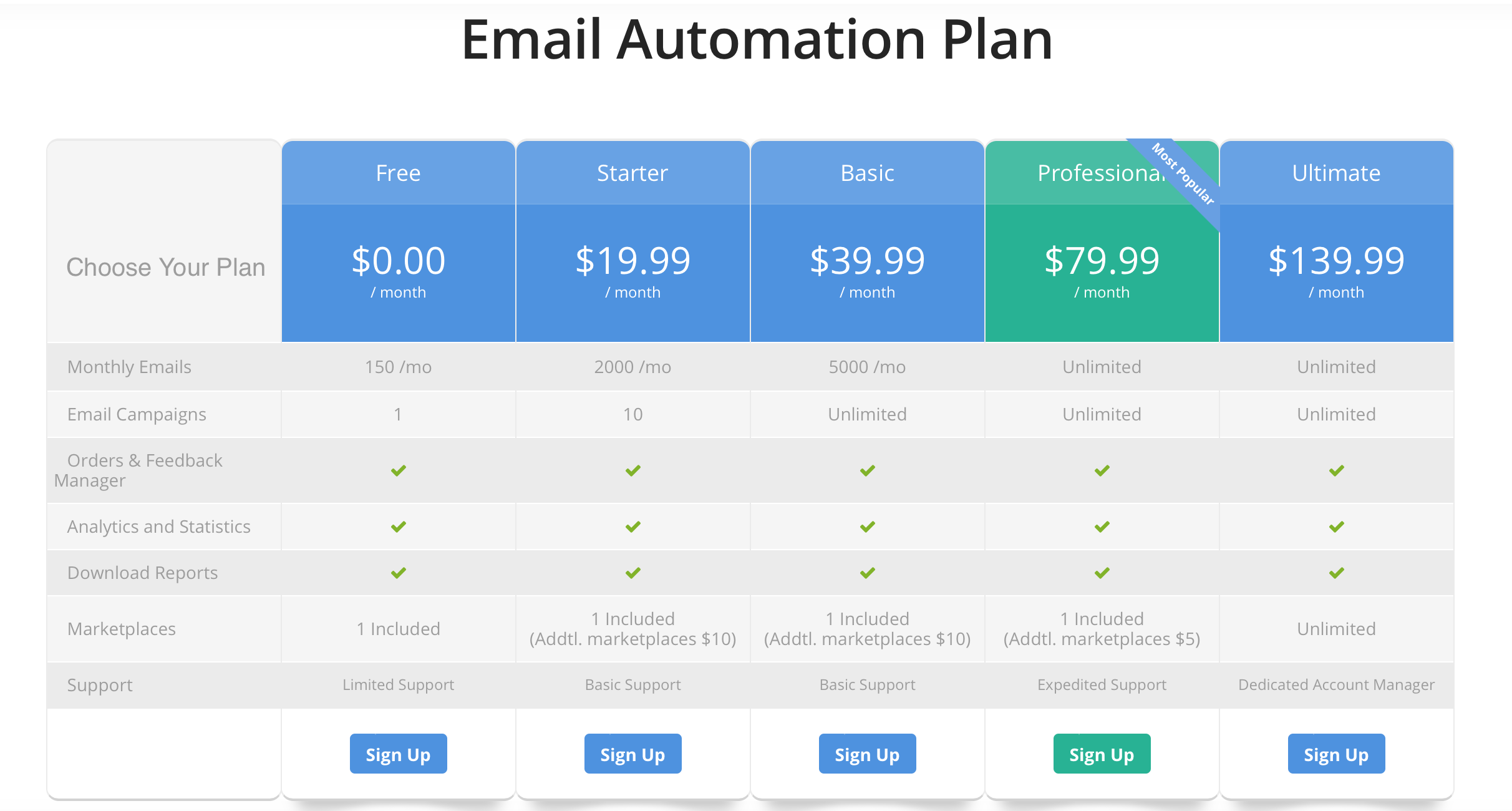 Note that the product monitoring plan — which includes those negative, positive, and neutral-review notifications — is an add-on.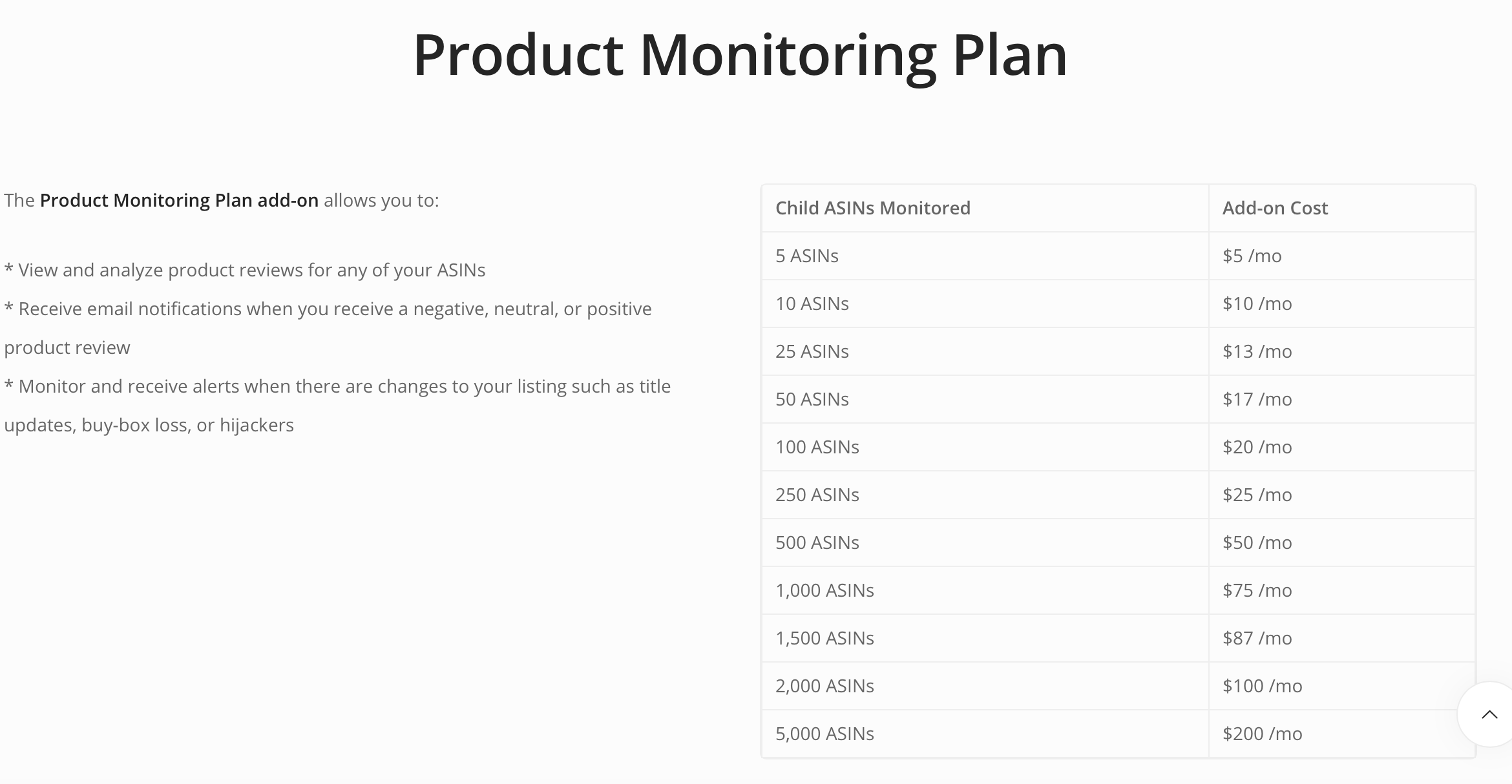 Disadvantages of FeedbackWhiz
It's not totally clear from the FeedbackWhiz website that the email monitoring and product monitoring plans are separate entities.
In addition, you purchase only a certain number of ASINs for FeedbackWhiz to monitor each month. Make sure you purchase the correct number based on how many products you want to track.
Also, while FeedbackWhiz helps you manage product reviews and try to address them, it does this after the damage is done. You can't take reviews down with FeedbackWhiz. (Or any review tool, for that matter.)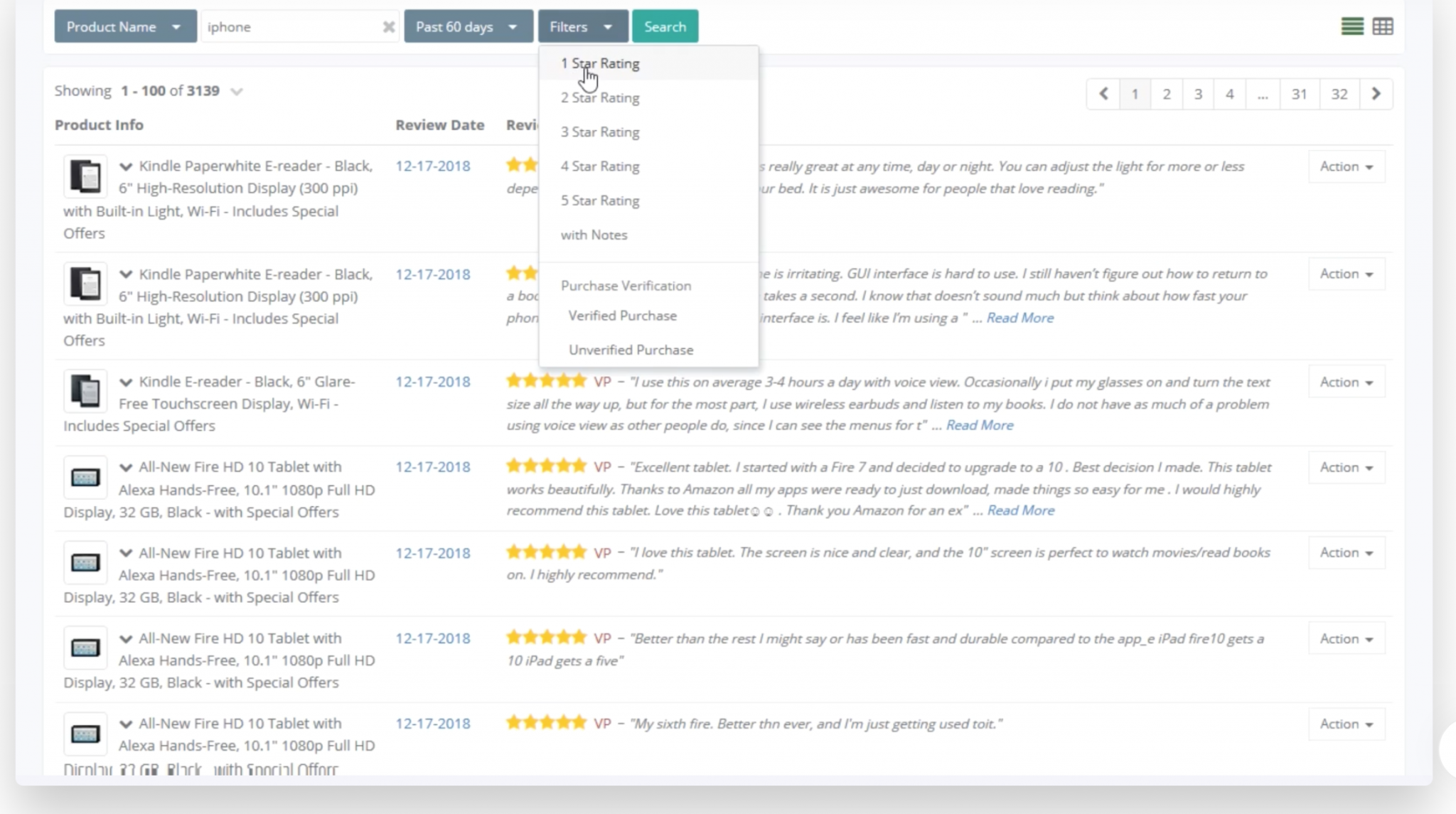 And while FeedbackWhiz helps address negative reviews, it can't give you feedback before a product is for sale on Amazon.
Who should use FeedbackWhiz as an Amazon feedback tool?
Sellers who enjoy keeping every detail of their business organized will benefit the most from FeedbackWhiz.
BQool
BQool approaches the Amazon feedback tool market in a unique way. First, BQool acknowledges that it's hard to find real success on Amazon. Then the company promises that BQool is there for the weary Amazon seller who is sick of dealing with the million daily challenges of running an e-commerce business.
It comes with a suite of Amazon seller tools to choose from. The relevant one for customer feedback is BQool BigCRM.
BigCRM offers several services:
A centralized location to receive information from multiple accounts in one place
Automated review request emails sent to customers
An automated email system that can answer some of your customers' questions
Email templates with translation into several languages
Detailed overview of each customer's buyer information

A function that stops review request emails from going out to buyers who have issues with their orders
VAT (value-added tax) invoice generator for your EU customers
BQool works within 1 Amazon marketplace, or you can purchase additional marketplaces at $10/month each.
Benefits of BQool BigCRM as an Amazon feedback tool
Starting at $10/month, BigCRM is relatively inexpensive. With it, you get 500 emails and negative review alerts for 5 ASINs. You won't get some of its key features, including the auto-reply to buyer messages or the AI-scheduled emails, if you go any lower than the $50/month plan.
If you want to test out BQool BigCRM before buying, take advantage of the 14-day free trial. You don't even have to give them your credit card number!
BQool also has lots of free resource videos and articles to help you out if you get stuck or don't know how to get started on BigCRM.
Disadvantages of BQool
Unlike FeedbackWhiz, BQool's user interface is somewhat user-unfriendly. Here's an example from the site's user resources page: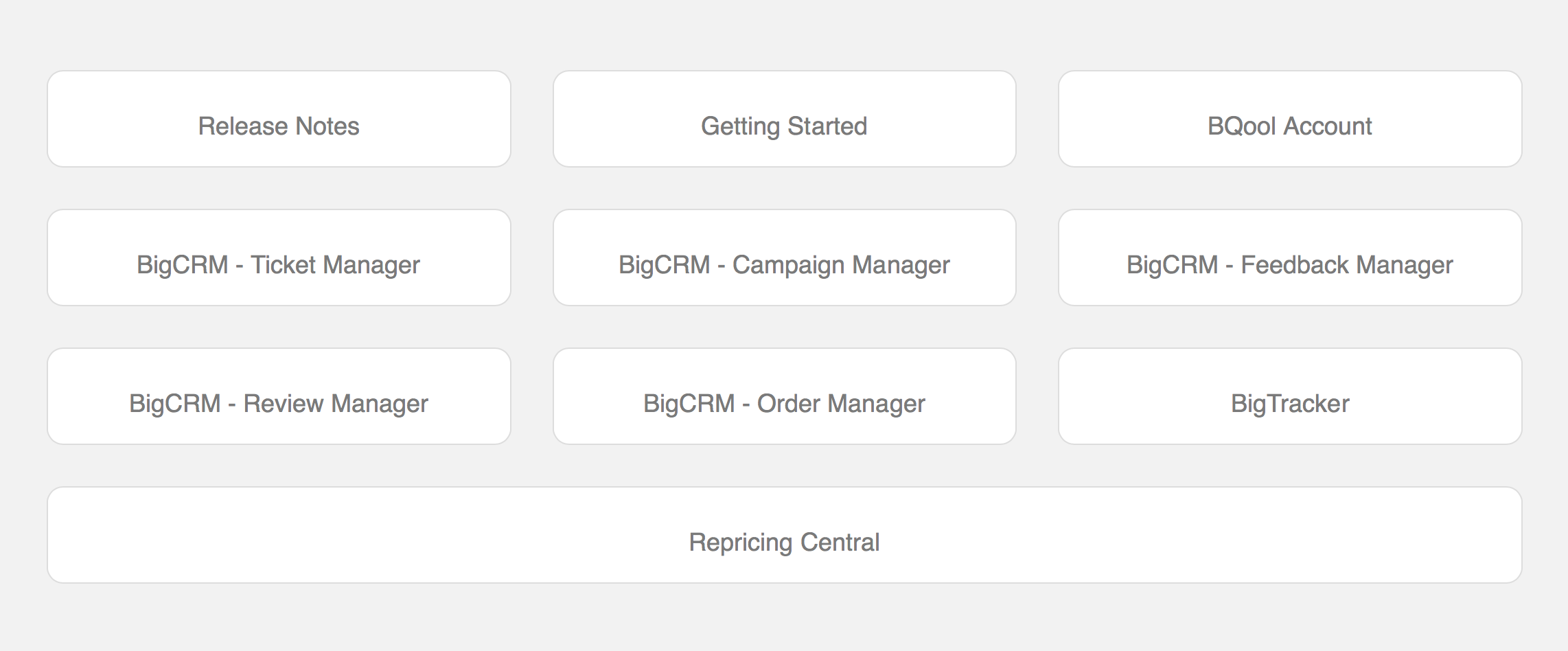 It just looks…drab. The eye jumps all over the place, unsure of where to land first.
In addition to an unappealing interface, some BQool users say its customer service is hard to reach.
Who should use BQool BigCRM as an Amazon feedback tool?
Sellers with multiple accounts and lots of customers would benefit the most from BQool BigCRM.
AMZFinder
AMZFinder's sole focus is on managing reviews.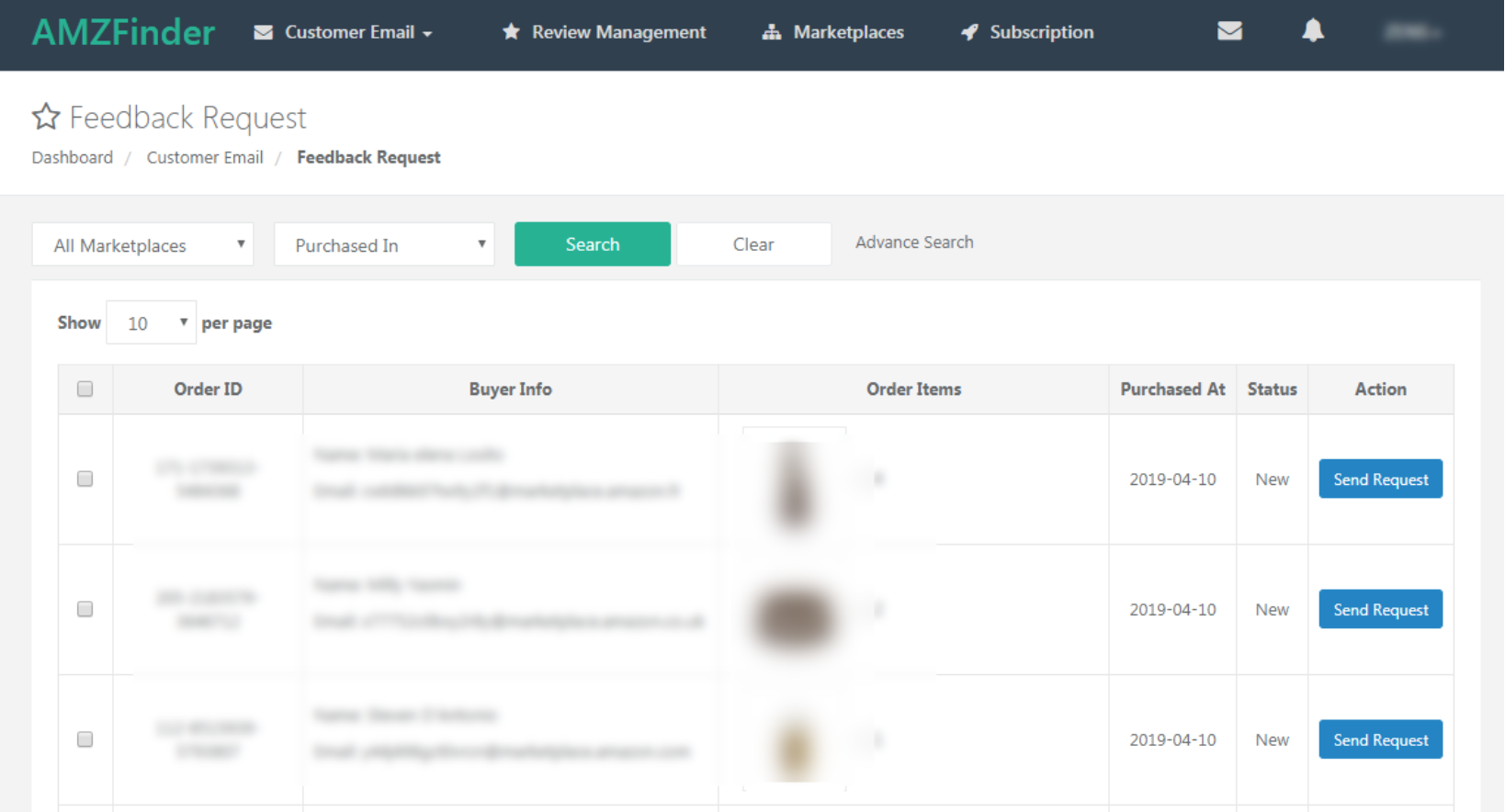 With AMZFinder, you can
Receive email notifications of all positive and negative reviews
Import reviews and orders to AMZFinder for a comprehensive look at your Amazon store
Use email templates to request feedback, handle issues, and more.
Send invoices to customers
Work within 8 Amazon marketplaces at no extra cost — this is a huge difference from BQool and FeedbackWhiz. The marketplaces included in AMZFinder are

North America (US and Canada)
United Kingdom
Italy
France
Spain
Germany
Japan

Manage several Amazon stores with one AMZFinder account
Benefits of AMZFinder as an Amazon feedback tool
AMZFinder offers two different services that are related to Amazon feedback and reviews.
The first, the Customer Email Plans service, starts at a Free Level, including 500 emails and one marketplace to work with.
This is a plus for those just starting out on Amazon. Once your business grows, you can upgrade to a paid plan with more emails and unlimited marketplaces. Paid plans begin at $19.99/month. Each of the Customer Email Plans includes a free 7-day trial, no credit card required.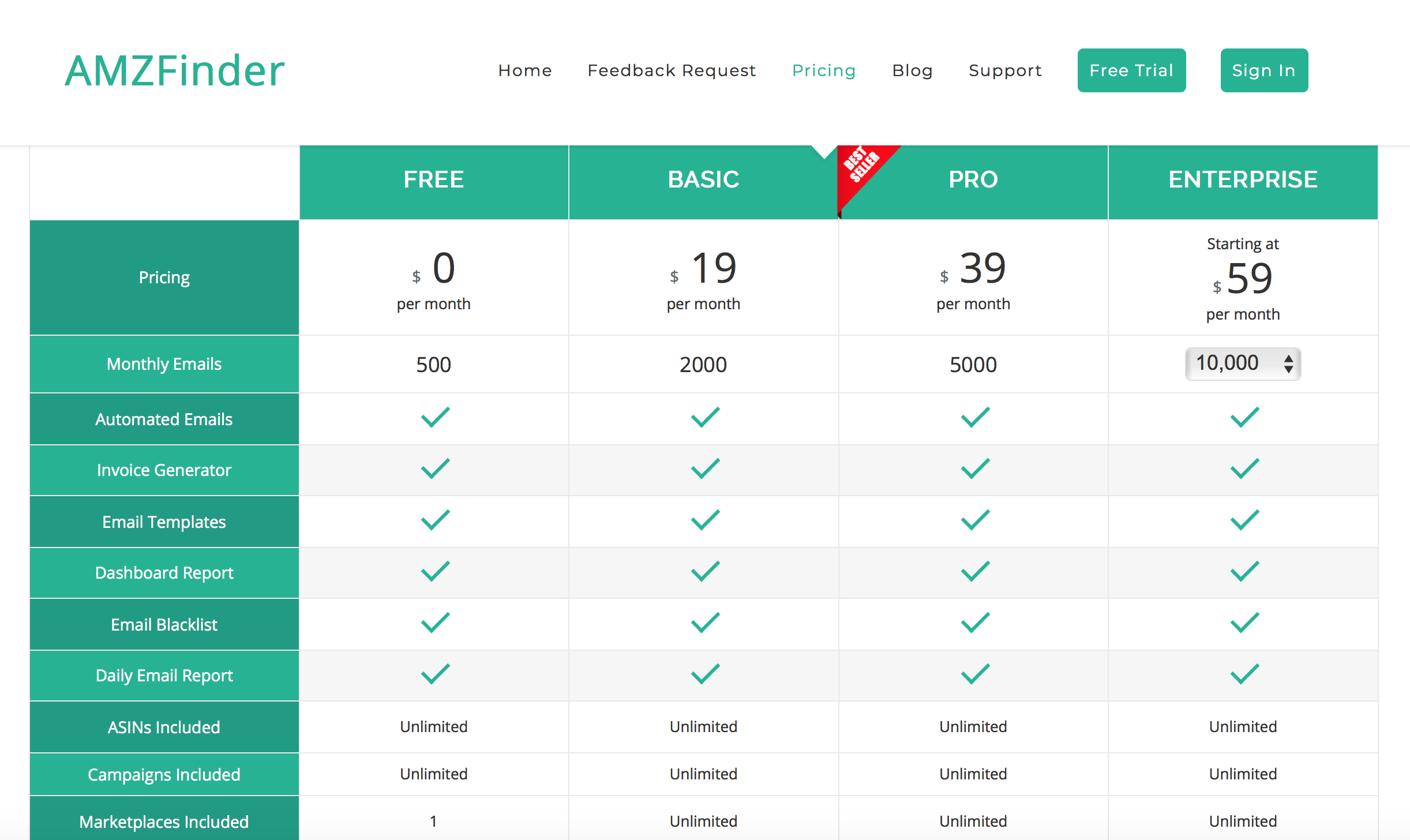 AMZFinder's second service is crucial to those seeking help managing their Amazon reviews. Called Review Management Plans, these plans track reviews for a certain number of ASINs. Each plan has the same basic features but tracks more ASINs as the price goes up.
The lowest-level plan, perfect for beginners, includes 50 ASINs to track and costs $29.99/month. All plans enable an unlimited amount of Amazon marketplaces.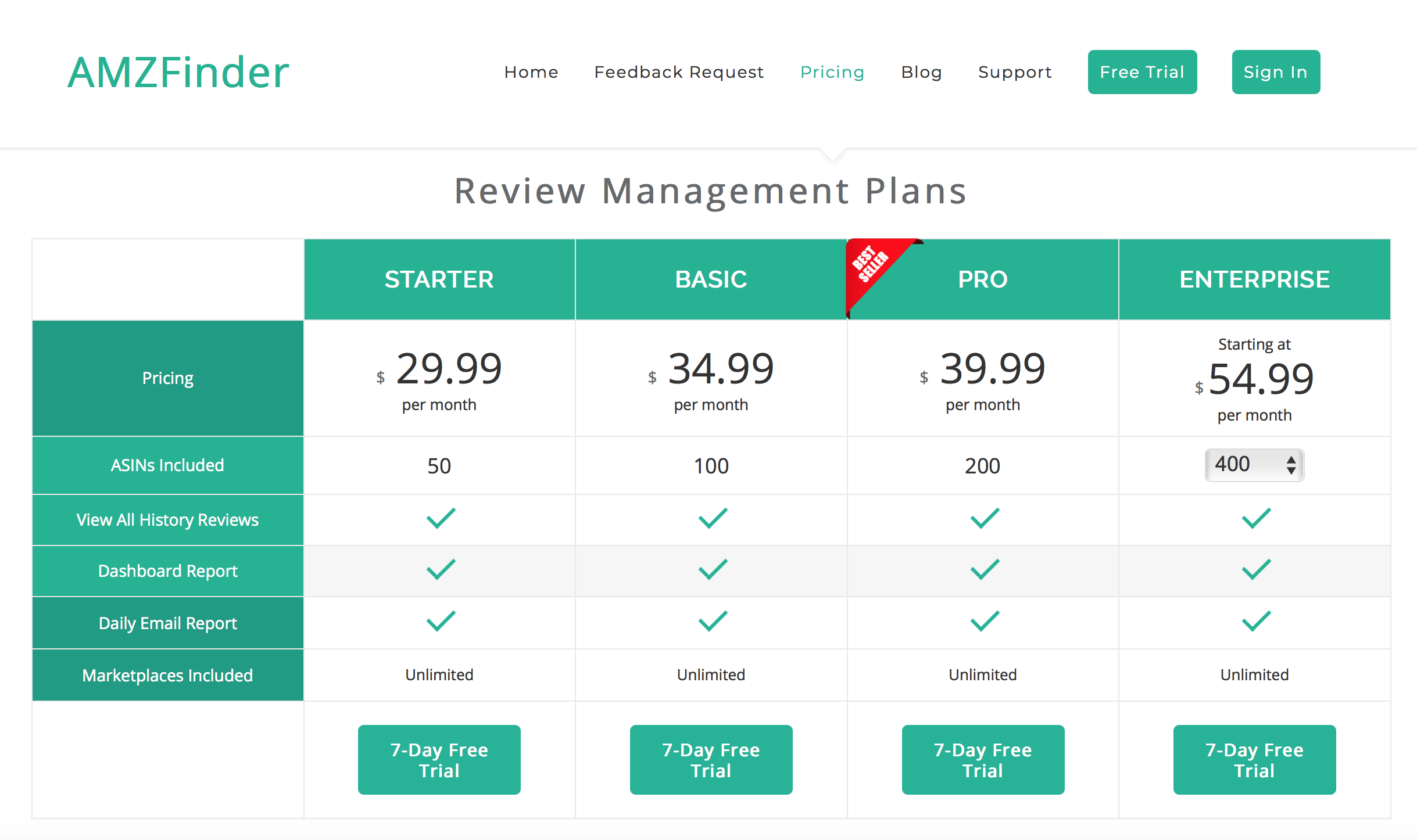 Disadvantages of AMZFinder
AMZFinder can get expensive if you're using it for its Review Management Plans. Also, the 7-day free trial only tracks 10 ASINs, not 50.
While the free email plan is a huge plus, some users have reported bugs and inconsistent customer service while using the free level of AMZFinder.
Who should use AMZFinder as an Amazon feedback tool?
Because of its free trials and free email plan, those just starting out in the world of Amazon selling could benefit the most from AMZFinder.
PickFu
There's one major drawback in Amazon reviews: they don't tell you anything about the listing itself. While they're helpful for you to build a reputation and improve your product, they don't show you how to strengthen your product listing.
That's where PickFu comes in. This polling software enables you to quickly test your creative ideas with audiences that match your customer profile. Amazon sellers can select Amazon Prime Members as their audience and then see what these potential buyers have to say about their product listing. These insights help you see whether your listing is setting the right expectations.
With PickFu, you don't get reviews on products already sold. But you can get reviews on listings before the products ever go live on your Amazon store.
Each survey respondent provides two modes of feedback:
A vote choosing their favorite option (or a star rating if it's an open-ended question)
A written comment explaining their reasoning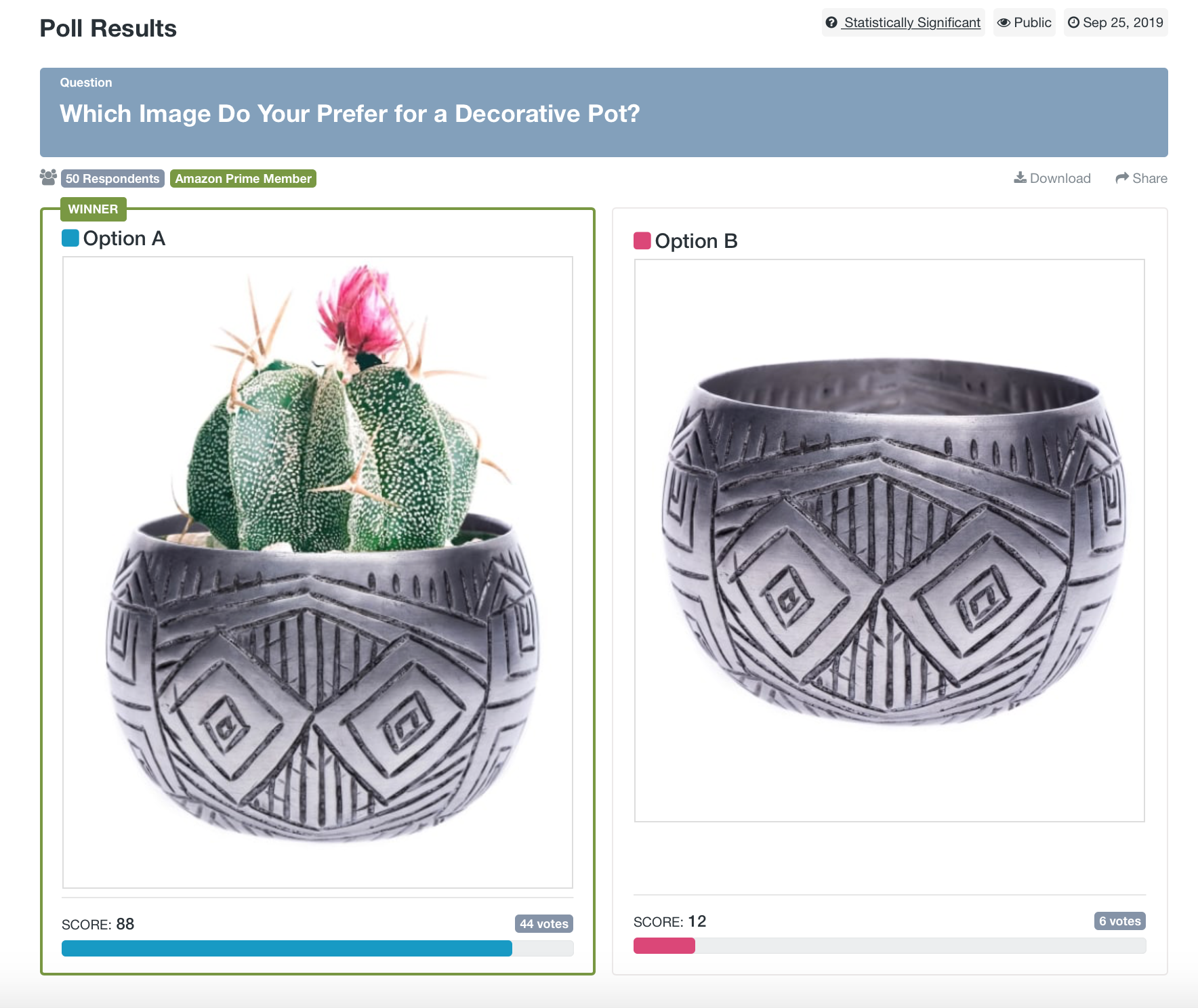 By gathering all this feedback, PickFu is an effective way to test product titles, main images, and product descriptions.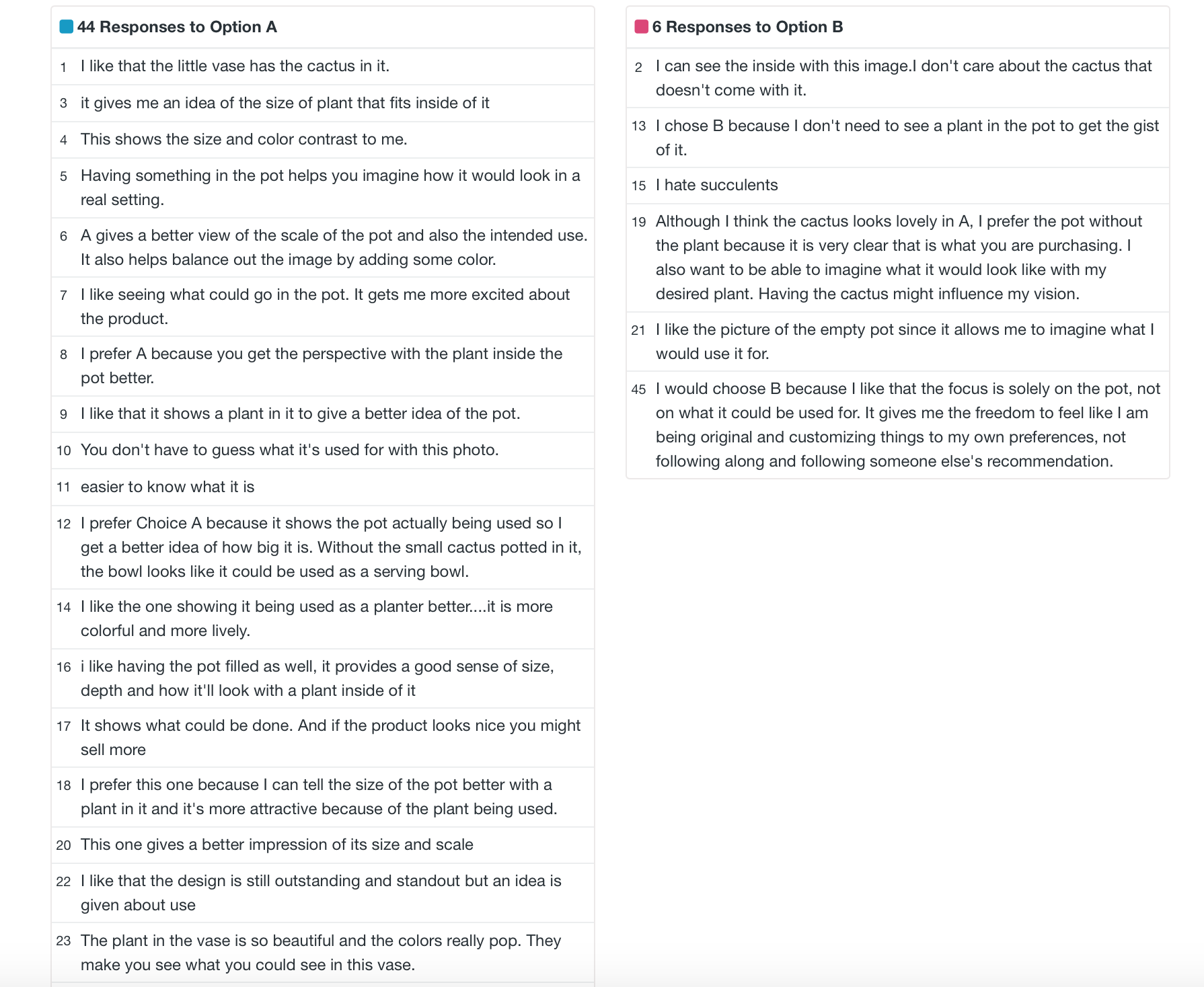 After you discover which variants survey respondents like best, you can use the best versions on your Amazon listing.
Benefits of PickFu as an Amazon feedback tool
PickFu helps you shape your listing in a way that persuades buyers to trust your product before they purchase. You won't post an unclear product description or awkward main image, which can contribute to negative reviews. Instead, PickFu helps you post your listing confidently.
That's probably PickFu's biggest strength: that you can get feedback before your product listing ever goes live. Not only that, but feedback will come within an hour or two, and often in as little as 15 minutes.
Instead of getting surprised by negative reviews throughout the weeks after you list your product, you'll get a chunk of feedback all at once and can deal with it in one fell swoop.
PickFu starts at $50/poll which includes 50 responses, complete with votes and written feedback.
Disadvantages of PickFu
The most obvious disadvantage of PickFu is that it doesn't work inside the Amazon marketplace. You don't pull any data directly from Amazon. Instead of being a tool to treat the bruises and scrapes your business gets, it's a preventive measure to catch you before you fall.
One of the best ways to use PickFu is to test your product images, descriptions, and even the product variants themselves first. A best practice is to adjust or create your listing according to PickFu's feedback, and then post it to Amazon.
Once your listing is live, you can use one of the other review-management tools to help you keep on top of customer feedback.
Who should use PickFu as an Amazon feedback tool?
Any Amazon seller can use PickFu to optimize product listings or solicit feedback about their products. PickFu is a smart complement to other Amazon feedback tools.
Feedback Genius
As part of the SellerLabs product line, Feedback Genius is a friendly Amazon feedback tool. Right on its homepage, Feedback Genius promises to help you "Politely Ask for Feedback, Reviews, & More." Underneath that, it invites the seller to a free 30-day trial.
Here's what you get with Feedback Genius:
Automated buyer-seller emailing
Ability to view clickthrough, feedback, open, and unsubscribe rates for emails
Smartly scheduled emails, meaning that Feedback Genius takes tracking information into account and emails your buyers at optimal times
Seller feedback notifications for positive and negative reviews
1 marketplace with the opportunity to buy all 8 offered at $10/month each
Advantages of Feedback Genius as an Amazon feedback tool
Compared to other Amazon feedback tools, Feedback Genius offers fewer services. But it's also less expensive. It has a clean user interface and is easy to use and understand.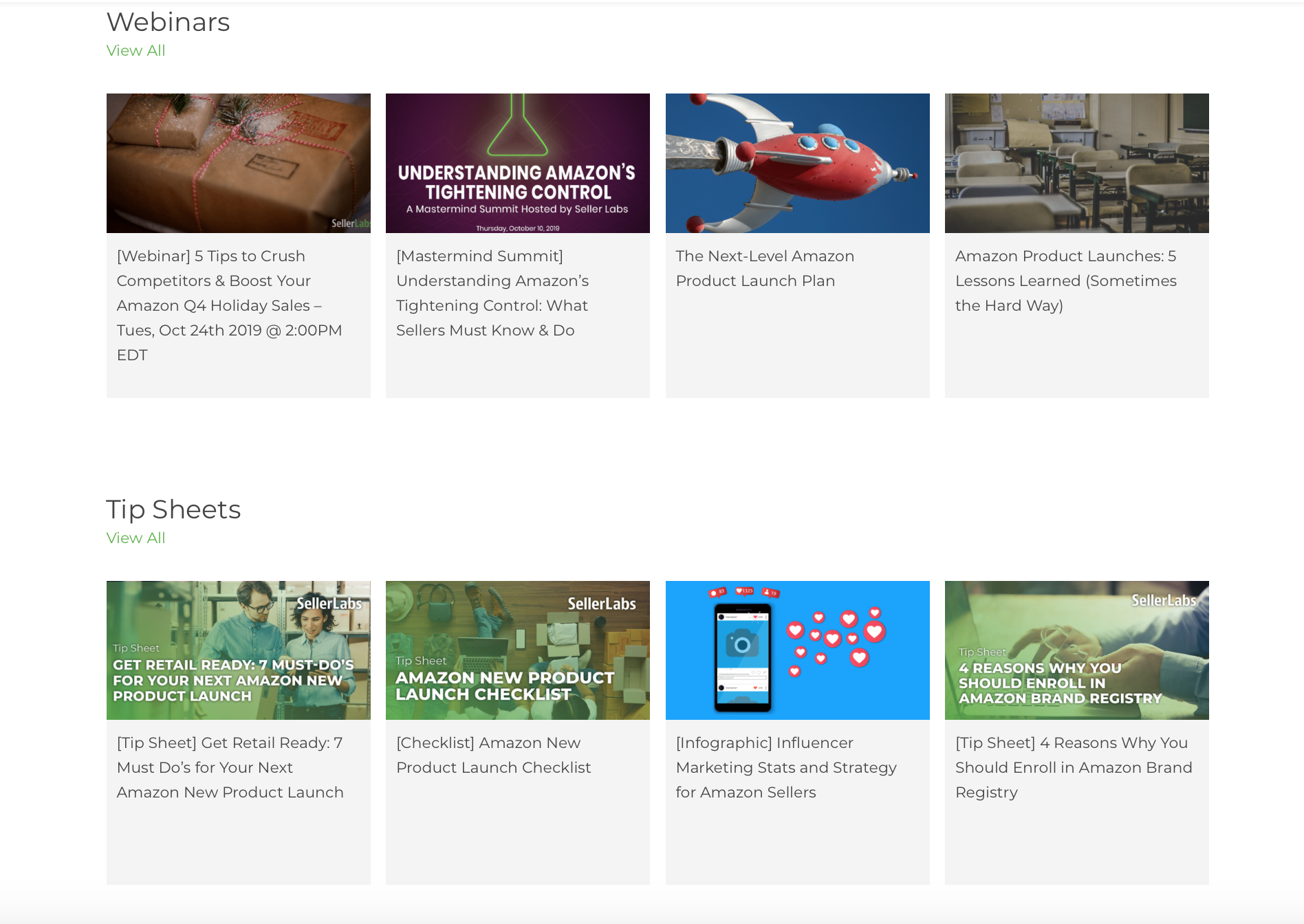 If you're just starting out in the Amazon world, you can sign up for Feedback Genius's free plan. You get 100 emails and 1 marketplace for free. The next plan up is $20/month for 1,000 emails. For $40/month, you get 3,000.
Feedback Genius provides customer support during business hours. It also provides a physical address, phone number, and contact form on its website contact page.
Disadvantages of Feedback Genius
There's no option to track individual products with Feedback Genius. Unlike with some of the other feedback and review tracking tools, Feedback Genius doesn't show you 360-degree views of your Amazon buyers. Its focus is on the communication between you, the seller, and your buyers.
This isn't necessarily a bad thing, but if you're looking for a tool that's capable of a deeper level of organization, Feedback Genius might not be for you.
Who should use Feedback Genius as an Amazon feedback tool?
Amazon sellers who prioritize communication between themselves and their buyers will benefit the most from this tool.
FeedbackFive
As the first Amazon feedback software on the market (it's been around since 2007) and the most widely available, FeedbackFive by eComEngine understands what it takes to consistently get feedback and reviews from Amazon buyers.
FeedbackFive developed the first scheduling automation for the Amazon Request a Review message. You can use this Amazon-generated message to request reviews and feedback, or create custom messages for specific ASINs or product lines.
With FeedbackFive, you can:
Send messages based on buyer's preferred language
Request Amazon feedback and reviews with Buyer-Seller Messaging or Request a Review
Monitor product reviews for your ASINs or competing ASINs as a 1P or 3P merchant
Get email or text alerts for feedback and reviews
Get review, feedback, and sales analytics.
Benefits of FeedbackFive as an Amazon feedback tool
FeedbackFive is available in 16 Amazon marketplaces, the most of any Amazon feedback tool. Tens of thousands of Amazon sellers in over 100 countries use FeedbackFive, so you know it's reliable and trusted.
Whether you're just getting started or expanding to new markets, there is a FeedbackFive plan designed for your unique business needs.
Disadvantages of FeedbackFive
Vendors can monitor Amazon reviews with FeedbackFive, but Amazon does not allow vendors to request reviews so they are unable to take full advantage of FeedbackFive features.
However, FeedbackFive offers a free plan and vendors can simply pay a small fee for each ASIN they want to monitor.
Who should use FeedbackFive as an Amazon feedback tool?
Sellers and vendors who sell in multiple marketplaces and need an easy way to track feedback and reviews across stores would benefit the most from FeedbackFive.
ZonGuru
ZonGuru is a complete seller toolset, excelling in product research, listing optimization, Amazon store management, and driving customer engagement.
Similar to the other tools above, ZonGuru offers a review request feature. The tool operates within Seller Central and helps you solicit reviews from your customers at bulk with just a click of a button.
With ZonGuru, you get:
A fully automated, 100% Amazon TOS compliant review request system
Support across nine marketplaces, including the United States, Canada, Mexico, United Kingdom, Germany, France, Italy, Spain, and Australia
Day-to-day updates of how many people bought your product, how many review requests were shipped, and how many customers actually left a review on your listing
Benefits of ZonGuru as an Amazon feedback tool
The best thing about using ZonGuru as an Amazon feedback tool is it reinforces your review acquisition strategy by employing complete white-hat techniques.
The email used to ask customers for reviews is generated by Amazon itself and sent from the company's own email address. Even if you are tempted to change anything in the template, you can't.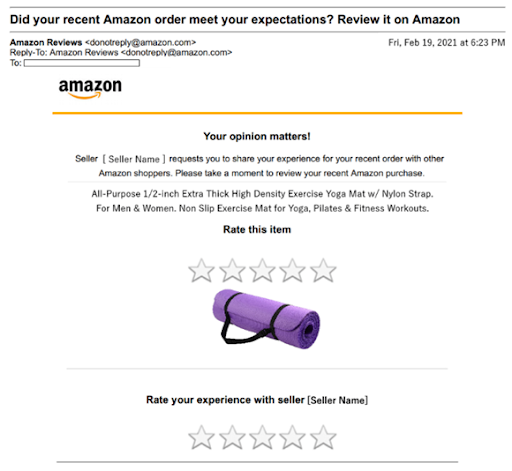 You also are only able to send one review request per order. This helps ensure that you stay within the rules; sending repeat messages may count as a violation of policies and can get you into trouble.
Another benefit of ZonGuru is it automatically filters out canceled orders and those subjected to refunds when sending out bulk review requests. That way, you only contact customers who are likely to share positive experiences.
Interestingly, all messages are dispatched approximately 5-7 days after your customers have received their orders. This maximizes your chances of actually receiving a review. Cool, right?
The review automator tool works in nine marketplaces. You get support for all with a single plan. ZonGuru's packages start at $49 per month.
Disadvantages of ZonGuru
You can't exclude SKUs or marketplaces from ZonGuru's review request feature. Whatever products you sell, in whichever region you sell them, the tool automatically targets them all.
Also, you must purchase the complete toolset to use ZonGuru's review automator tool. While some people may find this a bit inconvenient, if you are looking to start an Amazon business, you're going to need a seller tool suite anyway.
Who should use ZonGuru as an Amazon feedback tool
Any seller or vendor who likes to operate a "set it and forget it" review acquisition strategy should use ZonGuru. It's definitely one of the best-kept secrets in the Amazon community.
---