Competition can be a great motivator for any business owner. It can also be the reason they go out of business.
That's exactly why 60% of companies have teams dedicated to studying their competition.
If competitive analysis isn't part of your business plan or e-commerce marketing strategy, it should be.
But before you dive in, you have to find out who your competitors are and the type of competition you're dealing with.
Today, we'll talk about direct vs. indirect competition, why you should know the difference, and how to identify your competitors.
Use these links to jump to a section:
What is direct competition?
Direct competition refers to businesses that provide the same product or service and attract the same audience.
Direct competitors typically have three things in common:
Type of product or service
Audience
Price point
Examples of direct competition
Brick-and-mortar stores that sell similar products and are located in the same area or neighborhood are direct competitors.
A car dealership, for instance, is in direct competition with other local car dealerships.
And a car usually only competes with other cars in its class.
Tesla, Lexus, BMW, Mercedes, and Audi are all direct competitors in the midsize luxury category. You wouldn't compare a $60,000 Tesla with a $17,000 Mitsubishi Mirage, right?
It's the same story with digital businesses, except they have more competition.
An email marketing software company directly competes with other email providers. A search engine optimization (SEO) agency is up against other SEO agencies in the industry. You get the idea.
What is indirect competition?
Indirect competition refers to businesses that serve the same target market and customer needs but offer different products or services.
Indirect competitors may offer products at comparable price points, but that isn't always the case.
Examples of indirect competition
Here's an example of indirect competition: a sushi restaurant and a burger joint in a trendy Los Angeles neighborhood. They serve different products, but they both satisfy hungry diners in the area.
Now here's a less obvious example.
A person struggling with back pain may see a chiropractor, physical therapist, surgeon, or massage therapist. Most people will likely only pick one or two options until their back pain is resolved.
But each provider will present its case to the consumer as to why it is a more effective solution for back pain.
Therefore, they're all in indirect competition with each other.
The importance of knowing your direct and indirect competitors
Let's look at one more example of direct vs. indirect competition.
McDonald's and Burger King are direct competitors. They serve the same customer the exact same way — with burgers and french fries.
Now think about McDonald's and Domino's Pizza. They're both fast-food restaurants and they serve the same type of customers.
But they do it with different types of food: burgers vs. pizza. This makes them indirect competitors.
If you want a pizza, you wouldn't think about McDonald's, right? They don't serve pizza, so they can't satisfy your craving.
Still, if you're really hungry, you might end up choosing McDonald's over a pizza place.
This is why it's important that businesses pay as much attention to their secondary competition as their direct competitors.
3 ways to find your competitors
Now that we know the difference between direct and indirect competition, here are three ways to go about finding them.
1. Perform market research online
A simple way is to search your product or service category on Google to see what comes up.
If you are a graphic design agency in Miami, your search results page might look like this: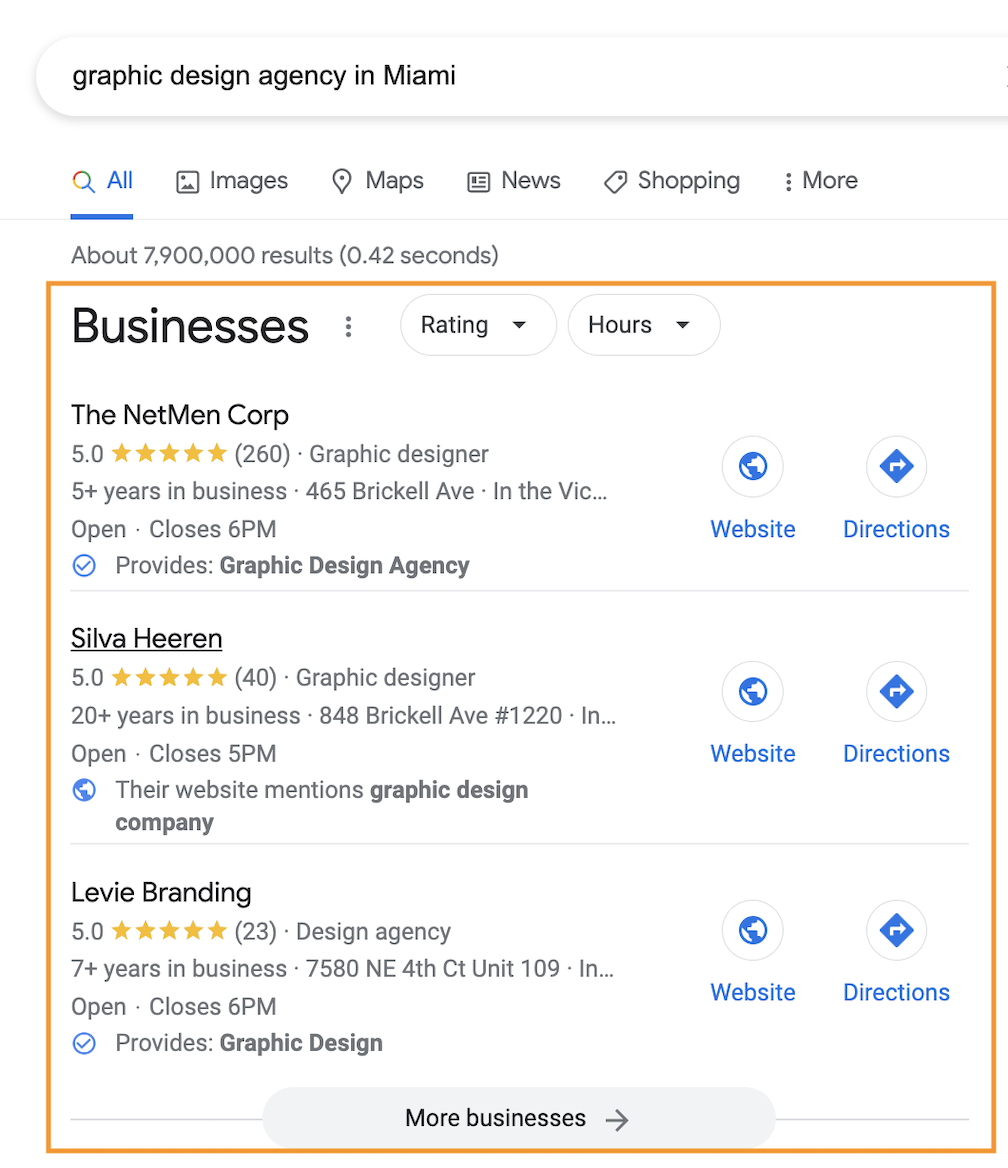 From here, you could research these other companies' websites to learn about their different approaches and how yours compares.
You could also search by categories or companies on a website such as Crunchbase or Product Hunt.
On Crunchbase, you can do an advanced search using keywords relevant to your business or service.
The site lists all kinds of company data, including number of employees, related industries, and funding:
By doing DIY market research online, you might find competitors that you haven't noticed before or didn't know existed.
But don't toss out those keywords just yet…
2. Do keyword research
Keyword research is another good way to identify and learn about your competitors.
There are plenty of keyword research tools out there. You can start for free with Google Ads Keyword Planner.
Type in the keyword related to your product or service. This pulls up other companies in the category you searched, as well as related keywords that consumers — your potential customers — use when they search.
Pay attention to the companies buying PPC ads and brands trying to outrank you for these search terms:
If you're in e-commerce, another simple (and free) way to do keyword research and find your competitors is by doing a search on Amazon for your product or category.
Amazon's auto-fill feature does most of the work for you as you type: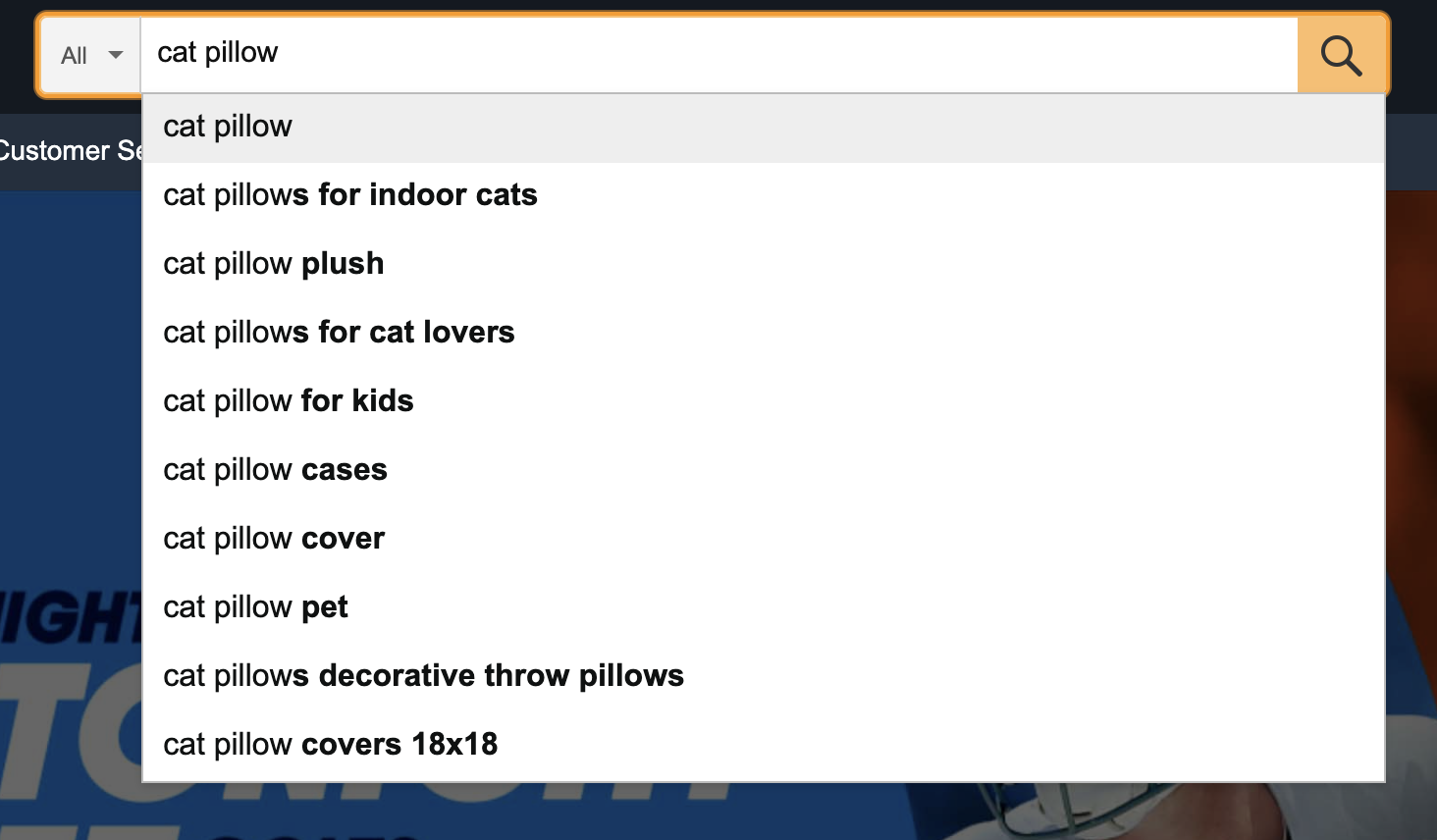 Check out the search results to see what's selling and what customers have to say.
3. Collect customer feedback
Speaking of customers, they have a good grasp of the market since they're bombarded with ads on a daily basis.
Why not ask them about other products or services they've seen or tried?
You can do this informally on social media and other online forums, or use market research techniques such as surveys and focus groups.
You could also use a non-traditional tool such as PickFu, an online polling platform.
With PickFu, you choose your target audience from a panel of more than 10,000 consumers and ask them just about anything.
You can upload and get feedback on photos, videos, URLs, or any creative asset. This is useful if you want to compare your product or idea to another brand.
Or you can ask an open-ended question to get feedback on a single asset or concept.
Respondents submit written comments with every PickFu poll. Pay attention to the responses — that's where you'll find valuable insights.
How to gain a competitive edge
Whether you're in a crowded field or you have only a few competitors, you have a lot of work to do to stand out.
Here are three key areas to focus on.
1. Listen to your customers
When you identify customer needs and really listen to them, you'll do a better job of delivering helpful content and the quality they expect.
Social listening is one way to get to know your customers.
Another way is to ask the target audience you're trying to reach.
When you select and survey an audience using PickFu, you'll learn their pain points before you launch or move forward with a project.
That's what this PickFu user did:
Listening to your customers will save you valuable resources in the long run and help you stand out.
2. Clarify your unique selling proposition (USP)
Why are Gucci handbags worth thousands of dollars, yet Coach bags cost a few hundred or less? The difference is market positioning.
Your unique selling proposition (USP) sets the tone for your positioning.
It doesn't just help you stand out; it can also help your sales. 52% of consumers say they're willing to pay more for a well-known brand.
Make sure you have a clear USP, and your customers won't focus on price. They'll see you in a different class than your competitors.
3. Build your brand
Strong branding sets you apart from your competition. It can turn customers into advocates and improve retention.
But it takes time to build your brand. And you're never really done.
One of the biggest branding mistakes is being inconsistent with your tone or branding.
It's not enough to have brand guidelines. You have to stick to them and update them as your brand evolves.
With consistent branding, your revenue could increase anywhere from 10 to 20 percent.
Know the difference between direct and indirect competition to rise above them
Direct competitors sell the same products. Indirect competitors serve the same market but with different products.
Here are three ways to find your direct and indirect competitors:
Perform market research online
Do keyword research
Get customer feedback
Your next step is to do a full competitor analysis.
Once you've figured out your competition, you'll craft a stronger marketing strategy, improve your decision-making, and create better products and campaigns.
---