E-commerce is always changing. Small Amazon and eBay sellers and big-box retailers alike can benefit from staying on top of online shopping trends and looking for ways to optimize their e-commerce stores. After all, advancements in technology often lead to real-world, everyday use in e-commerce.
Here are four online shopping trends to watch for in 2022 and beyond.
Trend #1: Augmented reality
Shoppers are more comfortable buying direct-to-consumer (D2C) products online. In the past, they would've needed to see or try the products in person before buying.
Improved shipping and ease of returns have helped usher in this change, as has augmented reality (AR). You can now try on clothing, accessories, and makeup virtually and see what you look like, thanks to AR apps.
Curious how a loveseat or rug will look in your living room? Many furniture stores now allow you to project those pieces into your home using AR.
Other uses for AR in e-commerce include brand-exclusive social media features and interactive help and product details. The business applications of augmented reality will continue to expand as this technology gets more sophisticated.
Trend #2: Voice technology
Remember asking your phone to "call Mom" and awkwardly calling your co-worker Bob instead? Voice recognition software has come a long way since then.
Tech companies have spent billions of dollars on voice technology that recognizes what you're asking and gives you useful answers.
Asking Siri or Google for the weather or the nearest coffee shop is now a part of our daily lives. Billions of voice searches take place every month. That number will keep growing as more people gain access to smart devices through new technology and lower prices.
E-commerce sellers should consider how conversational voice searches might affect their keyword and e-commerce marketing strategies.
This may include focusing on full questions instead of just loose keywords. For example, a blog post titled "What toys are best for teaching kids how to code?" might perform better among voice searches than one titled "6 of the best toys to teach kids coding."
And when applicable, think about marketing your products or services in specific cities or if you source or sell items locally. Voice searches often look for local businesses, for example, "Where is a good sushi restaurant nearby?" or "Where can I buy a washing machine in Denver?"
Trend #3: Machine learning
Machine learning is a type of artificial intelligence (AI) in which a program uses data to teach itself to perform a task.
Computer programs called chess engines use the rules of chess and data from thousands of games to not only learn strategies for playing but also improve on them with continuous practice, which allows for more data to be collected.
It's fascinating to think about the potential uses of machine learning in e-commerce. Imagine plugging your business into a supercomputer. It would absorb the data and churn out information to help you improve functionality, increase conversion rates, optimize advertising strategies, and more.
Large companies are already using machine learning. These types of programs are quickly becoming more accessible to small businesses as well through third-party products and programmers. Look for businesses of all sizes to adopt machine learning in 2022, 2023, and 2024.
Trend #4: Personalization
One of the biggest perks of machine learning in e-commerce is being able to use it for personalization. Personalization uses a customer's data to tailor their experience on your website or app.
Say a customer returns to your store after buying a pair of sunglasses. They might see a row of products "selected just for you" — other sunglasses or products from the same brand. Through geo-targeting, your site could also offer recommendations based on that customer's local trends or weather.
Personalization works on multiple levels. It leads to higher conversion rates as it is catered to each customer. It also makes the customer feel recognized instead of being just another number in the crowd.
Trends by category
Online shopping for electronics
Big-box retailers with brick-and-mortar locations used to dominate the electronics category. Now, e-commerce does. The nationwide shutdown of physical retail stores in 2020 due to the COVID-19 pandemic accelerated this shift.
Electronics and home appliances had a larger share of total sales on Black Friday 2021 — 36.8% of all goods and services sold — than any other category, according to Adgully. This was due in part to consumers and retailers embracing more third-party electronics sellers and companies like Amazon adding more products to their growing line of electronics.
Consumer electronics are expected to reach $88.3 billion in revenue by 2025. Look for technology-driven electronics like smart home products (locks, cameras, outlets, etc.), floor cleaning robots, smart watches, and drones to have large year-over-year gains.
Online shopping trends in fashion
The clothing and footwear industry took a hit in 2019 and fell even further in 2020 due to the pandemic. But things are turning around.
Clothes, shoes, and accessories were in second place in total Black Friday 2021 sales, accounting for 20.6% of goods and services sold. Luxury fashion online marketplaces like Farfetch are thriving.
Surveys also show that e-commerce's share of the fashion market has nearly doubled since 2019. This is a promising trend for online retailers. Until now, brick-and-mortar stores had been winning the battle for market share.
Jewelry shopping trends
Jewelry has had a similar trajectory to fashion over the last two years. The industry sharply declined in the pandemic, then rebounded during the 2020 holiday season and throughout 2021.
E-commerce trends for jewelry include livestreaming and the use of high-definition product photos and videos. One example is Amazon Live, which businesses can use to show off their products, including jewelry, in a QVC-like setting.
Demographics and how they're purchasing
Baby boomers
If you're not already marketing to baby boomers, you should be. Baby boomers have embraced e-commerce in record numbers due in large part to 2020's pandemic shutdowns. They're much more comfortable shopping online.
The safety and convenience of online shopping have led to major grocery e-commerce growth, especially among baby boomers. Boomers are 14% less likely than other Americans to return to live grocery shopping.
Millennials
Millennials, aka Generation Y, account for roughly one-third of all personal luxury spending on everything from designer clothes and watches to wine and spirits.
By 2025, millennials and Generation Z will make up an estimated 60% of the personal luxury market, according to a study by Boston Consulting Group and Altagamma.
Millennials were already driving the shopping world's trend towards e-commerce. They'll continue to do so. More than one-third say they plan on doing less shopping in physical stores, post-pandemic.
Generation Z
TikTok is most popular among Gen Z, who use it not only to connect with friends but also to shop.
Eighty percent of TikTok users who shopped on Black Friday 2020 said the app had a role in their purchase. Forty percent bought the exact product they'd seen on TikTok.
Social media marketing has always gone hand in hand with e-commerce. This connection will only grow as Gen Z gains buying power. You can bet that optimizing social media marketing strategies will be a hot topic at e-commerce conferences in 2022 and beyond.
Connect with your target customers
Machine learning may someday help us predict exactly what customers want. Fortunately, you don't need artificial intelligence to gain invaluable information on your target customer's preferences. You have PickFu.
Thinking about developing an augmented reality app for your product? Before you spend hundreds or thousands of dollars on programming, you could run an Open-ended poll on PickFu and pitch the idea to real people in your target market.
Ask them a question like, "How likely would you be to use this app?" See if it's something they would want and use. Or run a Head-to-head or Ranked poll to test multiple options.
For every PickFu poll, respondent provide written answers explaining their choice. An Open-ended poll might generate feedback like:
"I'd definitely take advantage of something like this!"
"What's the point of this app? I don't really understand."
"The idea is good in theory, but I wonder if it would work outdoors?"
In this example of an Open-ended poll, a user asked respondents about their interest in a group chat app: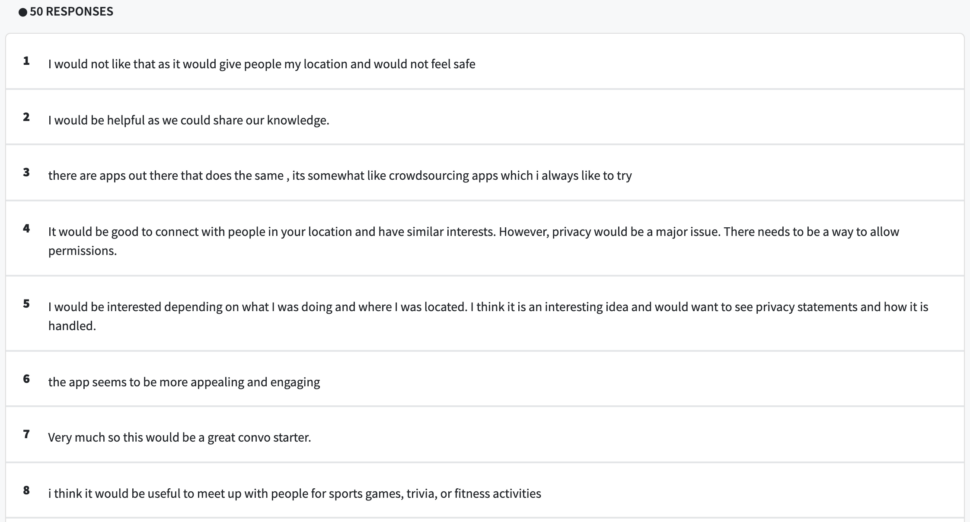 You can customize your poll to target specific audiences such as mobile gamers, Alexa users, or Amazon Prime members.
Best of all, PickFu polls are fast; most complete the same day you run them.
Advancements in artificial intelligence and other forms of machine learning have made their way into e-commerce and should continue to do so in 2022 and beyond. Polling with PickFu will help you stay aware of evolving trends and gather relevant data to fine-tune your e-commerce business.
For more tips on how to bring more customers to your store, read our article on e-commerce marketing opportunities.
---