Businesses turn to survey panel providers because they need to conduct market research and gather customer feedback to make informed business decisions.
But there are a lot of survey panel provider options, and choosing the one that best fits your specific business needs can be tricky.
To help you decide, we've compiled the seven top survey panel providers with large, diverse databases of respondents that can efficiently conduct various types of surveys – starting with our own platform, PickFu.
What is a survey panel provider, and why should you use one?
Getting impartial feedback from real customers is crucial. It helps businesses make important decisions based on data instead of relying on assumptions or guesswork.
However, it usually isn't feasible to source feedback from actual customers at scale. Enter: survey panel providers.
Survey panel providers connect businesses with pre-screened people who voluntarily participate in surveys and share unbiased feedback on products, services, or experiences using market research techniques.
While there's no shortage of online survey panel providers, the best ones:
Have a sizable and diverse database of survey participants. The bigger the database, the better. This makes it more likely to find survey respondents for any type of market research.
Offer comprehensive targeting capabilities. For the results to be as accurate as possible, the panel providers should have advanced targeting features to ensure that the group of respondents is similar to your ideal target audience.
Collect both quantitative and qualitative feedback. It isn't enough to ask people what they think. They should collect details about the why behind responses to help paint a more complete picture.
Are easy to set up and use. Online market research panel providers with DIY platforms should have simple user interfaces, clear directions, and an overall intuitive experience. Panel providers that don't offer DIY platforms should assign a designated team member to support every survey campaign.
Deliver results quickly. People's thoughts, feelings, and opinions change with time. Therefore, the quicker they can share detailed survey results, the better. Getting results speedily ensures that the feedback shared is current and accurate.
Can handle the entire survey process. They should provide the tools to create and conduct surveys, have a diverse pool of respondents across several demographics, and offer advanced data analytics features to help businesses interpret the survey results quickly.
The 7 top survey panel providers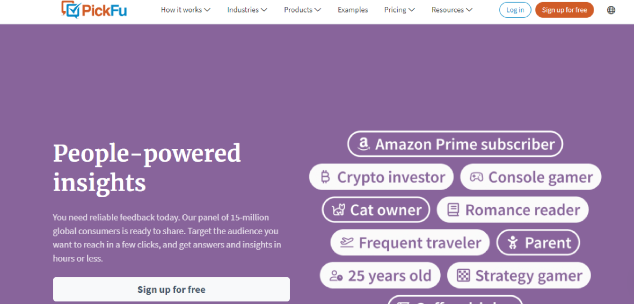 With over 15 million respondents globally, PickFu provides a self-serve platform for businesses to create surveys and collect honest feedback from an audience that closely resembles their target customers.
PickFu is affordable (responses start as low as $1). More than 30,000 businesses in various industries — ranging from e-Commerce, gaming, publishing, marketing, and much more — have used PickFu to quickly and efficiently conduct market research.
PickFu provides everything businesses need for research: tools to create and deploy surveys, access to a massive and diverse audience of participants, and detailed analysis tools that extract meaningful insights from survey data.
Best of all, it only takes a few minutes to set up a survey and start collecting responses.
Here's an overview of PickFu works:
Create a survey. Setting up surveys (called "polls") only takes a few minutes. You can create polls using questions from our bank of ready-made templates or write your own. There are also various ways for respondents to share their feedback: comparing two or three options, ranking multiple options, screen recording, click tests, and more.
Customize your audience. No matter how niche your target audience is, you'll likely find a similar audience on PickFu. There are 90+ audience targeting options, and you can combine up to four traits for each survey, such as demographic traits, favorite social media platforms, exercise habits, and many more. Basically, you can choose the traits that closely resemble your ideal customers to get insightful responses.
Receive feedback. Once you roll out your survey, PickFu sends it to people that match all the traits you selected while customizing your audience. Respondents review the survey questions and share detailed feedback. You can monitor responses in real time or check them after the desired number of participants complete the survey.
Analyze results: Once all the responses are collected, PickFu transforms the raw market research data into actionable business insights. You can filter through the survey results based on age, gender, or other demographic traits. PickFu also lets you ask follow-up questions if you want additional details.
Although PickFu is a self-serve platform, it's easy to get support when needed. There's a Help Center with answers to frequently asked questions and a friendly support team in case you need assistance from actual humans.
Sign up and start using PickFu today.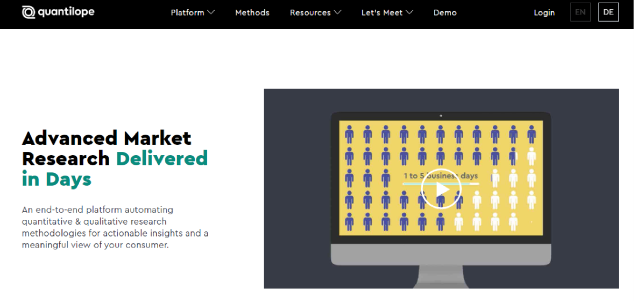 Another enterprise-level survey panel provider, Quantilope uses AI to automate market research and deliver powerful insights to businesses.
Even though its platform is quite sophisticated, it is relatively easy to use. You can build a survey from scratch with text, images, and video using its drag-and-drop modules or simply edit one of its many templates and launch your survey.
Depending on your specific market research needs, there are two ways to use Quantilope:
As a self-service platform: you create the survey, choose your target audience from Quantilope's panel of respondents, and monitor the charts and reports that the platform produces.
As a fully-managed project: Quantilope provides dedicated research consultants to manage the entire research process for you. Once responses start to roll in, their consultants share the results with you.
Quantilope boasts plenty of impressive features, but where it really shines is in its analytics. It offers interactive dashboards with various data visualization methods like pie charts, stacked bar charts, spider charts, heat maps, trended line charts, word clouds, and more to showcase survey stats in real time.

Most businesses that use Qualtrics are looking to conduct market research on a large scale.
With more than 90 million respondents, Qualtrics is an enterprise-level survey panel provider that helps businesses craft engaging questionnaires, tailor survey experiences, and glean insights from the data collected.
Qualtrics creates in-house panels for specific businesses — recruiting, managing, and rewarding respondents — for ongoing market research. They also offer a fully-managed service where their team of experts conducts the end-to-end survey process.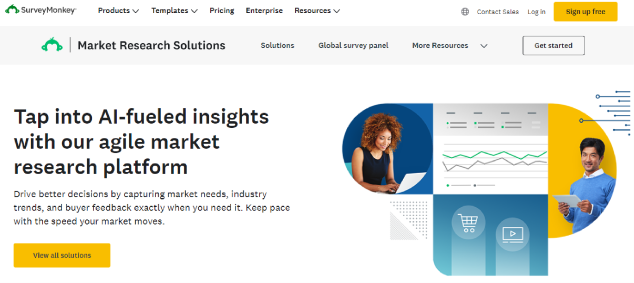 SurveyMonkey started out as a simple tool to create and distribute surveys. Over the years, it's baked powerful market research features — called SurveyMonkey Audience — into its platform.
With over 50 million people globally, SurveyMonkey Audience has one of the largest pools of respondents. You can use it to get responses from 50-5,000 participants at a time. Plus, it provides a self-serve platform that lets you create your survey and collect responses within a few minutes.
SurveyMonkey Audience's segmentation features are pretty robust. There are 90 audience targeting options to choose from, including employment status, favorite travel booking websites, internet usage, and more. You can even add screening questions to help you target a more specific audience.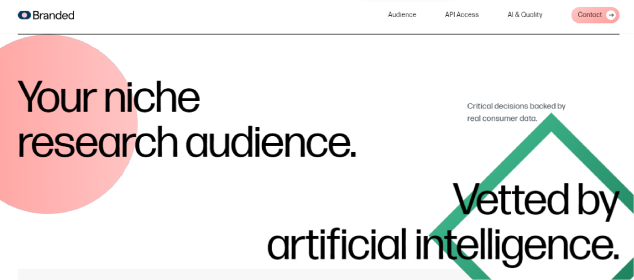 Branded is another popular survey panel provider used by companies in the technology, telecom, consumer goods, retail, and healthcare industries.
With over 2 million panelists, Branded is known for its precise audience targeting capabilities. They have 100+ profiling data points, such as millennial homeowners, Hispanic Gen-Z, expectant mothers, new vehicle buyers, and more.
Branded doesn't offer a self-serve platform. You need to fill out a form on their website, and they will respond with a custom quote based on your research needs. This means it may not be accessible for startups or small businesses without a substantial market research budget. However, Dynata, a first-party data platform, recently acquired Branded, so this may soon change.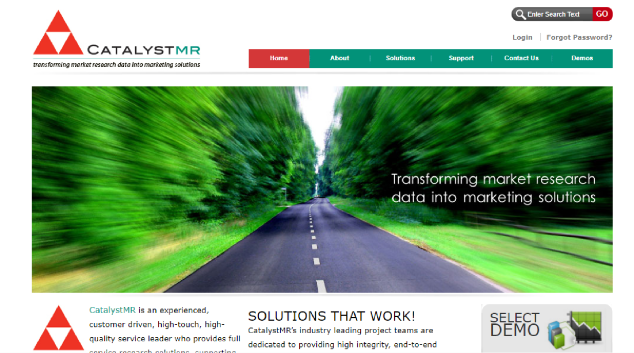 Founded in 2008, CatalystMR has been in the survey business longer than most.
CatalystMR provides a range of market research services — online web surveys, telephone surveys, IVR surveys, paper surveys, and more. They have over 43 million respondents in over 73 countries worldwide and conduct approximately 3,500 online projects yearly.
CatalystMR offers a high-touch service. You need to fill out an online form describing your research needs, and they will respond with a custom quote. Once your survey rolls out, they provide a password-protected dashboard with custom views of the stats so you can monitor responses in real time.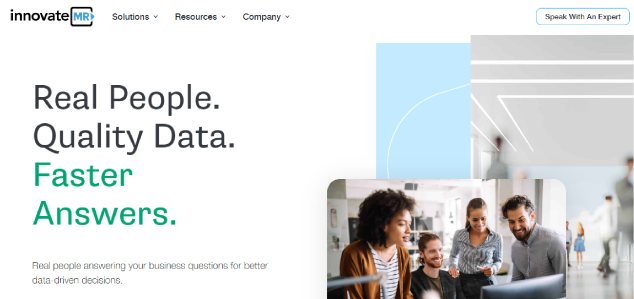 InnovateMR splits its survey panel members into three distinct audiences: B2B, B2C, and healthcare. Its B2B audience comprises business professionals, B2C comprises consumers, and healthcare includes both specialty patients and caretakers.
When creating your survey, you'll first choose the primary target audience. Then you can select additional targeting criteria to narrow down the audience to a sample that best matches your ideal audience.
You can use InnovateMR's DIY platform or have their team of experts conduct the end-to-end research for you.
Conclusion: Which of the survey panel providers should you use?
There is no one-size-fits-all approach to choosing a survey panel provider. You should consider your specific business requirements, then match those requirements with what each panel provider offers.
No matter the type of market research you're conducting, PickFu is an affordable survey panel provider with over 15 million respondents globally. With PickFu, you can:
Create surveys for various types of market research, including concept testing, product development, product improvement, competitor analysis, user experience (UX) testing, and more.
Target people who are closely aligned to your ideal audience to get valuable insights.
Collect detailed, unfiltered responses. Survey participants not only tell you what they think, but also why they think that way.
Receive survey responses in minutes. There's no learning curve to using PickFu, and responses roll in soon after you roll out your survey.
View survey results in a user-friendly dashboard and quickly make data-driven decisions.
Sign up and start using PickFu today.
---