Traditional market research methods such as telephone calls and in-person focus groups are cost-prohibitive and too time-consuming for many businesses. With an online panel, surveys can be completed quickly and easily, helping you collect a lot of data in relatively little time.
Before you get started, consider these factors in choosing a panel provider and start harnessing the wisdom of a crowd.
What is an online panel?
An online research panel is comprised of people who share certain factors in common. Panelists have agreed to complete surveys or polls, typically in exchange for a monetary incentive. Online panels help you discover the needs, desires, and preferences of your target audience.
To qualify respondents to participate in surveys, online panel firms collect personal information from each respondent. This information is used to categorize panelists by demographic and behavioral traits such as geographic location, gender, occupation, etc. The online panel firm then sends surveys to panelists within a targeted category.
What to consider when choosing a panel provider
Countless online panel providers offer all types of research. There's no "one size fits all" solution. Prior to choosing an online panel provider, ensure the following:
Your panel provider offers transparent data. You should have access to a survey's qualifying questions and the survey's aggregate data to perform your own analysis. Having access to data of this kind can help you improve your study for future iterations and functions as proof that your survey was carried out accordingly.
The service provider offers proof of success. If a survey company is hesitant to show you previous results, treat it as a red flag. While it's understandable that not every business wants its studies publicly available, the survey company should still have real (perhaps anonymized) examples of how former clients have benefited from its services.
You can ask follow-up questions. You may receive a particularly insightful response, or want clarification on an answer that a panelist provided. Ask whether the online panel provider has a system to identify panelists and get in future contact. If so, panelists should be informed about the possibility of a follow-up in advance.
Panelists sign a non-disclosure agreement. Your respondents may see proprietary information while answering your poll. A reputable panel provider should require its panelists to agree to an NDA that guarantees your information will be kept confidential, and materials will not be recorded, copied, or shared. 
Controls are in place to mitigate respondent fraud and bias, as well as duplicate responses. Online research panelists may embellish details in order to qualify for more surveys. Or they may tailor how they answer survey questions if they believe it will result in higher compensation. Make sure the service provider you choose has taken the necessary precautions to avoid bias, duplication, and skewing of data.
Can I hire an online panel?
Absolutely! PickFu is a leading online panel service for all your creative ideas. PickFu makes market research streamlined and affordable, starting at just $50 for 50 poll responses.
At PickFu, transparency and honesty are integral to our results. We use various safeguards to guarantee you receive thoughtful, serious answers in as little as 15 minutes. All of our respondents are U.S.-based and represent a wide swath of demographics. They are paid a small stipend to participate in your poll and agree to a standard NDA. Once you receive responses from our online panelists, you can easily ask follow-up questions if necessary. Meet the respondents who power our polls here.
Whether you're a business owner, app developer, e-commerce seller, or just need an unbiased second opinion (or third, or even 500th), PickFu helps make your great ideas even greater.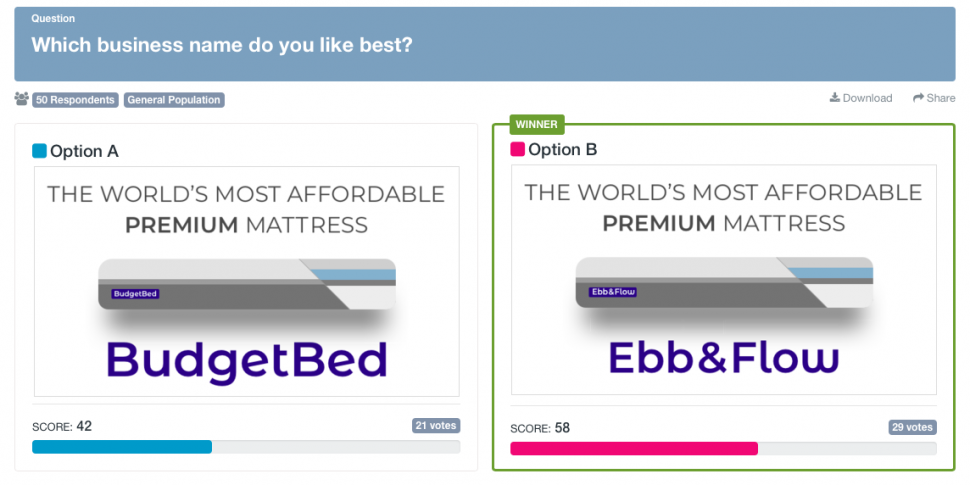 Can I be paid to be part of an online panel?
PickFu is not currently accepting applications for respondents. However, you may enter your email address to be notified should that change.
Try PickFu today
Getting unbiased opinions from the people who matter most to your business is easy. Run your first PickFu poll today. With results in as little as 15 minutes, you can start making actionable improvements immediately.
See for yourself: we have hundreds of polls available to peruse, from mobile apps to e-commerce to book-related polls. Still have questions? Visit our Help Center and our team will help you set up your online panel.
Happy testing!

---