In e-commerce, relying on your sales instincts and trusting your gut can only get you so far. At the end of the day, you're just guessing what products are going to sell.
When choosing your products, a more dependable strategy is to use actual sales and search data. The right research tools can show you what's trending based on actual shopper product searches and completed purchases. The question is, which are the right research tools?
In this guide, we discuss the seven best product research tools for e-commerce. These tools utilize filtering, sorting, and searching methods in real time to inspire product ideas and reveal trending products you can sell on your store.
We'll cover the best tools for Amazon product research, as well as search tools for dropshipping businesses — not to mention tools you can use for any online store.
1. PickFu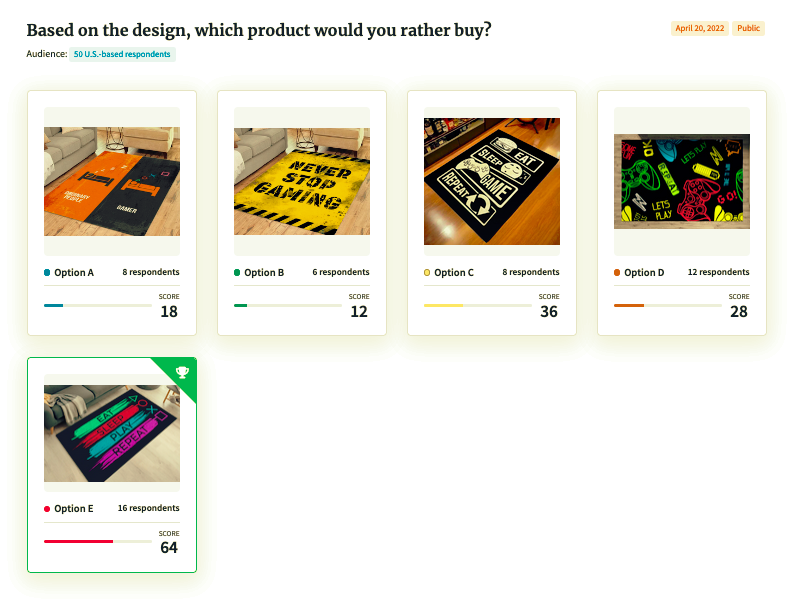 While most of the best product research tools use pre-existing data to predict product trends, PickFu instead asks the shoppers directly. The key feature of PickFu is that you can post open-ended questions or A/B tests and filter the respondents to only your target audience — demographics, shopping behavior, and even hobbies and interests.
For this reason, PickFu is considered the best Amazon product research tool that lets you communicate directly with the shopper. By taking advantage of the respondent filters and features like Head-To-Head polls, sellers can ask their shoppers questions about whether or not they'd buy a certain product (not to mention other valuable information like the ideal price or favorite product picture).
Alternatively, you can post multiple products you're considering in a Ranked Poll to see which one is the audience favorite. From our survey panel of 15 million consumers worldwide, you can even filter respondents based on personal details like age, interests, and where they like to shop. That gives you accurate results catered to your unique shopper group.
Just look at how this seller used PickFu to choose between five gamer rugs. The respondents were able to comment in their own words what they liked and didn't like about the choices — valuable customer data acquired organically and quickly. In just 23 minutes, the seller got the definitive answer they were looking for.
Sign up free today and see for yourself.
2. Sell the Trend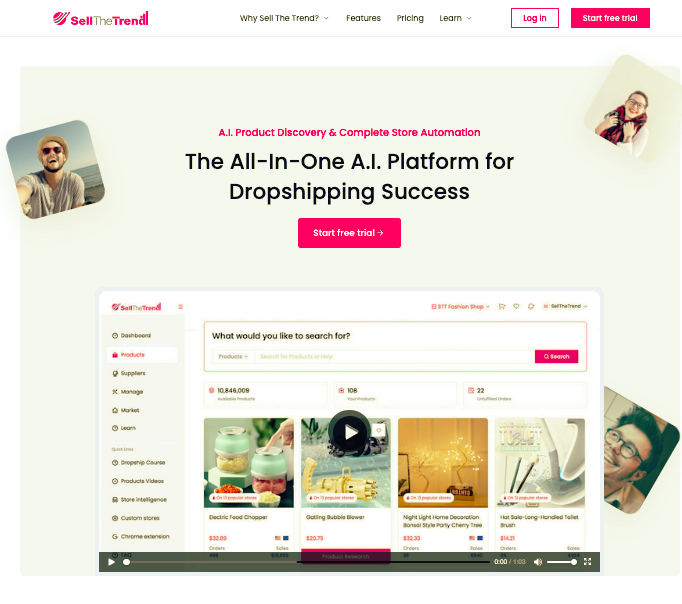 Many e-commerce influencers say Sell the Trend is the best Amazon product research tool that uses pre-existing data…and they may be right. Sell the Trend collects real-time sales data from Amazon, TikTok, AliExpress, and CJ Dropshipping, and combines them into a feature they call "The Nexus," which delivers broad sales trends based on multiple platforms.
Sell the Trend also shares detailed data on each product: orders over time, ratings, reviews, statistical performance, prices, suppliers, links to videos, and more. The downside is that all this information can feel overwhelming if you're not used to it, which can present a hurdle for new sellers.
The other downside is the price: around $39 per month. While you certainly get your money's worth in terms of data and the amount of products they review, that price tag can be hard to justify, especially if you're just getting started. After all, some of the other best dropshipping product research tools on our list offer free plans.
3. Dropship Spy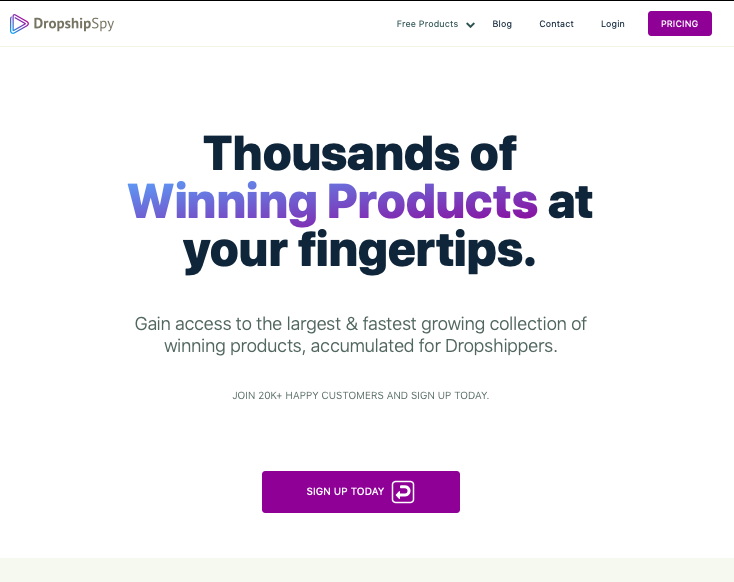 As the name suggests, Dropship Spy aims to be the best dropshipping product research tool. Like other popular research tools, Dropship Spy collects data from a few different online marketplaces and shares their recommendations in an easy-to-read package.
The problem with Dropship Spy is its own success! This research tool suggests five new trending products every day, but because it already has a strong user base, that means all your competitors will likely find out about them at the same time you do, leading to market saturation.
Still, you can discover effective product trends on your own, which is especially helpful if you serve a less popular niche. Unfortunately, Dropship Spy got rid of its free plan, so you'll have to pay $39 per month.
4. Google Trends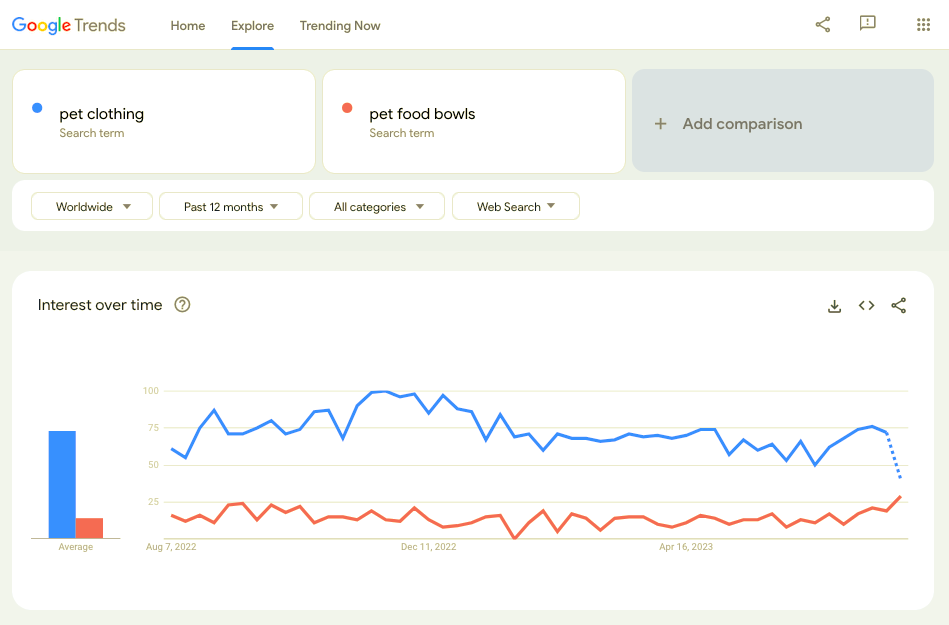 Google Trends operates a little differently than the other best product research tools. While most product research tools prepare the data for you, Google Trends is more hands-on. Sellers can enter product topics or keywords to see their search volume over time in Google searches. This reveals insights into what shoppers are looking for, and when.
If you use Google Trends, you need some ideas of your own to start with. However, it's a great tool for testing hunches or comparing two different search terms against each other. And because it's natively an SEO tool, you can get easy help discovering which keywords to use in your product descriptions and ads.
The best part of Google Trends is that it's free to use as much as you want. This makes it ideal for sellers who are still getting their feet wet and don't want to commit to a monthly fee.
5. TikTok Creative Center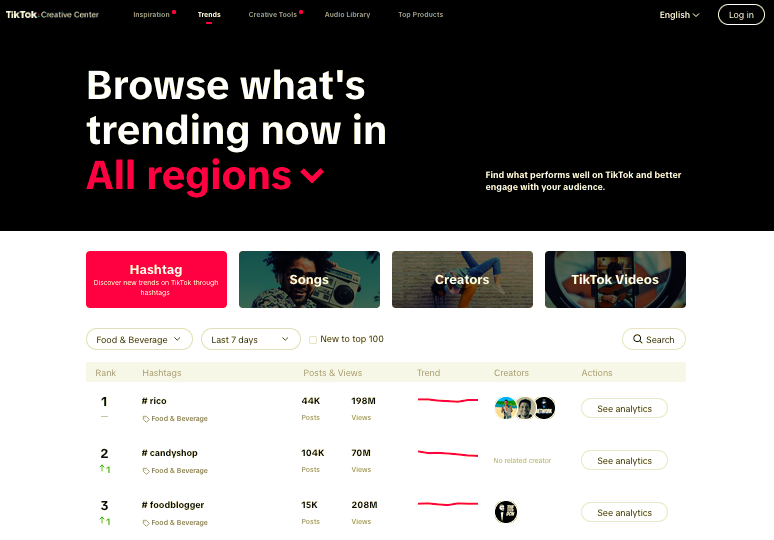 In the same vein as Google Trends, the TikTok Creative Center collects data from TikTok and allows users to search for popular hashtags, songs, videos, and influencers, all broken down by industry. If TikTok is your main sales or advertising channel, this could be a game changer.
Even if you don't use TikTok in your sales strategy, this tool can still help you understand general trends, especially among the younger audiences who use the platform. Like Google Trends, it may require some extra effort to do your own research, but the TikTok Creative Center provides an easy-to-use interface that lets you filter its lists based on what you need.
One of the best parts is that the TikTok Creative Center is absolutely free to use. You don't even need a TikTok account. After all, TikTok understands that its value lies as much in advertising as it does it in social media.
6. Thieve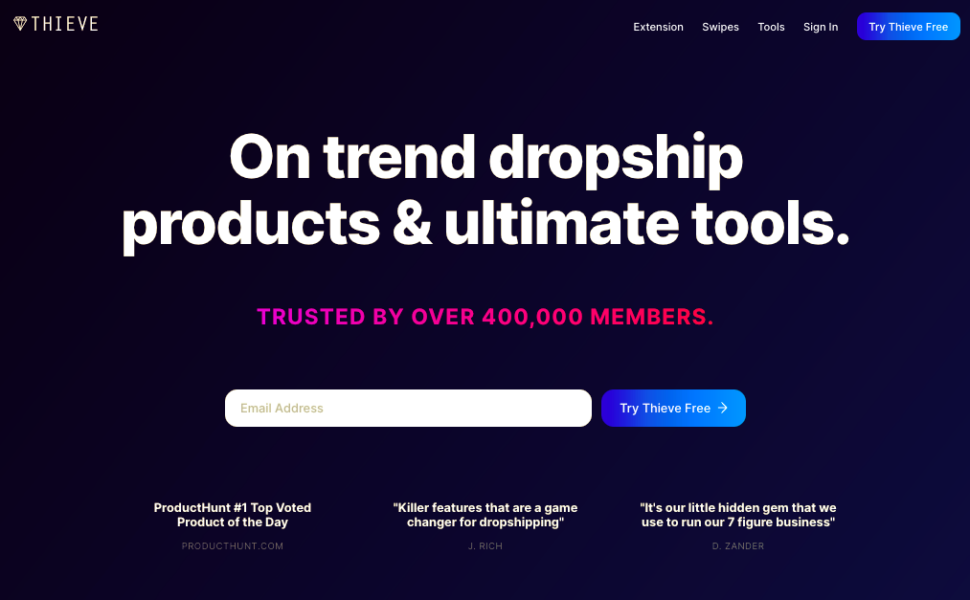 Looking for the best dropshipping product research tool for AliExpress? Like Sell the Trend and Dropship Spy, Thieve collects and organizes real-time sales data and presents it to their users in a way that's easy to find: by category, by recent trends, and even by reverse image search. And because it focuses exclusively on AliExpress, you can get more precise results if that's your main platform.
Thieve goes the extra mile and can even connect you with AliExpress suppliers who provide the products you're interested in. This gives you the chance to compare prices from your sources and protect your profit margin, which is crucial in dropshipping.
Thieves offers a Dropship Plan for $15/month and a Pro Plan with all features for $49/month. Although there is no free plan, they do offer a two-week free trial.
7. Jungle Scout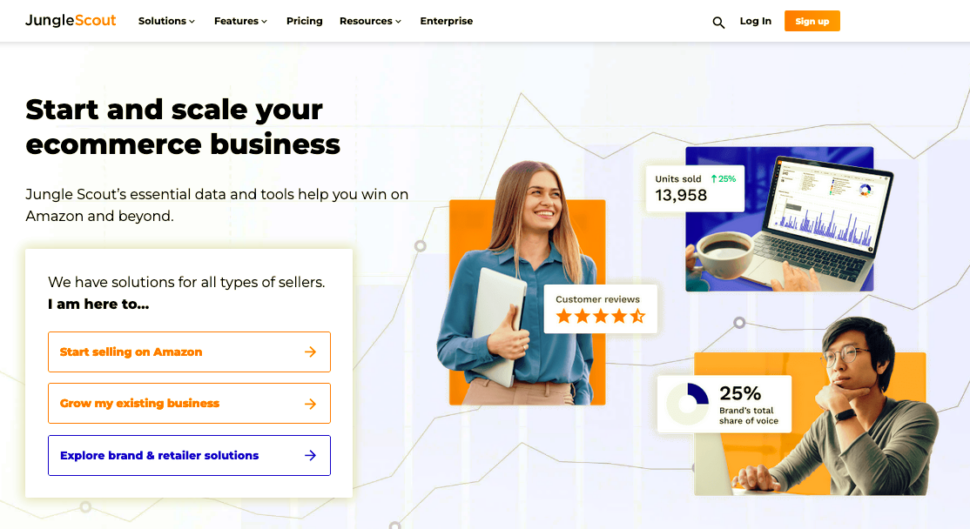 Known as the best Amazon FBA product research tool, Jungle Scout works in the same way as Sell the Trend and Dropship Spy, but exclusive to Amazon. Jungle Scout is a multi-purpose tool that handles product reviews, Amazon SEO, listing optimization, and competitor monitoring, along with product research.
One key feature of Jungle Scout is its Chrome extension; simply go to an Amazon product page and the extension tells you its details so you can decide whether it's worth selling. In this way, you can combine Jungle Scout with your own hands-on product research if you prefer to explore the Amazon marketplace yourself.
Because of all the features, Jungle Scout pricing plans range from $29/month to $89/month if you pay annually. However, the Basic Plan limits the amount of searches you can do per day, so expect to pay at least $49/month to make the most of this product research tool.
Conclusion: The best product research tools for you
The "best product research tool" is different for everyone. It depends on your strategy, methods, and personal preferences. Some sellers like to get meticulous about product research and want to know all the details, while others rely on a more casual approach and just want ideas or inspiration.
Before deciding on a tool, consider both how you want to research new products and also which platforms matter most to you. Are you using Amazon? Are you dropshipping? Are you advertising on TikTok? You can make your product research more efficient with tools that specialize in what you use.
No matter what or where you sell, PickFu can help you optimize not only product selection but also the other aspects of your sales strategy. Pricing, product photos, branding — with PickFu, you can get direct feedback straight from the shoppers themselves so you no longer have to guess. Sign up for free now.
---