When UserTesting came along in 2007 to help entrepreneurs figure out how their customers actually felt about their products, the business world cheered. At the time, there wasn't a diverse selection of UserTesting alternatives. Finally, here was a platform that allowed brands to get into the minds of their target audience.
Are you an established brand? An Amazon aggregator with multiple brands? Do you own a small business? Or are you an entrepreneur just starting out? Then you might be thinking about giving UserTesting a try.
Or maybe you want to know what UserTesting is. First, is it the only way to get insight into your customers' thought process? Second, are there any UserTesting alternatives? That's what we're going to cover in this article.
What is UserTesting?
Way back in the Middle Ages (a.k.a the '90s), Dave Garr and Darrell Benatar saw a void in the user experience (UX) marketplace.
Back then, UX design wasn't something brands often thought about, despite the adage, "The customer is always right." But as you know, customers vote with their dollars. Understanding and catering to the customer experience is central to any brand's success.
Garr and Benatar set out to make it easier for businesses to find out what exactly their target audiences were thinking. As innovators in the UX field, they developed software to help track customer thoughts and feelings during experiences with various products.
By 2007, UserTesting was up and running, a pioneer in the online product testing field.
UserTesting bills itself as a human insight platform. It allows brands to test their products with target audiences.
Brands can create custom tests that put a user through an experience. These tests might include:
Going from choosing a product to putting it in a shopping cart
Testing product concepts
A/B testing
Seeing how easy it is for customers to open packaging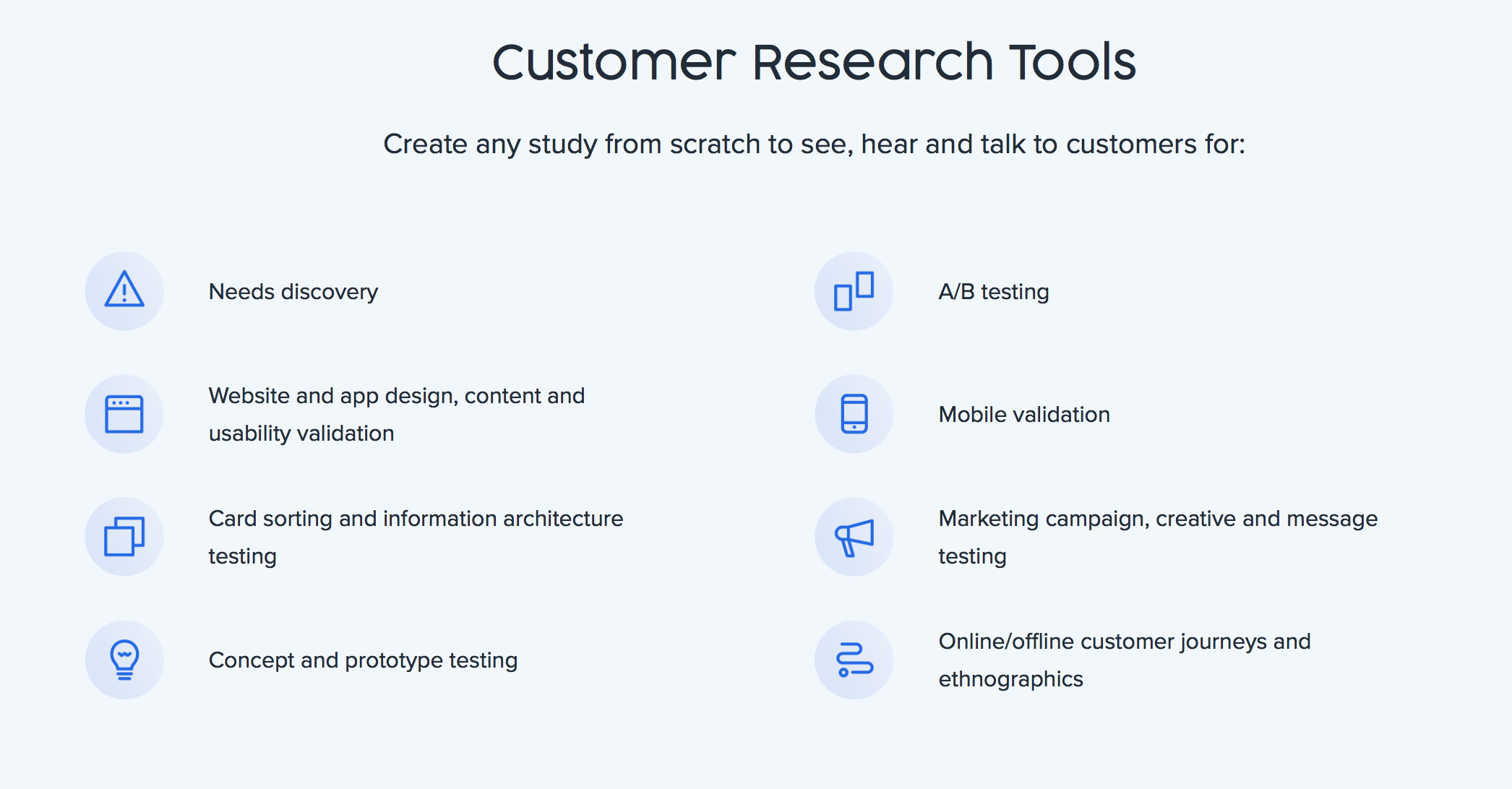 You can even use UserTesting to conduct remote interviews with your target customers, gaining valuable, real-time input as they navigate your website or use your products.
Some of the biggest and most successful companies in the world are dedicated UserTesting customers, including Microsoft, Walmart, Adobe, and Facebook.
What are the most popular reasons for looking for an alternative to UserTesting.com?
UserTesting's high-profile customers speak to how effective the testing platform is. But this has made the process of signing up to use UserTesting more complicated. Prices aren't easy to find, and potential users must fill out lengthy forms before accessing a trial or a pricing quote.
According to software review site FinancesOnline, UserTesting costs $49 per testing session in the Individual plan, with a limit of 15 sessions, or tests. Since each video or audio session tests a single user, this means you can only run tests with 15 target audience members. After this, you must upgrade to the Enterprise plan.
Because there's no readily available, concrete information on how much UserTesting's Enterprise plan costs, we have to go on word of mouth. Some brands report quotes as high as $18,000 a year. These quotes even appear to come with contracts, making the plan difficult to get out of if it isn't the right fit.
Yikes!
It seems only the smallest startups or the hugest brands can make the most out of UserTesting.
So, what are the alternatives for everyone in between? What can startups who want to expand their testing audience beyond 15 people do?
What are the best alternatives to UserTesting.com?
In the nearly 15 years since UserTesting opened the door to unmoderated, virtual target audience testing, scores of user testing programs have emerged to meet demand.
Here are some of the best UserTesting alternatives.
1. PlaybookUX
This program offers similar features to UserTesting. With PlaybookUX, you can conduct:
Usability testing
Mobile app and website testing
Prototype testing
Concept testing
Advertisement testing
PlaybookUX allows you to use your own participants or use an audience selected via PlaybookUX. The program offers moderated and unmoderated testing, transcripts of test sessions, note-taking software, and more.
Pricing information is easy to find. If you use PlaybookUX's panel, sessions begin at $49 per participant for 15-minute sessions. If you bring your own participants, you must choose a pricing plan starting at $249 a month with a 7-day free trial. The number of seats per session is unlimited in this pricing plan.
2. TryMyUI
TryMyUI's testing software focuses on helping brands design sleek, easily navigated websites. You can also use it to test wireframes and prototypes for various products or services.

Here are TryMyUI's key features:
Remote user testing
Mobile website and app testing
Wireframe and prototype testing
Impression testing
Written surveys
Your choice between TryMyUI's audience or your own curated audience
Pricing plans begin at $99 a month, an ideal price for small business owners and entrepreneurs. It increases to $399 a month for small teams and goes all the way up to $5,000/month for the biggest brands. TryMyUI's pricing plan page offers a comparison chart for all the plan features.
3. UserZoom
Like its competitors, UserZoom offers moderated and unmoderated testing of websites and services. Here's a list of its key features:
Usability testing
Surveys
Card sorting
Interviews
Live intercept
Tree testing
UserZoom bills itself as focusing on the user experience (UX) and the customer experience (CX). Its testing methods, such as card sorting and tree testing, offer an in-depth overview of a website's usability.
As with UserTesting, pricing and plan information on UserZoom is difficult to find unless you sign up for a free, no-credit-card-required 14-day trial.
4. PickFu
Of all the testing software available to businesses, PickFu is one of the most straightforward and simple to use. It gives you deep consumer insights into your products.
With PickFu, you can:
Split test images (up to eight), product descriptions, product concepts, and more
Test with a U.S.-based audience selected by PickFu
Choose from a wide variety of audience traits to narrow your audience down
Conduct open-ended testing and concept testing
Test your product, description, pricing, and more against competitors'
Each poll begins at just $50 for a 50-respondent poll. Results come back that same day, and each respondent provides written feedback. In split tests, respondents vote for their favorite option and explain why.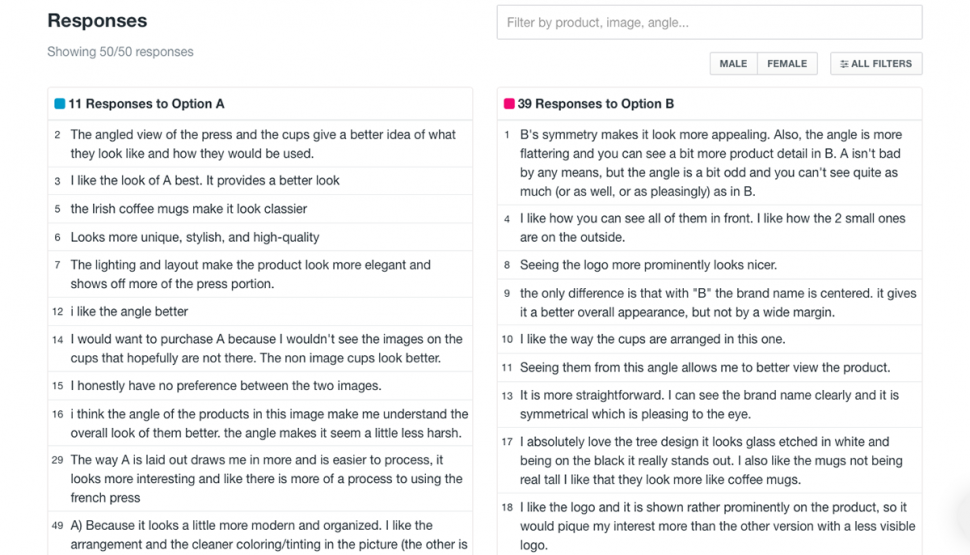 PickFu provides audience demographics of the results, making it easy to pinpoint your target audience.
If you want to test with a specific audience, poll more than 50 people, or evaluate more than two options, you'll pay a little bit more. But PickFu is transparent about costs. There's even a pricing calculator you can use before committing to a poll so you know how much your test will cost.
Big brands and small businesses alike love PickFu, including Penguin Random House, Amazon FBA acquirer Thrasio, search engine DuckDuckGo, and more. PickFu also offers educational articles and poll analyses to help entrepreneurs strengthen their understanding of user testing services and UX.
5. Userbrain
With Userbrain, the focus is on building user-friendly websites and mobile apps. The product helps those who need to test everything from password-protected sites to copy to competitor websites.
Here are Userbrain's key features:
Full-screen capture (5-15 minutes of video depicting users navigating your site)
Audio commentary
Testing on users' personal devices
Multiple-device testing
Bring-your-own audience or let Userbrain pick it for you
Video annotation
Easy exporting and sharing with members of your team
Userbrain is an affordable option, with pricing plans starting at $29 a month for 50 test respondents, or $19 a month if you subscribe to a yearly plan.
A testing platform for everyone
If you can't afford UserTesting's testing program, not to worry. These five UserTesting alternatives all offer excellent features at a range of prices to fit every budget.
No matter which platform you choose, keep in mind that the more you test, the better you'll understand your customers, which can lead to more conversions for your brand.
To figure out exactly which type of program works best for your needs, see our guide to user testing versus usability testing.
---