There's never been a better time to get into crowdfunding. Nearly one-third of Americans say they contribute to a crowdfunding project each year, according to a report by the Lilly Family School of Philanthropy at Indiana University.
Kickstarter, a top crowdfunding platform, is one of the best ways to raise money for your startup, book, board game, or whatever it is you're passionate about.
If you've launched a Kickstarter campaign or plan to in the near future, you need to know how to make yours stand out. There are thousands of Kickstarter campaigns to support. How do you get enough people to commit to yours? That's what we'll cover in this guide to Kickstarter advertising and marketing.
What is Kickstarter?
Kickstarter is an all-or-nothing fundraising platform. You create a project goal, determine the amount of funding needed to reach it, and set a deadline.
Interested supporters pledge money to your project. If you meet your funding goal by the deadline, your supporters' credit cards get charged the amount they pledged.
If you don't reach your funding goal on time, no one pays anything. You scrap the campaign — or start over.
To set up a Kickstarter project, you need to choose a category and project title. You upload a main image, project blurb, and any additional images and descriptions that support your campaign.
The final step is to set up a rewards system outlining what your backers will receive for different donation tiers.
What's the average cost of a Kickstarter campaign?
Fundraising goals on Kickstarter can range from hundreds of dollars to six-figure amounts. If you successfully raise the money you need before the deadline, Kickstarter will apply a 5% fee to that amount.
In addition, Kickstarter's payment processor, Stripe, takes a payment processing fee of 5% + $0.05 for contributions of $10 or less and a processing fee of 3% + $0.20 for any amount over $10.
You'll want to take these fees into account when you set your campaign's funding goal. For example, if you need $10,000 to self-publish a book, Kickstarter will end up taking a $500 cut — and that's before the individual payment processing fees. In this case, it would be smart to set a funding goal of at least $11,000 to help account for these costs.
Here's another thing to consider: you'll need to market your campaign so that people know about it. This means advertising on Facebook and Instagram at the very least.
A smart Kickstarter strategy is to budget 10-15% of your total fundraising goal for advertising — and be prepared to foot the bill if the campaign fails.
How many Kickstarter projects fail?
Time for some real talk. Between 60 and 65 percent of all Kickstarter projects fail to meet their funding goals.
Yikes! Then again, there are thousands of projects competing for people's support at any given time.
You can learn a lot from both failed and fully funded projects. (Hint: Kickstarter advertising and marketing are paramount to success on the platform.)
Let's take a look at successful campaigns and see what we can glean from them.
What's an example of a successful Kickstarter marketing campaign?
The most successful Kickstarter campaigns surpass their funding goals, giving creators extra room to make their project as spectacular as can be.
How do these projects get so popular? Strong copy and compelling images play a big role. But at the heart of every successful Kickstarter campaign is community.
You have to help your audience understand how your project benefits that community. That's where Kickstarter advertising and marketing come in.
Example 1: Fidget Cube finds a following
Take the Fidget Cube. This project spoke to the thousands of people, young and old, who need to fidget with something in order to focus.
The "unusually addicting, high-quality desk toy" raised over $6 million. The original goal? $15,000.
Fidget Cube's founders weren't new to Kickstarter when they started this campaign. With two failures and two modest successes under their belt, they knew the ins and outs of crowdfunding. And they understood the importance of Kickstarter advertising and marketing: they pitched their Fidget Cube idea to dozens of blogs and websites, aiming for exposure.
Example 2: Readers love Rebel Girls
You don't need to engineer a fancy gadget in order to succeed on Kickstarter, though. The book Good Night Stories for Rebel Girls by Elena Favilli and Francesco Cavallo earned $675,614 against its goal of $40,000 in just 28 days.
Did you know that the parents of the world were hungry for a twist on fairytales? Instead of princesses, they wanted their daughters to read about Ruth Bader Ginsburg, Jane Austen, and Simone Biles in fairytale form.
The book is now a bestseller on Amazon and elsewhere, the fourth book in the series came out in October 2021, and Rebel Girls has grown into a multi-platform media brand with a podcast, app, and more.
As these two examples show, Kickstarter is a place for artists and makers to thrive.
If you have an idea (or a mockup) for a book, a gorgeous wall calendar, a video game, or a board game, Kickstarter can be the place to make that idea a reality.
You just need a good passion project and the know-how to promote your Kickstarter campaign.
What are some of the most successful Kickstarter board games?
What big-name corporation wouldn't want to buy a game called…uh…Exploding Kittens? Probably not many. But Kickstarter is all about skirting the corporate gatekeepers.
Exploding Kittens caters to people who "are into kittens and explosions and laser beams and sometimes goats." As it turns out, plenty of people are into those exact things: 219,382 people, to be exact. That's how many pledged over $8 million to the quirky game.
Kickstarter backers love unique, exciting, or NSFW board games. Video-game-turned-board-game Darkest Dungeon earned more than $5 million from over 20,000 backers. The Kickstarter campaign for another game, Tainted Grail, earned over £4,000,000.
Here are other popular Kickstarter-funded board games:
Gloomhaven
Nemesis
Rising Sun
Zombicide: Invader
Scythe
Santorini
Spirit Island
Ever played one of these? You can thank Kickstarter.
Kickstarter advertising and marketing
Kickstarter gives you anywhere from 1 to 60 days for a project but recommends 30 as the sweet spot. So when it comes to advertising and marketing your campaign, it's all about playing the steady game.
Spread out your marketing goals accordingly, and space out all your promotional material so that it doesn't feel spammy to your valued network.
How do you promote your Kickstarter?
Here are a few Kickstarter best practices:
Make a plan. Think of it as your Kickstarter marketing plan for your project. Who will you reach out to? When? Will you do it by text, email, Facebook, or Twitter?
Don't be afraid to pitch to close contacts. Will your family and friends be enthusiastic about project? Hopefully! Get them excited by highlighting what they'll get from your project if funded. Don't just assume that they'll support you because you're you.
Create a calendar. This should include pre-launch tasks like drafting social media posts and emails, creating a project main image, title, and description, and filming videos.
Do your advertising research. Figure out where you'd like to place ads and how many you can run based on your budget, and start putting potential ads together. Schedule your ad run times into your calendar.
Reach out to media. There's a reason you're launching on Kickstarter. Maybe your project is unusual, cool, artsy, insanely techy…whatever the draw, reach out to the press in your area and beyond to see if they'd like to feature you.
Promote other campaigns. It helps to promote other Kickstarter campaigns that you think are cool. This takes the attention off you and shows that you're invested in the Kickstarter community.
Kickstarter has a helpful guide with more tips to get your campaign off to a running start.
Where is the best place to promote a Kickstarter campaign?
Placing ads on Facebook is a solid place to start paid promotion of your Kickstarter advertising campaign. You can start advertising before your campaign launches, which helps build buzz.
Google, Instagram, and Pinterest all see tons of traffic, too, so consider placing ads on these sites.
How to use PickFu to promote your Kickstarter campaign
The most important thing to do before running ads — before even launching your Kickstarter campaign — is to make sure your project page or preview is as polished and persuasive as it should be. PickFu can help.
Run an Open-ended poll on PickFu to get real-time feedback on your promotional copy and video. Split test your images and graphics to find the best ones for promoting your campaign.
Once you feel good about your campaign page, create advertisements for your project and test them on PickFu.
Choose an audience that makes sense for your project and what you're testing. On PickFu, you can target by age range, income level, geographic location, hobbies, and more. You can even target people who donate to crowdfunding campaigns. By polling the right audience, you'll get valuable feedback and data on which ads are most likely to get clicks — and which aren't.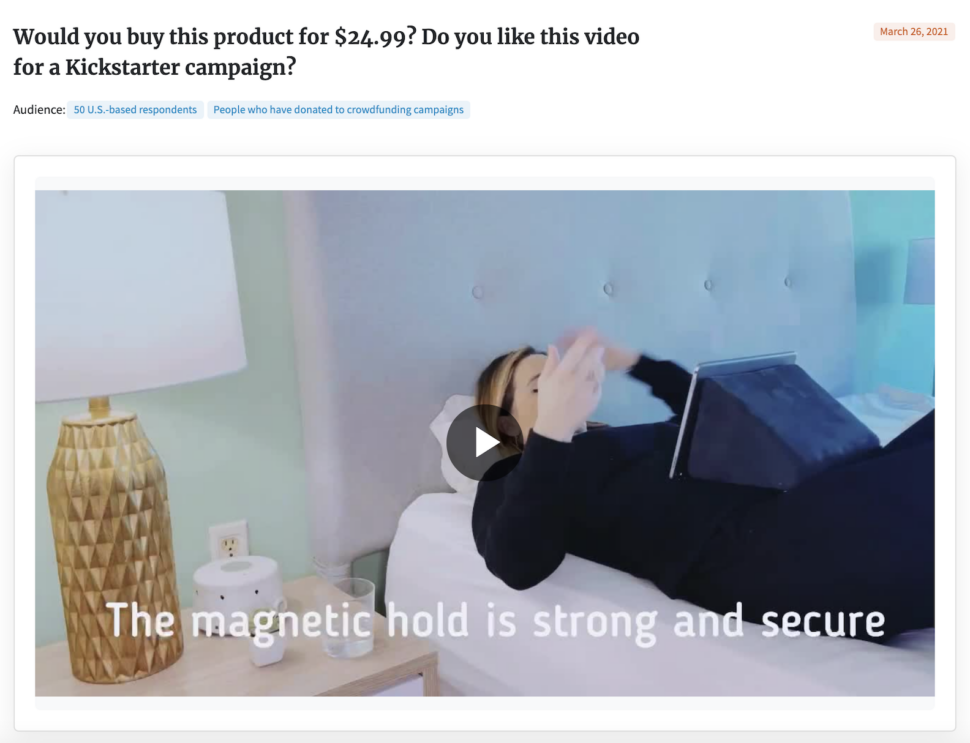 PickFu polls finish quickly, within minutes or hours — you won't waste time waiting days for results. You'll be that much closer to getting funded and making your dreams come true.
And remember: a Kickstarter advertising and marketing strategy is a living thing. Make sure to adjust your plan based on what is and isn't working in real time.
For more on the basics of Kickstarter and crowdfunding, read our guide to launching a crowdfunding campaign.
---