The COVID-19 pandemic changed the mobile app landscape. Some apps, like COVID-19 trackers and food delivery apps, thrived. Some stayed steady. Others struggled to survive and need help bouncing back.
There's a lot for mobile app developers, designers, and marketers to learn in this post-pandemic time, which is why we've put together this guide to the best mobile app conferences of 2021 and 2022.
Now's the time to get together with others in the mobile app industry to forge a path forward from the rollercoaster of the past year and a half.
Some conferences will still take place online or offer a virtual option, continuing the trend of virtual events bolstered by the pandemic. But with vaccination rates rising across much of the world, you can look forward to carefully monitored in-person gatherings as well.
Are you ready to hop on a plane and meet peers face-to-face, or are you taking it slow? Either way, you'll find something of interest below.
Let's talk mobile games – one in particular
Before we dive in, let's take a look at one of the apps that has won the hearts of mobile gamers everywhere. It'll almost certainly be talked about at the conventions we'll cover below.
What is the number one mobile app game in 2021?
PUBG, of course. PlayerUnknown's Battlegrounds, better known as PUBG, is one of the most popular battle royale games on the market.
Launched in 2017 on the online game platform, Steam, it came to iOS and Android in 2018.
The game steadily gained worldwide popularity. Then, in March 2020, the world shut down and PUBG downloads soared.
PUBG Mobile is said to have earned over $5 billion since 2018, with $2.7 billion of that revenue pouring in during The Lockdown Year: 2020.
This has made it the highest-grossing mobile game in the world so far.
Is PUBG still popular in 2021?
In March 2021, the game hit the 1-billion-downloads mark. So, yes, it's still popular!
To keep gamers hooked, PUBG's developers are constantly working to enhance and improve the game. Kim Chang-ha, CEO of Krafton, PUBG's publisher, revealed plans to release a new mobile game in the PUBG universe in 2022, along with a new PC/console game.
The company is determined to keep the game from being "a one-hit wonder," Kim told Bloomberg. It's safe to say PUBG isn't going anywhere.
Who is the best, PUBG or Free Fire?
PUBG and the mobile game Free Fire are both popular battle royale games. For a while, PUBG, with its more realistic graphics, appeared to be more popular. But in the first quarter of 2021, Free Fire earned $100 million in revenue, compared to $68 million for PUBG.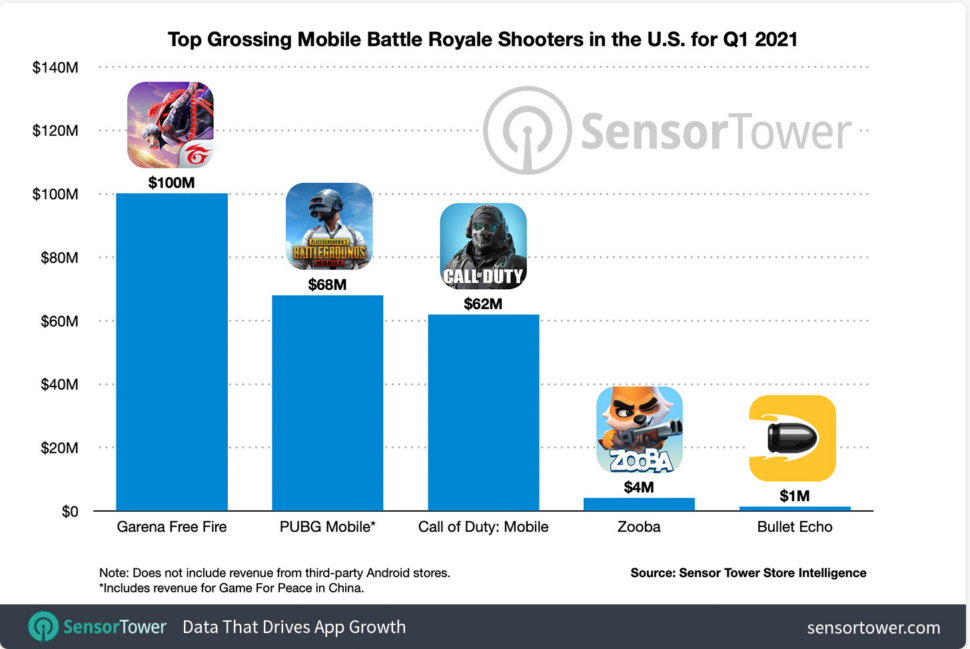 Since both PUBG and Free Fire are popular games with similar themes, it's up to the players to decide which is best.
Right now, it appears to be Free Fire. Next quarter, it could be PUBG or another game entirely.
Learn all about the industry's up-and-coming games — and the people who make them — at any one of these mobile app conferences of 2021 and 2022.
2021 conferences
Google I/O
When: May 18-20, 2021, and still available to view.
Where: Online; watch this year's recorded events here.
In their words: "Developers around the world who are interested in Google technology should tune in to Google I/O to get the latest product releases, insights from Google experts, and hands-on learning."
Why you should attend: Google I/O is an annual, two- to three-day developer conference packed with keynotes and panels that unveil the newest features for apps in the Google universe. Founded in 2008, this event is typically held in Silicon Valley.
This year, I/O went virtual due to the pandemic, but all the content is accessible online for the foreseeable future. This means anyone and everyone can check out the comprehensive list of talks and panels.
Here's a sampling of topics covered:
Measure and debug performance with Google Analytics 4 and BigQuery
What's new in Android
What's new in Google Play
Preparing for page experience ranking
Spotting and solving everyday problems with machine learning
Preparing for a more private web
Building with the responsible AI toolkit
Keep an eye on this article for updates regarding I/O's 2022 event.
Ticket info: All 2021 events are free to watch.
Microsoft Build 2021
When: May 25-27, 2021 and still available to view
Where: Online; watch this year's sessions here.
In their words: "Developers have been critical to helping businesses remain resilient and agile over the past year…Developers are no longer simply building apps; they're building digital products that drive us forward and solve the world's most challenging problems. Microsoft Build is for every developer—from seasoned software developers to low-code citizen developers, from data scientists to security engineers, from startups to students and more."
Why you should attend: This annual conference is the ideal place for software engineers and web developers who use Microsoft technologies like Windows, Microsoft Azure, and more. But any mobile developer can benefit from sessions like these:
Build cloud-native applications that run anywhere
Build differentiated SaaS apps with the Microsoft Cloud
Mixed reality application development: uncovering the right tools for the right job to enable MR scenarios
Build the next generation of collaborative apps for hybrid work
Harness the power of data in your applications with Azure
Each topic has multiple sessions devoted to it, meaning you'll get a deep, thorough education no matter which topic or topics you focus on.
In addition to technical workshops and breakout sessions, listen to keynotes from Kolaru Adeola, business analyst at Bridgetech Hub; Mohamed Ali, lead solution engineer at DocuSign; and Ornella Altunyan, cloud developer advocate at Microsoft, among many others.
Ticket info: Sign up for or log in to your free Microsoft Build account to view the entire conference.
Game Developers Conference (GDC)
When: July 19-23, 2021
Where: Online
In their words: "The Game Developers Conference (GDC) brings the game development community together to exchange ideas, solve problems, and shape the future of the industry across five days of education, inspiration, and networking. Attendees include programmers, artists, producers, game designers, audio professionals, and business leaders."
Why you should attend: If you're a mobile game developer, you won't want to miss GDC's treasure trove of information and knowledge. Sessions will dive into the world of game development, encompassing topics such as art direction, level design, and math in game programming.
The Core Concepts sessions cover important facets of mobile development, including marketing, design, production and team management, programming, and visual arts, along with specialty tracks like the classic game postmortem series, advocacy sessions, and the game career seminar.
You'll leave the conference with tangible new skills to bring your games to the next level.
Ticket info: See passes and prices here.
Mobile HCI 2021
When: September 27-October 1, 2021
Where: Toulouse, France and online
In their words: "We bring together academics, designers, and practitioners from multiple disciplines to discuss the challenges and future of people interacting with and through technologies, applications, and services in a mobile world."
Why you should attend: Known for the past 20 years as Mobile HCI, the conference has been renamed the ACM International Conference on Mobile Human-Computer Interaction. Mobile human-computer interaction is what it's all about.
Hosted by the University of Toulouse in France, this conference brings together the world's leading experts in the mobile app industry.
Through workshops, research talks, demos, and poster sessions, you'll take in new perspectives related to technology, user experience, methodology, potential future contributions to the HCE world, and more. You'll also have plenty of time to meet other thinkers and doers in the mobile HCE space.
Ticket info: Registration opens soon! Watch this page for ticket and registration info.
Gamescom Asia 2021
When: October 14-17, 2021
Where: Singapore with a hybrid online option
In their words: "Gamescom Asia aims to serve as the premier platform for Southeast Asian game developers to explore partnerships globally, and act as a hub for international publishers who are looking for the next big thing in games. The flagship event will be the satellite Asian edition of Gamescom."
Why you should attend: Asian countries have long been a driving force behind some of the most successful mobile apps. At this conference, you'll learn from the best.
There are two segments to Gamescom Asia. Games 360 on Oct. 14-15 will explore all aspects of the video game industry, including the latest games and technologies, while the Mobile Gaming Summit on Oct. 15 is focused on mobile app development and publishing.
During the Mobile Gaming Summit, learn about:
Industry trends (PUBG, anyone?)
Mobile game design
User acquisition
Monetization models
Live-ops tactics
Cross-platform development
That's just the beginning. On Oct. 16 and 17, you'll get the opportunity to play the hottest games with thousands of like-minded peers.
Ticket info: Book your tickets here.
MobiCom 2021
When: October 25-29, 2021
Where: Online
In their words: "The Annual International Conference on Mobile Computing and Network, or ACM MobiCom 2021, is the 27th in a series of annual conferences sponsored by ACM SIGMOBILE dedicated to addressing the challenges in the areas of mobile computing and wireless and mobile networking.
The MobiCom conference series serves as a highly selective, premier international forum addressing networks, systems, algorithms, and applications that support mobile computers and wireless networks."
Why you should attend: This long-running, prestigious conference is usually held in locations around the world. Organizers originally intended for the 2021 conference to take place in New Orleans. Due to ongoing pandemic travel restrictions, it's now virtual.
Learn from industry leaders via keynotes, panels, tutorials, and workshops. This year's agenda includes two half-day tutorials, "Colosseum: the world's largest wireless network emulator" and "Federal mobile sensing for activity recognition."
Experts from Microsoft, NEC Research labs, and top universities in the technology space will lead hands-on workshops. The top-notch organizing committee includes Sung-Ju Li of KAIST, Chunyi Peng of Purdue University, and Yasaman Ghasempour of Princeton University.
Ticket info: TBA
Develop:Brighton
When: October 26-28, 2021
Where: Brighton, England (with a livestreaming option)
In their words: "Develop:Brighton has been bringing together the European Game Dev community from global superstars to micro indies since 2006. Come and learn from your peers and share your experiences, hear from the industry's leading lights, get up-to-date with the latest tools, techniques and industry trends, plus network with 3,000 game dev professionals."
Why you should attend: As Europe's leading conference and expo for the dev community, Develop:Brighton is where contracts are drawn up and new IPs get signed. But there's also a relaxed, social aspect to it that makes Develop:Brighton especially attractive for speakers (over 120 this year) and attendees, who come from across the gaming industry.
Speaking of speakers, PickFu's own Kim Kohatsu will be there, leading a session on how to build better mobile games with rapid user testing.
The conference content is organized into these tracks: art, audio, business, coding, design, discoverability, mobile, indie, indie boot camp, and roundtable.
Can't attend in person? For the first time, Develop:Brighton will livestream all sessions as part of its digital conference option.
Ticket info: Single, multi-day, and expo passes are available, as well as digital options and discounts for academics, students, and small studios.
MWC Los Angeles
When: October 26-28, 2021
Where: Los Angeles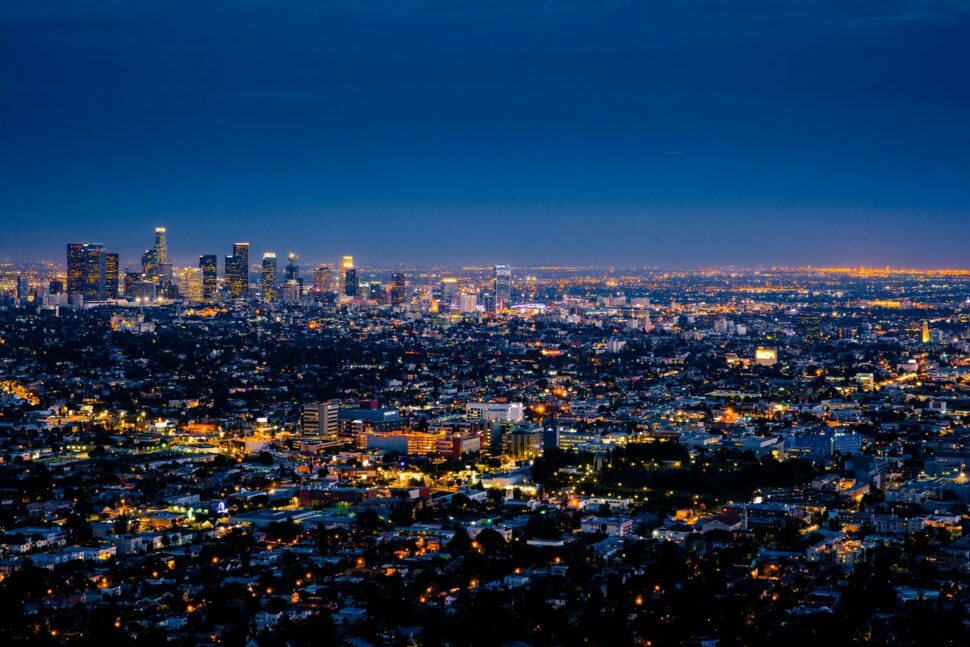 In their words: "Whether you're looking for the latest ideas, highlighting your company, or expanding your network – MWC Los Angeles will be the centre of the connectivity and technology world where you can rebuild, reinvent, and reimagine the future of your business. Attendees from around the world come to Los Angeles to learn from North America's leaders about the future of 5G Era, IoT Connectivity, Disruptive Innovation, and Telco Cloud."
Why you should attend: Technology is speeding into the future with increasingly sophisticated venues for communication and connectivity. During MWC Los Angeles, you'll learn about:
Connected cities and spaces
Connected industries and consumers
Public cloud
Network cloudification
Open RAN
mmWave
Future network generations
Inclusivity and ethical technology
Robotics
The future of healthcare
More information regarding speakers and the agenda will be available soon.
Ticket info: Register now at this link.
App Promotion Summit Berlin
When: December 2, 2021
Where: Berlin, Germany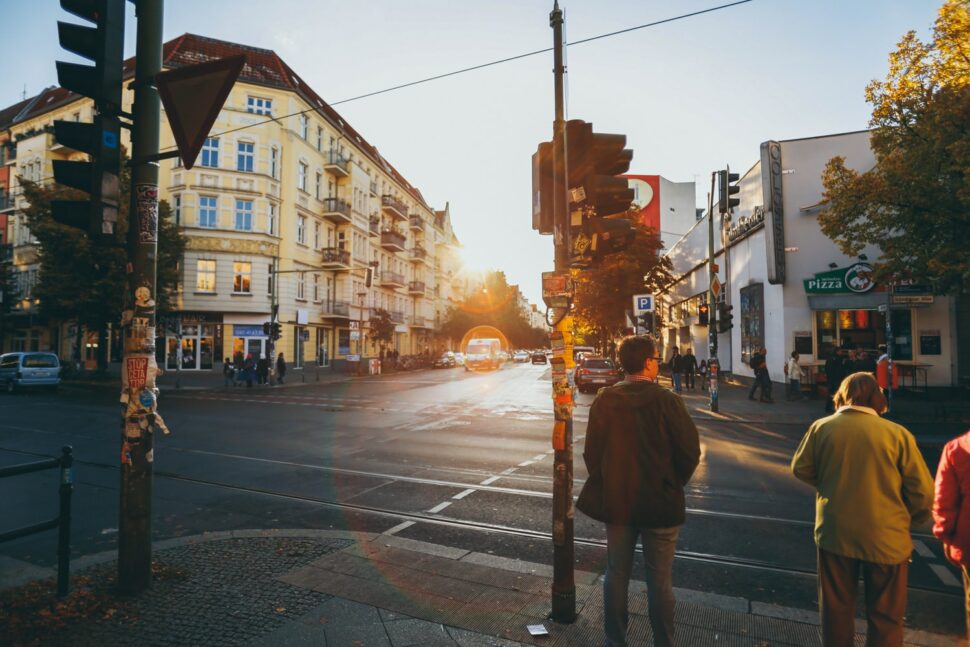 In their words: "Launched in 2013, App Promotion Summit Berlin is Europe's leading app and mobile conference. It offers the ideal opportunity to learn growth marketing strategies and tactics directly from the world's top app growth experts."
Why you should attend: This is the conference to attend if you need help marketing your app, or you want to make sure your app doesn't lose momentum. Leverage influencers to promote your app, learn new strategies for app store optimization, find out how to retain users and gain new ones, and more.
Representatives from top apps like TikTok, Soundcloud, Audible, Facebook, and more will be there to share their secrets with you.
Ticket info: Learn more about attending here.
2022 conferences
DeveloperWeek
When: February 2-4, 2022
Where: Online
In their words: "Each year, 8,000+ developers, engineers, software architects, dev teams, managers and executives from 70+ countries gather for DeveloperWeek to discover the latest in developer technologies, languages, platforms, and tools…Because DeveloperWeek covers all new technologies, our conference and workshops invite you to get intro lessons (or advanced tips and tricks) on technologies like VR Dev, Artificial Intelligence Dev, Blockchain Dev, IoT Dev, Serverless technology, Microservices technology, new JavaScript frameworks, and more."
This year, DeveloperWeek will have an expanded DevExec World, which is 2 days of roundtable talks, educational talks, and networking events for engineering managers, tech executives, and lead developers. Additionally, DeveloperWeek will be co-located with ProductWorld and CloudWorld."
Why you should attend: If you're a mobile app developer, you need to be at Developer Week.
It's online in 2022, so you have no excuse not to attend. This week, the conference offers an expanded DevExec World, which is two days of talks and networking events for engineering managers, tech executives, and lead developers.
Twilio CEO Jeff Lawson and Justin Kitagawa, Twilio's senior director of engineering, will deliver the opening keynote on the importance of investing in infrastructure. Another notable keynote speaker, Matthew Curtis of Roblox, will discuss the management principles that have helped the company create a thriving developer community.
DeveloperWeek will also tackle difficult topics and questions, including "Are we building products that are ruining the world?" from Substantial CEO Carey Jenkins.
Ticket info: Watch this link for registration info.
Cloud Expo Europe 2022/ DevOps Live
When: March 2-3, 2022
Where: London
In their words: "Cloud Expo Europe brings together cloud innovators, technologists, and business leaders, to help them shape their future and deliver successful digital transformation.
DevOps Live is the annual gathering of DevOps and Container specialists, experts, and thought leaders. It is an unrivaled opportunity to meet with suppliers, seek advice, and evaluate solutions and services to help you shape the future of your IT operations."
Cloud Expo Europe 2022 will see our community back together. A vibrant marketplace where you can make new connections and discover solutions and services to support the successful delivery of your digital transformation initiatives."
Why you should attend: If you want to experience 100+ hours of panel discussions, keynotes, roundtables, workshops, and more with leaders and peers in the IT and cloud management sectors, this is the conference for you. (DevOps Live happens concurrently and in the same building at Cloud Expo Europe.)
Plus, you'll get to meet an array of mobile app, IT, and cloud-based exhibitors and check out their latest projects.
Ticket info: TBD — fill out an interest form here for Cloud Expo and here for DevOps Live.
App Promotion Summit London
When: March 24, 2022
Where: Online
In their words: "Our portfolio includes events in London, New York and Berlin, and in 2020 App Promotion Summit also became a leader in digital events. Our event series also includes the App Growth Awards which celebrate success in the global app marketing ecosystem. Launched in 2017, the ceremony was the first to recognize industry innovation and facilitate progress in app marketing and growth. Our event Social Video Strategies covers the exciting world of TikTok marketing with events for Europe and the USA."
Why you should attend: The conference covers the entire spectrum of topics related to app growth, from app store marketing to retention. While details for 2022 are still being decided, the 2021 summit was a fully digital experience, which made it easy to optimize your time and soak in as much learning as possible.
Ticket info: TBD; check this page for updates.
MGS22 (Mobile Growth Association 2022)
When: April 27-28, 2022
Where: Las Vegas, Nevada
In their words: "MGS is a two-day, developer, publisher, and marketer-focused conference where you can connect with and learn from mobile app and online marketing professionals.
Our lineup consists of dozens of industry leaders who are experts in engagement and retention, geo-specific strategies, loops, hyper-growth, AI, monetization, mobile gaming, UA, product and development, branding, inclusivity, business operations, VR/AR, wearables, and blockchain."
Why you should attend: The Mobile Growth Association conference is one of the biggest in the mobile app world, with over 1,000 attendees, 900 companies, and 75 speakers — all in just two days. Some of the biggest names in the mobile world attend: Google, Facebook, and Amazon, to name a few.
The speaker list for 2022 is still in the works, but the lineup from the last conference included Katherine Lam, Google's head of ecosystem partnerships; Jayne Pimentel, senior director of growth marketing at DraftKings; and Brock Dubbels, VP of experience design at Bank of America.
Stay tuned for 2022's list of speakers.
Ticket info: TBA
MWC Shanghai 2022
When: TBA
Where: Shanghai, China
In their words: For 2021: "The headline for MWC Shanghai 2021 is Connected Impact, showcasing how the entire digital ecosystem continues to transform our lives towards a safer and better world.
MWC Shanghai 2021 promises conversation guided by technology's visionaries, networking opportunities to forge partnerships, and a packed exhibition listing of technology that will define the future and advance your business strategy."
Why you should attend: Stay on top of the latest developments in the mobile world — the latest in 5G, artificial intelligence, IoT, and more. Keynote speakers for 2022 haven't been announced, but for the 2021 conference they included Edward Tian, founder of AsiaInfo; Yang Jie, chairman of China Mobile; Pekka Lundmark, president and CEO of Nokia; and Rima Qureshi, chief strategy officer at Verizon.
Ticket info: TBA; sign up here for updates.
Summary: best mobile app conferences to attend in 2021 and 2022
As you do your own research into these mobile app conferences, you'll figure out which ones best fit your needs.
Make sure to order your business cards, update your LinkedIn profile, and open your note-taking apps, because there's a lot to learn. And keep an eye on this article as we'll be updating it throughout the year.
---