Etsy is one of the top sites for people looking to buy art, customized gifts, crafts, handmade jewelry, vintage items, clothes, and more. Many customers end up finding shops that they buy from again and again. But it takes work to become a best-selling shop on Etsy. If you want to succeed as a seller, you'll need to use the best Etsy seller tools to get there.
Can I make a living selling on Etsy?
Like any online marketplace, your success on Etsy depends on a number of factors. Selling on Etsy has several perks:
It's easy to get started and set up shop
Starting an Etsy shop is relatively inexpensive: it costs $0.20 to list an item. Once it's sold, Etsy takes a 5% transaction fee and a 3% + $0.25 payment processing fee.
Etsy is a popular marketplace around the world, so there are countless customers waiting to find your product
But because there are so many sellers offering the same or similar products on Etsy, prices often get driven down.
Take these Ruth Bader Ginsburg dissent earrings sold by two different shops on Etsy. They're nearly identical in style and price. If another seller were to offer a similar pair at $25, they'd likely make far fewer sales than the competition.
Is it possible to make a living selling $18 earrings on Etsy? You'd have to sell 2,500 pairs at that price in a year to earn $45,000. That's before taxes and fees, not to mention the price of materials to make the earrings.
Etsy is an option if you don't have the resources to open and run a brick-and-mortar shop. And if you're passionate about earrings and you want to make and sell them from the comfort of your home, Etsy's the place for you.
But don't expect to become a millionaire by selling on Etsy.
How can I succeed as a seller on Etsy?
Setting up an Etsy shop may be easy, but that doesn't mean you should slap together a listing and hope for the best.
To succeed as a seller on Etsy, you'll want to do these four things.
Post high-quality product images
Product photos have the potential to attract or turn away customers. You need high-quality images that accurately and appealingly capture your product.
Follow our tips for taking stellar product photos to achieve those quality product images.
Optimize your Etsy shop
SEO optimization isn't just for blogs. While customers will find you from within Etsy, they'll also come from general internet searches. To ensure that your products and shop rank high inside and outside of Etsy, optimize everything.
Include your product's category or subcategory in the product title — ideally, at the beginning. If you sell linen napkins and that's your main keyword, your product title should start with linen napkins.
Add longtail keywords and synonyms to the product title, description, and tags, too.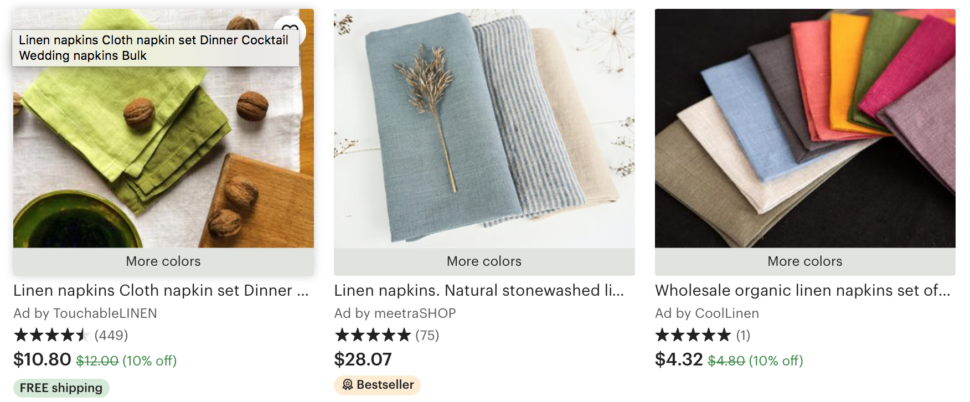 Provide stellar customer service
If you've ever bought something from Etsy, you may have received a handwritten note and a small bonus gift with your order. Such personalized gestures by sellers can spur customers to send thanks in a direct message and leave a positive review on the seller's page.
Reviews are seller gold. Consider stocking up on notecards to send to customers along with their orders. Make it a goal to connect with them and quickly and graciously resolve any issues they have.
Your hard work will pay off in repeat business and word-of-mouth advertising.
Create and manage social media accounts for your shop
When a customer loves a product, they're likely to post about it on social media. If you create profiles for your Etsy shop on Instagram, Twitter, Facebook, and other platforms, customers can tag you and more people will find you and your work.
Post new and upcoming projects to get customers excited. Incorporate your shop logo, if you have one. (And if you don't have a logo, make one.)
Now that you know what to do to sell on Etsy, here are the best Etsy seller tools to help you.
The 7 best Etsy seller tools
Each of these tools brings a unique set of features to help you set up and market a successful shop.
1. Outfy
Managing multiple social media accounts can be overwhelming. Outfy helps you produce short videos, ads, collages, and GIFs for your shop's social media profiles and manage when and where you post them.
It's like Canva, but designed with Etsy sellers in mind.
Outfy allows you to post Outfy-produced content on six social media platforms: Facebook, Twitter, Instagram, Pinterest, Kit, and Tumblr.
With quick-to-respond customer service and affordable pricing plans, Outfy is an excellent social media management tool for Etsy sellers. Outfy offers a limited-services free plan and a free seven-day trial for its other plans.
2. Marmalead
Remember how we said SEO is vital to your Etsy listings? Marmalead is the tool for optimizing your shop. Marmalead helps you find the most relevant long- and short-tail keywords for your listings. It also shows you what users are searching and provides relevant keyword variants to include in your product descriptions.
Once you create a listing, Marmalead studies it, gives it a grade, and tells you why you got the grade you did. This allows you to improve your listing and get noticed by your target audience.
Marmalead pricing begins at $19/month.
3. ReferralCandy
Word-of-mouth has long been a powerful marketing tool. ReferralCandy capitalizes on and encourages word-of-mouth marketing by tracking and rewarding customer referrals.
You decide the type of reward to give your Etsy customers when they lead someone new to your shop, whether it's a discount, a gift, or cash.
After a 30-day free trial, ReferralCandy plans begin at $49/month. Commission fees are based on monthly sales.
4. Etsy on Sale
Co-founded by an Etsy seller, Etsy on Sale is a boon for sellers and shoppers alike. Shoppers find fantastic deals on the site, while sellers use its tools to manage sales events, auto-renew listings, edit tags, and back up product photos.
Etsy on Sale's auto-renew tool is especially nice because it saves you the time of renewing individual listings every four months (Etsy's maximum listing run time).
You don't have to commit to a monthly plan. Instead, Etsy on Sale uses a credits system. Purchase credits and use them for any Etsy on Sale tools; you'll spend between one and five credits per tool. New users get five free credits when signing up.
5. PickFu
PickFu is an online polling platform for getting feedback quickly from a built-in panel of consumers.
Using PickFu, you can split test your Etsy product photos on an audience that reflects your target market. You'll get votes and written comments explaining why respondents preferred one over another.
You're not limited to photos. Split test product descriptions, designs, your Etsy seller name, or your logo. Run an open-ended poll asking how much people would be willing to pay for your product on Etsy. Or use PickFu to run product ideas by your target audience.
Here's one seller's poll about a card design:
And here's a sampling of respondents' comments:
"I choose [Option B] because the other one has too much red. This one has various colors and they blend together very well."
"I selected Option B as my preference and the one that I would most likely purchase to send to a friend. I felt that this image had more contrast in the coloring and therefore had more eye-catching appeal. If I did anything to improve the card I would make the font bigger and bolder."
"Option B looked more colorful and playful. It's also easier to read. Option A looks too bright."
You'll always receive written feedback along with votes so you can understand how to improve your product or listing.
Once you post a PickFu poll, you start getting results in as little as 15 minutes. A 50-person poll starts at $50 and is easy to set up.
6. Ecomdash
Need help with your Etsy inventory? Ecomdash helps you manage inventory, fulfill orders, and track online sales from one dashboard. If you also sell on eBay and Amazon, Ecomdash helps you manage your inventory across all those channels.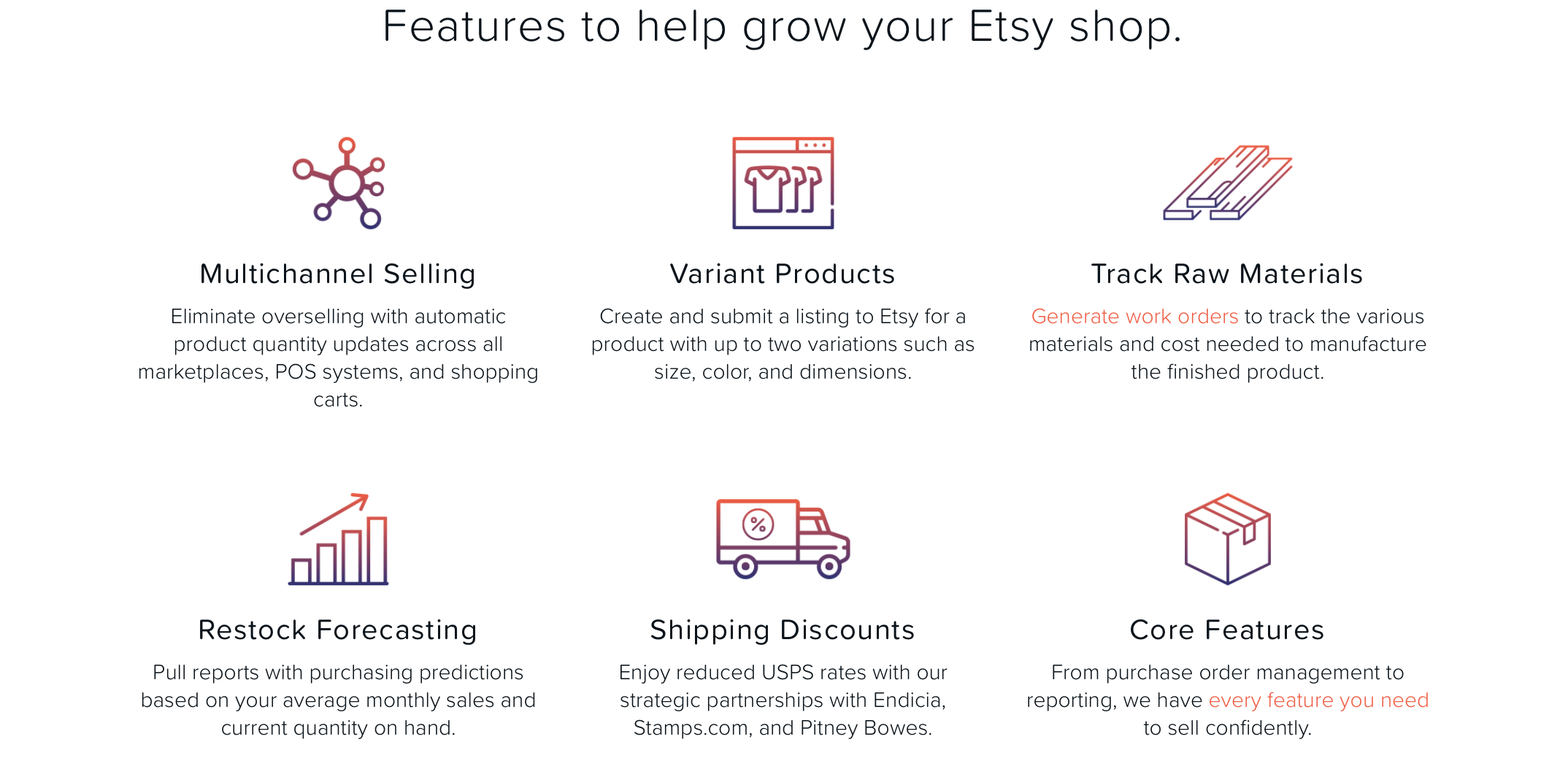 With Ecomdash, you can create work orders so you know how much raw material you'll need to fulfill those orders. This helps you spend less, save on warehousing space, and sell more products. In addition, Ecomdash provides Etsy sellers with USPS shipping discounts.
Ecomdash offers a 15-day free trial. Paid plans start at $60/month.
7. TaxJar
Taxes are probably the most boring — and confusing — part of running a small business. TaxJar makes taxes as painless as possible for you.
TaxJar's Etsy integration figures out the sales tax for each sale you make, submits tax returns to the states where you're registered, and finds the right product tax codes for you.
After a 30-day free trial, Taxjar offers plans starting at $19/month.
Why you should invest in the best Etsy seller tools
It takes a lot of time and effort to make products to sell on Etsy, optimize them for SEO, market them on social media, manage your inventory, and keep track of taxes.
Whether you use one or all of these Etsy seller tools, you'll wonder how you ever lived without them.
For more on building your e-commerce business, read our guide to nine e-commerce marketing opportunities you won't want to miss.
---