Etsy is the one-stop shop for handmade goods, custom gifts, clothing, art, home decor, and those random but awesome knickknacks you just can't live without.
Founded in 2005, Etsy features upwards of 4 million sellers (as of 2021). If you want to open an Etsy business account and start selling, you'll have competition, it's true. But with an estimated 39 million buyers, you'll also have a vast audience to sell to.
How do you know if Etsy is the right marketplace for you? One clue is in the company's history. Over 15 years ago, the founders realized how difficult it was for artisans to sell their handcrafted products in an industrialized world. So, they created a space where people could sell these products online.
If you make anything with your hands — woodwork, jewelry, scarves, paintings, candles — you can sell it on Etsy. And if you design items and have them made elsewhere? You can sell those products on Etsy, too.
In a world of mass-produced goods, Etsy buyers want something unique. They're looking for sellers they can trust to provide high-quality, handmade products. They're looking for the types of vintage goods you'd find at an obscure thrift store.
In this guide, learn everything you need to know about getting started as an Etsy seller.
Is selling on Etsy worth it?

It's no secret that selling on Etsy takes work. But that's true no matter where you sell.
The benefits of selling on Etsy are clear:
It's ridiculously easy to set up your shop
You can personalize
Etsy has a built-in audience
Often described as "the world's largest craft fair," Etsy is still the best place for artisans to sell online
If you get stuck or have questions, Etsy is known for its seller support
Etsy allows you to send your business card along with a product, making brand-building easy
On Etsy, you can link to your online storefront or website if you have one
If you're new to the world of e-commerce, Etsy is a fantastic starting point. You may eventually outgrow Etsy and move on to your own Shopify website, or you may wish to sell on both sites. Either way, Etsy helps you get going.
What are the best things to sell on Etsy?
Before we talk about the best things to sell, let's start with Etsy's shop policies — in other words, what you can and can't sell on the platform.
What you can sell on Etsy
Vintage items that are at least 20 years old.
Handmade items that you have personally made or designed, or both. If you design a product that someone else makes, you must disclose this when you list the item.
Made-to-order items, such as personalized rings, necklaces, or mugs.
Craft supplies, which can be commercially sourced or handmade.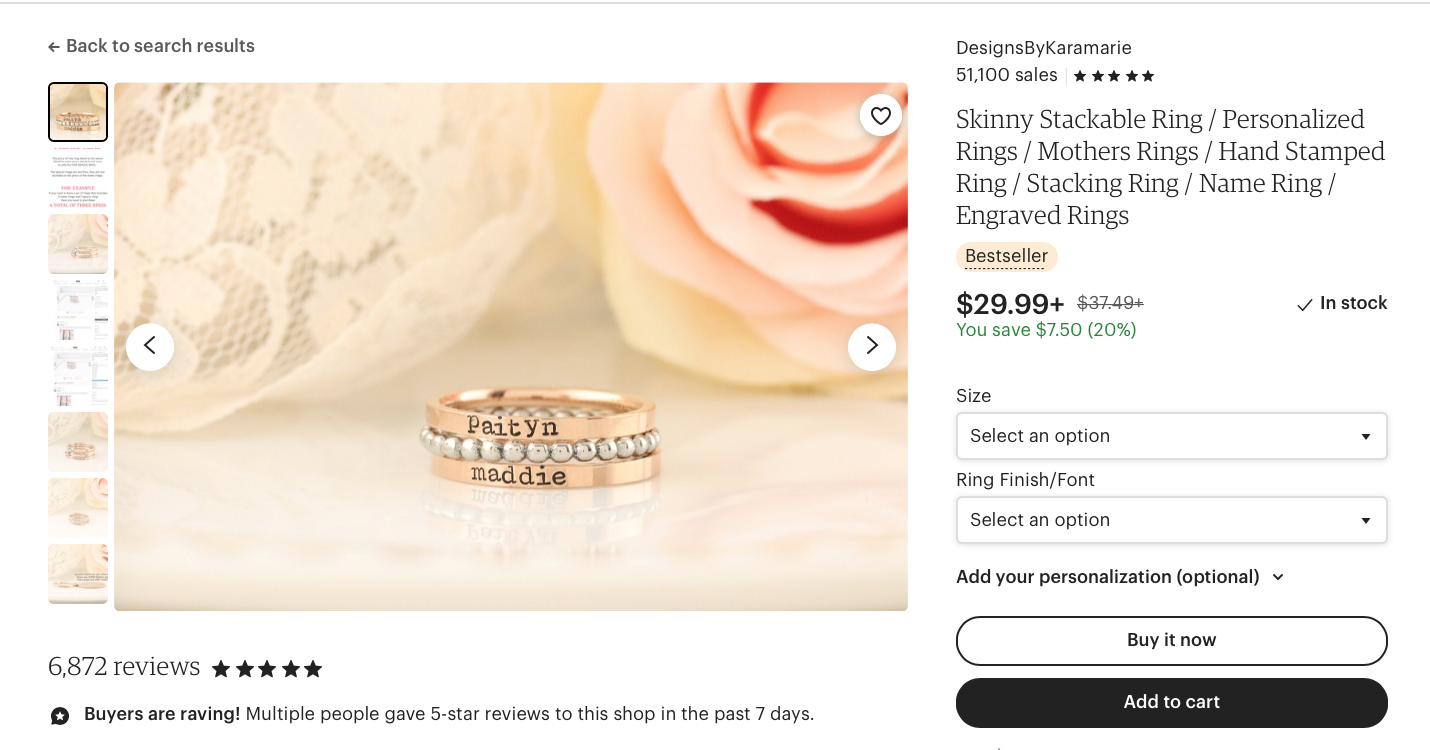 What you can't sell on Etsy
"Vintage" items younger than 20 years
Any re-sold product
Advertisements, coupon codes, or referral codes of any kind
Best items to sell on Etsy
Now, let's get to the fun part.
What do Etsy buyers love to shop for on the platform? Jewelry is one of the top categories, but if you sell handmade pieces, know that you'll be competing with a lot of sellers in that category. Marketing your jewelry in a seasonal gifts category (Father's Day, Mother's Day, etc.) can help drive sales.
Many Etsy jewelers purchase supplies to make the jewelry they sell on Etsy. What if you tap into the craft supply market instead?
You can also offer complete craft kits for kids and adults alike — jewelry-making kits, painting kits, or needlepoint kits, for example. This is an especially helpful option for those who love crafts but don't feel they have the skill to sell their pieces on Etsy. You don't have to make anything yourself. Just put together a kit, take excellent photos, and post your listing on Etsy. Craft kits make perfect seasonal gifts, too.
Do you love to crochet, knit, or sew? Selling handmade clothes, socks, and other accessories is an ideal way to make use of your talents. People who shop on Etsy already value the unusual, so your one-of-a-kind clothing item may just make them swoon with delight.
You can even sell wedding and bridesmaid dresses.
Kids' clothing is also a hit on Etsy. Parents love finding unique or customized outfits for special occasions and family photos. A personalized onesie for newborn photos, anyone?
Other popular categories include handmade toys, vinyl mugs, stickers, party decorations, candles, phone cases, enamel pins, houseplants, handbags, and art, including digital art.
How much does it cost to sell on Etsy?
Before you begin pricing your products, take a look at Etsy's fees. For sellers, the processing and transaction fees for selling on Etsy are as follows:
$0.20 per listing for a four-month period, after which you pay another $0.20 to keep the listing live
5% of the total item cost for each transaction
Processing fees for payment depend on which payment method you choose — if you go with Etsy Payments, expect to pay a 3% + $0.25 payment processing fee
Sellers in certain countries may have additional Value Added Tax (VAT) fees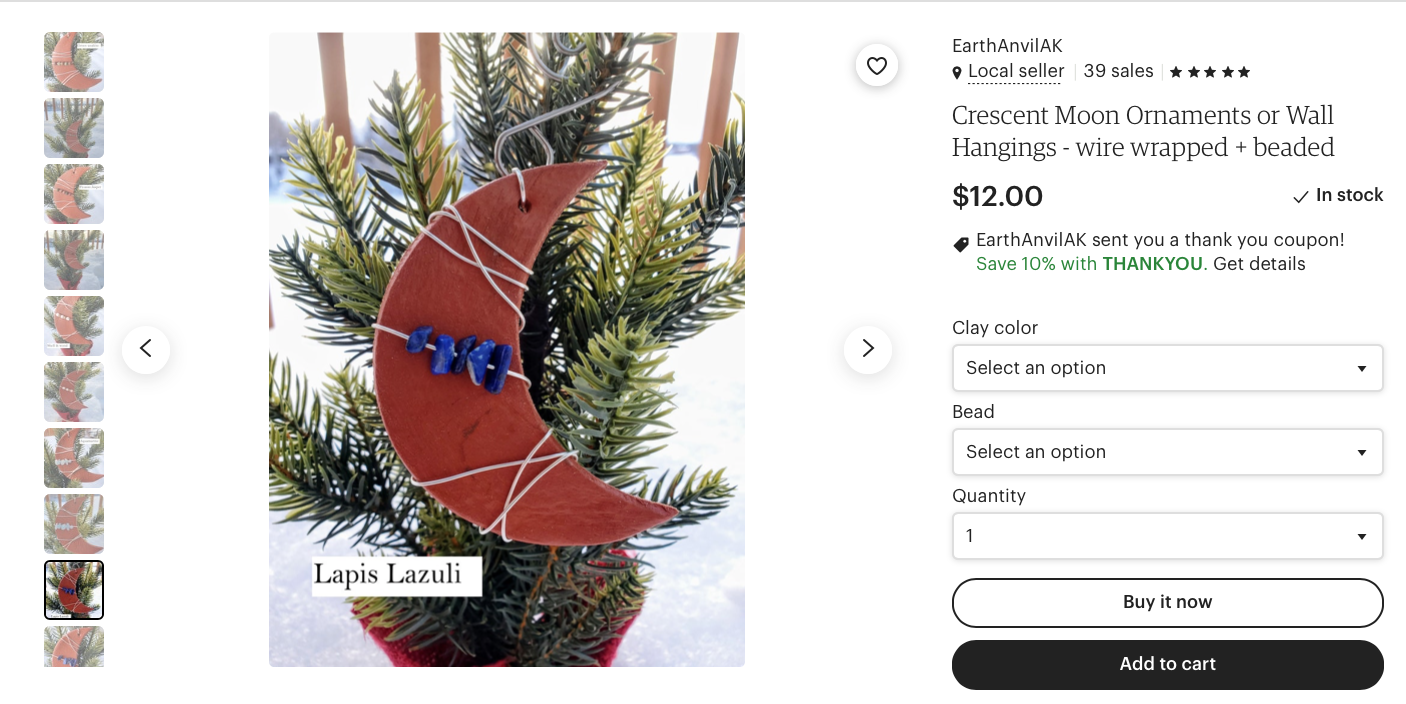 When you create an Etsy business account, you'll set up a payment method to pay your fees. If you use Etsy Payments, the selling fee will come directly out of your payment for a purchased product. Learn more about fees in Etsy's Help Center.
How to make a shop in Etsy
Setting up an Etsy shop is simple and straightforward.
First, you'll create an Etsy business account to set your shop location, your language, and the currency you use.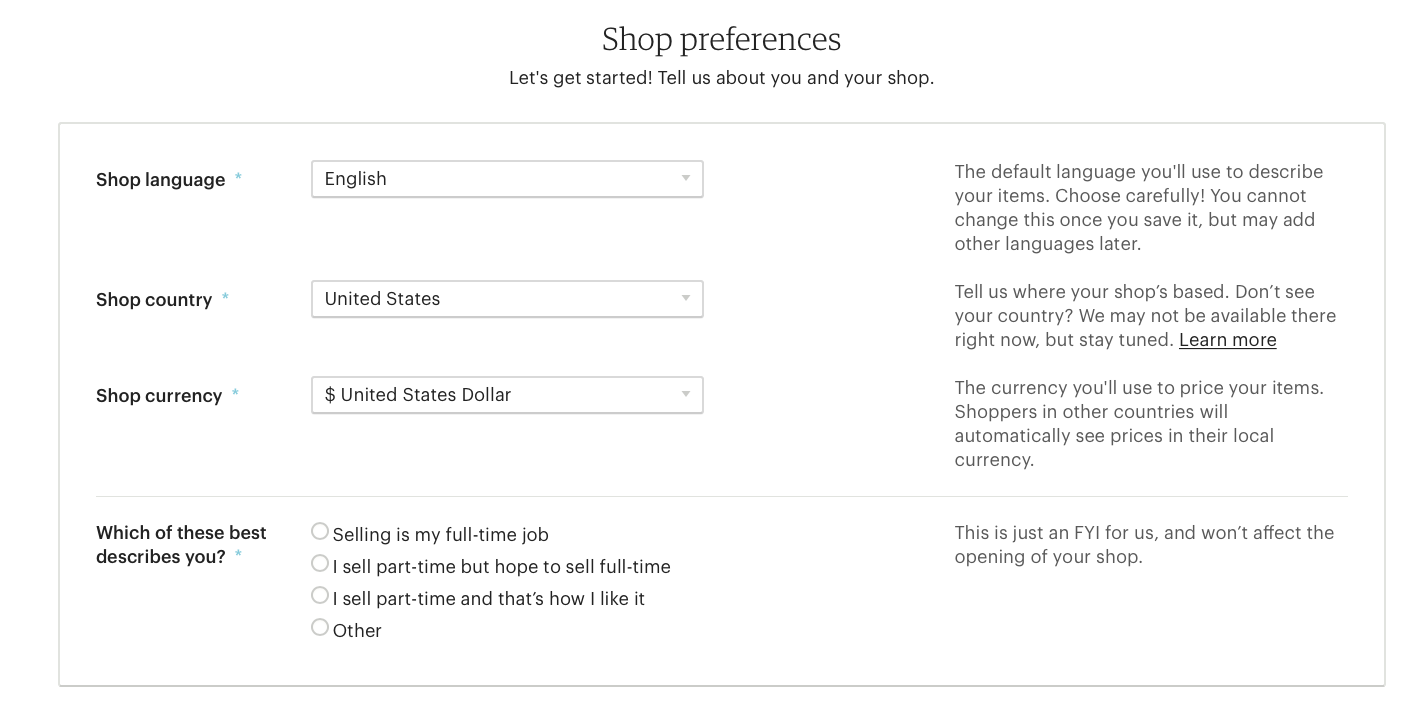 You'll then enter your shop name. It may take a few tries before you find a name that no other seller has.

Next, you'll be directed to create your first listing and add photos. Etsy helps you understand which types of product photos your buyers will want to see.
For more on Etsy's photo requirements, read our guide to sizing your Etsy listing photos.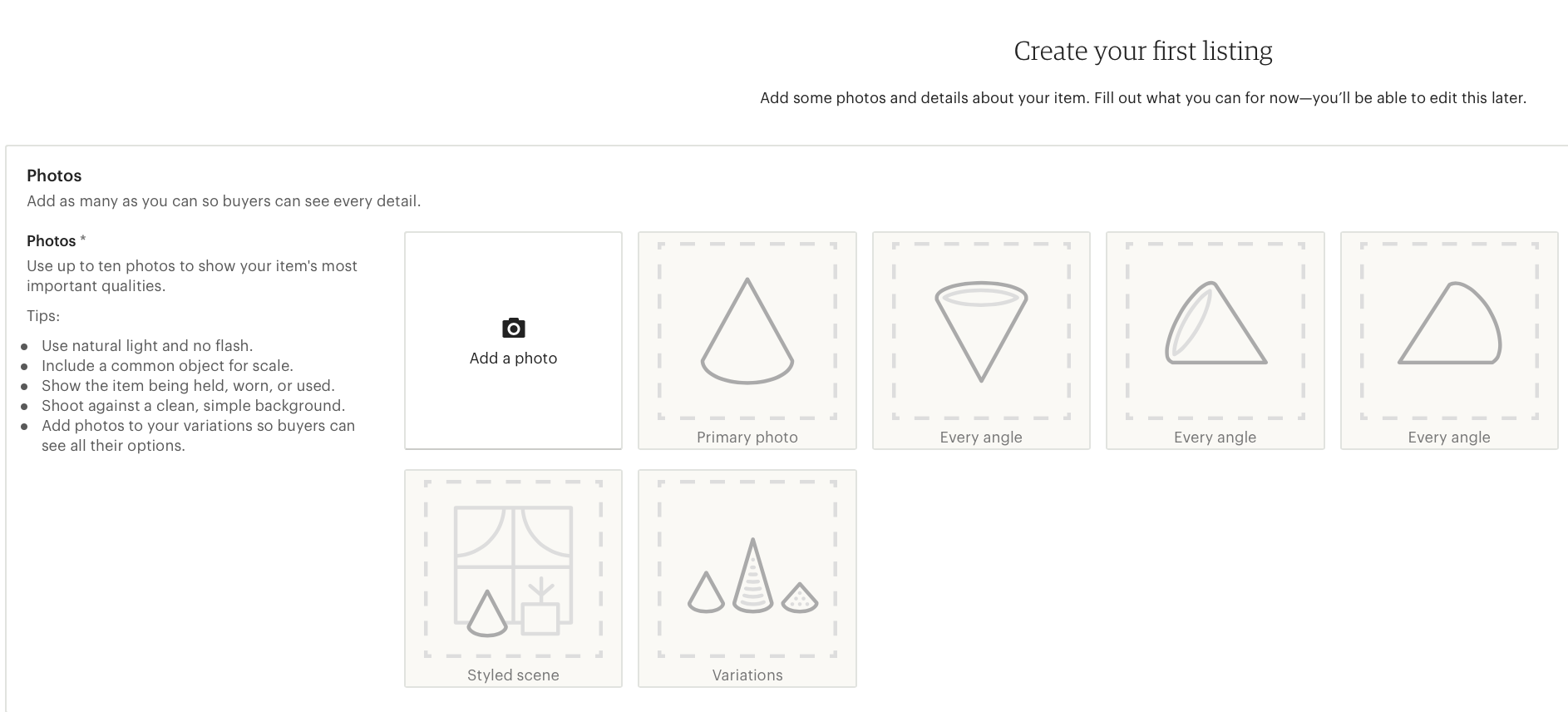 After filling out the rest of the information on the listing page, including your product description, shipping information, pricing, tags, and production partners, you'll be able to post your shop's first listing.
The next step is deciding which payment methods work for you, setting up billing for what you will pay Etsy, and then finalizing shop security.
You'll be on your way to selling on Etsy in no time.
Can free shipping work with Etsy?
Who doesn't love free shipping? Buyers may be more likely to purchase from your Etsy shop if you offer free shipping. But how can you do free shipping in a way that doesn't impact your income?
One solution is to offer free shipping but price your items so that the cost of shipping, or at least most of it, is covered within an item's price.
You can also set up Etsy's free shipping guarantee, which means that any orders from your shop that total $35 or more automatically receive free shipping. This incentivizes your buyers to purchase several things from your shop, earning you more cash right away.
Etsy has more information about how to provide a free shipping guarantee and how to price your items to include shipping costs.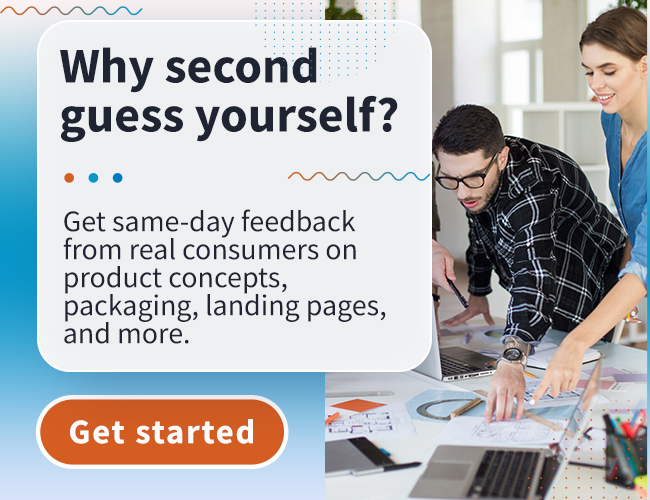 Etsy and print on demand
Want to know a neat way to offer art or photography while avoiding shipping costs and the burden of post office visits? Try offering downloadable digital art or art prints.
Downloadable art can be less expensive than prints: buyers do all the printing themselves, saving you time and money.
Or you can offer t-shirts, vinyl mugs, stickers, and other print-on-demand items from Etsy.
Instead of stocking inventory, you create a design to print onto a blank product each time a buyer purchases it. This is allowed on Etsy as long as you create the design yourself and disclose who makes your blank product.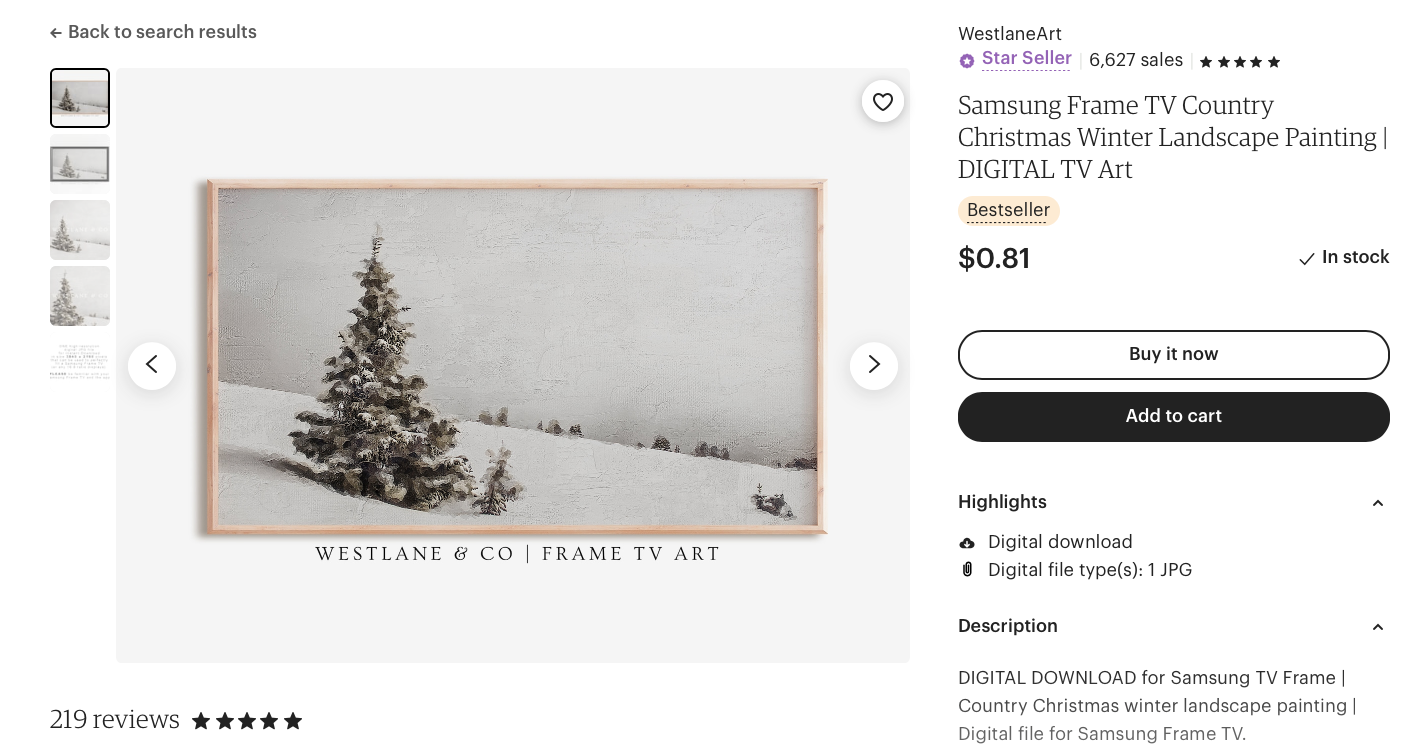 Redbubble vs. Etsy — what's the difference?
Redbubble is a popular print-on-demand site, and it's free to list items on Redbubble.
The difference between Redbubble and Etsy is that Redbubble handles everything but the creation of the art: production, shipping, customer support, everything. All you do is create and upload art. Because of this, you only get a portion of sales — a royalty essentially, which is paid to you once a month.
Etsy allows you more control over the production, which can result in more profit when it comes to print on demand.
Still, you'll need to coordinate with a third-party printer like Printful or Printify to print your designs from Etsy.
What are some similar sites to Etsy?
It's always a good idea to diversify your marketplace. If you're looking for additional places to sell your handmade goods, you may want to check out these three sites.
Amazon Handmade: This is an application-only selling site. After submitting an application, Amazon Handmade will audit you and determine whether you are who you say you are before approving you to sell. There's no listing fee; for each sale, the platform deducts a 15% referral fee.

Ruby Lane: With a heavy focus on vintage and collectible goods, this is the place for all those vintage finds you want to sell to others. It's not uncommon to find art pieces that cost more than $1,000 on Ruby Lane! There are no listing or setup fees, but service and maintenance fees apply.

aftcra: If you live in the United States, you can sell on aftcra, which exclusively sells handmade products from American sellers. The site charges a 7% fee per sale but has no listing fees.
Pros and cons of selling on Etsy
Before you dive headfirst into Etsy selling, it's helpful to know a few pros and cons.
First, the pros:
Etsy is a trusted marketplace with millions of built-in buyers
Setup is simple, quick, and straightforward
You can sell anything handmade or designed by you, or craft supplies if making things isn't your jam
Now, the cons:
Etsy has a huge marketplace, which means it might be difficult to find buyers — especially in a saturated niche like handmade jewelry
Etsy has several fees to think about, too, which can get confusing
In the end, Etsy is still one of the best places for artisans to sell their work. If you're new to the e-commerce world and want to host your own storefront, Etsy can be your running start.
How Etsy sellers can use PickFu
Before you sell a product on Etsy, it's important to split test your product photos and descriptions to see how your target audience responds. With PickFu, you can test product ideas, variations, and pricing and get consumer feedback within hours or less.
Even better? Using PickFu's audience targeting, you can focus your polls on respondents who are Etsy shoppers to better understand their preferences.
Here's an example of a product poll targeting Etsy shoppers and Amazon Prime members. The seller wanted to know which of these three wooden bowls shoppers would be most likely to purchase.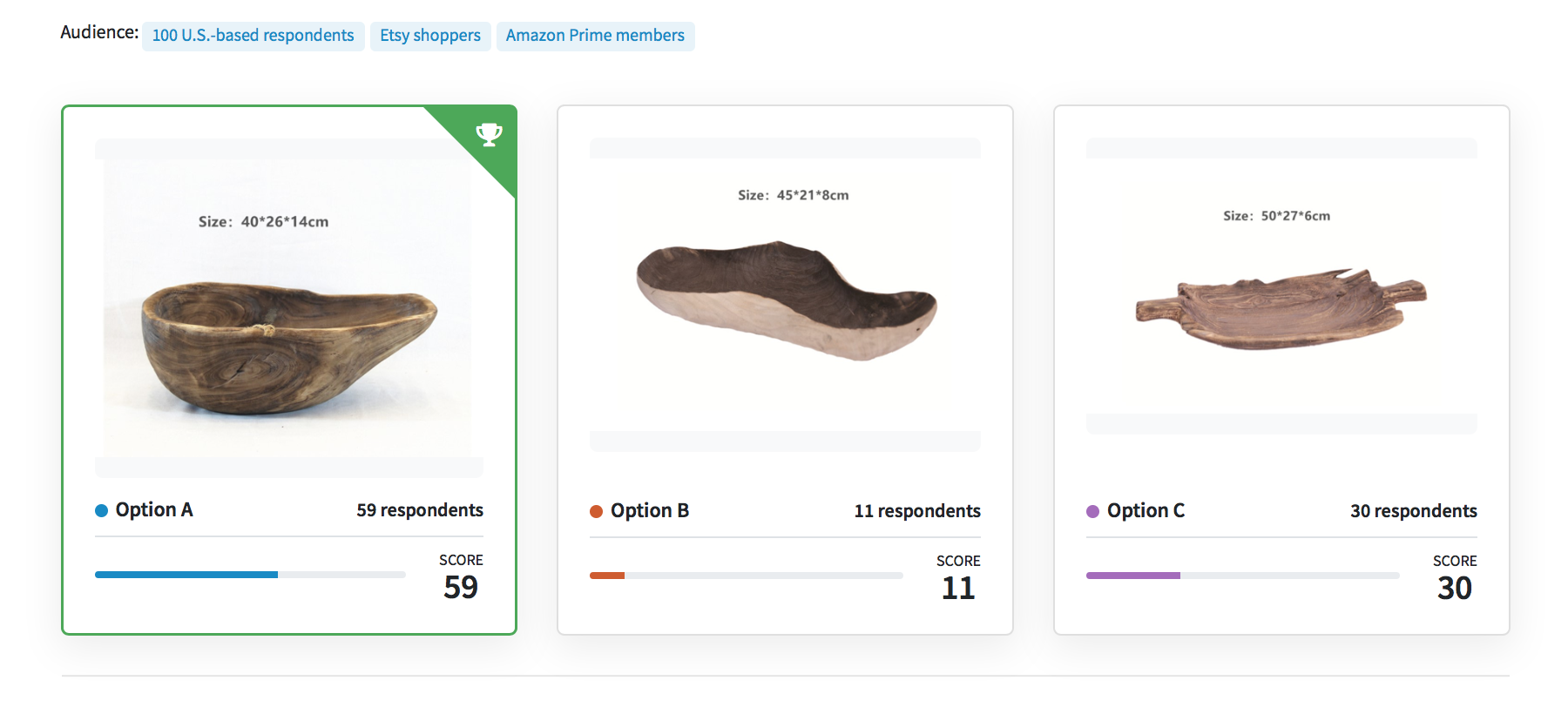 Respondents chose Option A. Here's how some of them explained their votes:
"Option A seems like the most reliable and would hold a lot of fruit. The shape of Option B is weird but still looks somewhat bowl like to me. Option C looks like a fruit plate instead of a bowl."
"Choice A is the best, it actually looks like a bowl and I like it's unique shape. Choice B and C don't look like bowls, they look like pieces of steak or something."
"My favorite is Option A. I like that it looks very sturdy and stable. I also prefer the color. Option C looks like it could work for fruit, but Option B seems a bit restrictive in shape."
With every PickFu poll, each respondent votes for their favorite option and explains why they liked it.
You could also run an Open-ended poll to get feedback on ideas for products you want to sell or to gauge price sensitivity.
For more on setting up your Etsy shop, check out our guide to the best Etsy seller tools.
---