Meet the interviewer
Meghla Bhardwaj is the founder of The Asian Seller, a community of e-commerce and Amazon sellers who share information and resources on building online businesses in Asian countries.
Meghla hosts a conference in Hong Kong for global private label e-commerce sellers. She also runs a YouTube Channel and podcast, where she recently talked with PickFu co-founder Justin Chen about how PickFu can be used as an e-commerce split testing tool.
Keep reading for interview highlights, or watch the entire interview.
How PickFu began
Meghla opened the interview by asking Justin about his background and how he started PickFu.
Born and raised in Southern California, Justin studied computer science at UC Berkeley alongside his close friend, John Li. After college, the two went their separate ways for corporate jobs as software engineers, but they knew they eventually wanted to work together.
Four and a half years later, they decided to give entrepreneurship a try.
They launched their first business, a restaurant review aggregator site, in 2006. They self-funded it, learning everything they could about business and marketing.
A few years later, John and Justin needed feedback on a redesign of the website. Instead of asking the same friends and family members, they built a solution: PickFu.
They soft-launched PickFu in the startup community, but kept it on the side while working on their restaurant review business.
Soon, though, PickFu gained traction on its own.
Dedicating time and energy to PickFu
At that point, John and Justin decided to devote all their attention to PickFu. Justin said they chose the name PickFu because having fu means being good at something, and PickFu is good at picking for you.
At first, PickFu targeted startups and entrepreneurs doing idea validation. Self-publishing authors found PickFu useful for deciding on book titles and covers. Plenty of authors still use PickFu, but the site now sees a lot of mobile app developers and e-commerce sellers, too.
Justin said PickFu is a perfect platform for sellers to test different aspects of their products and optimize their listings before going live. It provides a safety net of feedback and data to support every decision they make.
How PickFu works
Next, Justin explained how PickFu works. Customers can ask for feedback on as many as eight creative options in a single poll. Once they create a poll, the PickFu panel of respondents starts voting.
Not only do the votes come in quickly, in as little as 15 minutes, respondents also provide written explanations. The results include the demographics of respondents, providing a comprehensive picture of a customer's target audience.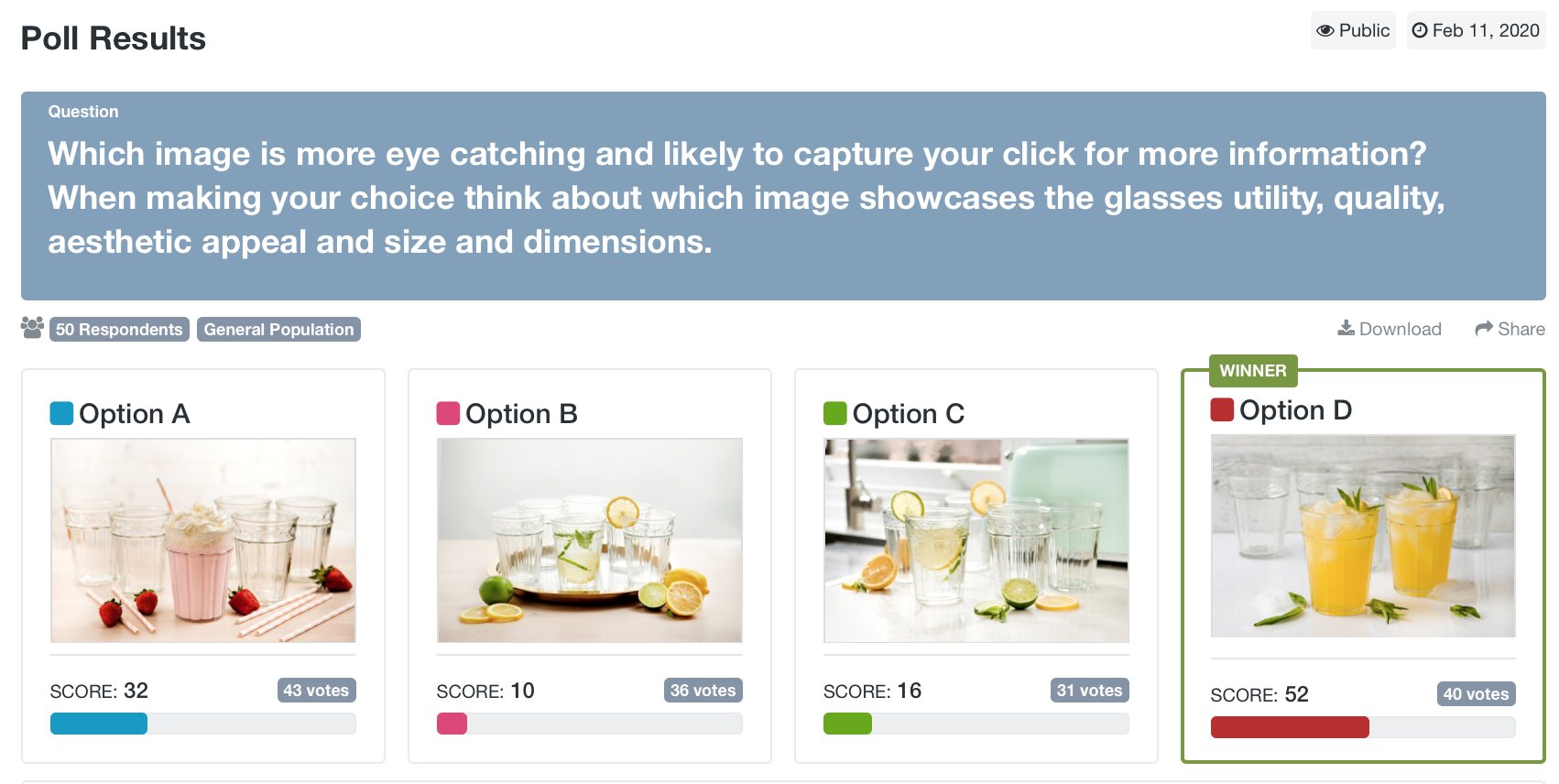 Before PickFu, businesses would spend thousands of dollars and hours of effort on focus groups. PickFu takes that concept online, turning it into a time-saving, cost-effective tool that anyone can use, Justin said.
Meghla asked Justin what compels respondents to answer a poll. He explained that PickFu works with a third-party, U.S.-based service to curate its panel of respondents, who are paid to complete the polls and are genuinely interested in the work.
PickFu runs poll results through a rigorous system of quality control and blocks any respondents who don't provide quality feedback.
How accurate is PickFu?
While PickFu respondents aren't actually buying your product, Justin said you can target Amazon Prime shoppers and others in your poll to approximate your real-life audience.
The written feedback you receive from a PickFu poll is "directional guidance" that you wouldn't get with a live data test — and you should read all of it, Justin said. It's often the most informative and revealing part.
What can I test on PickFu?
Meghla next asked Justin for examples of what sellers can test on PickFu.
Justin said sellers can test a range of aspects at various stages in a product's life cycle, from initial concepts to 3D renderings to packaging design. PickFu is useful for getting feedback on product titles and listing descriptions. You can also test video, audio, and live websites, he said.
Meghla chimed in that she loved how PickFu works for product validation, an area where Amazon sellers often struggle.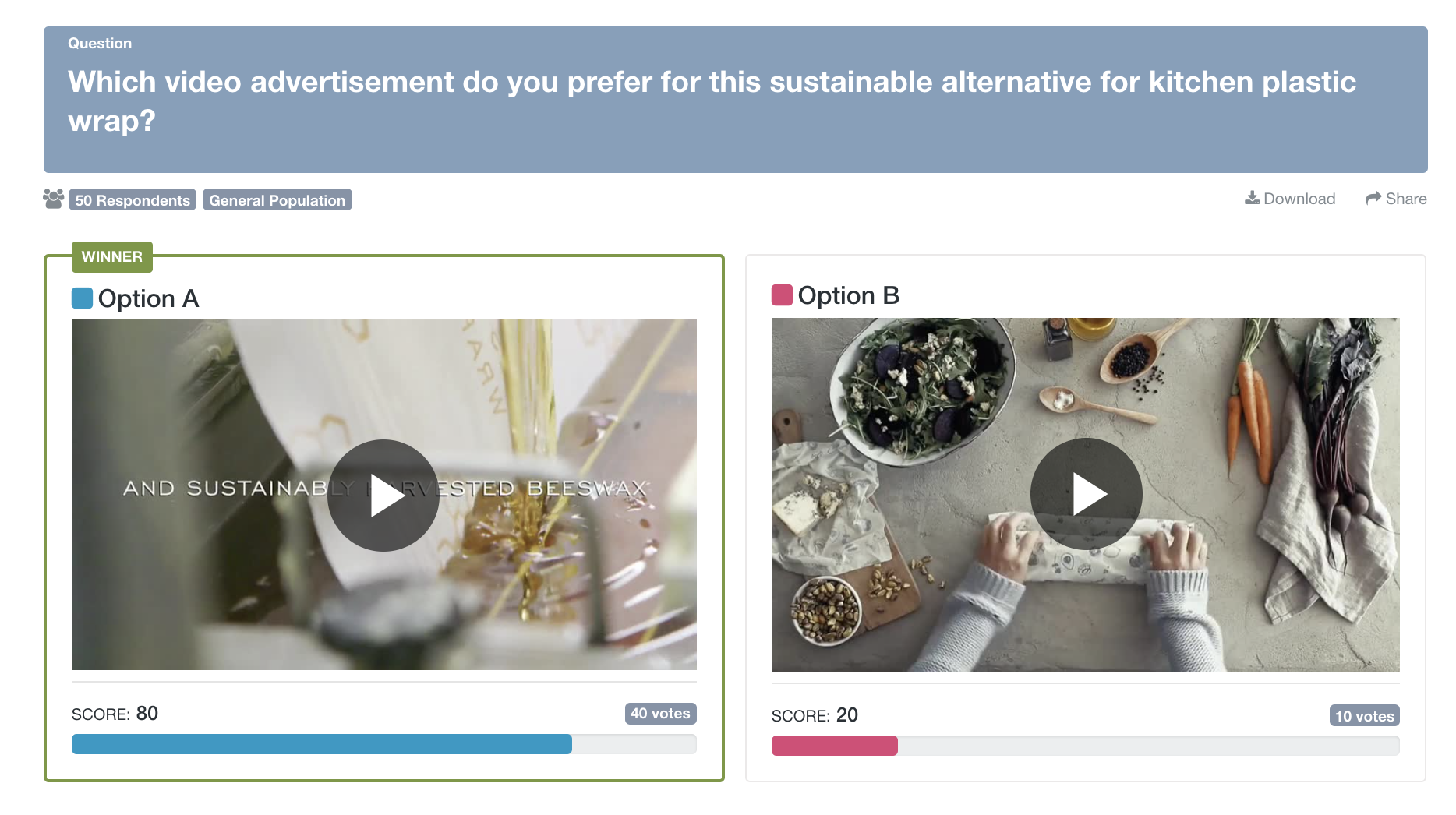 Justin said customers can see how their products stack up against competitors by taking screenshots of listings and comparing them in a poll. Competitive testing isn't easy to do live, let alone with the level of written feedback you get from a PickFu poll.
Audience targeting on PickFu
Meghla's next question was about audience targeting. In addition to targeting by basic demographics, Justin said PickFu offers behavioral segmentation — if you want to target Amazon Prime shoppers or home cooks, for example — and pyschographic segmentation.
In one example of psychographic segmentation, Justin described how PickFu built a custom audience for a client who wanted to poll privacy-minded consumers.
Customer case studies
Justin cited a case study about Thrasio, a well-known company in the Amazon world that buys Amazon FBA brands and makes them even better. Thrasio often runs PickFu polls to test branding and packaging changes.
In this case, Thrasio used PickFu for the rebrand of a pet deodorizer it had acquired called Angry Orange. As a result, the product's revenue run rate increased by over a million dollars.
In closing, Justin emphasized that the earlier in the product life cycle you gather data, the better for your top and bottom line. Meghla encouraged her audience to give PickFu a try today!
---