Do you know what sets the top Amazon sellers apart from the rest?
It's the tools they use to optimize their e-commerce product listings and operations to boost sales.
To be successful as an Amazon Seller using the Fulfillment By Amazon (FBA) service, you need reliable tools to save time and streamline your work.
We've compiled the best Amazon seller tools so you can outdo your competition and make more money than ever in 2023. Let's dive in!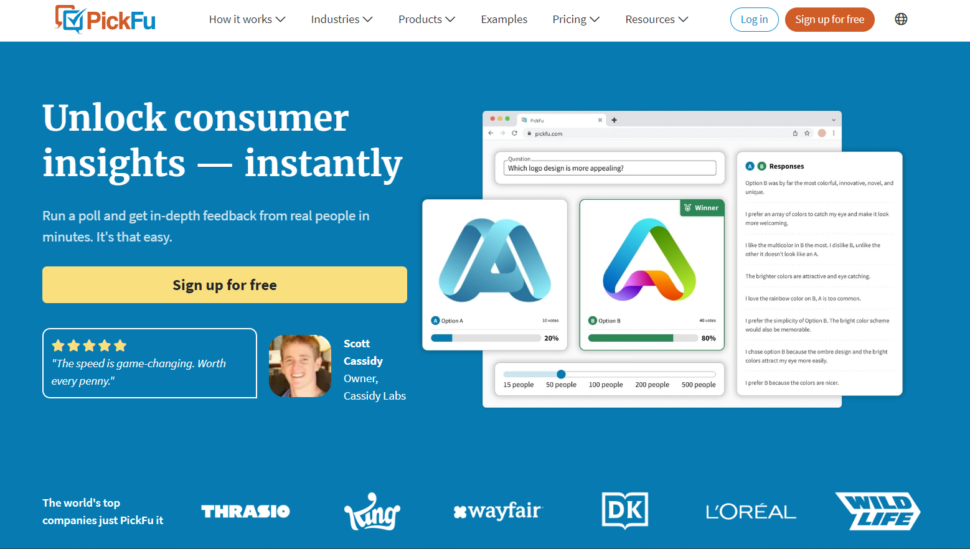 PickFu is the best FBA software for product listing optimization. You can use its powerful market insight features to stand out in Amazon's crowded marketplace.
With millions of products on Amazon, it's the small things that will influence buyers to click on your product instead of your competitors.
PickFu helps you poll real Amazon buyers and get instant feedback on what works and what doesn't in your product listing. Most importantly, you'll learn why. With every poll you run, you stand to quickly increase your product rankings and sales.
Using optimized product images, writing compelling descriptions, and paying close attention to other listing details directly leads to more sales. And PickFu is the best tool to discover the exact words, images, and products to help you stand out from the competition.
Features
Take a look at how PickFu helps you get insights to help your products succeed the moment they "hit the shelf" on Amazon:
Validate your product design. Compare multiple prototype images in a poll and view the winning result in a matter of hours. See how PickFu's panel of reviewers helped pick the best design for a yoga mat.
Choose the logo design, brand name, and product name that appeals to an audience of verified Amazon Prime reviewers the most. Check out this example of how a furniture company picked an attractive name and logo for its brand.
Discover the best images to drive sales. Split test thumbnail images of your products. In one case study, our user increased sales by 209% by using PickFu to test side-by-side photos.
Boost sales by ensuring that your pricing strategy and pricing page design are optimized. By asking our reviewers, you'll learn not just which price page design is better but also why.
Compare your product to competitor products by asking buyers whether they'd buy from you or the competition. Learn what drives buyers' decisions so you can optimize your product listing right away. Read this example comparing honey bottle designs.
Craft an optimized product title and description. Call out specific product features in your listing and let respondents tell you if they'd buy from you. Check out this example that shows which product description scored higher.
Choose the best color scheme for your mobile app design, website, brand logo and palette, and more with split testing.
Create open-ended polls so buyers can freely express what they like or dislike about your product.
Target specific demographics to get feedback from audiences that are relevant to your business.
One of the best things about PickFu is that you'll get results in just a few hours. In contrast, most marketing intelligence platforms and split testing tools need weeks of testing and data gathering to give you results.
Pricing
Free Forever: No basic subscription and pay per response. Starts at 15 responses for $15.
Professional: $79/month. Run three polls a month at $0.95 per response. Work with the customer success team.
Team: $299/month and $0.90 per response. Get features for teams.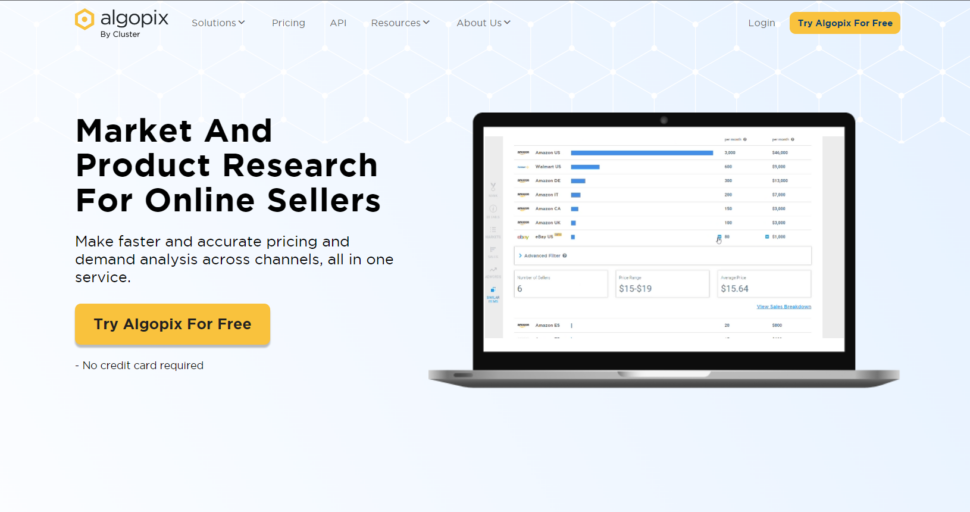 When it comes to succeeding on Amazon, knowing which products to sell is half the battle. One of the best Amazon FBA seller tools, Algopix, solves this issue by helping you do market research before you invest in products.
You can get data on the demand for different products, identify trends, and learn about your potential profit margins. Use Algopix to find and launch products that have good demand without too much competition.
Features
Get product insights like a product's demand level, expenses, and expected profit. Algopix also recommends whether you should sell a specific product or not.
Compare product performance across Amazon marketplaces like the U.S., E.U., U.K., and more.
Get AI-generated product titles and descriptions optimized for Amazon.
Get recommended keywords for Google Ads.
View trends for products in the U.S. marketplace.
Find sourcing opportunities.
Pricing
Basic: Research 10 products per month for free.
Amazon Community: Search 20 products a day. Get additional limited features for free.
Business: 1000 product searches a day, accurate reports, and more features for $29/month.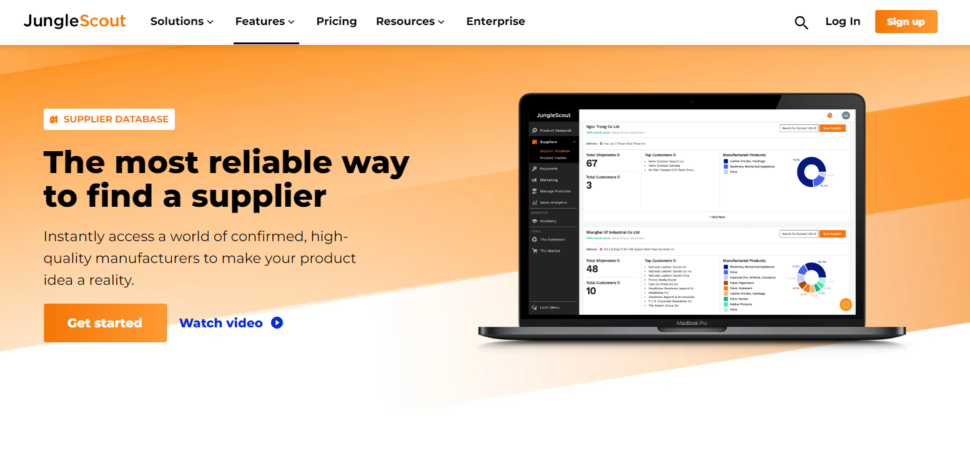 JungleScout's Supplier Database is a unique tool for discovering reputable global suppliers with the best products that you can white label. Whether you're searching for new suppliers or validating existing ones, this Amazon FBA business tool has got you covered.
Features
Here are some key features of JungleScout's Supplier Database:
Identify verified suppliers: Access an extensive database of global suppliers to source your products. Validate them with customer volume data and confirmed shipments.
Match products to factories: Use the 'Match Score' feature to identify the supplier of a specific product on Amazon. Search by brand, product, ASIN, or company name.
Manage and compare supplier quotes: Choose the best supplier by comparing quotes in one place. Manage samples, track purchase orders, and store contact information easily.
Create purchase orders: Generate purchase orders to record and track your financial transactions.
The Supplier Database platform has many other features to help you manage suppliers, making it one of the best Amazon selling tools to try out.
Pricing
Basic: $49/month for a single-user license
Suite: $69/month and unlimited product and keyword research searches
Professional: $129/month for six users, historical data, and the ability to track 1000 ASINs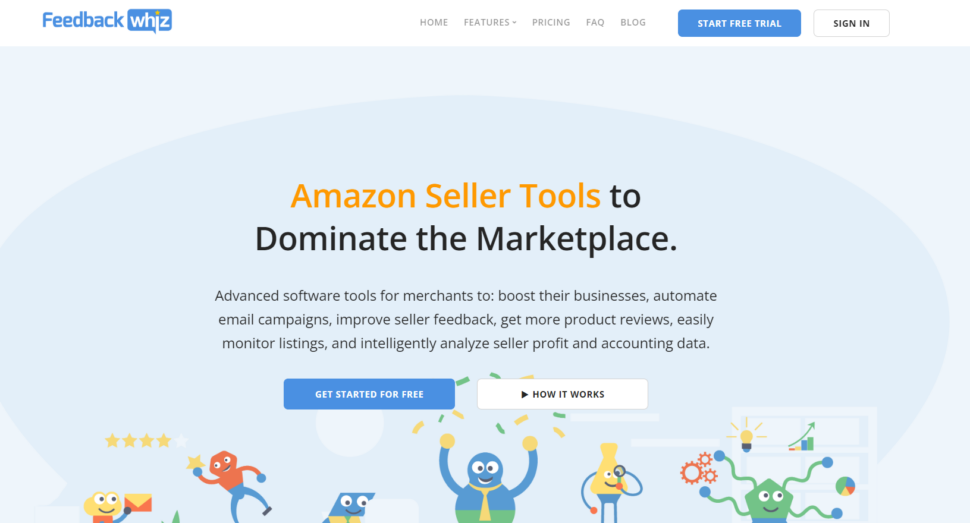 A key way to optimize product listings is to get as many good customer reviews as possible.
A powerful way to do this is by using Feedbackwhiz, an email marketing automation tool. Feedbackwhiz lets you easily plan and launch email campaigns for the post-purchase stage. Easily collect feedback and generate customer reviews to grow sales and build trust.
Features
Get notifications when critical activities take place. Never miss a question, review, or price shift.
Generate detailed reports about sales trends or problems from customer reviews, orders, and feedback.
Manage your Amazon seller feedback from one place.
Get a single dashboard to manage orders from multiple listings in one place.
Track revenue and expenses and measure the performance of your product listings over time.
Create personalized and branded emails.
Segment your audience based on their behavior.
One of the best things about this platform is that it will handle the accounting aspect of your business, so you don't need a separate tool for that.
Pricing
Free: 150 monthly email requests.
Starter: $19.99/month. 2000 email and review requests.
Basic: $39.99/month. 5000 email and review requests.
Professional: $79.99/month. Unlimited email and review requests and unlimited campaigns.
Ultimate: $139.99/month. All professional features and unlimited marketplaces
The official Amazon Seller App is a must-have to manage your listing and boost sales. It's an important Amazon FBA seller tool that allows you to manage your business on the go.
Features
With the Amazon Seller App, you can do the following on your smartphone:
Check order status
Monitor inventory levels
Receive notifications on new orders and customer inquiries
Respond to customer feedback quickly
Track advertising campaigns
By managing your listing with this e-commerce app, you'll stay on top of your communication and ensure that you don't lose track of your inventory status and other issues.
Pricing
Free!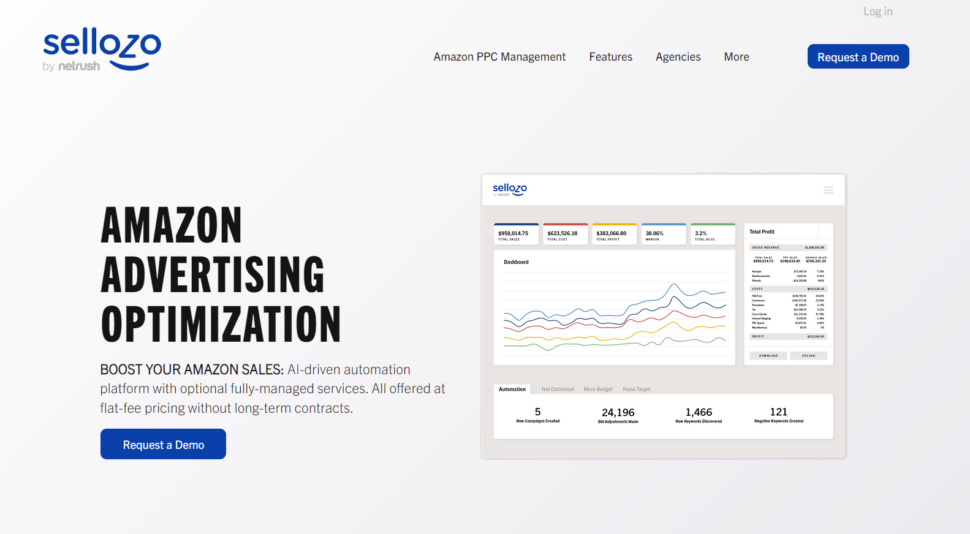 Sellozo is an automation platform designed to help Amazon FBA sellers maximize profits. It offers a range of features to optimize Amazon advertising campaigns.
Features
Check out Sellozo's powerful pay-per-click (PPC) features to create cost-effective ads that drive sales:
Sellozo harnesses the power of AI automation to lower ad costs and increase profits.
Its Campaign Studio simplifies building a powerful advertising strategy with a drag-and-drop design interface.
Sellozo works with AI to automate bidding and discover hidden advertising opportunities.
You can set a target ACoS (Advertising Cost of Sale) to eliminate unnecessary expenses and stay within your budget.
Pricing
Sellozo offers flat-free pricing. Ask for a demo and a quote to get a custom plan.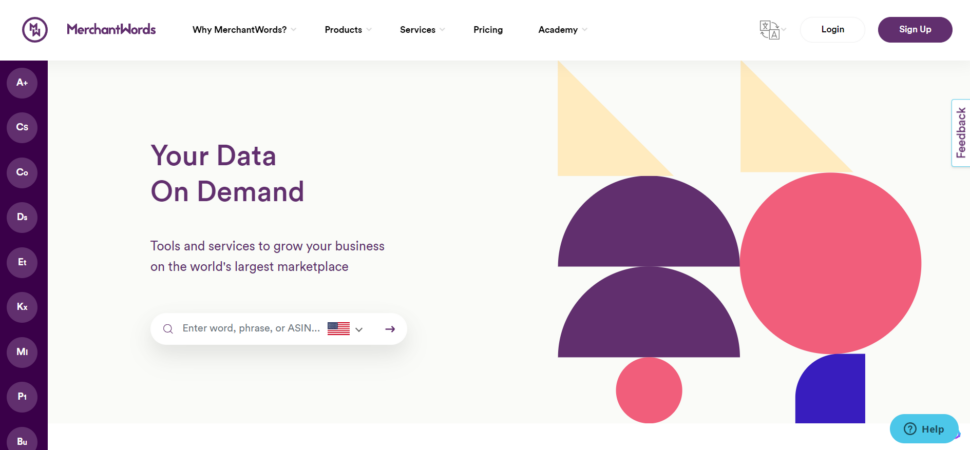 MerchantWords is the best keyword research tool to help you rank at the top of Amazon's search results pages.
It offers a suite of Amazon SEO tools to understand your competition and increase search traffic by targeting the right keywords.
Features
Here are MerchantWords' most powerful keyword discovery features:
Amazon Keyword Research: Find high-quality and competitive keywords, discover new search trends, and get search volumes, historical data, and other details.
Digital Shelf: Gain valuable insights to outrank your competition by understanding where you stand.
Keyword Multiplier: Find new and related keyword ideas and increase your product visibility.
Classic Search: Explore real Amazon customer searches and discover valuable insights on keywords and search patterns to build your keyword strategy.
MerchantWords has many more features that make it an Amazon best-seller ranking tool. You'll get data on real keywords buyers use so you can match their needs exactly.
Not sure about using the tool yourself? Reach out to MerchantWords' team, and they can do the work for you.
Pricing
MerchantWords starts at $35 USD per month for one seat to explore one country's data set. It goes up to $749 per month for the enterprise edition.
Conclusion
Listing your products on Amazon's marketplace is one of the best ways to sell products and make money. And with the tools listed here, you're guaranteed to stand out and win big.
PickFu is a critical part of any Amazon FBA seller's toolkit. Our customers save money (and make money) by making the best choices for their products and creative.
Sign up and try PickFu for free today!
---